Not So Fast!
It is a common mistake and I have done it myself many times. I open a bottle of wine, eager to sample its charms, only to find disappointment with my first impressions. Pour it down the sink I proclaim, "Discard this swill" I shout, disgruntled and impatient with the absence of instant gratification. Patience is often proclaimed on the back label, but I am thirsty and want to ignore this recommendation, threatening to discard the beastly wine in loudly proclaimed defiance. I must admonish you to wait. I say, "Not so fast!" Wine has been ensconced in its oxygen free environment and needs to escape, to free itself and air out its charms. We need to swirl and sample, then swirl and sample some more. Patience is definitely a virtue when it comes to wine, especially Pinot Noir.
When you open a bottle of Pinot Noir, leave the wine in the glass for a few minutes. Swirl it, sample it, but avoid making any proclamations. Give the wine at least 30 minutes or more in the glass. Consider pouring a big glass, even twice what you would normally pour so you can evaluate its progression over time. Cork the bottle, preserve it with Argon gas or pour it into a half bottle and check it out the next day and the next day. Quality balanced wines often improve over a day or two, adding more nuances, and offering more integration of oak and tannins. You will often be surprised. A wine that sings a day or two later will often age extremely well and give you some idea of how long to keep the remaining bottles. Remember, decanting can speed up the aeration process and you will never harm or detract from a young wine by decanting it.
A recent experience will support my contentions. I recently received notification from a winery that I admire, Davis Family Vineyards, about the special release of a wine that has been three years in the making. During the winter of 2006, winemaker Guy Davis and his daughter Laura, his son Cole, and winery manager Annie Rambo tasted a few barrel samples. The group reminisced about how the winter between 2005 and 2006 had been noticeably rainy with flooding of the Russian River. Guy noted that the extensive rains had allowed him to dry farm his vineyard the entire season of 2006. Guy's 2006 wines, including the Russian River Pinot Noir, Syrah and Zinfandel turned out great. The 2006 Davis Family Vineyards Pinot Noir turned up on practically every restaurant list in Sonoma County and San Francisco.
On the day of the group tasting, Guy picked out three special barrels from his vineyard. Two barrels were from a section of the vineyard planted to Pommard clone and one barrel was from a plot planted to Dijon 777 clone at the top of the hill. The group agreed that these three barrels were extra special. Guy said these barrels reminded him more than any other wine he had ever made of the young wines he had tasted in the cellars of Burgundy when he was working there.
Two years later, Guy brought the group together to taste again and he proudly offered a blend of those three special barrels that had been together for 6 months while the rest of the 2006 vintage Pinot Noir was bottled. The wine was so special that Guy decided to release the first official "reserve" wine from Davis Family Vineyards. 70 cases were produced from the estate vineyard, bearing the designation, "PinnaCole," a name that is a play on pinnacle, meaning the peak, with a nod to Cole, Guy's son, the cellar master and assistant winemaker. Guy proclaimed that this wine was a perfect marriage of Russian River and Burgundy Pinot Noir.
This special wine was offered recently to insiders on the winery's mailing list at $60, not inexpensive, but reasonable considering the extra care and cost involved in its production. Now, to get to the point. When I first opened this wine, I wandered what all the excitement was about. It was dull, closed, unexciting. I stuck a cork in the bottle and decided to sample it the next day. When I revisited the wine, a dramatic transformation had ensued. A dud was now a darling. This wine had become extraordinary! The lesson? You just can't judge quality wines with a cursory sip. Availability is limited: contact annie@daviswines.com.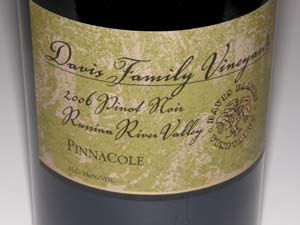 2006 Davis Family Vineyards PinnaCole Russian River Valley Pinot Noir
14.1% alc., 70 cases, $60. · Complex aromatic profile showing aromas of Bing cherries, dark chocolate, spice, wine cave and oak toast. Marvelous tasting core of chocolate-covered cherries with hints of cola, macaroon and earth robed in ripe tannins and bright acidity. Very smooth on the palate with a lasting cherry-filled finish. A dead ringer for a Nuits St. Georges 1er Cru Burgundy. Cellaring for a few years will produce a wine that Pinot geeks will fight over. If you must drink now, decant and bring on the short ribs.