Dry River: Martinborough's Cult Pinot Noir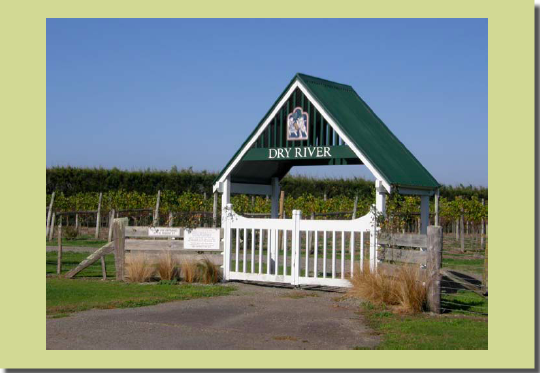 There is nothing else quite like Dry River Pinot Noir in New Zealand, or even in the World for that matter. Dry River is located in Martinborough, North Island of New Zealand, and was the name of one of the oldest Wairapa sheep stations in New Zealand, dating to 1877. It was later named Dyerville, and it was here in 1979 that Neil and Dawn McCallum planted a vineyard. The area subsequently become known as the Martinborough Terrace, now famous for Pinot Noir.
McCallum is an opinionated winemaker, a committed "terroirist," who is highly respected by his peers. His wines have achieved cult status in New Zealand, although he never submits the wines for judging. There is no tasting room and the wines are quickly sold to an eager mailing list of customers with a few bottles exported to the United States, Asia and the United Kingdom. The wines are known for their longevity. A tasting McCallum staged with Bob Campbell MW in 2004 and reported in The World of Fine Wine (Issue 19, 2008), revealed that older vintages of Pinot Noir dating back to 1989 were still youthful. Campbell enthusiastically described the wines as showing "high levels of flavor intensity and ripeness, and impressive longevity." McCallum uses little oak (20%), and the Pinot Noirs have high levels of grape tannins, requiring 3 to 4 years to begin to open up.
In 2002, the winery and 30 acres of vineyards were sold for $7 million with the new owners infusing cash for expansion and updated equipment. McCallum has remained on as the chief winemaker. McCallum writes extensively and his musings are posted on the Dry River website under the "Jottings" heading (www.dryriver.co.nz). You will find these essays scholarly, informative and insightful.

2006 Dry River Martinborough New Zealand Pinot Noir
13.5% alc., $80. Imported by RO Imports, LLC, Napa, CA. · Syrah-like color and structure. Very contemplative nose showing nuanced scents of a variety of wild dark berries, with considerable oak-derived notes of spice, browned marshmallow, brandy, and vanilla. Utterly amazing intense and saturating sun-kissed flavors of plums, blackberries, and currants with a savory, woodsy undertone and a hint of tangerine peel on the extremely long finish. Easy to mistake for a young Grand Cru Burgundy with the biggest tip off being the amazing persistence at the end. Beautifully balanced for the long haul. Still exceptional the next day from a previously opened and re-corked bottle displaying more softness and harmony. A truly unique wine of great distinction that stands out from the crowd. Serve this wine blind to any of your Pinot geek buddies, let them try to guess where it is from, and you will find many surprised winos.