Carr Vineyards & Winery: Urban Winery with a Wine Country Soul
There are some wineries that just exude class and when you visit the Carr website or look at their handsomely appointed wine bottles, you understand the people behind get it. The winery (pictured below) is located in a 1940s Quonset Hut in downtown Santa Barbara, but the wines are rooted in Santa Barbara County wine country soil.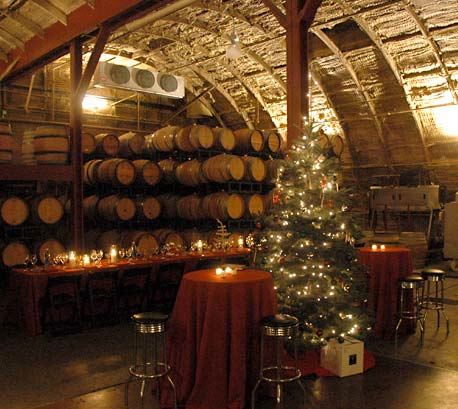 Carr Vineyards is also a vineyard management and development company that currently supervises over 100 acres of vineyards spanning Santa Barbara County. Ryan Carr is the man in charge and he insures that the grapes for his wines are grown to his exact specifications. He wears many hats as the owner, winemaker and grower for Carr Vineyards & Winery. The winery's first vintage was in 1999, consisting of a whopping ten cases produced in Carr's home garage. Currently the Carr Winery produces over 2,500 cases of multiple varietals including Pinot Noir, Pinot Gris, Grenache, Syrah and Cabernet Franc. The winery's focus is on the Sta. Rita Hills viticultural appellation.
The Carr urban tasting room at 414 N. Salsipeudes St. in Santa Barbara is open daily from 11:00 to 5:00 with the Wine Bar open Thursday through Saturday from 5:00 PM to 12:00 AM. The Carr wines are sold through the web-site's online store at www.carrwinery.com.
2007 Carr Vineyards & Winery Three Vineyards Sta. Rita Hills Pinot Noir
14.5% alc., 303 cases, $40. Sourced from Turner, Yard and Lindsay's vineyards, all located in the Sta. Rita Hills AVA. Clones 114, 115, 777 and Pommard. Aged 12 months in 15% new French oak. · Aromas of darker cherry and berry fruit with notes of marzipan. Juicy core of black cherry fruit with underlying forest floor and earthy flavors. Bright acidity and softly toned tannins with some persistence of pleasing dried cherry on the aromatic finish. Good.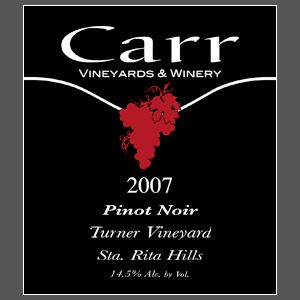 2007 Carr Vineyards & Winery Turner Vineyard Sta. Rita Hills Pinot Noir
14.5% alc., 299 cases, $40. This vineyard was established by Dennis Turner in 2000 and planted and cultivated by Ryan Carr, consisting of 15 acres of Pinot Noir, 3 acres of Pinot Gris and 3 acres of Syrah. Fourth harvest yielding 2 tons per acre. Aged for 12 months in 20% new oak. · Pleasing aromas of berry jam, cherries, spice and nutmeg gathering intensity with time in the glass. Delicious essence of black cherries with hints of red licorice and minerality leading to a tangy and lengthy finish highlighting bright cherry aromas. The slightly grainy tannins are well integrated and the lively acidity provides refreshing drinking. A well composed and impressive effort that really shows off the purity and vividness of Sta. Rita Hills fruit and acidity.