Pinot Noir Blanc: The Essence of Pinot Noir
A commonly heard expression is that Pinot Noir is a white wine masquerading as a red wine. The pulp and juice of the Pinot Noir grape are clear (white) and most of the flavors, aromas, and all the color of Pinot Noir comes from the skins. A white wine can be produced from Pinot Noir if the grapes are pressed after harvesting avoiding any skin contact with the juice. The resulting wine is the essence of Pinot Noir grape juice or Pinot Noir Blanc.
Thomas Houseman, winemaker for Anne Amie Vineyards in the Yamhill-Carlton District of the Willamette Valley, turned me on to Pinot Noir Blanc. He crafts an example labeled "Prismé" and told me it was his favorite wine to make. I pressed him to find out what turns him on about Pinot Noir Blanc. Here is what he told me.
"Why do I like to make this wine so much? I guess it comes down to the wine itself. It is called Prismé, in honor of prisms which split light into its color components, only in reverse. I guess a better name would have been Msirp, but that is plain weird. What I love about this wine is that it is similar to a full-bodied Pinot Noir that has been stripped of all the wainscoting. It is rich, toasty and viscous, with the balanced acidity of Oregon Pinot Noir, but it is nearly clear. It does not hide anything. It shows its provenance and the hand of the winemaker. I also revel in how this wine evolves over time, from salmon-colored juice, to pineapple fermentation aromatics, to buttery, leesy aromas, to toasty, flavors and finally to all those traits in an envelope that show the evolution of the wine. I have been practicing bonsai since I was 13 years old. What I love about bonsai is walking into a nursery and seeing a weedy little plant that has potential and form. For me, Prismé is that. The vineyards we pull from make wine with great structure. They make great Pinot Noir, but also have the potential to be shaped into something entirely different. That is what I do with the juice. I take a natural form and shape it into something I envision in my mind that is graceful and reflects my ideal of what I see in the grape. Like bonsai, it takes time, meditation and focus. I have watched the 2007 Prismé evolve and soften since we released it. It is in a place now where I'd liked to have seen it when we released it. Each vintage of Prismé will have its own structure. The person shaping the wines will be me. It is vintage, vineyard and clone in its purest form shaped and nurtured by me. It is Pinot Noir without the red."
Pinot Noir Blanc was a central player in the acrimonious parting of winemaker Anthony Rynders from Domaine Serene in 2009. A number of allegations were made by Domaine Serene against Rynders, but one main issue was the winery's winemaking process used to produce its Coeur Blanc white wine from Pinot Noir grapes. Domaine Serene was concerned that Rynders would use the winery's proprietary winemaking process to make his own competing Pinot Noir Blanc. Rynders argued that the method of making white wine from Pinot Noir grapes is not proprietary and common knowledge to many winemakers.
Houseman described his method of crafting Pinot Noir Blanc. "It is a bit of beast to make. It takes up my entire crew and the whole winery, as we whole cluster press the fruit. It requires a crew to sort the grapes as they go into the press. Once the press is filled (the fruit is inside for a maximum of five minutes before the press is emptied), the grapes are again sorted and made into Pinot Noir Blanc, thus requiring two crews and a whole winery to make it. The press liberates free-run juice. We settle the juice overnight, then rack into French oak puncheons (25% new), where we use several aromatic yeast strains to ferment to dryness. This is a slow process! Once primary fermentation is over, the wine goes through full malolactic fermentation and lees stirring until we get the rich, viscous, toasty flavors I am looking for. At this point we will rack the wine to neutral barrels and age the cuvée on its lees until bottling for a full 18 months."
Pinot Noir Blanc should not be confused with Pinot Blanc which is a white grape genetic mutation of Pinot Noir. It is often confused with Chardonnay and wineries vinify it in a similar style, using barrel fermentation, new oak and malolactic fermentation. It can also be made into a crisper wine that can age. Tony Soter at Etude pioneered Pinot Blanc in California and several Oregon producers, particularly The Four Graces, have produced exemplary versions.
I recently reviewed three excellent examples of Pinot Noir Blanc, all from the Willamette Valley of Oregon. These are fascinating wines meant to challenge the palate accustomed to the aroma and flavor profile of traditional red Pinot Noir. Nothing quite like it.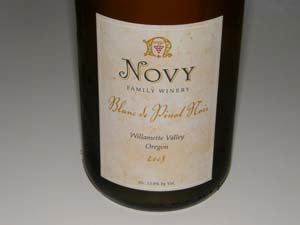 2008 Novy Family Wines Willamette Valley Blanc de Pinot Noir
13.9% alc., 117 cases, $25, released October 2009. Produced from a block of Arbre Vert Vineyard planted to Dijon 115 clone which did not reach full ripeness in 2007. Whole cluster pressed, allowed to settle for a day, and drained into a combination of stainless steel and older oak barrels. Fermentation continued and the wine went through partial malolactic fermentation. · Light apricot color in the glass. Aromas of baked bread, mocha, oak and pear. Delicate flavors of pears, toast and orange flower water. Welcome acidity without tannins. An appropriate aperitif or perfect accompaniment to lighter fare and best served slightly chilled. Good.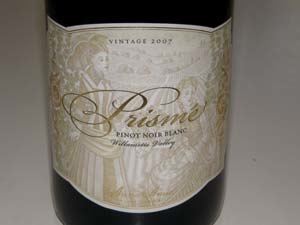 2007 Anne Amie Prismé Willamette Valley Pinot Noir Blanc
14.1% alc., pH 3.43, 390 cases, $45, released November 2009. Pommard clone. · Light apricot color in the glass. Interesting aromatic nuances of papaya, peach, coconut and paraffin. Seductive and understated on the palate with pleasing flavors of white peaches, honey, cookie dough, almonds and lychee. Very creamy with bright acidity and polished tannins. An unusual and captivating wine that is full of unexpected charm. Dreamy with shellfish. Very good (+).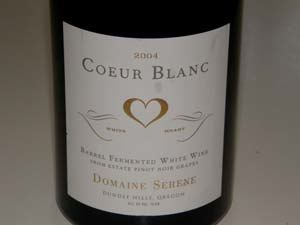 2004 Domaine Serene Willamette Valley Coeur Blanc "White Heart"
14.5% alc., 450 cases, $75. Barrel fermented white wine from estate Pinot Noir. Gently pressed whole clusters have limited contact with the skins so only the essence or white heart juice is expressed. Aged 16 months on the lees in 30% new French oak and 12 months in bottle. Winemaker was Tony Rynders. Produced in the 2004, 2005, 2006 and 2008 vintages. · Light apricot color in the glass. Potent aromas of gardenias, paraffin, buttered popcorn and marzipan. Rich and delicious flavors of pears, canned peaches, and roasted nuts caressed by gentle oak tannins with an impressive persistence on the pleasing finish. Very good.
Novy Family Wines are a sister label to Siduri and the wines are crafted by winemaker Adam Lee. The tasting room is open for sales to the public by appointment Monday through Saturday at 980 Airway Court, Suite C, in Santa Rosa. The website is www.novyfamilywines.com and the phone is 707-578-3882. The Novy Blanc de Noir also has limited retail distribution. The Anne Amie Prismé is available for purchase online at www.anneamie.com. The Anne Amie Vineyards tasting room (photo below) is open daily March through December at 6580 NE Mineral Springs Rd in McMinnville, Oregon. Pre-orders are being taken for the 2008 Domaine Serene Coeur Blanc (600 cases, $74) at 1-866-864-6555. The Domaine Serene tasting room is open Wednesday through Monday at 6555 NE Hilltop Lane in Dayton, Oregon. The website is www.domaineserene.com.