Prodigal Wines: Fifty Years in the Making
Stephen Russell was an early graduate of the University of California at Davis, leaving with a degree in enology in 1960 to become E.&J. Gallo's first formally trained enologist. He quickly discovered that corporate winemaking did not interest him, but before departing he left behind a legacy. Stephen's claim to fame at E.&J. Gallo was his creation of a process for carbonization of Ripple!
After a failed attempt to purchase the Freemark Abbey Winery, Stephen left the wine industry for good and returned to school where he obtained his DVM and PhD degrees. He pursued a very successful career in cancer research and more recently advised researchers about proper paths to acquiring research grants.
In 2001, Stephen decided to do something that involved his lovely spouse, Mary, who had faithfully stood by his side through the years. Together they bought a house and land in the southeastern corner of the Sta. Rita Hills appellation, and Prodigal Wines was launched. The "prodigal" son had returned, dedicated to capturing the essence of Pinot Noir. Stephen likes to use the tag line, "A Wine Fifty Years in the Making."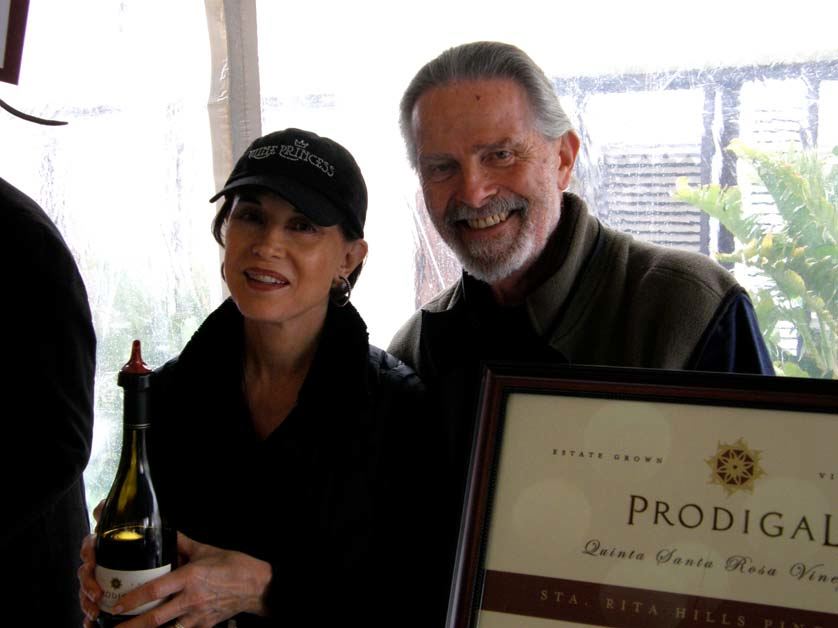 The Russells have planted an estate vineyard consisting of four acres of Pinot Noir (Dijon clones 115, 667 and 777). The first vintage was harvested in 2005. The vineyard is named Quinta Santa Rosa and is managed by Jeff Newton of Coastal Vineyard Care. Stephen used consultants for his first vintages, but beginning with the 2007 wines, he has become the sole winemaker. The wines are crafted in a new shared facility on Santa Rosa Road in the Santa Rita Hills. I like his style, which is all about precision, restraint and elegance. Some may wish for more fruit intensity (these wines are not fruit bombs), but I prefer the delicate approach which produces more nuanced wines. All the wines have supple tannins so they are very approachable now. The 2007 wines were released April 1, 2010.
Prodigal wines may be tasted by appointment at the winery (805-688-0476) and are conducted by either Stephen, Mary or the new assistant winemaker, Stephen Villa. The tasting usually last 1-2 hours and includes barrel tasting. The wines are also sold through a mailing list and online at www.prodigalwines.com. Look for the Russells at the upcoming Santa Barbara Vintner's Festival on April 17 in Lompoc.