The Donum Estate: Peaking at Ten Years
Now ten years old, The Donum Estate, is leading the cadre of Pinot Noir producers in Carneros that are producing stunning wines to rival any made in California today. Since the first release in 2001, consisting of 150 cases of Donum Carneros Estate Grown Pinot Noir, the reputation of The Donum Estate has increasingly attracted reverence by Pinot Noir lovers. With the release of the 2007 vintage of Pinot Noirs, Donum has reached the fraternity of California's top Pinot Noir producers.
The superb quality of the wines have reflected winegrower and President Anne Moller-Racke's commitment to the European model of intimate involvement in the estate vineyards. The result are wines from Donum Estate that not only exhibit regional character, they possess a sensuality that is seductive rather than overpowering.
Anne was the Vineyard Manager for Buena Vista Carneros beginning in 1983. After arriving in Sonoma from Germany, she gained experience working with winegrowing authorities like Dr. Phil Freese, Andre Tchelistcheff, and Dr. Paul Skinner. She played an instrumental role in obtaining appellation status for Carneros and the formation of the Carneros Quality Alliance. In 1997, Anne was promoted to Vice President of Vineyard Operations at Buena Vista Carneros. When the Moller-Racke family sold Buena Vista to Allied Domecq in 2001, Markus and Anne Moller-Racke divorced, and Anne split off 200 acres of the Buena Vista Estate to start her personal project, The Donum Estate as well as to grow grapes for the rejuvenated Robert Stemmler label. The name, Donum, translates from the Latin to "donation" and refers to grapes as a gift of the land. Both Donum and Stemmler labels produce Pinot Noir from Carneros and the Russian River Valley.
Anne has farmed the Donum Ranch for over 20 years, and a few old Martini selection Pinot Noir and old Wente Chardonnay blocks for nearly 30 years. She says, "As plant and budwood materials have matured, the vineyards have really come together. Because we have tended and tweaked them during this process, we understand our estate. Like the Burgundians, we have identified our best blocks and best portions of blocks. Some were clear from the outset, others have been nurtured and coaxed and brought forward. The luxury of this project is that it has allowed us to treat all of our sites as grand crus."
The Donum Estate vineyard plantings consist of 70 acres of the former Tula Vista Vineyard off Ramal Road and a separate 20-acre Ferguson Block Vineyard located a mile away. The clonal plantings offer an interesting history. In the late 1980s, Anne was having difficulty locating California rootstock for plantings at Buena Vista. She contacted a fellow German ex-patriot in the Finger Lakes region of New York, Hermann J. Weimer, who sold her 3,309 rootstocks from his extensive nursery in 1989-1990. Along with the rootstocks, she obtained Roederer budwood, a Pinot Noir still wine clone. This clone's true origins remain clouded and several viticulturists do not feel it is the same as other Roederer clones from France such as those planted at Roederer in the Anderson Valley. The berries are very small with thick skins, much like blueberries, producing dark, beefy wines of great depth. This clone has been named the Donum selection and both the 2002 and 2003 Donum Pinots were made entirely from the 5.5-acre 4-90 block of this selection. The Donum Vineyard also contains several other clonal selections including Calera, Hanzell, Swan and Dijon 777. Anne has found that Dijon clones don't perform well on her estate, seemingly better suited to other Carneros sites, or the Russian River Valley where Donum farms the 11-acre Nugent Vineyard that is planted to Dijon selections.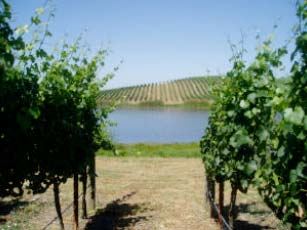 The Ferguson Block was planted in 1974 to a Martini selection on St. George rootstock. The gnarled vines are virused and Anne works hard to get yields of one ton per acre from these treasured vines. The Ferguson Block has been used in a vineyard-designated Robert Stemmler Pinot Noir and a small portion has been included in the Donuum Estate Pinot Noir in most years. The Donum Estate Pinot Noir is sourced primarily from Roederer clonal selections. In 2007, a 150-case lot was also made from a select Roederer block of the Donum Estate, the 4-90 block, and labeled as Donum West Slope Estate Grown Carneros Pinot Noir.
Anne is very proud of her Carneros heritage. She talks about the old days when the land in Carneros was cheap, large parcels easily obtainable, and land was easy to develop. Prime grapes sold for only $600 per ton, and often went into sparkling wines or anonymously into blended wines. Now the scene in Carneros has changed completely. It is taken time to understand the sites and plant the appropriate selections. Anne feels strongly that, "Carneros can deliver." Although Donum Estate Pinot Noir has become a vanguard wine for the region, Anne is not resting on her laurels. She admits, "I am constantly on a quest with Pinot Noir."
Anne started the Donum project using noted Carneros winemaker Ken Bernard to craft the wines. As production increased, it was necessary to bring on a full-time winemaker. Bernard recommended Kenneth Juhasz ("Uhaas") who had made Pinot Noir in New Zealand and Oregon. Anne and Kenneth clicked and the partnership began in 2002. Ken Bernard has continued as a consultant for the Robert Stemmler label.
I have favorably reviewed every vintage of Donum Estate Pinot Noir since 2002 and have noticed subtle refinements and improvements in style and quality that now bring the wines to the forefront in Carneros. The 2007 lineup is remarkably good and definitely worth your attention. If you have bad memories of Carneros Pinot Noirs of the past, put them to rest and explore the wines of The Donum Estate.
2007 Donum Estate Grown Carneros Pinot Noir
14.4% alc., pH 3.69, 800 cases, $65. Primarily Donum Roederer selection blended with Dijon 667, a Martini selection, and a Calera selection. De-stemmed, coldsoaked. All free-run juice. Aged 11 months in 70% new French oak. Best barrel selection. Unfined and unfiltered. · Moderately dark reddish-purple color in the glass. Savory notes dominate the aromatic profile with scents of herbs, forest floor, tobacco and wine cellar accenting the black cherry fruit. Ambrosial blackberry and black raspberry core with underlying loamy earth notes. Smooth and creamy on the palate with silky but firm tannins. Very typical of Carneros terroir. Very good.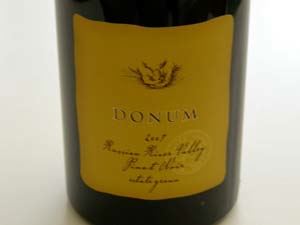 2007 Donum Estate Grown Russian River Valley Pinot Noir
14.4% alc., pH 3.69, 500 cases, $65 (sold out). Blend of Dijon 115 and 667 clones. All free-run juice. Aged 11 months in 75% new Remond French oak. Best barrel selection. Unfined and unfiltered. · Very dark reddish-purple color in the glass. Lovely aromas of Bing cherries, strawberry jam, baking spice, cardamon and clove. Great nose! Delicious and creamy core of cherries and berries nicely enhanced with spice and cola that linger on the generous finish. The glamorous fruit is caressed by supple tannins. I could drink this all night long.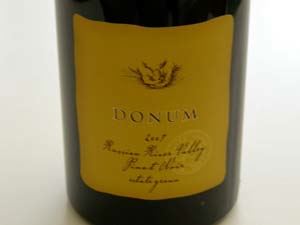 2007 Donum Estate Grown West Slope Carneros Pinot Noir
14.4% alc., pH 3.72, 150 cases, $70. Inaugural release of this wine. 100% Donum Roederer selection from 4-90 block. De-stemmed, cold-soaked, send to barrel on lees after extended maceration. Aged 16 months in 70% new French oak. Best barrel selection. Unfined and unfiltered. · Hold on to your seat when you pop the cork on this one. Terrific nose that is heavily nuanced with aromas of cherries, berries, spice, oak toast and garden bouquet, all coming and going in the glass over time. The earth-kissed dark stone and berry fruit really attacks the senses and holds on with a firm grip as it coats every nook and cranny in the mouth and lingers for what seems like several minutes. The creamy texture and soft tannins add to the wine's sensuality. Descriptors don't do this wine justice. In short, flat-out great.
The Donum Estate wines may be purchased online at www.thedonumestate.com. An Estate Grown Chardonnay is also available. A tasting room is located off site in San Francisco at the Winery Collective at 485 Jefferson Street (415-929-9463). The Donum Estate is not open to the public.