On the Pinot Trail: WOPN 2010
The 2010 season of major Pinot Noir events was kicked off in Shell Beach, California on March 5 and 6 with the Tenth Anniversary of the World of Pinot Noir. My report which follows includes coverage of two major seminars and reviews of multiple wines tasted at the event.

Current William Selyem winemaker, Bob Cabral, and moderator, Michael Jordan, MS, and owner of WORD Wines, kicked off the weekend's festivities with an unprecedented tasting of Williams Selyem Pinot Noirs released over the period of 1993 to 2005. The tasting was divided into two segments: the "Burt" years (wines from 1991, 1992, 1995, 1996 and 1997 crafted by co-founder of Williams Selyem, Burt Williams) and the "Bob" years (wines from 1999, 2001, 2002, 2004 and 2005 made by Bob Cabral who joined Williams Selyem in July 1998). All the wines came from the library cellars of Williams Selyem guaranteeing their provenance. The two hosts offered many interesting background comments about each wine tasted, accompanied by an extensive photo presentation of the vineyards involved. The only thing missing were Burt and Ed.
The Williams Selyem Story has been told many times in the PinotFile, most recently in Volume 8, Issue 11 (www.princeofpinot.com/article/851/). When John Dyson acquired the winery in 1997, some vineyard sources predicated on a handshake agreement were lost (Olivet Lane Vineyard, Rochioli West Block), and new vineyard sources were acquired (Flax Vineyard, Bucher Vineyard, Weir Vineyard, and Peay Vineyard). Olivet Lane Vineyard will be picked up again beginning with the 2009 vintage. Dyson had the financial resources to also acquire land for estate vineyards, something Burt and Ed could never afford. The Drake Estate, consisting of about 35 acres of Pinot Noir and 2 acres of Chardonnay was planted on a property near Guerneville and the first crop was harvested in 2001. A second estate vineyard, the Litton Estate, was planted in 2002 on Westside Road about one mile south of the Allen Ranch where the original Williams Selyem production facility was located. The Litton Estate is 32 acres of Pinot Noir planted to multiple heritage selections and first harvested in 2005. The inaugural bottling of Williams Selyem Litton Estate Pinot Noir received a 100 point score from Wine Enthusiast magazine in 2010. The emphasis at Williams Selyem is on heritage selections, not Dijon clones.
The current Williams Selyem customer list has between 35,000 and 40,000 people.
The "Burt" Years

Burt's wines were known for their stunning aromatics and the wines presented at the seminar confirmed his reputation. The aromas had taken on secondary characters, or bouquet, and were still stunning examples of Russian River Valley and Sonoma Coast Pinot Noir. All the wines have aged gracefully and only the 1991 Pinot Noir was on the downside. It is no wonder that Burt Williams has become a winemaker icon.
What were Burt's secrets? First, he was meticulous in his winemaking and kept extensively detailed notes. He attempted to employ the same winemaking techniques for each vineyard which included de-stemming the grape clusters and adding back 20% to 30% whole clusters on the bottom of the fermentation tank, inoculating a Zinfandel yeast acquired from Jackass Vineyard (which is still in use today), employing intense sorting (the initial sorting table was a 4' x 8' piece of plywood), avoiding pumping using gravity only or assisted gravity with gas, initiation of hand punch downs with the onset of fermentation, and 5 day cold soaks during which time ice and sulfur dioxide was added to prevent fermentation. Free run juice was sent to barrel, the residual must and juice was bucketed into the press, gently pressed, and added to the top of the barrel. Varying amounts of oak were used depending on the vintage and the wine.
All the Williams Selyem wines over the past 30 years have been sourced from vineyards in the Russian River Valley and Sonoma Coast. Jordan pointed out that the Russian River Valley has more soil types than all of France with 400 different soil types in 150 square miles. The earliest documented vineyard in the Russian River Valley was planted in 1839 by Yegor Tschernick. By 1891, there were 300 growers and 7,000 acres of vines. Prohibition and phylloxera killed the wine industry and the region became known for apples, plums and other fruit. Today, there are more than 65 wineries and 13,000 acres planted. The Russian River Valley can be divided into three regions: the Middle Reach which is the most northern area with volcanic ash soils, Green Valley with Goldridge soils, and the Laguna Ridge/Santa Rosa Plain with Goldridge soils along the Laguna Ridge and clay soils on the Plain. The distinguishing climatic feature of the Russian River Valley is the fog which is often termed "heaven's refrigeration." It keeps the grapes cool and allows acids to develop. The plentiful daytime sun (it can reach 100 degrees in the summer) creates tannins.
The Sonoma Coast is the largest AVA in Sonoma County at 500,000 acres, but it is the least planted area. It has more than twice the annual rainfall of the Russian River Valley, but it is warm enough to ripen wine grapes because the vineyards are located on ridges above the fog line. Because the vineyards are within a few miles of the Pacific Ocean, farming here is literally on the edge and quite risky. There are years, such as in 2005, when some crops were completely damaged, but in the best years, the quality is extraordinary.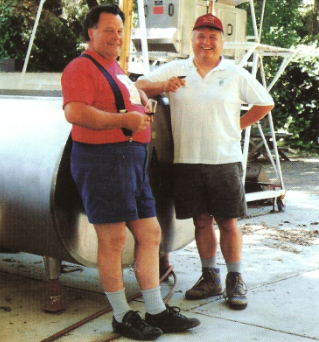 Allen Vineyard Howard and Ann Allen began growing grapes in the Russian River Valley in 1970 on a former prune orchard and pasture along Westside Road. Howard worked with neighbor, Joe Rochioli, and soon was selling grapes to the Allen's other neighbor, Williams Selyem. The first Williams Selyem Allen Vineyard Pinot Noir was produced in 1980. The Allen Vineyard consists of 14.8 acres of Pinot Noir and 15.63 acres of Chardonnay. The Pinot Noir is an old Pommard selection that is also planted in the West Block and East Block of the Rochioli Vineyard. Some Dijon 115 was added in 2004.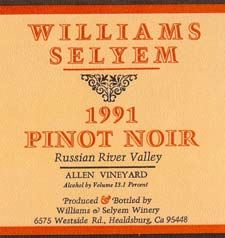 1991 Williams Selyem Allen Vineyard Russian River Valley Pinot Noir
13.1% alc., pH 3.54, 688 cases, $35. Harvested at 22.5 to 23.8 Brix. Aged 16 months in 50% new and 50% 1-year-old Francois Freres oak barrels. · Aromas of green tea, green bean and cherries. Lightly fruited on the palate with notes of strawberries, rhubarb and faint brown spice offset by bright acidity. Oak tannins surfaced as the wine faded over time in the glass.
Olivet Lane Vineyard In 1973, Vincent Pellegrini and his wife Ida bought a 70-acre apple and plum orchard on West Olivet Road in Santa Rosa. They planted Pinot Noir and Chardonnay in 1975, and by the late 1970s, Robert Pellegrini had bottled an "Olivet Lane" Chardonnay and the name stuck. The vineyard consists of 20.1 acres of Pinot Noir and 38 acres of Chardonnay on AXR rootstock. The Pinot Noir clone is reputed to be Martini and the Chardonnay clone Wente. The first Williams Selyem Olivet Lane Vineyard Pinot Noir was produced in 1988.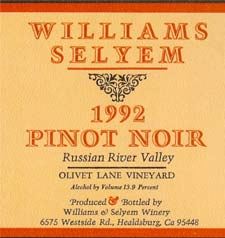 1992 Williams Selyem Olivet Lane Vineyard Russian River Valley Pinot Noir
13.9% alc., pH 3.46, $28. Harvested at 23.9 Brix. Aged 11 months in 62% new and 38% 1- year-old Francois Freres oak barrels. · The nose is remarkably intense featuring black cherries, cola and spice. Richly fruited with amazingly fresh flavors of black cherries and berries. The tannins have fully integrated and the wine drinks like silk. Incredible.
Russian River Valley Blend The first vintage was 1988. Burt's idea was to try out new vineyards and make a wine for a few years to see if they were worthy of a vineyard designate. This trial developed into the Russian River Valley Blend which has become the winery's flagship wine. The Drake Estate fruit now makes up over 90% of the blend to ensure a consistent high quality standard. Pommard is the dominant clone in the blend.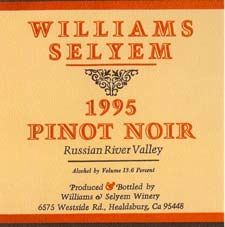 1995 Williams Selyem Russian River Valley Pinot Noir
13.6% alc., pH 3.57, $29. A blend of 27% Olivet Lane Vineyard, 69% Cohn Vineyard, and 6% Rochioli East Block. Harvested at 23.1 to 23.8 Brix. Aged 11 months in 40% new, 30% 1-year-old and 30% 2-year-old Francois Freres oak barrels. · A medium-weighted and well-structured wine with bright black cherry fruit on the nose and palate. The fruit is a little faded bringing acid and oak to the forefront, but there is still plenty of charm.
Hirsch Vineyard This vineyard is located on the true Sonoma Coast at 1,400 foot elevation. Hirsch began planting Riesling in 1980 and was quickly advised to switch to Pinot Noir. Most of the soils are uplifted seabed, gravelly loam with varying degrees of clay. The first vintage for Williams Selyem Hirsch Vineyard Pinot Noir was 1994.
1996 Williams Selyem Hirsch Vineyard Sonoma Coast Pinot Noir
13.8% alc., pH 3.59, $45. Primarily from older blocks planted to Mt. Eden selection and Pommard clone. Harvested at 23.5 to 24.2 Brix in late August as this was a warm year. Aged 18 months in 70% new and 30% 1-year-old Francois Freres oak barrels. · The star of the seminar. Deep and savory berry fruit aromas lead to a delicious and intense berry core that is mildly spiced. Smoothly textured with gossamer tannins and a persistent finish with a slight citrus note. Simply great!
Rochioli Vineyard The story is well known. Seventy-five-year-old Joe Rochioli, Jr., has spent his entire life on the Rochioli Vineyard ranch. Joe was one of the first to realize the potential for Pinot Noir in the Russian River Valley and after several trips to University of California at Davis, found a selection of Pinot Noir in 1967 that would become known as West Block and East Block. The vineyard was initially laid out in a spacing of 8' by 14' so that green beans could be inter planted between the vines until they matured to fruit bearing vines. A superb Pinot Noir made in 1972 at Davis Bynum Winery from Rochioli fruit validated Joe's intuition. 1997 was Burt's last vintage at Williams Selyem and was the last time West Block fruit was sold to the Williams Selyem winery.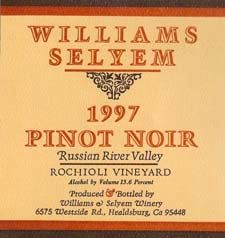 1997 Williams Selyem Rochioli Vineyard Russian River Valley Pinot Noir
13.6% alc., pH 3.53, $125 (Burt requested this price as a tribute to the last vintage of Rochioli Vineyard at Williams Selyem). Harvested at 23.5 Brix. Aged 19 months in 70% new and 30% 1-year-old Francois Freres oak barrels. · Still a big and satisfying wine displaying black cherry and dark red berry fruit with a lush mid palate. Finishes with a note of tart cherries and marzipan.
The "Bob" Years

Bob Cabral has been crafting wine professionally since 1980. One of the first California wineries he became passionate about was Williams Selyem. He joined the list during graduate school in 1985 as customer #576, soon after experiencing the Williams Selyem 1983 vintage wines. He has held various winemaking positions at De Loach Vineyards, Knude Estate Winery, Alderbrook Vineyards and Hartford Court Winery. In 1997 Burt and Ed announced Williams Selyem was for sale. Initially, famed quarterback Joe Montana considered buying the winery, but by the end of 1997 an agreement had been reached with John and Kathe Dyson. John and Kathe had been on the Williams Selyem list for years and owned the Millbrook Winery in New York, as well as vineyards in the Central Coast of California. The agreement closed in March 1998.
Bob was approached by Burt about taking over the winemaking reigns. The two of them met in April 1998 to barrel taste at Hartford Court and Burt fed him a steady stream of winemaking questions. The encounter proved mutually satisfying and Bob was offered the job. Bob had only been at Hartford Court for a year and initially declined the offer. Subsequently, he met John Dyson on a trip to the East Coast, and discovered that they shared a common philosophy of winemaking and viticulture. Bob agreed to take the job on one condition: that he would receive one case of each wine produced in every vintage. After John heard this request, there was a long silence and then he broke out in laughter. It was, after all, a very modest request. As a relatively naive 35 year-old, Bob started work on July 29, 1998. Burt had agreed to stay on for 5 years to consult but after the 1998 vintage, he largely left Bob to his own devices. Bob admits that it takes considerable time to understand the vineyards, most critically, when to pick, and initially he leaned on the ripe side. In more recent vintages, he has picked earlier, and the resulting alcohols have moved down into the mid 13s to low 14s. Bob has persevered admirably and today continues to carry forward the tradition of authentic wines established by his predecessor, Burt Williams.
Williams Selyem wines are still produced at the leased facility on the Allen property while a new winery and guest center is currently being constructed on the Litton Estate property.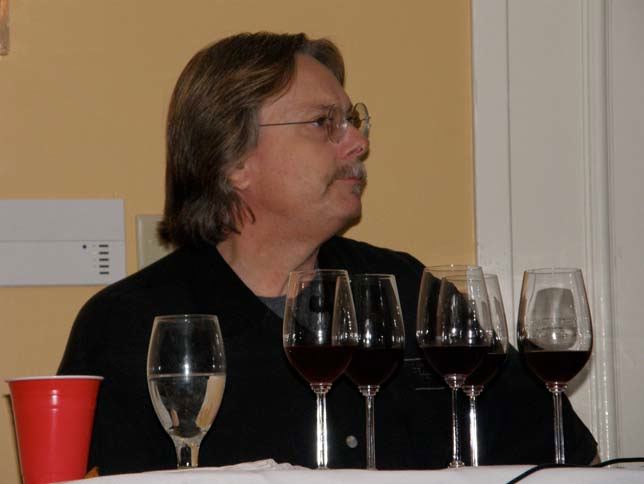 Precious Mountain Vineyard Planted in 1973, the dry farmed Precious Mountain Vineyard is owned and farmed by Donnie and Linden Schatzberg. There are 5+ acres planted to various clones but since 1996, Williams Selyem has used Pommard exclusively. The Pinot Noir is grafted onto Gewürztraminer roots. The organically maintained vineyard is located near Fort Ross, 1,450 feet up on the steep slopes of a former sheep ranch. Precious Mountain has been in partnership with Williams Selyem since 1996, when a chance phone call to Burt Williams created a single contract to sell nearly all their grapes to the winery over the following harvests.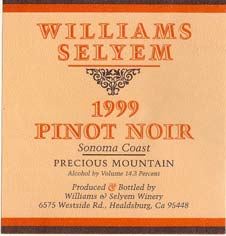 1999 Williams Selyem Precious Mountain Sonoma Coast Pinot Noir
14.3% alc., pH 3.43, $80. Harvested at 24.1 Brix in mid-October during a cold year. Aged 14 months in 66% new and 34% 1-year-old Francois Freres oak barrels. · Astonishingly fresh, as if vinified recently. Vivid plum tart on the nose. Very tasty flavors of Asian spiced plum, wild berries and white pepper. Wines from this vineyard show consistent age ability.
Flax Vineyard This 52-acre ranch was purchased by Phil and Toby Flax in the late 1970s from actor Fred MacMurray. The vineyard sits a little higher on the hillside than the neighboring Allen Vineyard and shares many characteristics of that famous vineyard. Two specific vineyard blocks (6.63 acres) planted in 1996 to Pommard selection are farmed for Williams Selyem by Ulises Valdez. The first vintage for Williams Selyem was 1991 when it was added to the Russian River Valley blend. By 2001, the Flax vineyard had become a vineyard-designate.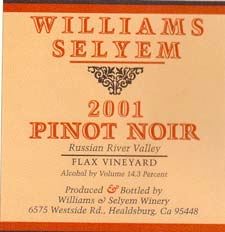 2001 Williams Selyem Flax Vineyard Russian River Valley Pinot Noir
14.3% alc., pH 3.61, $46. Harvested at 23.9-24.1 Brix. Aged 17 months in 60% new and 40% 1- year-old Francois Freres oak barrels. · Bright and nuanced nose showing off scents of raspberries, cranberries, cola and wet wood. Delicious core of moderately rich black cherries and boysenberries with a touch of earthiness and cherry cola. Soft, smooth and very pleasing.
Westside Road Neighbors This blend began as an intellectual exercise proposed by John Dyson. John asked Bob to make a superior blended wine composed of some of the outstanding single vineyard lots. It was meant to be a serious wine, not a mid-tier blend. The initial blend in 2002 turned out to be close to equal parts Bacigalupi Vineyard, Bucher Vineyard, Allen Vineyard, Rochioli Riverblock Vineyard, and Flax Vineyard. Beginning in 2007, a small amount of Litton Estate, located next door to Flax, has been added to the blend.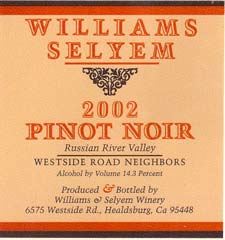 2002 Williams Selyem Westside Road Neighbors Russian River Valley Pinot Noir
14.3% alc., pH 3.55, $59. Harvested at 24.6 average Brix. Aged 15 months in 67% new and 33% 1-year-old Francois Freres oak barrels. · Deeply colored. Perfume of black cherries, ripe strawberries, spice and underbrush which picks up intensity in the glass over time. The flashy attack of raspberry and strawberry is nicely spiced. As the fruit expands in the mouth, the plushness is very sensual. An in-your-face wine that is thoroughly hedonistic with an impressively long finish. Can go many more years.
Rochioli Riverblock Vineyard Rochioli Riverblock was groomed for West Block's replacement as West Block became infested with numerous diseases and eventually had to be replanted. Riverblock consists of 13 newer acres planted to Dijon 115, 777 and Pommard and 12 older acres planted to Pommard and Wente selection.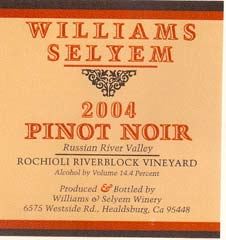 2004 Williams Selyem Rochioli Riverblock Vineyard Russian River Valley Pinot Noir
14.3% alc., pH 3.48, $72. Clones 115, 777 and West Block. Harvested at 24.6 Brix. Aged 16 months in 68% new and 32% 1-year-old Francois Freres oak barrels. · Aromas of spiced berries and cut flowers. Intense and sappy dark red cherries and berries that coat the mouth, finishing with bright aromatic fruit on a very persistent finish.
Litton Estate Vineyard This 51-acre property was acquired by John Dyson in 2001, and was the last large parcel of land available between Rochioli and Davis Bynum on Westside Road. The vineyard is planted to blocks according to soil type with several rootstocks and clonal selections including Pommard, Swan, Mt. Eden, and Calera. A number of horse trades were involved to acquire the desired heritage selections. There is one 3-acre block referred to as Block 10 Mass Selection, where every eighteenth vine is a different clone. The first wine was produced from this vineyard in 2005.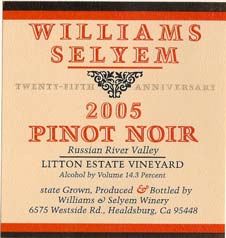 2005 Williams Selyem Litton Estate Vineyard Russian River Valley Pinot Noir
14.3% alc., pH 3.55, 48 cases, $100. Harvested from 12 acres at 24.2 Brix. Pommard (60%), Swan (25%) and Mt. Eden (15%). Aged 18 months in 100% 1-year-old Francois Freres oak barrels. This was the first Williams Selyem 100% estate wine and was given to the winery's best customers and not sold. · A very pleasing wine that is moderately delicate in style. Lovely aromas of berry tart, cedar and cut flowers. The redder-fruit core is a bit tart and tight. There are some welcoming accents of Asian spice box and cherry cola.
2007 Williams Selyem Litton Estate Vineyard Russian River Valley Pinot Noir
This wine was not part of the formal tasting but offered at the end as a special treat. The wine ($100) and the new Reidel Sommelier glass it was served in ($125) made for a very special and expensive treat. · Unfortunately, my new glass apparently came direct from its cardboard container because the cardboard smell ruined the aromatic pleasure of the wine. On the palate, there were waves and layers of fruit including cherries, strawberries and rhubarb with accents of cherry cola, clove and minerals. I hope to sample this wine in the future under more favorable conditions.
Watch the James Beard award-winning video on the Russian River Valley titled Stewards of the Land produced by Grape Radio www.graperadio.com/archives/2008/06/18/graperadio-wines-james-beard-award/. Also, visit the Williams Selyem website at www.williamsselyem.com for more information about the winery and to view additional videos on Burt Williams, Howard Allen and other Russian River Valley winegrowing pioneers.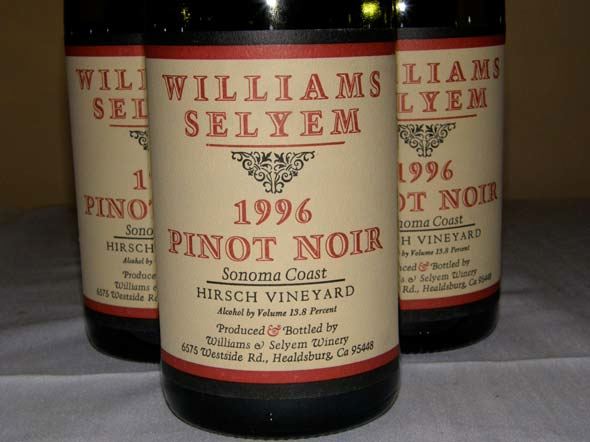 Allen Meadows, aka Burghound, was the moderator for this seminar featuring the owner and winemaker of Domaine Fourrier, Jean Marie Fourrier. Allen commented during the seminar, "The best wines are built on balance, not concentration," and the wines of Domaine Fourrier exemplified this. Photo: Meadows left, Fourrier right.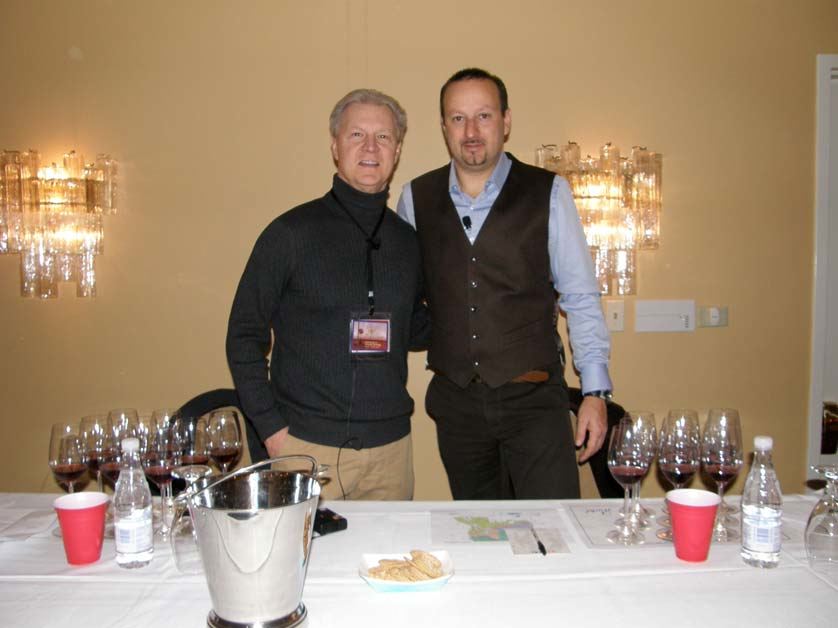 Domaine Fourrier has a four generation history in Gevrey-Chambertain and was one of the first domaines in Burgundy to export wine to the United States. Domaine Fourrier has extensive holdings throughout most of the heralded appellations of Burgundy, but the core vineyards are in Gevrey-Chambertin. The Domaine experienced a revitalization by the arrival of Jean Marie Fourrier in 1994, who combined the traditions of his father and uncle, his experience gained while working with Henri Jayer and Domaine Drouhin Oregon, and his own clear sense of style. Jean Marie inaugurated his own winemaking technique at Domaine Fourrier in 1996, by 1997 he was no longer racking the wines and leaving them in barrel for 18 months. By 1998 he had begun his current technique of de-stemming and natural yeast fermentations. Since Jean Marie assumed the reigns at Domaine Fourrier, the wines have garnered worldwide critical acclaim. Jean Marie puts his ego aside and allows the terroir to speak. His wines are "terroir in a glass."
The wines of Domaine Fourrier are only made from vines at least 30 years old. Selection massale is the single method used to replace failing vines. No chemical fertilizers are used. Every vineyard is vinified separately. Aging is carried out in no more than 20% new oak with the wines left on their lees until bottling which usually occurs 20 to 24 months after harvest. Jean Marie avoids fining and filtering the wines if possible.
During the seminar, Allen made several salient comments about the three vintages tasted including 2005, 2006 and 2007. The wines exemplified his summary. The 2005 red Burgundies have power but not currently open for business. They are 20 year wines. Prices are very high. The 2006 red Burgundies have good density and extraction and are 30 year wines. They are more approachable now than the 2005 wines. The 2007 red Burgundies are pure and elegant and the most drinkable now. These are 15 to 17 year wines.
Unfortunately, finding the Burgundy you want is always a challenge. I would highly recommend you seek out the 2007 Domaine Fourrier wines if you are looking for immediate gratification. If you are willing to wait, look for the 2006 and 2005 vintage wines. Check www.wine-searcher.com, and www.vinquire.com for sources.

My overall impression this year of the many wines I tasted is that many of them taste the same and lack distinctive characteristics. The overall quality of Pinot Noir from North America continues to shine, but there are many wines that are just ordinary. The bar has been set higher, and producers must challenge themselves to reach for more with Pinot Noir. The wines below are listed in the order they were tasted in the Press Room at WOPN. I have starred the best wines for your quick perusal.