On The Pinot Trail: Pigs & Pinot
The Fifth Annual Pigs & Pinot Celebration was held March 19 and 20, 2010 at Hotel Healdsburg in Healdsburg, California. This event has become more popular every year, and tickets sold out within 15 minutes after they were made available for purchase on the internet. The allure of the event is the bringing together of the country's most prolific pork and wine professionals, and many of the world's best Pinot Noirs. The guest chefs included Bryan Voltaggio (VOLT Restaurant, Frederick, Maryland), Kevin Gillespie (Woodfire Grill, Atlanta, Georgia), Tyler Florence (Tyler Florence Rotisserie & Wine, Mill Valley, California), all prominent luminaries on the Food Network, and noted San Francisco restaurateur and James Beard Award for Best Chef in California winner Roland Passot (La Folie, Left Bank and LB Steak). Visiting chefs included Dustin Valette (Dry Creek Kitchen, Healdsburg), Amar Santana (Charlie Palmer at Bloomingdale's), Scott Romano (Charlie Palmer at The Joule), Matt Hill (Charlie Palmer Steak, Washington DC), Tony Aiazzi (former Aureole Executive Chef), and Phillippe Rispoli (Supreme Cuisine). Kevin Gillespie (left) and Amar Santana are pictured below at the event. The guest winery representatives were Paul Hobbs (Paul Hobbs Winery), Michael Browne (Kosta Browne), Tony Soter (Soter Vineyards), Ben Papapietro (Papapietro Perry), and Suzan Chambers (importer of wines of Domaine de l'Arlot of Burgundy).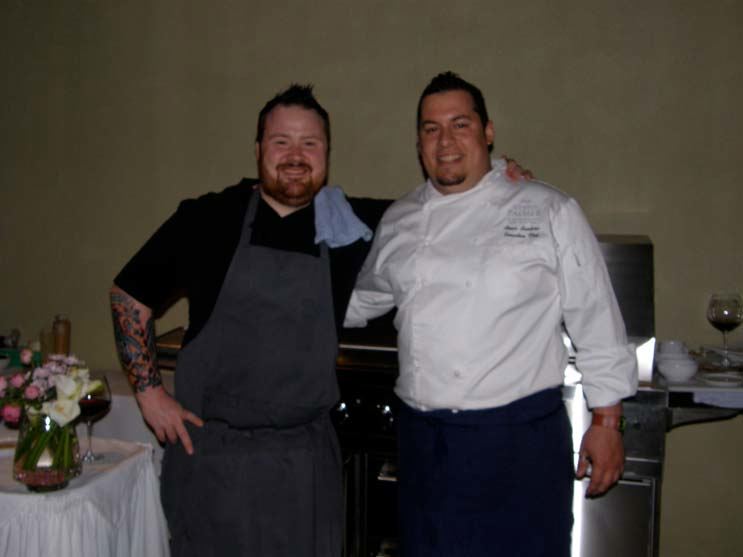 The weekend benefits Share Our Strength®, the nation's leading nonprofit organization working to end childhood hunger in America by 2015 (nearly one in four children in the United States currently struggle with hunger), the Healdsburg Education Foundation, St. John School, and The Healdsburg School.
For this year's gala dinner, two suckling pigs were raised, hand-picked from Clark Summit Farm and raised in the gardens of Quivira Vineyards. The pigs were fed Dry Creek Kitchen Restaurant vegetable scraps and finished in the European style, with an acorn diet to produce a richer marbling and slightly sweet fat.
The driving force behind the Pigs & Pinot event is Charlie Palmer of the Charlie Palmer Group. A celebrated chef and hospitality entrepreneur, Charlie Palmer has been acclaimed for his progressive American cooking infused with classical French cuisine. In 1988, he first achieved notoriety while creating dishes featuring regional American ingredients at his restaurant, Aureole, which relocated to a new location at One Bryant Park in 2009. Over the years, Palmer has opened 13 notable restaurants across the country, a growing number of wine shops and exceptional boutique hotels. Palmer is the author of four cookbooks including Charlie Palmer's Practical Guide to the New American Kitchen (Mecher Media/2009).
Palmer is a long time Burgundy devotee, but he only fully embraced the Pinot Noir grape when he moved from New York to Healdsburg. He is now a "drink local" guy who loves to showcase his favorite Sonoma County wines at Dry Creek Kitchen.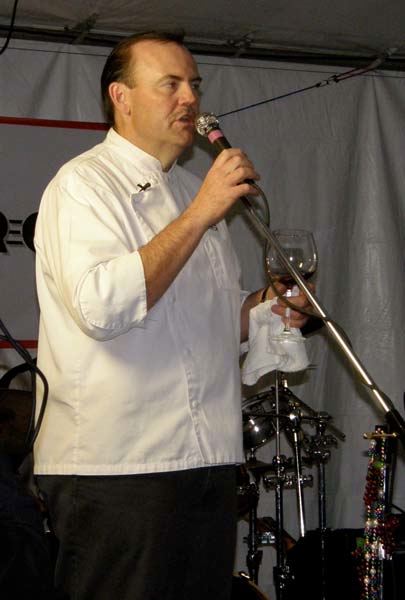 I participated as one of three judges in the event's Pinot Cup. Ray Isle, Wine Editor of Food & Wine and Virginie Boone, contributing wine writer for The Press Democrat, joined me on Friday afternoon as we blind judged 51 Pinot Noirs from California, Oregon, Burgundy, South Africa and New Zealand. The list of producers read like a who's who of Pinot Noir and it was quite a challenge for us to pick the best wine and a runner up.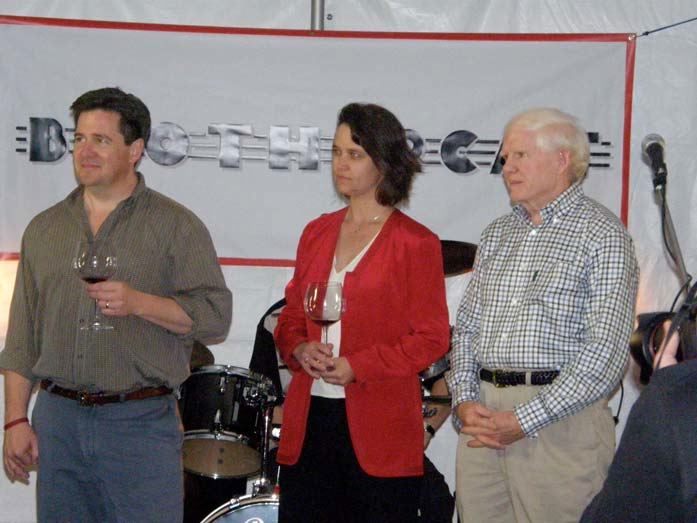 The winning wine was an unanimous pick, however: 2007 Woodenhead Buena Tierra Vineyard Russian River Valley Pinot Noir. The runner up was: 2007 Williams Selyem Westside Road Neighbors Russian River Valley Pinot Noir.
The photo below shows the ebullient owners of Woodenhead, Zina Bower, who handles marketing and sales, and Nikolai Stez, the winemaker. Nikolai owes his inspiration to Burt Williams of Williams Selyem. He worked seventeen harvests at Williams Selyem as an assistant winemaker to Burt, learning from the master. With the sale of Williams Selyem in 1997, Nicolai started his own label, Woodenhead. Winemaking is "Burgundian done in the California style." I have been a fan of Woodenhead Pinot Noirs since 2004 and was happy to see the much-deserved award go to Woodenhead. Consider visiting the Woodenhead Tasting Room, recently voted Best in Sonoma County by readers of Bohemian magazine. The tasting room is open Thursday through Monday from 10:30 to 4:30 and is located at 5700 River Road, one mile west of Slusser, in Santa Rosa. The website is www.woodenheadwine.com.

The Buena Tierra Vineyard was planted in 1978, making it one of the oldest vineyards in the Russian River Valley. Owned and farmed by Joseph R. Miller, this venerable vineyard is located 1.5 miles southeast of Rochioli Vineyard in the low hills of the Laguna Ridge where the Russian River turns to head west to the Pacific Ocean. The site is ideal for Pinot Noir and Chardonnay, with well-drained sandy clay loam soil, cooling morning and evening fog, and bright sunshine during the day. Selectively irrigated, the vineyard is planted to several clones. Unfortunately, the vineyard is showing its age and yields are very small. Miller continues to farm the vineyard solely out of love for the wines that it produces since it is not at all profitable. Through the years, the vineyard has been the source of grapes for many notable bottlings including those of Williams Selyem and the now defunct Seven Lions Winery (owned by deceased Fred Williams). Since the sale of Williams Selyem in 1997, former Williams Selyem alumni Margi Wierenga (Brogan Cellars) and Nikolai Stez have been major recipients of Pinot Noir grapes from Buena Tierra and both produce vineyard designates using grapes from the original plantings. The Chardonnays have been impressive as well from this vineyard (Alban, Keegan Cellars, Shibumi Knoll, and Turjanis).
I did not keep detailed tasting notes but there were several other wines in the Pinot Cup that impressed me: 2006 Wild Horse Cheval Sauvage Santa Maria Valley Pinot Noir, 2007 Soter Vineyards Mineral Springs Ranch Willamette Valley Pinot Noir (the 2006 and 2008 vintages were also tasted at the Gala Dinner and all three vintages are superb), 2007 Alysian Rochioli Vineyard Allen-Rochioli Blocks Russian River Valley Pinot Noir, 2007 Arista Perli Vineyard Mendocino Ridge Pinot Noir, 2007 MacMurray Ranch Winemaker's Block Selection Russian River Valley Pinot Noir, 2007 george Ceremonial Vineyard Russian River Valley Pinot Noir, 2008 Thomas George Estates Lancel Creek Vineyard Russian River Valley Pinot Noir, 2008 Selby Calegari Vineyard Russian River Vally Pinot Noir, and 2008 De La Montanya Tinas Vineyard Russian River Valley Pinot Noir. Other Pinot Noirs sampled during the weekend which I can highly recommend include: 2007 Domaine Dujac Gevrey-Chambertin, 1er Cru, Burgundy, 2008 Penner-Ash Dussin Vineyard Yamhill-Carlton District Willamette Valley Pinot Noir, 2007 Woodenhead Humboldt County Pinot Noir and 2006 Peay Vineyards Pomarium Estate Sonoma Coast Pinot Noir.
The event wrapped up on Saturday evening with a Gala Dinner at the Dry Creek Kitchen. If you were lying in bed for hours and dreaming of the perfect dinner cooked by some of our country's greatest chefs and accompanied by a lineup of superb Pinot Noirs, you could not top this dinner. I have included a copy of the menu below for you to drool on.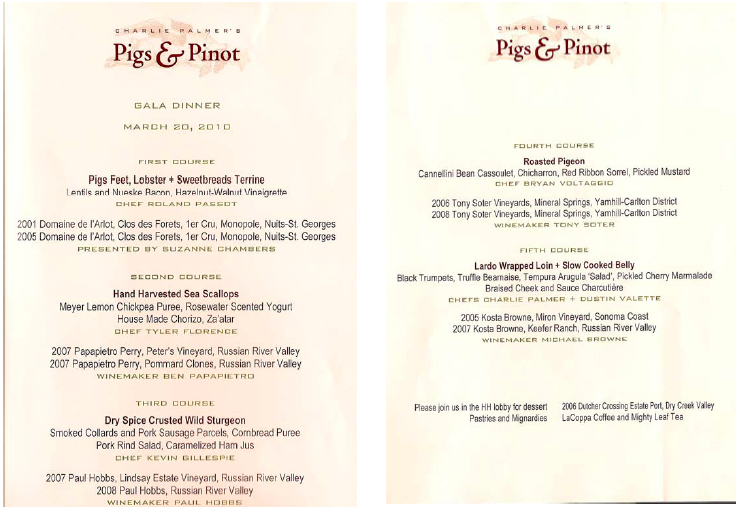 If you want to organize your own Pigs & Pinot dinner, consider using these pork product suppliers recommended by Charlie Palmer:
Surry Farms, Virginia: Local Serrano-style ham. Cure master Sam Edwards uses 100% pasture-raised, certified humane heritage Berkshire hogs, each fed two pounds of Virginia peanuts per day to create meat with serious marbling. Extended aging time creates a richer, concentrated flavor with overtones of salt and smoke. www.surryfarms.com.
La Place, Louisiana: Authentic Cajun Andouille sausage. Authentic pecan wood-smoked Andouille. You can't cook Cajun without it. www.cajunsausage.com.
Salumeria Biellese, New Work City: Old World style Italian salami. Since 1925, Salumeria Biellese has been making salami the old-fashioned way: slowly and with great attention to detail. Using only Berkshire pork, they employ the same painstaking methods in all their selections from salame Biellese which is mildly spicy in classic Piedmontese style, and the meaty, robust Cacciatorini or "hunter's style" salame. Think of it as Italian jerky. www.salumeriabiellese.com.
Benton's Smoky Mountain Country Hams, Knoxville, Tennessee: Hickory smoked bacon. Allan Benton has become the bacon maker to the stars and considered by many chefs to be the best bacon smoker in the country. He turns out traditional dry-cured bacon that's hand-trimmed for optimal meat-to-fat ratio with a perfect confluence of salty-smoky-brown sugar sweetness. www.bentonshams.com.
Knight Salumi Co, San Diego, California: Rey Knight crafts handmade artisan salumi using locally raised chemical free cured meats and organic spices in an inspired Italian style. Examples include Cacciatori, the traditional Lombardy regional specialty seasoned with garlic, Chianti and black pepper, to Coppa Molina Salami, using the upper collar of the Hog, spiced and cured before being coarse ground and then aged. www.knightsalumico.com.