Kosta Browne: Tasting the 08's
Now that the 2008 vintage has been in bottle three months, Michael Browne is very pleased with the wines. Wedged between the spectacular 2007 and 2009 vintages, the 2008 vintage wines can be overlooked but should not be sold short. Some of the 2008 Kosta Browne bottlings, such as the Rosella's Vineyard, are better than the 2007 versions.
Check out this very cool tasting bar in the Kosta Browne barrel room made of stainless steel fashioned as a cut off wine tank.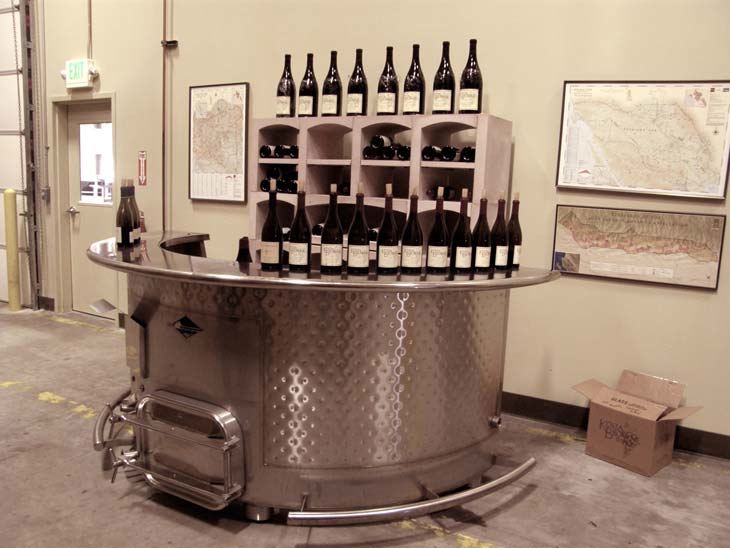 Michael was kind enough to open a bottle of every wine produced by Kosta Browne in 2008. If you are a fan of the Kosta Browne style - deep color, moderately high alcohols, vibrant aromatics, and ripe, opulent fruit, you will be seduced by these spectacular wines. As good as these wines were in March, they will be irresistible come fall when most of them are released after another six months of bottle age.
Grapes are harvested relatively ripe, and de-stemmed. Some 100% whole cluster barrels are vinified separately to be added back if deemed appropriate for the vintage and the wine. A 5-day cold soak is followed by inoculated fermentations lasting 9 days on average with 1 to 2 punch downs per day in 1-ton and 5-ton open top stainless steel and wood vessels, and barrel aged for 16 months. The amount of new French oak will vary depending on the vintage and vineyard source but is usually between 38% and 45%. Excellent barrels from eight different coopers are used even for the appellation wines.
Kosta Browne wines are sourced from the Russian River Valley, Sonoma Coast and Santa Lucia Highlands. The 2008 Kosta Browne Sonoma Coast and Russian River Valley appellation bottlings were recently released and are sold out. The wines are still available on the secondary and retail market, but at a premium (often a significant markup over the release price). The vineyard-designates and 4-Barrel will be released in the fall of 2010. Michael is crafting Kosta Browne Chardonnay beginning with the 2009 vintage.
Assistant winemaker, Shane Finley, joined us in the tasting and I briefly sampled his four 2008 Pinot Noir releases produced under his SPELL label. These wines will be reviewed in more detail in a subsequent issue.
Michael was his usually animated self behind the bar as he poured the Kosta Browne lineup. Unfortunately, he kicked his leg back in a moment of revelry and a 6L bottle of 2006 Kosta Browne Russian River Valley Pinot Noir sitting on a shelf behind him struck the floor and broke off at the neck sending of flood of Pinot onto the floor. Large formats of Kosta Browne wines are kept for charity donations and never sold. Last year a similar 6L bottle was auctioned at a charity event for $20,000. Never one to cry over spilled wine, Michael shrugged it off, chalked it up to an angel's share and we all enjoyed a satisfying pour.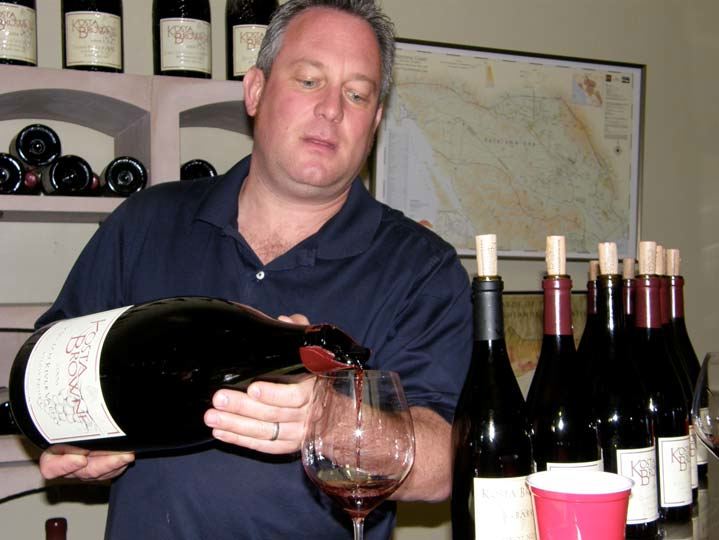 The 2008 Kosta Browne Pinot Noirs are still babies and will require additional time in bottle for full enjoyment. That said, several of them are very charming now.
The 10,500 case production of Kosta Browne is sold through a faithful mailing list which is regrettably full. Visit the website to sign up for the waiting list at www.kostabrowne.com. The winery is not open to the public, but the winery participates in practically every major Pinot Noir festival as well as many other wine events and charitable auctions around the country. The wines are often sold on the secondary market through auction sites such as www.winecommune.com.