Siduri Wines: Something for Everyone
Adam and Dianna Lee travel the states of California and Oregon sourcing grapes for their many offerings of Pinot Noir (17 different Pinot Noirs in the 2007 vintage). Their winery, Siduri Wines, has the distinction of producing more distinct Pinot Noir bottlings than any other producer in California. Since beginning modestly in 1994, the Lees have found an increasing and changing number of outstanding vineyard sources for Pinot Noir stretching all the way from Oregon's Chehalem Mountains in the northern Willamette Valley to the Sta. Rita Hills in California's southern Central Coast. As if that wasn't enough to shoulder, in 1998, they began producing Syrah and other varietals under the Novy Family Wines label, named after Dianna's family, the Novys.
Siduri is the Babylonian Goddess of wine and beer, merry making, and wisdom. She is referred to in The Epic of Gilgamesh as "the girl whose drinks refresh the soul." It seemed only appropriate that Pinot Noir enthusiasts, Adam and Dianna, would stumble across the goddess in a wine book written by Hugh Johnson, and adopt her name for their winery. The Lees have remarked, "We thought it was about time that someone other than Bacchus got some credit for wine." The Siduri label says, "Beside the sea she lives, the woman of the vine, the maker of the wine."
The Lees hail from Texas, and when they arrived in Sonoma County in 1993, they had no winemaking experience. Adam, like many of his winemaker brethren, followed a circuitous route to winemaking. He majored in history in college where he had his first drink. He had been raised in a Southern Baptist family that disapproved of drinking alcohol. Fresh out of school, the only employment he could find was in a wine store. It was a serendipitous job, for Adam was able to taste many of the great wines of the world. He had a knack for selling wine and rose to President of Austin Wine & Spirits, before becoming a buyer for Nieman Marcus in Dallas, where he met Dianna. Dianna grew up on a farm and majored in marketing in college, both pursuits that eventually would provide a valuable background for the wine business that was to come.
The couple began with $24,000 and one acre of Pinot Noir from a vineyard in the Anderson Valley, producing 107 cases of their first vintage in 1994, shortly after their engagement. On a whim, they left a bottle of their first Pinot Noir with Robert Parker, Jr., who was staying at the Meadowood Resort in the Napa Valley. Parker would give the wine a high score and they were in business to stay.
Their rise to success was meteoric. Critics fawned over the winery's first releases and noted wine critics like Robert Parker, Jr. ("One of California's top Pinot Noir producers"), and Matt Kramer ("To taste Siduri is to taste some of the best Pinot Noir made in America today") were effusive. Despite their notoriety, the Lees have worked out of a modest winery warehouse in an industrial park in Santa Rosa since 1998. It is a no frills operation where the emphasis is on the wines. Both Adam and Dianna are intimately involved in the production of every wine. Ryan Zepaltas is the assistant winemaker.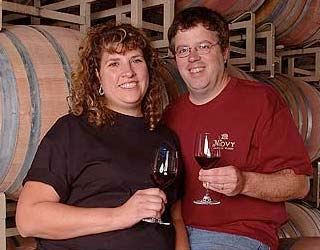 Siduri has always been committed to quality. Grapes are purchased by the acre and crops are rigorously thinned. All work in the winery is hands on with a commitment to top quality oak, and all wines are bottled unfined and unfiltered when possible. The Pinot Noirs have been full-bodied, fruit-driven and very Caliesque in style, yet balanced and consistently reflective of the vineyard sources and vintages. The logistics of producing so many individual wines is daunting and occasionally a wine misses the mark, but the majority of Siduri's production is top rate.
The Lees have always been sensitive to pricing and have raised their prices little over the years. They offer something at every price range (under $20 to $70) among the 7,500+ cases of wine they produce annually. The appellation bottlings are a particularly good value and offer the consumer an opportunity to taste representative wines from multiple appellations to compare the characteristics of wines from the different regions. Appellation bottlings are available from Chehalem Mountains, Sonoma Coast, Russian River Valley, Santa Lucia Highlands and Sta. Rita Hills. Vineyard-designate Pinot Noirs are sourced from some of California's finest vineyards including Clos Pepe Vineyard, Cargasacchi Vineyard, Pisoni Vineyard, Amber Ridge Vineyard, and Sapphire Hill Vineyard.
Adam explains the difference between the appellation and vineyard-designate wines he produces as follows. "Legally speaking, 95% of the grapes from a single vineyard wine must be included in a designated single-vineyard wine. In an appellation wine, at least 85% of the grapes must be sourced from that appellation. When grapes are harvested from a single vineyard, they are fermented in small bins and tanks. Fermentation progresses differently depending on the size of the container and disparate yeasts are employed in the different lots. The result is several distinct wines from the same vineyard. Each of these wines goes to barrel and several different coopers are used with barrels varying in wood source and toast levels. Each barrel therefore ends up as a separate and distinct wine. After 6+ months of aging, each of the barrels is tasted and eventually several different blends are determined. The favorite blend becomes the single-vineyard Pinot Noir. The final number of barrels chosen for the final blend can vary considerably. The barrels that don't make the single-vineyard blend go into the appellation wines. These wines are blended with wine from other vineyards in the same appellation. One would assume that the barrels that don't make the single-vineyard wine are inferior, and that a blend of these barrels from different vineyards would also prove inferior. That does not always prove to be the case! Even though certain barrels are not strictly representative of a particular vineyard does not mean that they don't taste good. They just are not distinctive enough to make the cut for a single-vineyard wine. The appellation wine may actually be preferred by many consumers."
All the following wines were tasted twice a few weeks apart. They are beautifully crafted fruit-driven wines with moderately deep colors, bright aromatics, reigned-in tannins and impressive balance. The appellation wines are for the most part ready to drink now.
Siduri wines are sold primarily through a mailing list at www.siduri.com. There is some retail and restaurant distribution. An informative newsletter is sent out monthly. There are two other 2008 Pinot Noirs in release, the Pisoni Vineyard Pinot Noir and the Pisoni Vineyard "Eddies Lot" Pinot Noir. A personal tasting experience is offered at the winery by appointment, 10:00 to 3:00, seven days a week. Phone 707-578-3882 or email pinot@siduri.com.