August Briggs Winery: "To Blow a Dandelion is to Make a Wish"
August (Joe) Briggs produces limited quantities of wines sourced from selected vineyards, both little-known and legendary, in California's North Coast counties. Joe brings over twenty-five years of winemaking experience to his winery. A graduate of the enology program at California State University at Fresno, Joe is a respected consulting winemaker who has worked for wineries in the Willamette Valley and La Crema Winery in the Russian River Valley. He founded August Briggs Winery in 1995 with his wife Sally, producing multiple varietals including Chardonnay, Pinot Noir, Pinot Meunier, Cabernet Sauvignon, Charbono, Syrah, Petite Sirah and Zinfandel ( a total of sixteen wines in all). Pinot Noir and Zinfandel are specialties.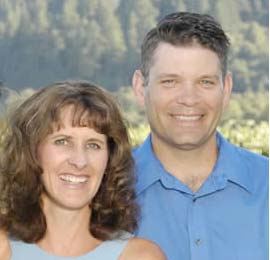 Vineyard sources for Pinot Noir include Archer Vineyard (Jackson clone), Cummings Vineyard (Dijon 115, 667 and 777), and Hedin Vineyard (Davis clones) in the Russian River Valley, Dutton Vineyard (Dijon 113, Pommard) in Green Valley of Russian River Valley, Green Island Vineyard (Dijon clones) in the Napa Valley, and Sinskey Vineyard (Dijon 115) in Napa Carneros.
After twenty years of yearning for a home to make his wine, Joe opened the August Briggs Winery and tasting room in Calistoga, a first for him and a first for the city of Calistoga, which had been known for its health spas and fine dining, but until 2004 had had no working winery within the city limits. Located at 333 Silverado Trail, this 8,000 square feet facility encompasses a winery, tasting room and offices. August Briggs is one of the few Napa Valley tasting rooms that offers a complimentary tasting. The tasting room is open daily (707-942-4912). An excellent blog is available through the website at www.augustbriggswines.com.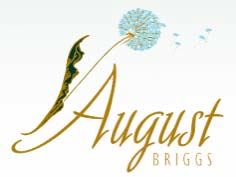 I recently sampled two August Briggs Pinot Noir releases from the 2008 vintage and can highly recommend both wines. Regrettably, this is one of the few producers in California whose Pinot Noirs I had not sampled. Joe is the consulting winemaker for Castle Rock and I have had a number of those Pinot Noirs, but they are not intended to be in the class of Joe's Pinot Noir crafted under the August Briggs label. The 2007 vintage of the August Briggs Pinot Noirs is sold out, but fortunately the 2008 vintage wines are to be released next month and available.
The winemaking regimen is as follows. Grapes are hand sorted, 100% de-stemmed and placed into small open-top fermenters. A short cold soak is followed by inoculation with Assmanhausen yeast. Punch downs are carried out by hand. The wine is inoculated for MLF and barreled down in 30% new and 70% two and three year- old French oak barrels for 8 months. Bottled without fining or filtration.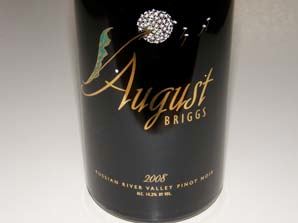 2008 August Briggs Russian River Valley Pinot Noir
14.3% alc., 503 cases, $38, release date is May 2010. Sourced from Cummings, Dutton and Archer Vineyards. · The fruity nose is subtle but seductive with black cherries flanked by cola and spice. Moderately light and delicate on the palate, the black cherry core is enhanced by notes of cola, and fungivorous delights. Beautifully crafted with well proportioned supple tannins and bright acidity, this is quintessential Russian River Valley Pinot Noir. Very good.

2008 August Briggs Dijon Clones Napa Valley Pinot Noir
14.5% alc., 805 cases, $40, release date is May 2010. Sourced from the certified organic Sinskey Vineyard (Napa Carneros) and Green island Vineyard (Napa Valley). Dijon clones. · A lovely medium-bodied wine offering charm from beginning to end. Enticing aromas of black cherries, cardamon spice and a hint of toasty oak. Juicy melange of vivid berries and cherries on the palate with a tasty savory note and supportive but not intrusive oak in the background. The silky tannins make for easy drinking. The wine picks up intensity in the glass which is always a sign of a well-crafted wine.
August Briggs wines are available through the winery tasting room, website and mailing list and distribution in more than fifteen markets nationally. A 2008 Carneros Pinot Noir from the Sinskey Vineyard (173 cases) was also produced.