Talbott Vineyards: Family Inspired
Talbott's Sleepy Hollow Vineyard in the Santa Lucia Highlands has become legendary for its Chardonnays. More recently, the winery's Pinot Noirs have brightened the pinotphile's radar with the planting of new Pinot Noir selections in the vineyard over the past two decades. This iconic California winery was founded by Robb Talbott in 1982 with planting of the original mountaintop Diamond T Estate Vineyard and the construction of the original winery in Carmel Valley. The winery's first release of Chardonnay was in 1983. In 1994, the Talbotts acquired the Sleepy Hollow Vineyard and the property became the home to the winery's current winery.
Winemakers Dan Karlsen and Robb Talbott guide Talbott's Chardonnay and Pinot Noir programs. Dan Karlsen is a Pinot Noir specialist with over 30 years of winemaking experience. Wines are bottled under various labels include Case Pinot Noir, Kali-Hart Pinot Noir, Logan Pinot Noir and Chardonnay, and Talbott Pinot Noir and Chardonnay.
Robb Talbott is a member of the family who moved to Carmel, California in 1950 and started the Robert Talbott Tie Company. While on traveling trips with his family to Europe, he visited the vineyards of Burgundy and developed an interest in wine. A nature lover, Robb originally built his own cabin on a remote piece of land high above the Carmel Valley floor. This property would one day become the Diamond T Vineyard, named after an antique "Diamond T" commercial truck Robb had restored. In 1981, Robb married and had three children whose names would be the nomenclature for Talbott Vineyards wines: Sarah Case, Robert Logan and Kalin Hart.
In 1982, Robb launched Talbott Vineyards with his father Robert Talbott Senior and planted his first grapes on Diamond T Vineyard. Since the founding, Robb has continued as an active sales and marketing manager while performing as Chairman of the Board for the Robert Talbott Tie Company.
The Sleepy Hollow Vineyard is located in the northern portion of the Santa Lucia Highlands AVA. This steep, hilly vineyard is split into three parcels, called North, South and West. Yields are kept low by lean soils and meticulous pruning, averaging 2.5 tons per acre.
I recently sampled two newly released Talbott Pinot Noirs from the 2008 vintage. The two wines are distinctive expressions of Sleepy Hollow Vineyard Pinot Noir and represent two wines spanning a wide price range reflecting the vineyard sources and barrel programs.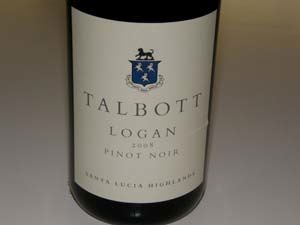 2008 Talbott Logan Santa Lucia Highlands Pinot Noir
15.1% alc., pH 3.76, $25. Named for Robb Talbott's son, Robert Logan Talbott. First vintage in 1994 was introduced in 1997. Sourced from Sleepy Hollow Vineyard. A blend of 36- year-old Martini clone and young Dijon and Pommard clones. 100% destemmed. Barrel aged for 11 months. · Deeply colored. The cherry fruits have a very ripe, roasted quality adding scents of plum pudding, berry jam and marzipan. The overripe fruit core is clothed in soft tannins making for a velvety mouth feel. I suspect the Brix was high at harvest and the wine was apparently not watered back. For fans of the ripe style of Pinot Noir. Good.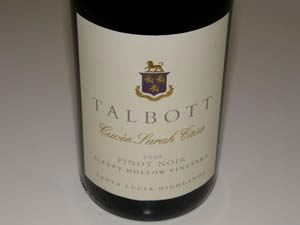 2008 Talbott Cuvée Sarah Case Santa Lucia Highlands Pinot Noir
15.3% alc., pH 3.45, $75. Named in of Robert Talbott's eldest daughter Sarah Case Talbott. This is the inaugural release of this Pinot Noir from the Sleepy Hollow Vineyard. Two Dijon clones from prized blocks of 10 to 15-year-old vines. Aged 12 months in 100% new French oak barrels and bottle aged for an additional 6 months. · Deep, dark reddish-purple color in the glass. Unusual but nuanced aromatics showing scents of dark chocolate, soy, cut flowers and lacquered wood. Moderately rich core of plum and cassis flavors pushing ripeness, robed in firm but caressing tannins, and displaying some persistence on the finish that leaves a little heat in its wake. Good.
Talbott Vineyards wines are available online at www.talbottvineyards.com, through retail distribution and at the winery's tasting room located in Carmel Valley Village, 12 miles east of Carmel. Decorated in Early California style, the Tasting Room has a patio that is ideal for picnicking. Open daily from 11:00 to 5:00. 831-659-3500.