tasting george pinot vertically
Regular readers of the PinotFile know the story of george wine company since I have profiled the winery several times. George levkoff, who has an infatuation with lower case, had his wine epiphany when a friend shared a bottle of 1991 and 1992 Williams Selyem Rochioli Vineyard Pinot Noir. Four years later, George left his job as a bond trader on Wall Street, and headed west to Sonoma. He interned at Williams Selyem from 1999 to 2002, learning Burt Williams' winemaking process. He also worked later at the smaller Brogan Cellars owned by Burt's daughter, Margi. With grapes from David Hirsch's vineyard on the Sonoma Coast, he released 150 cases of his inaugural Pinot Noirs in 2003. George subsequently sourced grapes from vineyards in the Russian River Valley and his wines quickly caught the attention of top sommeliers at restaurants in Las Vegas and New York, becoming something of a cult wine. I have been a fan from the beginning.
George is practically a one-man show performing every step of winemaking, marketing and delivering. He even hand numbers the back label of every bottle. George prefers casual dress and is usually spotted in his home town of Healdsburg or on the road wearing cutoffs and sandals. He is an unpretentious and lovable guy who crafts high-collar, sophisticated Pinot noir.
George's winemaking regimen is not extraordinarily unique. He de-stems 100% of the grapes, cold soaks a few days, uses Williams Selyem yeast from Jackass Vineyard Zinfandel for inoculation, bottles only free-run juice (except in the Sonoma Coma Pinot Noir), ages in 100% new Francois Freres French oak barrels, and bottles without fining and filtration. Total annual production is less than 1,000 cases. George is pictured in blue below at Pinot Days.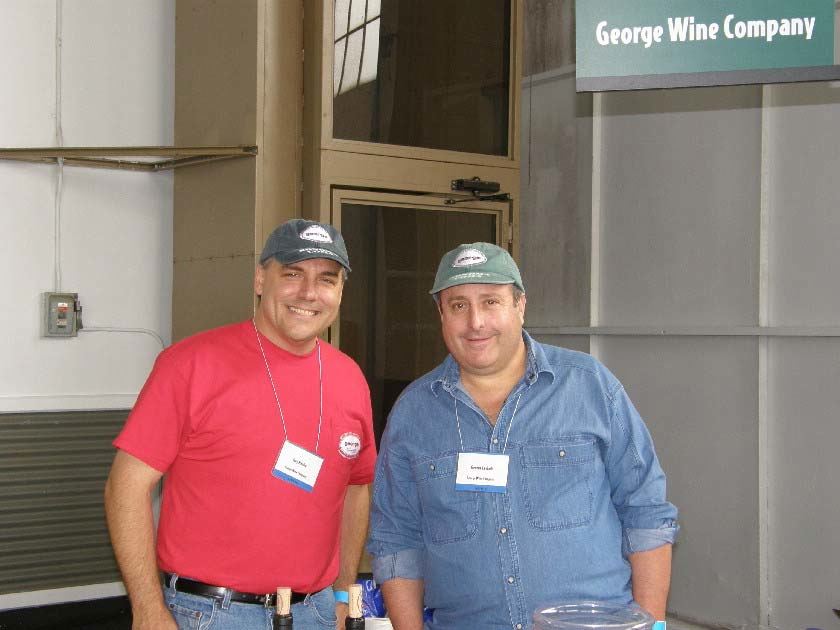 I tasted a complete vertical from 2003 to 2008, labeled Vintage I to Vintage VI. Unfortunately, I have misplaced my tasting notes on Vintage I and Vintage II. I recall that Vintage I needs to be drunk up now and Vintage II was outstanding. I am sure I will run across the missing notes in the future and will add them to this feature.
The george wines typically show good consistency, admirable balance and restrained tannins. The wines are elegantly styled and approachable young. Colors and flavors trend to the redder spectrum and the wines are moderately light in color. They are made for instant gratification and are not long term agers. I have found that the george style is loved by practically everyone and when sharing a bottle with others, I have heard nothing but superlatives and the question, "Where can I get some of that?" Since Vintage II, I have never been disappointed.
George Pinot is available primarily through a mailing list with some retail distribution. Visit the website at www.georgewine.com. A listing of restaurants that carry george Pinot is available on the website. The last few years, there have been small lots of multiple vineyard-designates and a blend labeled Sonoma Coma. The Nuptial Vineyard was renamed Ceremonial Vineyard accounting for the change with Vintage V. If you have spent any time in Healdsburg and were looking for some nightlife, you will understand the humor behind the name, Sonoma Coma.