Tasting Scherrer Pinot Vertically
Fred Scherrer is a winemaker's winemaker who is highly respected among his peers. He is a modest, cerebral and grounded vintner who crafts wines that reflect his personality, displaying restraint, reliability and user friendliness. His tall stature, long curly hair and full beard seem to emphasize his scholarly manner. That is not to say his wines are not exciting. Fred does have a little wild side in him as well, harboring a passion for guitars and loud rock and roll music.
Fred works out of a very modest winery facility in Sebastopol that was once an apple-picking shed. The winery is strategically isolated so he can avoid confrontation with neighbors who are not as enthusiastic about wine as he is. The absence of a sign on the gravel road leading to his winery reflects this. The added advantage of his relative isolation is that he can indulge in his music at any time of the day or night. Who knows, his music may ramp up the amplitude of his wines, adding a bit of Jimi Hendrix vibrancy.
Fred's modesty has led him to retain a low profile and he has even been accused by his followers of trying too hard not to sell his wine. It wasn't until 2005 that he succumbed to the urgings of others to replace his old label which had prominently featured the variety inside the bottle rather than the Scherrer name.
Fred cut his teeth on Pinot Noir at Dehlinger where he took over the winemaking duties for ten years, leaving in 1998 to devote his full attention to his Scherrer Winery. At Dehlinger, he developed his winemaking maxim: be patient, let the fruit speak, listen, touch lightly, watch closely, and listen again. His Pinot Noirs are never heavy handed or manipulated. Fred acts more like a caretaker than an intruder in fashioning his wines.
Scherrer crafts both blends and vineyard-designate wines sourced from various vineyards in Sonoma County, including the Russian River Valley and the Sonoma Coast. As he has explored various vineyard sites, he has used an increasingly brutal blending selection for his various bottlings. The wines are typically de-stemmed, not crushed, fermented in simple open-top fermenters and manually punched down. They are barreled shortly after pressing and allowed to rest on their lees for 6 to 10 months before first being racked and blended. Generally, the wines receive 16 to 18 months of barrel time before bottling. The Pinot Noirs are never filtered or fined.
Production of all wines is between 6,000 and 8,000 cases annually. Fred could produce more in his winery, but refuses unless he is able to find proper vineyard sources. Such is the mindset of a true artisan.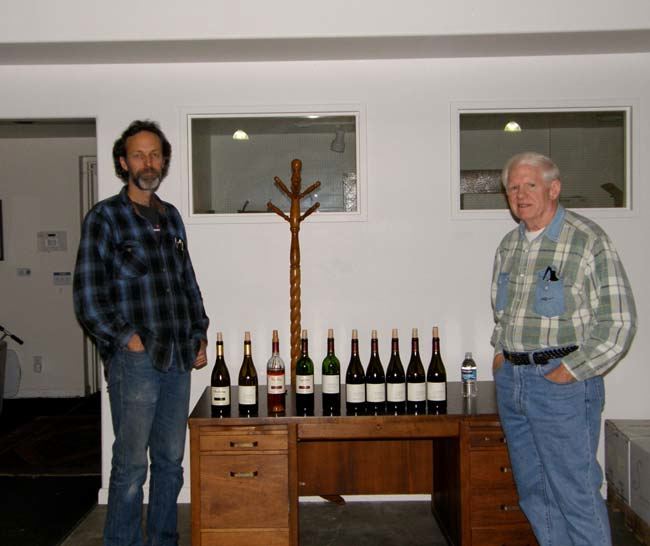 Fred insists on holding back his wines until they are ready to drink and it is not unusual for him to have two or three vintages stored in his winery. In addition, he purposely retains a library stock of wines and releases them periodically. He currently has Pinot Noirs available dating back to 2000. As a member of the winery's mailing list, you will be notified when library wines are made available. Fred charges a very modest premium for his library wines. Sign up on the website at www.scherrerwinery.com. Fred is one of the few wineries in California that bottles many of his Pinot Noirs in half bottles.
I recently tasted five vintages of Scherrer Pinot Noir from 2000 to 2007. Among the unifying features were impeccable balance, and admirable age ability, with the older wines showing better than the more recent vintages.