Loring Wine Company: The Sample Pack
This was a new one for me. Brian Loring of Loring Wine Company (LWC) recently sent out an offering for a Sample Pack of three of his 2008 single vineyard Pinot Noirs for $59.97 (that's less than $20 a bottle). The promo from Brian and Kimberley Loring included an astonishing admission and read as follows: "We'd been at the forefront of the 'bigger is better' wave, trying to see just how freakin' massive and ripe we could get Pinot Noir. It was an exciting ride, but we lost some of you along the way. We've learned a lot since then and refined what we do, it's almost as if we're new again. As a mini thank you for the support, we're offering you the opportunity to taste what we're doing now and see how we've evolved." I had been one of those who lost interest along the way and thought I should take Brian up on this offer and revisit his latest wines. The following three wines were sampled this week. You can get your own Sample Pack at www.loringwinecompany.com if you are a mailing list member. Otherwise, you might try asking.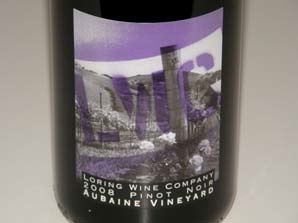 2008 Loring Wine Company Aubaine Vineyard San Luis Obispo Pinot Noir
14.9% alc., screw cap. · Very dark purple color in the glass. Aromas of oak toast, plum sauce, soy and cigar box. Purple fruit driven with reigned-in tannins creating a velvety texture. Very easy to drink with admirable balance of fruit, tannin and acidity. The next day from a previously opened and re-screwed bottle the wine had taken on a porty, cooked character. This wine will have many fans, but drink it now. Good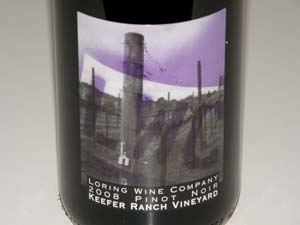 2008 Loring Wine Company Keefer Ranch Vineyard Green Valley Pinot Noir
15.1% alc., screw cap. · Aromas of black cherries, huckleberries, baking spices, oak and a whiff of alcohol. Intense purple fruits with a big acid spine. Fruitdriven but not jammy with a silky mouth feel. Develops interest in the glass over time. Tasted the next day from a previously opened and re-screwed bottle the aromas and flavors had become raisiny. Good, but drink up now.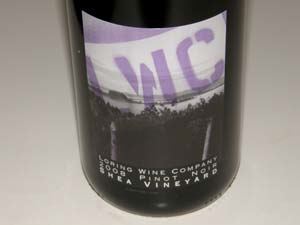 2008 Loring Wine Company Shea Vineyard Willamette Valley Pinot Noir
14.7% alc., screw cap. · Locked up like a tight chastity belt. The nose offers little fruit but plenty of oak. Lovely plum core is brooding and overwhelmed by oak and tannin. Very smooth in the mouth with admirable persistence on the finish. Potential here if the oak integrates more over time. More expressive the next day from a previously opened and re-screwed bottle indicating short-term cellaring will be rewarded. Good.
There is definitely a refinement in the wines from Loring Wine Company in this vintage. The oak has been lightened at bit, the jammy extraction is a thing of the past, the tannins are more reserved, and the wines have a more gentle and charming mouth feel. That said, they remain linear, fruit-driven Pinot Noirs with high alcohol and very ripe flavors that will not reward cellaring.