Party Whites
I am strictly a Pinot Noir specialist who also likes and reviews Chardonnay, but also reviews a number of interesting white wines that are submitted to me when I have time. Recently, I received three white wines under the Mandolina label from Lucas & Lewellen Vineyards and Winery in the Santa Ynez Valley. Mandolina wines are Cal-Ital varietals, inexpensively priced, that are perfect for casual drinking and partying. The labels and packaging send a message that wine is fun and readily enjoyable. The following three wines are from the 2009 vintage and have yet to be released, but worth a look for summer entertaining and outdoor dining. With low alcohols, the wines are perfect when chilled and offered as an aperitif or as a compliment to light summer fare. Check in periodically at the website of Lucas & Lewellen at www.llwine.com for availability. The winemaker is Megen McGrath.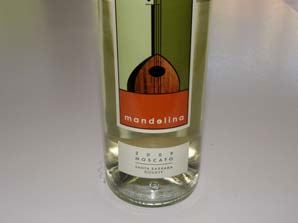 2009 mandolina Santa Barbara County Moscato
12.4% alc.. Sourced from orange muscat grapes. Slight residual sugar. · Appealing aromas of orange tea and orange flower water with a hint of hay and clove. Respectable richness on the palate of orange marmalade, orange tea, and spice flavors that are slightly sweet. Clean and refreshing on the finish. Good.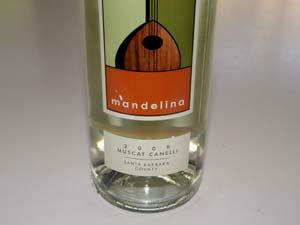 2009 mandolina Santa Barbara County Muscat Canelli
10.1% alc.. Italian muscat grape that is used in stilland sparkling wines. Sourced from the winery's Los Alamos Vineyard. · The nose starts off with spices, cucumber, sawdust and hay, developing interest over time with more fruit including peaches and stewed apples, as well as floral lilac. Dry and tasty with juicy flavors of guava, linalool and passion fruit that linger on the finish. Would be great with prosciuttowrapped melon. A big plus is that you can enjoy a few glasses of this without getting sideways. Very good.