Pinot Briefs —Newsletter 8.14
Mat Gustafson is New Winemaker at Moshin Vineyards Mat Gustafson (winemaker for Dutton Estate and Paul Mathew) will work alongside winemaker and proprietor Rick Moshin of Moshin Vineyards located on Westside Road in the Russian River Valley. Mat will also assist with the management of 28 acres of sustainably farmed grapes that are owned and/or managed by Moshin Vineyards. In addition, he will provide grower relations for Moshin contracted growers that provide Moshin Vineyards with premium grapes from the Sonoma Coast, Russian River Valley and Dry Creek appellations. Moshin Vineyards has the only 4-tier gravity flow winery in the Russian River Valley. The Moshin Vineyards brand was established in 1989 by then San Jose State math instructor Rick Moshin and his family who later built the winery on Westside Road in Healdsburg in 2005. Moshin, despite its prime vineyard holdings and modern winery, has never reached the top tier of Russian River Valley Pinot Noir producers and this hiring should push the winery to greater heights.
North American Wineries Now Top 7,000 According to a report in Wines & Vines (April 12, 2010), the total number of wineries in North American has increased by 361 in less than one year and now there are a total of 7,011 bonded and virtual wineries in the United States, Canada and Mexico with 6,589 in the United States alone. California is still the home of the most new winery ventures, adding 68 since July 2009 and a total of 670 during the past five years. California now has a total of 3,115 wineries, Washington is second with 593, and Oregon is third with 502. 94% of all wineries in North America produce less than 30,000 cases per year. The remaining 6% produce 93% of all wine by volume.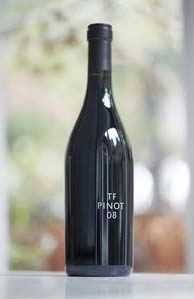 Tyler Florence Sets Sights on Bay Area Empire TV chef, cookbook author and recently a featured chef at Pigs & Pinot in Healdsburg, is opening a rotisserie restaurant in the Riverfront Development in Napa called Tyler Florence's Rotisserie and Wine and another restaurant in Mill Valley where he has the Tyler Florence Shop and currently lives. A third restaurant, Wayfare Tavern, is opening in San Francisco's Financial District in the former Rubicon space. He is also producing a Pinot Noir under the TF label with the first release from Split Rock Vineyard (Gap's Crown Vineyard) in the Sonoma Coast in the 2008 vintage. Visit www.tylerflorence.com.
Speakeasy Wine Club Opens A speakeasy style wine bar in Healdsburg, Prohibition, features hardto- find boutique wines. Richard and Kae Rosenberg of Healdsburg's Grape Leaf Inn have opened a 30-seat wine bar paying homage to its namesake era with a clandestine entrance. Located at the corner of Healdsburg Avenue and North Street, just off the historic town plaza, the shop displays unusual wine related items that are available for purchase. Exclusive producers such as Williams Selyem, Dehlinger, george wine company and others will be among the small-lot allocated wines offered on the Prohibition wine list. The Rosenbergs have operated the Prohibition concept for years at the Grape Leaf Inn, where overnight guests are invited to visit the property's speakeasy and wine cellar, accessed through a secret door disguised as a bookcase. Open 11:00 AM to 9:00 PM (this is Healdsburg after all) daily. Visit the website at www.speakeasywineclub.com.
"Highlands Fling" Celebration in the Santa Lucia Highlands The Wine Artisans of the Santa Lucia Highlands, an alliance of the appellation's winegrowers and wineries, will host the 4th annual Gala Tasting on May 15 at Hahn Estates from 2:00 to 5:00 PM. The celebration will offer strolling wine tasting on the grounds of the scenic Hahn property, with dramatic views of the Salinas Valley below. Participating wineries include August West, Belle Glos, Boekenoogen, Cru, Hahn, Hope & Grace, La Rochelle, Lucienne, Manzoni, Martin Alfaro, McIntyre, Mer Soleil, Morgan, Novy, Paraiso, Pelerin, Pessagno, Pey-Lucia, Pisoni, Puma Road, Roar, Sequana, Siduri, Talbott, Testarossa, Tondre, Tudor and Wrath. Tickets are $85 per person and can be purchased online at www.santaluciahighlands.com.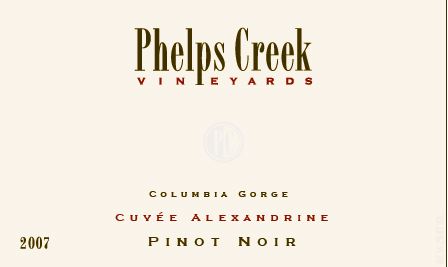 Another Burgundian Partnership in Oregon Now in its third year, French winemaker Roy works side by side with resident winemaker Rich Cushman of Phelps Creek Vineyards in Hood River. The two winemakers pick their grapes separately and vinify their wines in their own fashion. Roy spends much of the year in Gevrey-Chambertain where she crafts wine for her father's label, Domaine Marc Roy. Phelps Creek offers a rare opportunity to taste two different Pinot Noirs made from the same vineyard under one roof by a Burgundian and American winemaker. The 2008 Cuvee Alexandrine Columbia Gorge Pinot Noir (122 cases, $42) is newly released. Visit www.phelpscreekvineyards.com.
Schug Carneros Estate Winery Announces 30th Anniversary Walter Schug, who first established his reputation as winemaker for Joseph Phelps Vineyards and made California's first proprietary Bordeaux-style blend, marks the 30th anniversary of his eponymous winery this year. To celebrate, the winery will release a special estate grown Pinot Noir this holiday season and will break ground on a solar array to produce 100% of the winery's electricity needs. Early on, Walter Schug recognized the Carneros region's suitability for cool climate Pinot Noir and Chardonnay in which the winery specializes. Beyond its 42-acre estate vineyards, the winery sources grapes from several of Sonoma County's premier wine grape growers. In 1995, Sonoma-born winemaker Michael Cox joined Schug as assistant winemaker. Trained in enology at University of California at Davis, Cox was promoted to winemaker in 1996, a position he has held to the present. Walter holds the title of Winemaster Emeritus and uses his experience to guide the winemaking team. For more information, visit www.schugwinery.com.
French Vineyards Promote Nonalcoholic Health Drinks French viticulturists are trying to profit from the studies that have shown health benefits from wine. Vineyard profits are declining in France as alcohol consumption is on the decline. Producers are now making medicines and supplements from grape seed and grape skin extracts containing a high concentration of polyphenols. They are even considering using polyphenols as a health additive in soft drinks and yogurt. Didier Hauret, owner of Le Clos du Grand Rio in the Loire Valley, is producing a drink called Dionysox which is made from the skins and other grape residue and sold as a dietary supplement. The problem with the potential benefits of these products is, many studies indicate that the alcohol is necessary to give the full health benefit of polyphenols.
Have a Laugh One of the funniest bits of wine writing I have ever read was published in the Oregon Wine Press recently (April 2010). Riggs Fulmer, a Portland-based wine writer and musician, penned an article titled, "Tasting Fool," as the publication's annual April Fools joke story. The author interviewed Tammy Remark, a so called writer for the Wine Speculator, who said, "I'm sick and tired of Pinot Noir being treated like some shrinking violet. When did it ever come into vogue to produce wines you can see through......Delicacy is for toilet paper......I mean, if you want something clear to drink, there's always Gatorade. Wine should be powerful, muscular and dark......You have winemakers out here like Jason Lett, Ken Cancilla, and Kelley Fox. Hacks! These little baby wines they produce are fit only for reduction sauces. If I wanted to smell rose petals in my wine I would dump in a bottle of perfume!" I could go on, but you get the idea. Check it out online at www.oregonwinepress.com.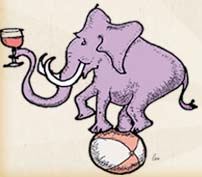 Claypool Cellars World-renowned musician Les Claypool of the alternate rock band Primus is the man behind Claypool Cellars along with partners Jay Meyer and Slawek Michalak. Claypool originally intended to make wine for himself and friends, but his first wine was really good, and the next thing he knew he was in the wine business. About 500 cases of Purple Pachyderm Pinot Noir (a name linked to the Primus song, "Southbound Pachyderm") Pinot were produced at Vinify Wine Services in Santa Rosa. Grapes are sourced from the Hurst Vineyard in the Laguna de Santa Rosa watershed of the Russian River Valley. The first release was from the 2007 vintage and was crafted by winemaker Shad Chappell. A 2008 Hurst Vineyard single vineyard wine is planned and a Rosé (Pink Platypus) is also produced. The 2007 vintage of Pinot Noir, which I have not tried, is sold out. Join the mailing list at www.claypoolcellars.com.