Hanzell Vineyards: Revered After More Than 50 Vintages
"More and more consumers are looking beyond wines with high scores based purely on hedonic quality in favor of wines of character and authenticity that reflect their place of origin and story. Perhaps the grape variety best suited for this kind of wine is Pinot Noir"
........
Winemaker Brian Croser, The World of Fine Wine, Issue 26, 2009
In the rush to find the latest cult Pinot Noir, we often neglect the heritage wineries of California that are cherished for their long tradition of excellence. Hanzell Vineyards was one of California's first boutique wine estates, and among producers of both estate grown, produced and bottled Pinot Noir and Chardonnay, is exceeded in longevity by only Mount Eden Vineyards. Martin Ray started his eponymous and innovative winery in the early 1950s (it became known as Mount Eden Vineyards in 1972) at a time that diplomat James D. Zellerbach and his wife, Hana, acquired land in the Mayacamas Mountains one mile north of the Sonoma Plaza. The Zellerbachs planted their first Pinot Noir in 1953 using cuttings from the Martin Ray estate (now commonly referred to as the Mount Eden clone). The legend holds that the Martin Ray Pinot Noir cuttings were acquired in a clandestine late night raid on a Napa Valley vineyard by Hanzell's first winemaker, Brad Webb. At Hanzell, small amounts of wine were sold starting in 1957, but 1965 was the first full-scale commercial vintage. The original Pinot Noir vines at Mount Eden Vineyards were pulled out in 1997 and the original 2.2-acre block of Pinot Noir at Chalone planted in 1946 was replaced in 2003, making the original plantings at Hanzell the oldest continually producing vineyard of Pinot Noir and Chardonnay in the New World. Selections from the original plantings at Hanzell have become known as the "Hanzell clone," and have been planted throughout California.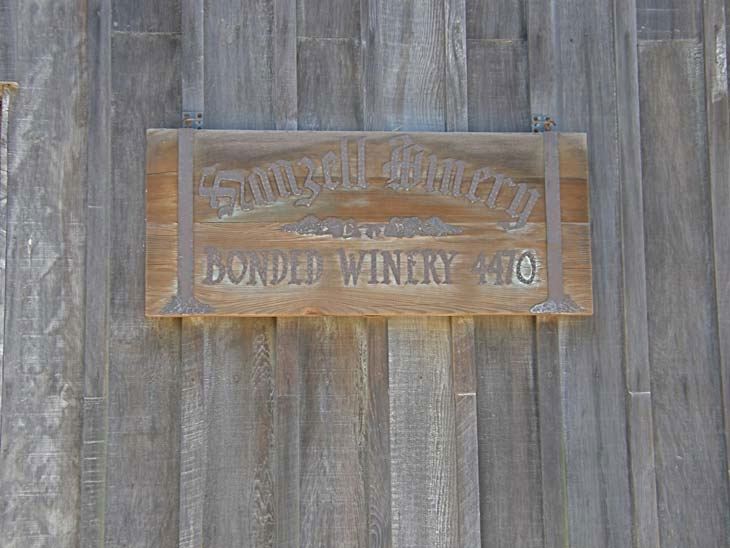 James D. Zellerbach became fond of Burgundy and its wines while serving in Europe as the American Ambassador to Italy. He was sent by President Truman to head the implementation of the Marshall Plan in Italy after World War II. Zellerbach was also the President of Crown Zellerbach, a large forest products company of the time. A 200-acre property overlooking the town of Sonoma was acquired in 1948, and in 1956 after returning from Italy, the Zellerbachs constructed a small gravity-flow winery of redwood and indigenous stone fashioned after the press building at Burgundy's famed Clos de Vougeot.
Zellerbach hired Ralph Bradford (Brad) Webb (1922-1999) in 1956 as winemaker and together they set out to combine Burgundian winemaking traditions with New World innovations. Reportedly, after hiring Webb as winemaker, Zellerbach gave him a bottle of DRC Romanee-Conti and told him he wanted to produce wine like that. Many winemaking "firsts" were developed by the pair at Hanzell, but Webb in particular has failed to receive the recognition for his winemaking innovations.
In a recently published article in Wines & Vines ("Hanzell and ML 34," January 2010), author John L. Ingraham, a microbiologist and assistant professor of enology at University of California at Davis in the 1950s and a collaborator with Webb, described how the pair isolated the ML 34 strain, now designated as the genus and species Oenococcus oeni, sourced from the Louis M. Martini Winery. Webb had been perplexed by the failure of malolactic fermentations to start in the new winery at Hanzell Vineyards. In the 1950s, malolactic fermentation was incompletely understood. Ingraham notes, "In 1959, Webb and I took ML 34 to Hanzell to study it under winery conditions. There, we added 100ml of a culture grown in a medium nutritionally enriched with tomato juice to 4 gallons of must that had been fermented to 1° Brix. Two days later, all its malic acid was gone. Then we added 200ml of the lees of this starter culture to a 100-gallon lot of Pinot Noir must that had been fermented to 3° Brix, again initiating a malolactic fermentation that completed 21 days later." Webb exclaimed later in an interview, "That was the most exciting moment of my life, really." The pair were not the first to induce malolactic fermentation from a pure culture of a known strain of bacterium, but Hanzell was the first winery in North America to complete induced malolactic fermentations. If you visit Hanzell today, you can still see Tank 21 (pictured below), one of the original glass-lined stainless steel tanks at the winery and the one in which the first malolactic fermentation occurred.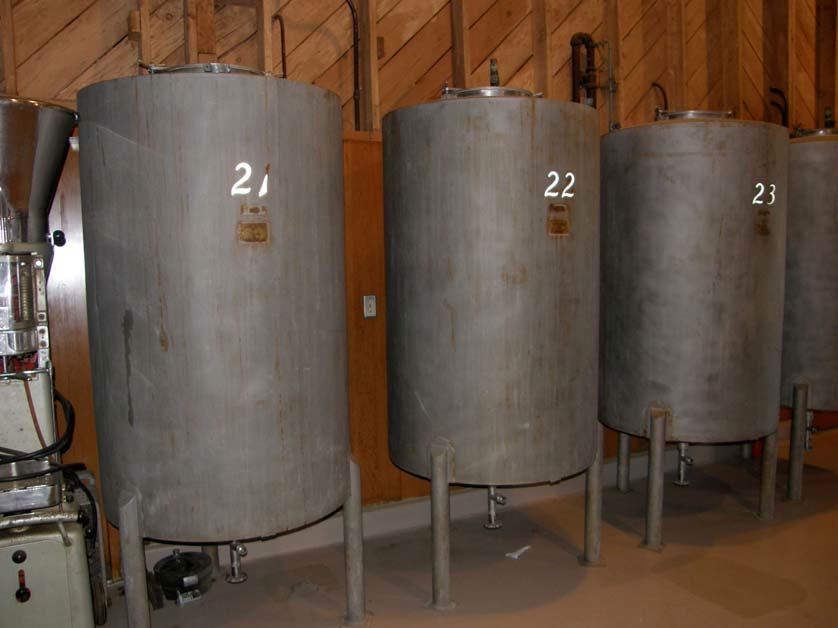 There were many other firsts at Hanzell. Custom designed one ton stainless steel fermenters were the first of their kind to allow complete control of fermentation temperature. Within the double walls, coolant circulated, dissipating the heat of fermentation to maintain a desired temperature. Today, there are jacketed stainless steel tanks in practically every winery in the world. The use of inert gas to blanket young wine in tank was relatively unknown in the 1950s. Webb outfitted the tanks at Hanzell with fittings that allowed nitrogen to cover the wine during aging, and at bottling, every bottle was treated with nitrogen just before it was filled with wine. The practice of using inert gas is commonplace in winemaking today.
Hanzell was the first California winery to exclusively use French oak barrels for aging wine. In the late 1950s and early 1960s, California wineries aged wines in large vessels, often made of redwood, or in small barrels composed from American oak. Zellerbach and Webb realized that small French oak barrels had to be used to replicate the wines of Burgundy. The winery's use of imported Sirugue French oak barrels had a major affect on the quality of the wines produced and the wine industry quickly recognized the merits of French oak aging. The 2007 vintage marks the 50th year that Hanzell has used Tonnellerie Sirugue.
The "Hanzell house style" was developed by Brad Webb and has been maintained through over 50 vintages by winemakers Kim Giles, Bob Sessions (28 vintages beginning in 1973), Michael Terrien, and today, Michael McNeill. Hanzell has never succumbed to the oaky, buttery style of California Chardonnay or the highly extracted, ripe and fruit-driven style of California Pinot Noir that have become so popular over the last twenty years. Rather, the style emphasizes restraint, nuance, subtlety, food compatibility and above all, age ability. The wines speak of the unique terroir of this hillside estate, blessed with a concentration of Red Hill volcanic soil rarely found in Sonoma County (see photo below) and cooled by the winds from the Petaluma Gap. At Hanzell, the emphasis is on the vineyard and not the winemaker who is but a shepherd of the Hanzell tradition. Michael McNeill, who blended and bottled the 2007 vintage and crafted the 2008 vintage in its entirety, told me, "I don't want my fingerprints on the wine."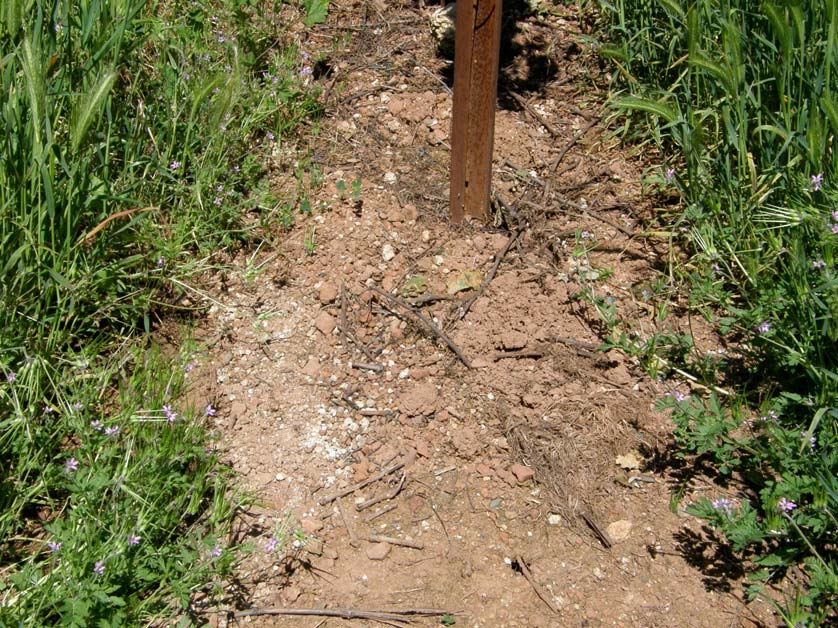 Michael McNeill (pictured below in the Hanzell wine library) has crafted wine for the past two decades in California, Oregon and Burgundy. His experience at Chalone Vineyard with Michael Michaud left him with a reverence for the time-honored traditions of winemaking. He works closely with Winemaker Emeritus Bob Sessions and Jose Ramos, Director of Vineyard Operations. Bob Sessions was the winemaker and general manager of Hanzell Vineyards from 1973 to 2001. He began his winemaking career at Mayacamas Vineyards in 1964 under the guidance of Brad Webb, Hanzell's winemaker at the time. He left Mayacamas to become production manager for Souverain Cellars (now Rutherford Hill) and then joined his friend Warren Winiarski to start Stag's Leap Wine Cellars. While that project was in its early stages, he was lured to Hanzell Vineyards by Brad Webb in 1973. Sessions was able to recognize Ambassador Zellerbach's vision for the property and maintain the goal of age-worthy terroir-driven wines for nearly three decades.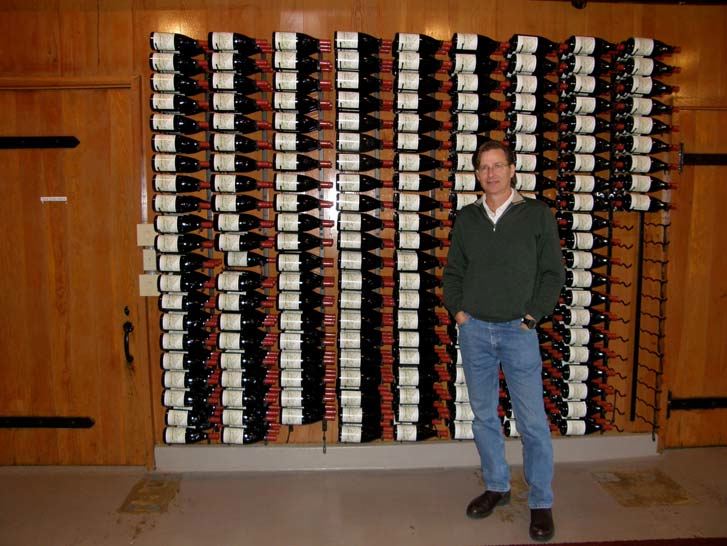 Zellerbach died in 1963, never realizing any profit off of his winery, despite the excellence and reputation of the wines. Mrs. Hana Zellerbach sold off much of the bottled and barreled wine inventories to Heitz Cellars. The 1963 and 1964 vintages of Heitz Chardonnay and Pinot Noir are Hanzell grown and produced. If you visit Hanzell, a few bottles of the Heitz wines are still resting in the winery's tasting room library. In 1965, Mrs. Zellerbach sold the Hanzell estate to Douglas and Mary Day, who expanded Hanzell vineyards and then sold the winery in 1975 to Barbara and Jacques de Brye. In 1991, Mrs. de Brye's son Alexander inherited Hanzell Vineyards at the age of sixteen and was advised to sell the property. He persisted as owner and under his leadership, Hanzell Vineyards grew to its present 42 acres of vineyards. Jean Arnold, the current President, has a long history in the sales and management side of the wine business, with tenures at Chateau St. Jean, Jordan Vineyards & Winery, and Chalk Hill Estate Vineyards & Winery. She became President in 2002 to replace Sessions. The two were married and Sessions continued on as winemaker for a couple more years and is currently a winemaker consultant emeritus for Hanzell.

A new winemaking facility and cave were completed in July 2004 to accommodate the increased wine production which has now grown to 6,000 cases of estate grown, estate produced and estate bottled Pinot Noir and Chardonnay annually. In 2002, Wine Spectator writer and critic James Laube contacted Hanzell about TCA taint in blind tastings of the winery's 2000 Chardonnay. Testing at ETS Laboratories in Napa Valley showed elevated TCA levels in both Hanzell Chardonnay and Pinot Noir of 2.6 and 3.2 parts per trillion. Initially, Hanzell, led by then President Arnold's conviction that the TCA contamination should be made public, was quick to acknowledge the problem and stopped sales of the current release wines. Sommeliers and distributors continued to support the quality and desirability of the wines. Extensive testing at the winery revealed TCA contamination on barrels, hoses, equipment and in the air. It was decided that years of chlorine use as a disinfectant was the culprit. Consumer testing revealed that most were not cognizant of the TCA levels in the Hanzell wines and the 2000 Chardonnay and 1999 Pinot Noir were re-released. At the time, Hanzell was building its new winery and the TCA contamination problem was eradicated with the transfer of production to the new facility. Arnold's actions alerted many producers about the dangers of using chlorine in their own wineries and she received much-deserved widespread praise from the wine industry.

The Hanzell estate consists of the following vineyards (refer to vineyard map below). 14 acres are planted to Pinot Noir and 28 acres to Chardonnay. The 12-acre Zellerbach Vineyard, planted in 1953, also referred to as the "Ambassador's 1953 Vineyard," consists of St. George rootstock grafted to Mount Eden Pinot Noir and Wente Chardonnay. The terraced and contoured vine rows have a western exposure with slopes up to 15%. Soils are Raynor-Montara Complex type. The 5-acre Day Vineyard was first planted by Douglas and Mary Day, proprietors from 1965 to 1975, and consists of St. George rootstock grafted to Hanzell Chardonnay sélection massale from the Zellerbach Vineyard. Half of the original planting remains and half was replanted in 1998 to Chardonnay. The vineyard is terraced and contoured with southwestern exposure and slopes up to 20%. Soils are Raynor-Montara Complex type. The 16-acre de Brye Vineyard was first planted by the de Brye family in 1976 and is composed of St. George rootstock grafted to Hanzell Chardonnay and Pinot Noir sélection massale from the Zellerbach Vineyard. Terraced and contoured vine rows have southern exposure with slopes of 10%. Soils are Red Hill Clay Loam. The 4-acre Sessions Vineyard, planted in 1999, honors Hanzell's winemaker, Bob Sessions. There are 11 sub-blocks, each planted with a unique rootstock and scion combination. The southeastern exposures catches the morning sun and enjoys minimal direct light during the peak of the day. Rows are planted against the contours with a 38% slope. Soils are Red Hill Clay Loam type. The 5-acre Ramos Vineyard, named in honor of Hanzell's vineyard manager of 30 years, José Ramos, was planted in 2001. The vines are St. George rootstock grafted to Hanzell Chardonnay sélection massale from the de Brye and Zellerbach vineyards. Exposure is northwestern with rows planted against the contours. Soils are Red Hill Clay Loam type.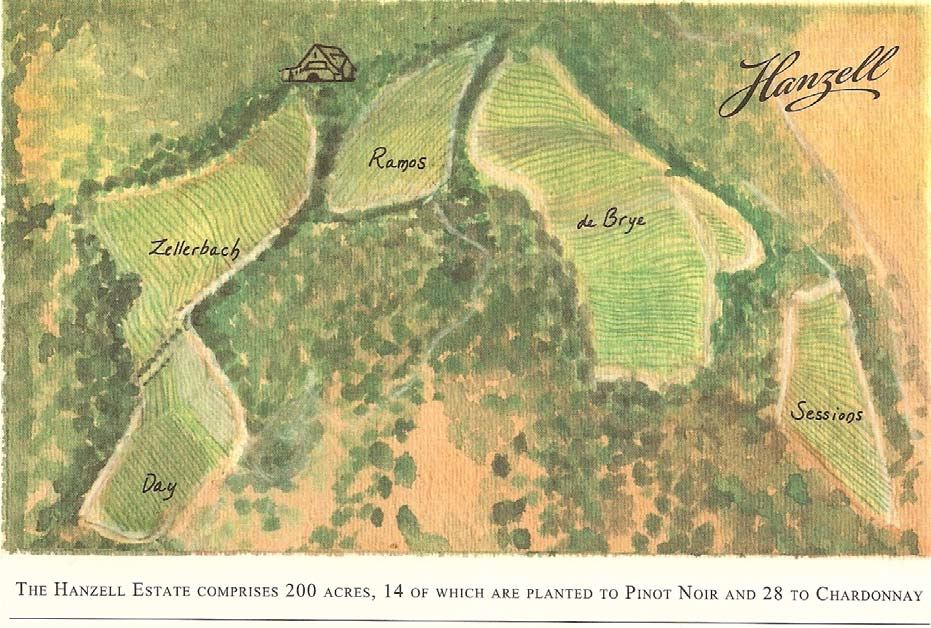 I visited Hanzell Vineyards recently, toured the vineyards and tasted with Michael McNeill. As we stood overlooking Zellerbach Vineyard, he spoke to me about the history of Hanzell Vineyards and his "dream job." Listen to our conversation: "Conversation with Michael McNeill of Hanzell Vineyards"
When I walked into the old winery with its early equipment preserved, the original one-ton stainless tanks lined up with military precision seemingly protecting the winery's historical provenance, I was overcome by a feeling of awe and reverence for the legacy that was on display. Then, entering the tasting room lined with a library of Hanzell wines dating back almost a half century, I felt like speaking in hushed tones and kneeling as if in a glorious church. It was a humbling experience to say the least.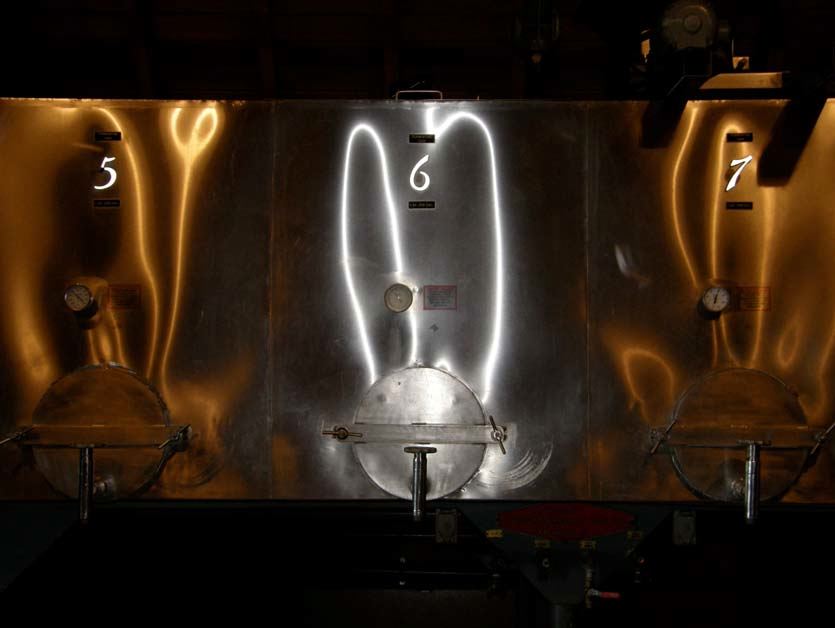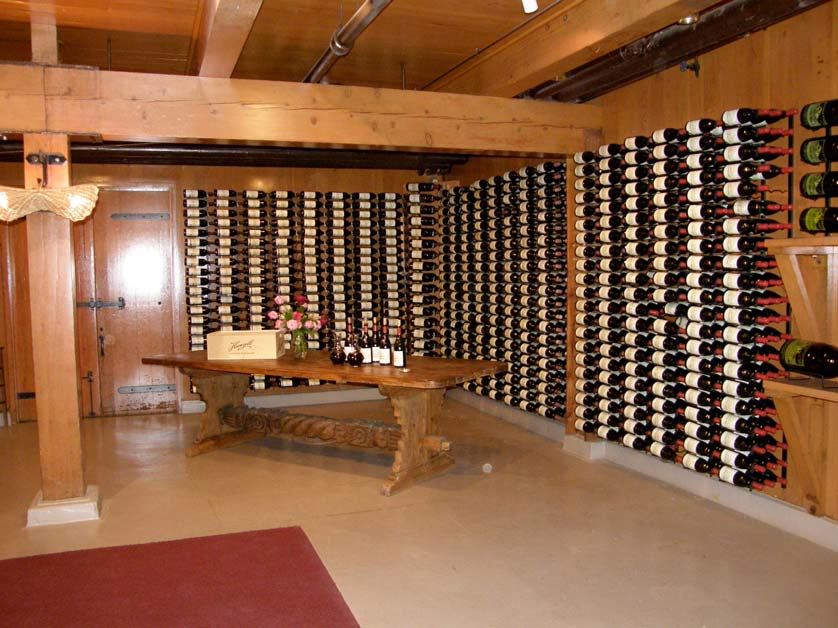 The photos that follow show the Zellerbach Vineyard and the town of Sonoma beyond, an original vine in the Zellerbach Vineyard, and the Sessions Vineyard.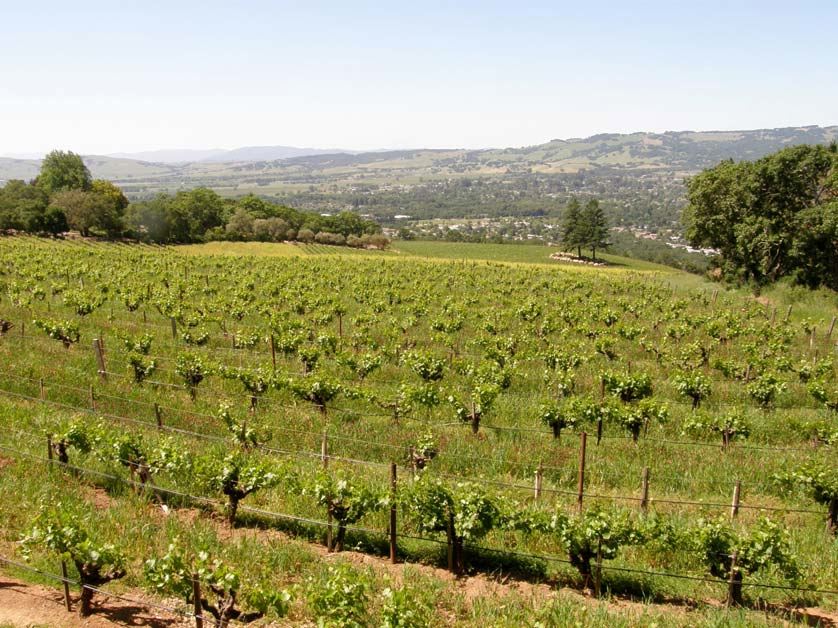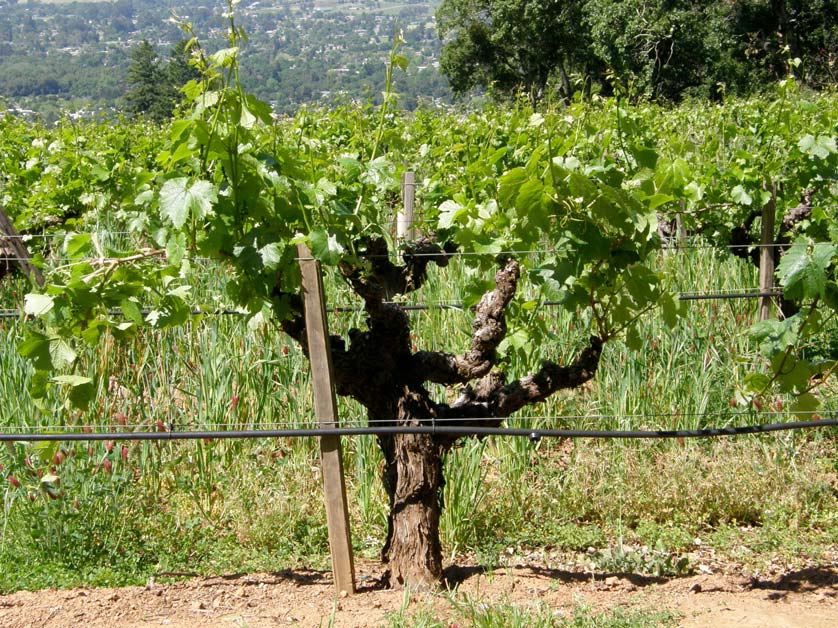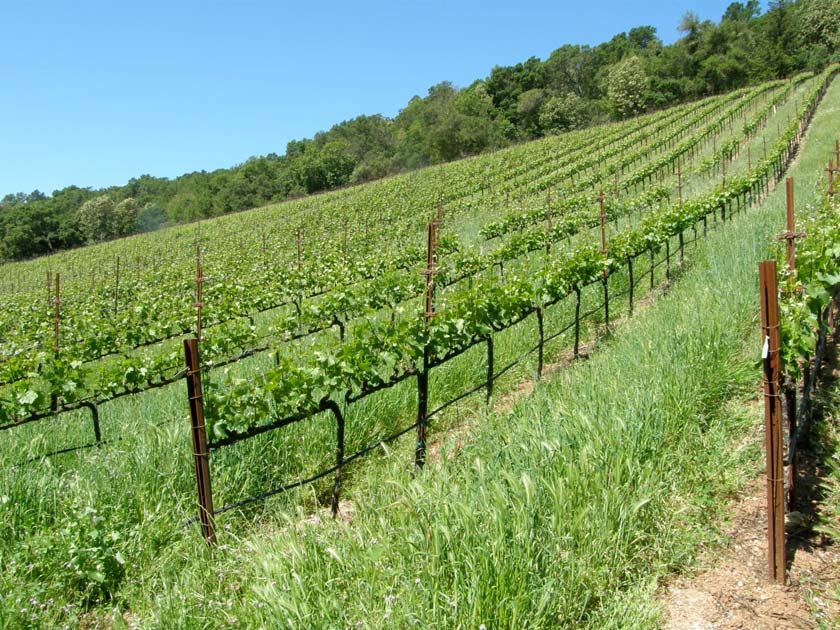 I tasted four vintages of Hanzell Pinot Noir from 1995, 2001, 2003 and 2007, all of which had been decanted over fours hours in advance. As dictated by tradition and the house style, the Hanzell wines are aged in Sirugue barrels, 50% new in the case of Pinot Noir and about 33% new for the Chardonnay. The Sirugue barrels are said to produce pure fruit expressions in Chardonnay with smoky vanillin and fresh-baked bread aromas and highlight tropical and lemon components. For Pinot Noir, the Sirugue barrels add finesse and subtle aromatics of exotic spices and roasted herbs.
The Pinot Noir grapes are 100% de-stemmed, cold soaked for 5 to 7 days in one-ton fermenters, and kept in contact with the skins for two weeks following fermentation. Clone and rootstock combinations as well as vineyard blocks are vinified separately until blending decisions are made shortly before bottling. Surprising as it may seem, given the distinct differences between each of the individual vineyard blocks as to elevation, aspect, slope, vine age, trellising, and clones and rootstocks, the different lots share many characteristics while retaining subtle differences. The recent vintages of Pinot Noir are sourced from Sessions, de Brye and Zellerbach vineyards.
All the wines displayed a moderate garnet robe with the older vintages displaying impressive retention of fresh color. The wines were intriguingly complex, offering nuances that played hide and seek with my senses and I would have happily spent the day revisiting each glass if time had permitted.
If you are a connoisseur of fine Pinot Noir and Chardonnay, you owe it to yourself to visit Hanzell at least once. The historical property, the unique wines, and the warm reception will ingratiate you to Hanzell for the rest of your life. There just isn't anything quite like this cherished winery.
Hanzell Vineyards wines are available for purchase on the website at www.hanzell.com. The Ambassador's Circle Wine Club guarantees access to the Hanzell Vineyards Pinot Noir and Chardonnay as well as the 1953 Ambassador Vineyard releases, magnums, and library vintages. Guests are received by appointment only (707-996-3860).