DuMOL: Scottish Thread Runs Through
There are some wineries in California that don't attract the media frenzy but have become our most treasured producers of Pinot Noir and Chardonnay. DuMOL, which was named after the first winemaker's children, Duncan and Molly, has that tradition. Since its inauspicious beginning in 1996, DuMOL has developed a devoted cadre of followers. Today, DuMOL has an established list of vineyard sources, now numbering twenty- three, a talented winemaker in Andy Smith, who has been at the helm since 2000, and a modern, well-outfitted winery in Windsor, California that opened in time for the 2008 harvest.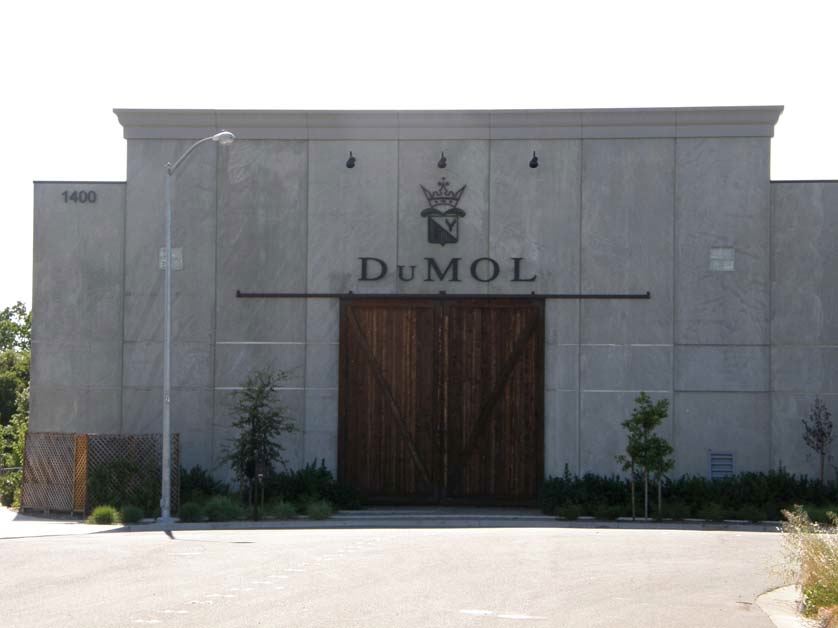 Partners Michael Verlander, Kerry Murphy and Andy Smith prefer to lead a low profile with discrete participation in public tastings and minimal emphasis on wine critics' scores which they do not heavily tout in their marketing materials. This attitude does not reflect any smugness by the proprietors, but rather an emphasis on investment in the quality of the wines and a preference for letting the wines speak for themselves.
The priority at DuMOL is on blending grapes from various compatible vineyard sources, producing single vineyard wines only when the vineyard warrants. The wines are not named for the principal or only vineyard used in crafting a particular wine, but instead the names of family members of the winery principals. Most of the grapes are sourced from the Green Valley appellation where DuMOL has a 25-acre Estate Vineyard, with other grape sources originating in the Russian River Valley, Sonoma Coast and Carneros. The DuMOL Estate Vineyard was featured in a recent article on Small Vines Viticulture (see PinotFile, Volume 8, Issue 13). Contracts have been in place for some time and are long term. Grapes are paid for by the acre, insuring that farming can be directed and yields can be restricted.
Upon first meeting with Andy Smith, many people think the winemaker's accent is Australian, as there are a number of Aussie winemakers in California, but he is Scottish. Before his tenure at DuMOL, Smith studied under Neil McCallum (Dry River in Martinborough), Ted Lemon (Littorai) and Paul Hobbs, all distinguished winemakers of great repute. Smith also serves as the winery's viticulturist. Since arriving at DuMOL in 2000, he has slowly tweaked the DuMOL style from a ripe, big and fruity style, to wines with more restraint and charm, often picked at more modest but physiologically ripe sugar levels of 23.5° to 24.5° Brix ( a goal many wineries are now striving for), with brighter acidity, fresher and less extracted fruit and more moderate alcohols. Smith told me, "I like to get the fruit off before it gets too ripe."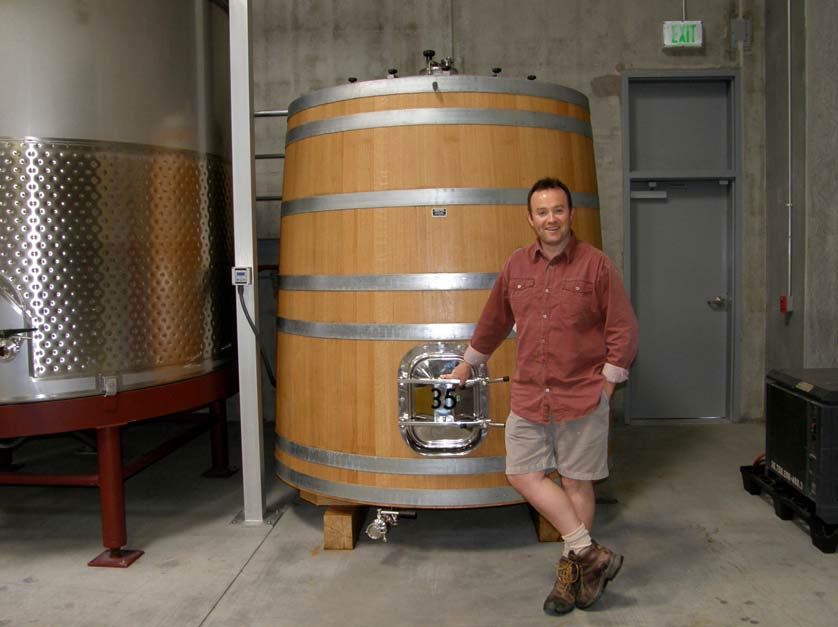 Robert Parker hailed Andy Smith as one of the "World's Most Influential Wine Consultants," listing him among other internationally acclaimed winemakers such as Helen Turley, Mark Aubert, Michel Rolland and Paul Hobbs.
Another of the trio of proprietors, Kerry Murphy, is first generation Scottish-Irish and was born and raised in San Francisco. He worked in his family's tire business, Murphy's Inc., which became the third oldest Michelin distributor in the United States. Murphy's association with Michelin primed his interest in fine wines and after the sale of the tire business to Goodyear, he pursued a career in the wine industry. Michael Verlander had a successful career in the hospitality industry beginning in 1977, and until 2004 owned a very popular Italian restaurant in Walnut Creek, California named PRIMA Restaurant and Wine Shop. You can follow him on Twitter (www.twitter.com/dumol).
The percentage of whole cluster in the DuMOL Pinot Noirs is different each year and for each vineyard based on an intuitive feeling as harvest approaches in each vineyard. There is no recipe. Smith likes to use 10%-15% whole cluster where possible, but finds himself using more whole cluster with each vintage. In 2008, for example, he used the most whole cluster ever to build in some extra freshness and aromatic complexity in the face of the early September heat. Smith said, "This worked and the wines have a lovely crunchy red fruit quality that I love and a bright freshness that belies the vintage conditions."
The cooperage regimen for Pinot Noir is as follows. Each bottling is raised in 50% Remond and 50% Ermitage barrels that are tight grain. The percentage varies between 40% and 50% with the "bigger" cuvées receiving a maximum of 50%. Stave wood is air-dried 3 years minimum and toasting is light or medium only. No heavy medium or heavy toast is used as Smith finds the results clumsy and overbearing. The Russian River Valley bottling is aged 11 months in oak and 3 months in tank and the designates are aged 15 months in barrel. The Russian River Valley lots are only racked one time to tank and the designates are racked when selections are made in the spring and again at bottling.
Although the wine press has claimed Smith's stock-in-trade is Burgundian-styled wines, I find the wines respectfully Californian in pedigree. He has demonstrated a gift for blending multiple sites, clones and maturity levels to achieve his goals and the results have captured wine lovers' attention. All the DuMOL Pinot Noirs are crafted with native fermentations and are bottled unfined and unfiltered. DuMOL wines are highly flavorful and seductive when young, but benefit from at least a few years of aging and have the potential for successful midterm aging of 7 to 15 years.
I recently spent an afternoon with Andy Smith at the DuMOL winery and recorded his comments about the winery and his winemaking goals: "Conversation with Andy Smith of DuMOL"
We tasted through a number of barrels of 2009 Chardonnay and Pinot Noir. The 2009 growing season was very even in Sonoma County with no heat spikes and produced outstanding wines, especially those made from heritage clones. DuMOL sources Chardonnay from the Holy Trinity of Chardonnay: Hyde Vineyard in Carneros, Ritchie Vineyard in the Russian River Valley, and Heintz Vineyard in the Sonoma Coast, and the wines are all stellar examples of California Chardonnay. I also tasted several DuMOL Pinot Noirs and my limited comments follow. The Pinot Noirs are very impressive and among the upper echelon of California production.
I must interject a very funny story about this last wine. When I left DuMOL winery, Andy offered me any of the wines to take with me and I chose this wine because it was a favorite. That evening I did not get a chance to drink it and left the next day for my home in Southern California. Once home, I put the opened and re-corked bottle in my kitchen Vinoteque at 60º. I left again for a trip and forgot about it. Almost 2 weeks later, I saw the bottle in my wine cabinet and opened it. The wine was fresh, gorgeously perfumed and flavored, as if it had been just opened. My wife and I happily finished it off that day. So, here was a wine that had been opened and re-corked, traveled 500 miles in my car, rested in my wine cabinet for 2 weeks and still tasted remarkably good. To me, this is a sign of superb winemaking and a wine that is in balance and has the longevity to go the distance. That said, don't try this at home with just any wine!
You will have to spend a little time studying the names of DuMOL wines to understand the vineyard sources. In 2008, the Pinot Noirs included a Russian River Valley appellation and Estate Vineyard bottling, and the named wines: 'aiden' (Russian River Valley Wildrose Vineyard), 'ryan' (Russian River Valley Dutton-Widdoes and Abbott vineyards), 'finn' (Russian River Valley Occidental, Widdoes Upper and DuMOL Estate vineyards), and 'eoin' (Carneros Sonoma Stage Vineyard). There are also 1 Russian River Valley appellation and 3 named Chardonnays, 1 Russian River Valley appellation and 2 named Syrahs, and a single named Viognier. The appellation wines are released in the spring and the designates in the fall.
The winery sells most of their production through a Pre-Release Member list which has a wait list. If an allocation does become available, new members are offered a six bottle pack of two bottles each of the Russian River Valley Chardonnay, Pinot Noir and Syrah. The Pinot Noir designates except 'ryan' (production is larger and there is some market distribution), are sold only to Pre-Release Members. Sign up for the Pre- Release list at www.dumol.com. There is some restaurant distribution and very limited retail sale of DuMOL wines. DuMOL wines have been served at the White House and at the American Embassy in Paris, France. The winery is not open to the public. Contact Kerry Murphy at 707-925-254-8922 for information.
Difference Between How Women and Men Buy Wine
The woman will say, "I found this $100 wine on sale for $50 and then I had a coupon for 50% off and when I got to the register, there was a manager's special for an added 60% off, but come to find out it was a discontinued item with a manufacturer's rebate, so the sales girl gave it to me for $5." Men say, "See this bottle of wine? Winery's suggested retail price, $100. I got it for $250. Beat that.