Chardonnay: What Gives In PinotFile?
Ok, I have come out of the closet. I have another paramour: Chardonnay. You will notice the first appearance of the "Golden Geek" and "Golden Value" icons in this issue, and like their Pinot Noir counterparts, represent the best in Chardonnay (Golden Geek) and the best values in Chardonnay (Golden Value).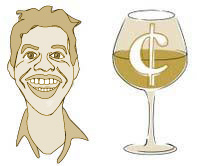 As of late, many Pinot Noir producers have also been sending me their Chardonnays to review, especially after they find out that I enjoy and drink Chardonnay regularly as my white wine of choice. That is not to say that the PinotFile will taken on a "bi" proclivity. The overwhelming emphasis will forever remain on Pinot Noir.
Chardonnay is not a true part of the Pinot family of Pinot Noir, Pinot Gris and Pinot Blanc, but as shown by researchers at University of California at Davis in 1999, is most likely derived from a fling in the distant past between Gouvais Blanc and Pinot Noir.
The early plantings of Chardonnay in California in the 1970s were primarily Wente clone. In 1912, a member of the Wente family took cuttings from the University of Montpellier viticultural nursery in France and planted them in the Livermore Valley of California. Cuttings from the Wente vineyard then spread to many wineries and eventually the Wente clone was certified by the Foundation Plants Material Service at University of California at Davis. The clones from certified vines are called "Wente clone" or UCD 4. The clones taken before certification are called "Old Wente" and designated 2A. Thus, not all Wente clones are the same, and older vineyards in California planted to Old Wente are highly prized.
The Wente clone is moderate yielding and shy-bearing, producing a rich mouthfeel, and aromas and flavor tones of tropical, floral and Muscat notes with nutmeg and clove spice.
The Dijon clones of Chardonnay were brought to North America by the Oregonians, who found that the Wente and Draper clones from California performed poorly in Oregon, failing to ripen and producing wines that were thin, acidic and lacking in character. As a result of the efforts of vintner David Adelsheim and others beginning in 1974, Dijon clones were eventually widely introduced in Oregon and produced Chardonnays with excellent structure and balanced acidity. The Dijon clones matured before the bad weather set in at the end of Oregon's harvest, proving to be a better match to Oregon's climate.
The early Dijon Chardonnay clones were certified in 1997 (75, 76, 96 and 98) and 1988 (77, 95, 277). As of 2006, 34 clonal varieties of Chardonnay were planted in vineyards throughout France, most of which were Dijon clones developed at the University of Burgundy. Dijon 76, 95 and 96 are said to produce more flavor-concentrated clusters, Dijon 77 and 809 more aromatic wines with a "grapey" perfume, and Dijon 75, 78, 121, 124, 125 and 277 are more vigorous and higher yielding. These clones provide Chardonnays with citrus, stone, melon and tropical aromas and flavors.
There are a number of other clones and/or selections that have appeared through the years in California. The Hanzell clone came from Wente clone cuttings at Stony Hill in Napa Valley. This clone is shy-bearing and known for millerendage or "hens and chicks," clusters of grapes with some normal-size berries, but many small and seedless berries. This phenomenon is more exaggerated in the Hanzell clone than in other Old Wente plantings in California and confers a distinction on Hanzell Chardonnay (see pages 1-10 in this issue).
Still other Chardonnay varieties include the Robert Young selections, Draper (Ridge), Mt. Eden, Monticello, Sees (Miramar Torres), Hyde, Hudson, and Musqué, made famous at Matanzas Creek and representing several different mutations of the Chardonnay grape that produce Muscat-like or floral aromas.
Some of California's most prized Chardonnay vineyards include Hyde and Hudson in Carneros, Heintz in the Sonoma Coast (25 acres of clone 4 on AXR1 planted in 1982), Ritchie in the Russian River Valley (Musqué and Wente planted in 1972), Hirsch and Marcassin in the Sonoma Coast, Durell on Sonoma Mountain (some Old Wente clone planted in 1979) and Kistler (Old Wente and Mt. Eden clones. Kistler also has some Old Wente planted at Vine Hill Vineyard, McCrea Vineyard and other newer vineyards).
The most promising appellations for Chardonnay in California? Santa Rita Hills has to be at or near the top of the list, yet most producers here prefer to concentrate on Pinot Noir. I would love to taste some Chardonnay from the Sta. Rita Hills AVA crafted by Ted Lemon, Steve Kistler or Helen Turley. Other appellations that have shown exceptional metal include the Santa Cruz Mountains, Carneros, Sonoma Coast, and Mendocino Ridge.
The aromas and flavors of barrel-fermented Chardonnay derive not only from the fruit itself, but from malolactic fermentation, oak barrel aging and the terroir of the vineyard source. Malolactic fermentation produces tones of butter, creme and hazelnut, light oak leads to tones of vanilla, coconut, and sweet wood, heavy oak imparts tones of oak, smoke and toast, and terroir is reflected in tones of flint, minerals, and mint. Stainless-steel fermented Chardonnay has fans as well, with its proponents touting the pure expression of the fruit and terroir.
Matching food with California Chardonnay? It will, of course, depend on the style of Chardonnay, but I often turn to fritto miso, pommes frites, caesar salad, potato chips, buttered and salted popcorn, and of course, lobster with drawn butter. Try grilled butterflied leg of lamb as well and you will be surprised.
I reviewed the following Chardonnays in the past couple of months. California Chardonnay, unlike Pinot Noir, is more dependable with better examples at lower price points. High-end producers like Marcassin, Peter Michael, Kistler, and Kongsgaard can demand close to $100 a bottle, but when you taste these wines, you can readily appreciate the quality difference compared to lesser-priced examples. Once you get hooked, the habit will be an inescapable draw on your pocketbook. It is one of the facts of life: great wine costs money. That said, there are many California Chardonnays in the value-priced range that can offer perfectly satisfying drinking on a daily basis without impugning your credit score.
The current pantheon of Chardonnay producers includes: Aubert, duMOL, Hanzell, Kistler, Kongsgaard, Littorai, Marcassin, Mount Eden, Pahlmeyer, Paul Hobbs, Peter Michael, Ramey and Stony Hill. There are many other wineries nipping at their heels, as shown by the reviews below of Chardonnays tasted in the past few months.
Morlet Family Vineyards
This newer winery has been widely acclaimed by Robert Parker, Jr., and Steven Tanzer and rapidly took on a cult image shortly after its founding in 2006. Morlet Family Vineyards is the project of Luc and Jodie Morlet who handcraft vineyard designated wines and unique cuvées from vineyards in Napa Valley and Sonoma County, several of which they have long-term contracts with and direct the farming.
Luc Morlet is a fourth generation, France-born wine maker who grew up on his family's domaine in Champagne. He worked in vineyards and wineries in Burgundy and Bordeaux before venturing to California. There he became winemaker for Newton, Staglin and Peter Michael Winery, where he still consults to his brother, Nicolas, who succeeded him as full-time winemaker.
Besides the 'Ma Douce,' there is a 'Ma Princesse' Russian River Valley Chardonnay and the 'Coup de Coeur' Sonoma County Chardonnay which represents the best barrels of the vintage and consists of only 75 cases. The Chardonnays are based on Old Wente clones and are styled similar to the Chardonnays from Peter Michael. In addition, there are three Sonoma Coast Pinot Noirs, each of which is produced in 100 case lots, a Sauvignon Blanc, Muscadelle and Semillon blend named 'La Proportion Doree,' a Bennett Valley Syrah, three Cabernet Sauvignons from Napa Valley, and a Late Harvest Semillon from Alexander Valley.
I met Luc Morlet at a special wine dinner at Charlie Palmer at Bloomingdale's in Costa Mesa's South Coast Plaza on April 14, 2010. Both Peter Michael and Morlet Family Vineyards wines were featured along with the cuisine of Amar Santana. My favorite course was Sonoma quail stuffed with sweet Italian sausage, sweet pea puree and braised morel jus paired with the 2008 Morlet 'Côteaux Nobles' Sonoma Coast Pinot Noir. I will review all the Morlet Pinot Noirs in an upcoming issue.

Morlet Family Vineyards wines are sold primarily through a mailing list at www.morletwines.com with some fine restaurant distribution and very limited retail sales. For those of you shut out of the Peter Michael mailing list, this is a perfect opportunity to hop on board the Morlet mailing list.