Noiregon Excels in 2008
The 2008 vintage in Oregon has been highly touted with some vintners claiming it is the best vintage for Oregon Pinot Noir in this decade, or even in Oregon's modern 50+ year winegrowing history. I know that we have heard this shouting before from wineries, but based on the many 2008 Oregon Pinot Noirs I have sampled, this is no shallow hype.
The vintage was not without its challenges. A perfect spring led to a huge crop, even two to three times normal if no thinning was performed. Rains arrived in September, creating the potential for mold. Warm weather followed the rains in September and into October, increasing the potential for high sugars and over ripe flavors. Vintners were able to pick at their leisure, and harvest extended all the way to Halloween. Those wineries that harvested grapes earlier before sugars rose brought in fresh fruit and the resulting wines are stellar. The 2008 Pinot Noirs are midway between the 2006 and 2007 vintages, with well-endowed, forward fruit typical of the 2006 Pinot Noirs, but less extracted than 2006, combined with the acidity and brightness of the 2007 Pinot Noirs. The alcohols are higher and the tannins more evident in 2008 than in 2007, but still moderate.
Rating vintages is a gross generalization and highly variable depending on who does the rating. Robert Parker's Wine Advocate rates the 2008 vintage in Oregon 92, the same as for the excellent 2002 and 1999 vintages. Wine Enthusiast thinks less of the vintage, rating it 88, less than Oregon's 2006, 2004, 2000, 1999 and 1998 vintages. Wine Spectator was full of praise, giving the vintage a 95-100 rating, the highest ever for Oregon by this publication.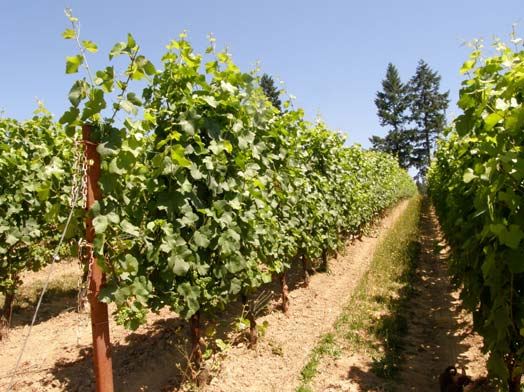 The 2008 Oregon Pinot Noirs provide potentially superb drinking pleasure, but the wines are generally closed and somewhat tannic upon release, lacking in up front accessibility. Winemaker Steve Lutz of Lenné Estate in the Yamhill-Carlton District told me, "They are still pretty tight but I am starting to get excited about them. I don't think they will have much suppleness until we get into mid or late fall. It is a very restrained vintage for alcohol." I have found most premium wines to be brooding and reticent upon opening, only to find them emerging several hours after opening, and displaying even more charm the next day. Preferably, the 2008 Pinot Noirs should be cellared at least a year and ideally longer than this. If you can't resist popping the cork now, you must decant the wines. Drink the more forward 2007 vintage while you stock up and wait for the 2008 Oregon Pinot Noirs to find their footing.