Shea Wine Cellars
"Besides the melange of red and black fruit, the wines have the floral aromatics of violets and dark red roses and a real subtle tannic profile."
Mark Vlossak, St. Innocent
Dick Shea's magical plot of land produced stunning Pinot Noirs in the 2008 vintage. Bigger than their very good 2007 counterparts, with more color, tannin and lush fruit, the alcohol levels are in the 14s, less than in 2006, but more than 2007.
Since 1996, Dick and Dierdre Shea have had their own label, Shea Wine Cellars, producing Pinot Noir and Chardonnay exclusively from estate fruit. The wines have been consistently top flight, but it has taken them many years to arrive at a consistent style that they now comfortably embrace. Their current winemaker, Drew Voit, who was formerly an assistant at Domaine Serene, is the right match. The 2008 vintage is the first that Drew vinified completely at Shea Wine Cellars.
The Sheas first planted their 200-acre property seven miles outside of Newberg on Highway 240 in 1989. At the time, they were living in Connecticut and Dick worked on Wall Street. He had been looking at a more ideal locality to raise his family and found Portland, Oregon to his liking. It was a bottle of 1986 Adelsheim Elizabeth's Reserve Willamette Valley Pinot Noir that really piqued his interest in wine. In 1989, much of the focus in the Willamette Valley was on the Dundee Hills, but after much research, he chose an undeveloped area, Yamhill- Carlton, which eventually became famous for Pinot Noir.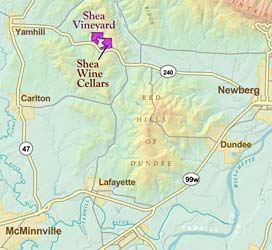 When asked about the secret of his success, Dick told me, "What I did right was putting plenty of effort into finding good people to advise and later work for me. I have picked up my knowledge from them." One of these people was viticulturist Javier Marin, who has managed the vineyard from the beginning.
Today, Shea Vineyard consists of 135 acres of Pinot Noir and 5 acres of Chardonnay planted on sedimentary yellow-red silty clay loam soil over fractured sandstone (so-called Willakenzie soil - see below). This soil is typically found in the foothills around Carlton, Yamhill and the Coast Range. Vine spacing is 5' x 7' totaling 1,245 plants per acre. Pinot Noir clones include Pommard, Wädenswil, and the newer Dijon clones, 114, 115, 777 and 828. Shea Vineyard has had the highest ranking for sustainable farming by the US Department of Agriculture Conservation Security Program since 2005.
The original plantings of Pommard and Wädenswil clones were on their own roots and inevitably, phylloxera afflicted the vines. Planned replanting has been carried out through the years. 2008 was the last vintage for Block 22 own-rooted Pommard fruit, and the grapes were bottled as a separate wine, labeled "Last Hurrah."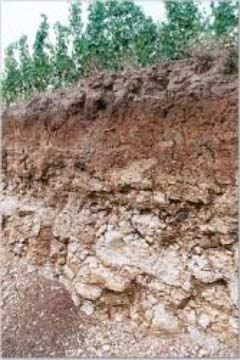 There are several features of the 2008 Shea Wine Cellars Pinot Noirs that are impressive. The wines are polished and harmonious, incorporating moderately high alcohols with sublimely silky textures and perfect integration of oak. In addition, the wines bring out the "Sheaness" that many tasters find expressed in this vineyard: a beautiful floral aroma, a spicy dark red and black fruit character, and a complimentary earthiness, all features that seem unusually clear and unique to this vineyard. Voit has managed to corral the vineyard's propensity for fruit intensity, lift the elegance of the wines, soften the mouth feel, expose the nuances, and allow the terroir of the Shea Vineyard to show its best side. In three words: he nailed it.
2008 also heralds the introduction of block designations for all the Shea Wine Cellars Pinot Noirs except the Estate and the "Homer" reserve bottling. For those of you who have been frustrated with the various designations of past vintages (the vineyard is divided into two portions known as West Hill and East Hill, and contains 22 blocks with both numbered and named labels), this new labeling will be a welcome change.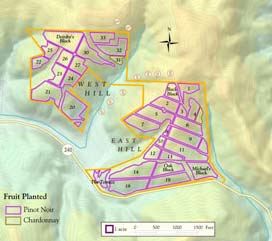 The 2008 Shea Wine Cellars Pinot Noirs offer an opportunity to taste the different clones from Shea Vineyard: the Block 5 bottling contains Dijon clone 777 from the East Hill, the Block 7 wine is 100% Wädenswil clone from the East Hill, the Block 22 wine is 100% own-rooted Pommard clone from the West Hill, and the Block 31 bottling of a blend of 70% Pommard and 30% Wädenswil clones from the West Hill.
About 25% of grape production from Shea Vineyard is held back for the Shea Wine Cells label, with 75% going to multiple prestigious Pinot Noir producers in the Willamette Valley and Sta. Rita Hills of California. Total production is about 4200 cases annually and is sold primarily through a mailing list with limited retail distribution (primarily the larger production Estate bottling). Visit the website at www.sheawinecellars.com for more information and to join the mailing list. The vineyard and winery is not open to the public except during the traditional Willamette Valley Open House weekends (Memorial Day and Thanksgiving). At Shea Vineyard winery with left to right, Drew Voit, Dick Shea, and Diedre Shea (below).