Antica Terra
Antica Terra (la antica terra is Latin for "old earth") has quickly become one of Oregon's most applauded Pinot Noir producers. A pair of New Yorkers originally planted a 6-acre estate vineyard on 40 acres in the Eola-Amity Hills appellation of the Willamette Valley in 1989 and named it Antica Terra. The vineyard and label were acquired in 2005 by three friends (Scott Adelson, John Mavredakis, Michael Kramer) in partnership with winemaker Maggie Harrison. Harrison was an assistant winemaker for Manfred Krankl at Sine Qua Non in Ventura, California for eight years (1998-2006). She was so fond of working with Krankl that he had to practically lock the doors to his winery to force her out on her own. It took a unique opportunity afforded by Antica Terra that led to her to take the leap. Listen to Harrison's full story on Grape Radio Show #232 at www.graperadio.com/archives/2009/02/02/life-with-maggie/. See Harrison on You Tube at www.youtube.com/watch?v=4ghYp6zV8TA
The Antica Terra Vineyard is situated on a south-facing sloping hillside with shallow and well drained soil underlain with marine sedimentary rocks and alluvial deposits and offers expansive views of the Williamette Valley. The stratification of the earth in the Antica Terra Vineyard is depicted on the winery's label. 20 additional acres of Pinot Noir were added to the vineyard in 2007 adding to the clonal and rootstock mix.
The inaugural release under Harrison's direction was the 2006 vintage and the wines have been highly praised by the wine press ever since. The 2006 vintage consisted of 1,100 cases of the Antica Terra Willamette Valley Pinot Noir and less than 100 cases of Antica Terra Botanica. In 2007, production was 1,280 cases and 20 cases respectively. The Willamette Valley bottling is a blend of estate Antica Terra Vineyard fruit and purchased fruit from the Cherry Grove Vineyard and Shea Vineyard, both located in the Yamhill-Carlton District appellation. The percentage of each varies with every vintage, but the estate vineyard usually makes up about 50% of the blend. A second reserve bottling, Botanica, is a small production Pinot Noir made only in vintages when exceptional fruit warrants. It has a similar composition to the Willamette Valley bottling in 2008.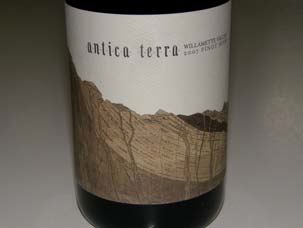 2008 Antica Terra Willamette Valley Pinot Noir
13.5% alc., 1,111 cases, $46. Released April 1, 2010. 52% Antica Terra, 27% Shea and 21% Cherry Grove vineyards. 90% de-stemmed without crushing (10% whole cluster). Aged in 31% new and 69% 1 to 3-year-old French oak barrels. Never racked until sent into tank for bottling. Unfined and unfiltered. · Moderate reddish-purple color in the glass. Well-perfumed with aromas of spiced berries, savory herbs, lavender and cut flowers. Classy juice that is both bright and lithe with flavors of dark berries, cherries, mocha and savory herbs. Drinkable now, but will be much better in another 6 to 12 months. Very good.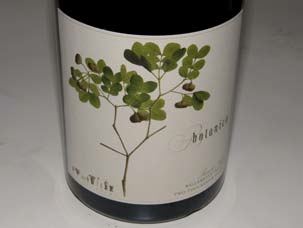 2008 Antica Terra Botanica Willamette Valley Pinot Noir
13.7% alc., 185 cases, 120 magnums, $75. Released April 1, 2010. 50% Antica Terra, 38% Shea and 12% Cherry Grove vineyards. De-stemmed 89% without crushing. 11% whole cluster. Aged in 63% new and 37% seasoned French oak barrels. · The nose is reticent initially, becoming more charming with time in the glass showing a melange of berry fruits, Herbs de Provence and a hint of oak. Lovely depth and richness of flavor featuring the entire array of berries including boysenberry, blackberry and strawberry with an underpinning of savory herbs. A charming wine with supple tannins, bright acidity and fruit in perfect harmony. Needs plenty of foreplay (translate: decanting) to drink now. A magnificent effort that will reward long term cellaring.
Antica Terra wines are available through a mailing list at www.anticaterra.com with some retail distribution (check www.avalonwine.com). An outstanding Rosé was also released in 2008 and previously reviewed in the PinotFile. Tasting by appointment (503-244-1748).