Rippon Pinot Noir is Stunning in 2008
Sir Percy Sargood (Emma Rippon's grandson) bought Wanaka Station in 1912. Rolfe Mills (Percy Sargood's grandson) and his wife Lois took a section of this land, one of the last vestiges of the original Wanaka Station, and created Rippon. Rolfe Mills' early trials with Vitis vinifera plantings acknowledged him as a visionary and Kiwis speak of him in revered tones as the father of Central Otago viticulture. The Mills family now farms this land on the shores of Lake Wanaka in Central Otago and produces wines that are clearly in the upper echelon of New Zealand's wine bounty.
How has Rippon achieved the ultimate in winemaking success? Take the latitude, the metamorphic schist-based soils rich in foliated mica and quartzite, the proximity of the Main Divide of mountains, Lake Wanake's thermal mass, the buffering of Ruby Island and Waterfall Creek, 50 years of empirical observation and understanding, established vines that accurately reflect their site, biodynamic farming, and a highly skilled and Burgundian trained winemaker in Nick Mills. As Mills (photo below), himself, would say, "It is of course the relationship between all these things, along with the willing mind to appreciate them, which makes a place...and finds its true voice. The voice of the farm as a whole maintains its integrity."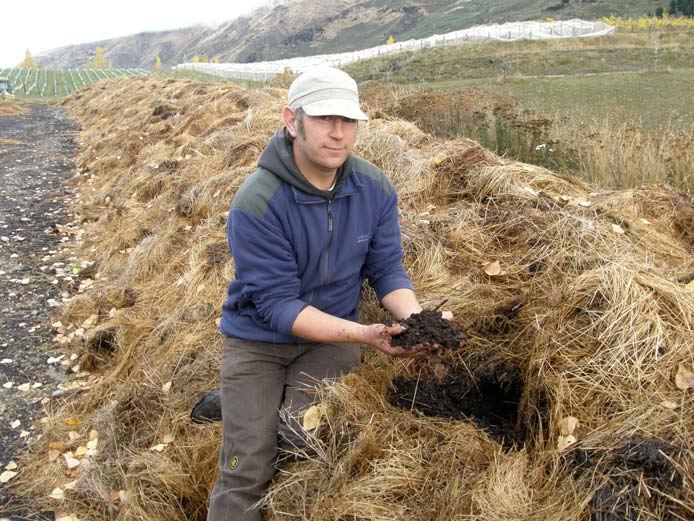 The early 1990s brought Rippon worldwide recognition and in 1992 the winery was awarded a trophy for New Zealand's best red wine. Rippon's success spawned a number of other successful wineries in the region, including Felton Road, Mt. Difficulty and Olssens, all of which were better funded than Rippon and attracted bright and well-trained winegrowers and winemakers. Gradually, Rippon lagged behind, the wines languished and Rolfe Mills passed away in 2000. It was young Nick Mills, Rolfe and Lois' son, who guided Rippon back to the top.
Nick Mills developed much of his fortitude and conviction competing as a champion snow skier on the slopes of New Zealand. Unfortunately, he blew out a knee just months before the 1984 Olympics. Disappointed and disillusioned, he traveled to France where he harbored fond childhood memories of trips spent with his father who traveled to learn about viticulture firsthand from the French. On these trips, Nick had picked up French, so when he returned, he was able to easily converse. He was fortunate to obtain a cellar rat position at Domaine Jean-Jacques Confuron in Burgundy and ended up staying in France from 1998 to 2002, studying enology and viticulture in Beaune and working in some of Burgundy's most celebrated domaines including Nicolas Potel, de la Vougeraie, and de la Romanee-Conti. He never considered returning to New Zealand, and was thinking of traveling to Oregon when he received a phone call from his mother in 2002 asking him to come home and assume management of Rippon. He hesitated for a few months, and fortuitously eventually realized the potential of Rippon and what he could achieve with this marvelous property.
Rippon's vines are among the oldest in Central Otago, with some plantings dating to 1985-1991. 80% of the vineyard is planted on its own roots and is not irrigated. There are newer plantings as well. Pinot Noir comprises 40% of the 30 acres of plantings which are composed of Pommard, Lincoln, 10/2 and 10/5 clones. The vines at Rippon have always been farmed organically, but upon Nick's return, the entire property was converted to biodynamie, a philosophy that Nick passionately adheres to.
The Gaffneys with Rippon's winery dog, Pipi the Ratbag and Rippon's vineyard and Lake Wanaka in the background (2008).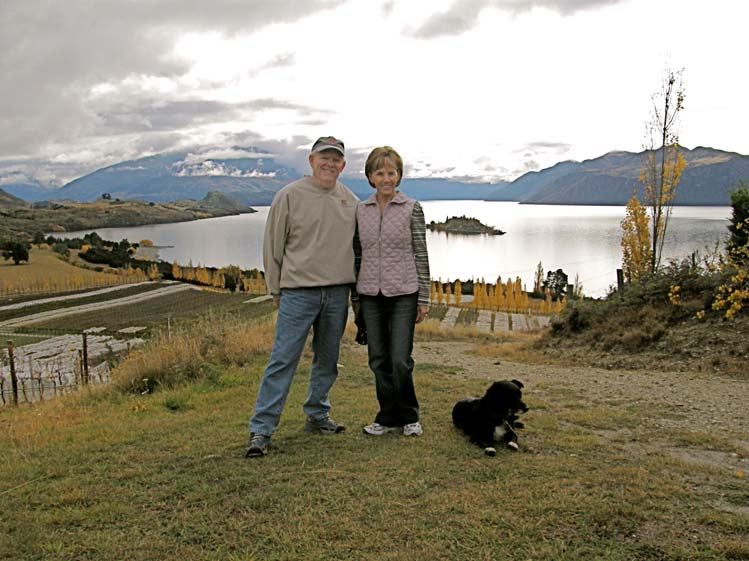 Different clones, vines of various ages and micro-sites within the vineyard are picked and vinified separately. Varying amounts of whole clusters are used. Natural yeasts drive fermentation which lasts 13 to 18 days. Most ferments are given extra time on the skins post fermentation making total skin contact time 15 to 28 days. The Pinot Noirs spend roughly 17 months in 22-35% new French oak barrels and are bottled unfined and unfiltered. The wines are then cellared.
Until the 2008 vintage, a single Rippon Pinot Noir was produced. In 2008, four separate Pinot Noirs were crafted to better reflect the voice of the property. The Rippon Jeunesse Young Vine Pinot Noir is from grapes that are not considered mature enough to communicate fully all the complexities of the soils and site. It is a pure expression of Pinot Noir, a spirited voice of Pinot Noir grown at Rippon, rather than the voice of the land from which it came. The second bottling is the Rippon Mature Vine Pinot Noir made from fully developed Pinot Noir vines. Rippon Emma's Block Mature Vine Pinot Noir is from a unique parcel within Rippon located on the lake front where ancient clay reefs run laterally through fine schist gravels. Emma's block is named after the great-great-great grandmother of the current generation of the Mills family, through whom the name entered the family. The fourth wine, Rippon Tinker's Field Pinot Noir is from another unique block within Rippon. This gentle, north facing slope was formed by an ancient ejection cone of coarse schist gravels. Tinker's Field is home to the oldest vines on the property and is named after Rippon's visionary founder, Rolfe Mills (Tink to his friends). Refer to the map below for the location of Emma's and Tinker's Field parcels.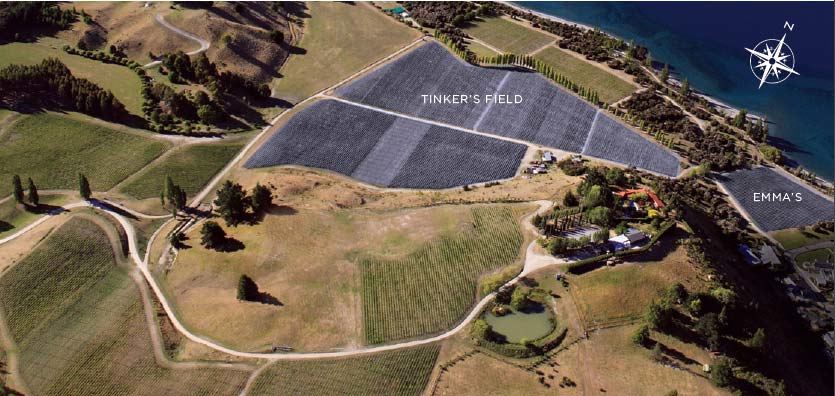 After sampling the 2008 Rippon Pinot Noirs, I was struck by the bright aromatics, the satiny textures and the highly nuanced flavor profiles. I asked Nick about these wines and how the fit the style of Rippon over the last 20 years. He replied as follows. "2008 was a very special vintage. It has what the French might express as de la séve (sap, but not really sappy). Its like juice, but not really juicy. It's more like "flow." It has all the detail and precision that we are used to from our coarse, schist-based soils, but the wine flows past these. The image of a stream might work here: normally a Rippon wine is a creek and if you were a leaf floating down it you would be getting caught in every eddy, hitting metamorphic rocks all the way down. In 2008, a full yielding year, we have more flow in the creek, so the rocks are still there, you just pass them faster and get caught less. The 2008 wines are a reflection of the vintage. Every vintage here is of course very different. It is just the nature of the site and the way in which we work to express that very clearly. It is interesting though that the last vintage which displayed somewhat similar characteristics to this, the very warm and fleshy 2006, sprung many peoples' attention also. Like others, I absolutely adore these wines. I must say, though, the ones I find myself most drawn to, at least the ones on which I like to hang my hat (as it were), are often the more honed down, direct versions of the site. I love la séve, but I am perhaps prouder of the precise, layered detail and structure achieved in other years, for this is Rippon in its purist form: 1991, 1995, 2003, 2007."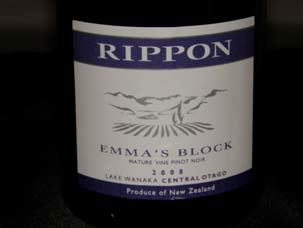 2008 Rippon Mature Vine Lake Wanaka Central Otago Pinot Noir
13.0% alc., pH 3.60, 1,989 cases, (224 cases USA allocation), $54, Diam. Released June 1, 2010. Clones 5, 6, 2/10, 10/5, 12, Lincoln. 27% whole clusters. Aged 10 months in 30% new to 4-year-old French oak barrels and aged over a second winter in neutral barrels (a total of 17 months in barrel). Unfined and unfiltered. · Charming aromas of dark stone fruits and berries, exotic woods and subtle oak spice. Moderately rich and mouth filling essence of dark grapes and berries with a hint of spice and minerals. Soft and satiny leaving a satisfying impression on the generous and lively finish. The most forward of the three 2008 Rippon Pinot Noirs tasted and quite showy for this vineyard. Very good (+).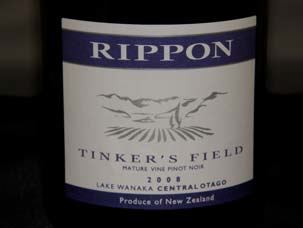 2008 Emma's Block Mature Vine Lake Wanaka Central Otago Pinot Noir
13.0% alc., pH 3.60, 12 cases USA allocation, $74, Diam. Clones 5, 6, 13 and Lincoln. 23% whole clusters. Aged 10 months in 22% new to 4-year-old French oak barrels, then racked an aged a second winter in neutral barrels (a total of 17 months in barrel). Unfined and unfiltered. · Shy but very pleasing scent of dark fruits, dried rose petals and leather gathering intensity with time in the glass. Delicious mouthful of dark red cherries and berries. Very crisp and juicy with fine proportioned tannins and a silky follow through. Tremendous up side potential here.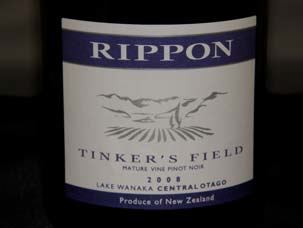 2008 Rippon Tinker's Field Mature Vine Lake Wanaka Central Otago Pinot Noir
13.0% alc., pH 3.60, 12 cases USA allocation, $92, Diam. Clones 5, 6, 2/10, 10/5, 13 and Lincoln. 40% whole cluster. Aged 10 months in 35% new to 4-year-old French oak barrels. Racked after MLF and allowed a second winter in neutral barrels (a total of 17 months in barrel). Unfined and unfiltered. · This wine smells of the outdoors with scents of wooded forest, wet leaves, darkly colored berry jam and a hint of oak. Very tasty attack of dark cherry and berry fruit and cherry skins, all with a subtle earthiness. Moderately rich with fine-grain polished tannins, a welcoming tug of acidity, and impressive persistence on the bold finish. The wine glides across the palate with a dreamy silkiness. Hard to put this wine into words: suffice it to say you know it when you experience it. Great later in the day after opening. A New Zealand old vine Pinot Noir epiphany.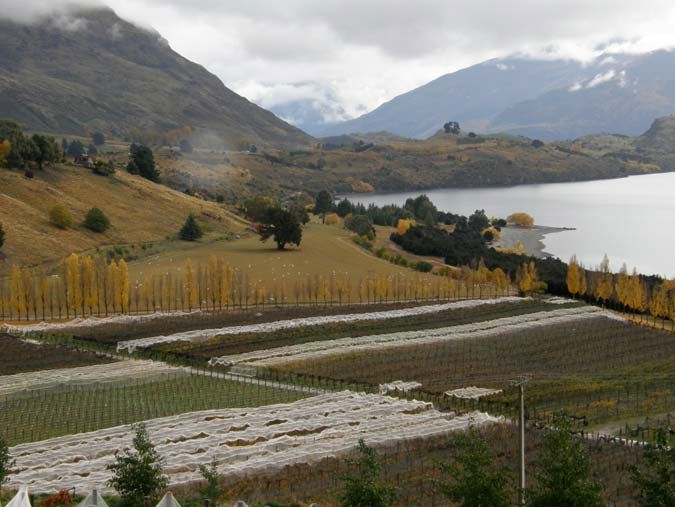 Rippon wines are imported by Penny and Andy Loving of Station Imports LLC in Colorado Springs, Colorado. They are frequent attendees at the major Pinot Noir events and very congenial people to know. Visit their website to purchase Rippon wines at www.stationimports.com. If you are planning a trip to Central Otago, you must visit Rippon for it is one of the most picturesque and most photographed vineyards in world.