Along the Pinot Trail
I was recently in Sonoma County, hosting two couples from McMinnville, Oregon, who won an "Russian River Valley Immersion Weekend" that I donated to last year's Salud Oregon Wine Auction. The four (Lloyd and Linda Town and Bruce Morgan and Linda Levy) were hard core Willamette Valley Pinot Noir lovers who had never been in the Russian River Valley so it was quite an eye-opening experience for them. They left Portland on a day in which it was in the 50s and dreary, landing at Santa Rosa's Charles Schulz airport where they were greeted by blue skies and temperatures in the mid to high 70s. A brief summary of the weekend's activities follows.
Benovia Winery, Santa Rosa
Convivial host Bob Mosby, the General Manager at Benovia, led the group through a lunch time tasting of Benovia wines. Benovia's cottage, located on the estate's property, was generously donated to house the group this weekend. Benovia's owner, Joe Anderson, has provided the financial support to convert the original Merry Edwards facility into a state-of-the-art winery, resurrecting the existing adjacent vineyard and initiating extensive new plantings. Talented winemaker Mike Sullivan, who was hired away from Hartford Family Winery, is at the helm and the wines, beginning with the first releases in 2006, are superb. The lineup includes Pinot Noir, Chardonnay and Zinfandel. The wines are sold primarily through a mailing list at www.benoviawinery.com. The winery is open for tasting by appointment (707-526-4441).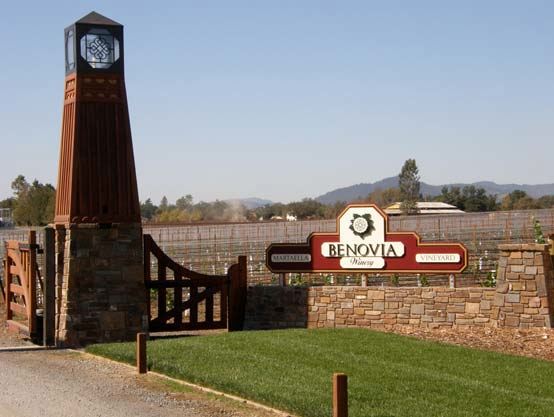 Lynmar Estate, Sebastopol
Lynmar Estate is the most idyllic wine country setting in Sebastopol with its modern contemporary architecture, extensive herb and flower gardens, a 42-acre estate vineyard, and welcoming places to sit indoors in the Hospitality Salon and outdoors surrounded by gently rolling hills. The onsite chef and congenial staff as well as an array of accommodating venues creates the perfect setting for culinary and wine experiences. The Pinot Noirs, Chardonnays and Rosé offered here are all top notch too boot.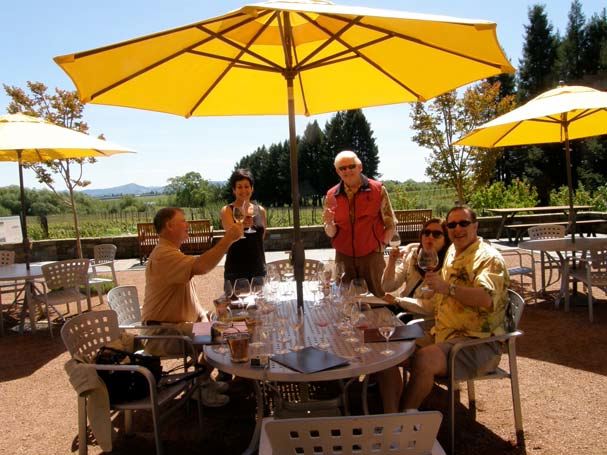 We were warmly greeted on a gorgeous morning and guided to our table outdoors for an extensive and instructive tasting. The co-proprietor and director of consumer sales, Anisya Fritz, is a charming woman who introduced herself and conversed at length with our group. The winemaker in recent years has been Hugh Chapelle but he has departed to pursue his own project and has been replaced by Bibiana González Rave. Rave is a native Colombian who pursued a degree in enology from the University of Bordeaux. She then chased harvests in France, California and South Africa. After 14 harvests and experience working in California at Peay Vineyards, Au Bon Climat and Qupe, she came to Lynmar Estate and assumed the winemaker duties in October 2009. Paul Hobbs continues as the consulting winemaker.
Lynmar wines are sold online at www.lynmarwinery.com with some retail distribution of the larger production wines. The Hospitality Center at 3909 Frei Road is open daily.
2007 Lynmar Estate La Sereinite Russian River Valley Chardonnay
14.2% alc., pH 3.28, 658 cases, $70. Aged 14 months in 60 gallon French oak barrels (0% new). · A nod to Chablis. Shy aromatics with hints of tropical fruits taking some time to escape reduction. Delicious flavors of baked apples and crème brulee with an appealing crushed rock underpinning. Good.
2007 Lynmar Estate Wente Selection Russian River Valley Chardonnay
14.4% alc., pH 3.44, 880 cases, $35. Sourced from two small vineyards, mostly natural fermentation, aged in 45% new French oak barrels for 14 months 100% MLF. A one-time bottling as the fruit will no longer be available to Lynmar. · This was clearly the group's favorite. Terrific nose featuring cut flowers, roasted nuts and spices. Rich and viscous on the palate with impressive persistence of the citrus and spicy notes on the bright finish. Very good.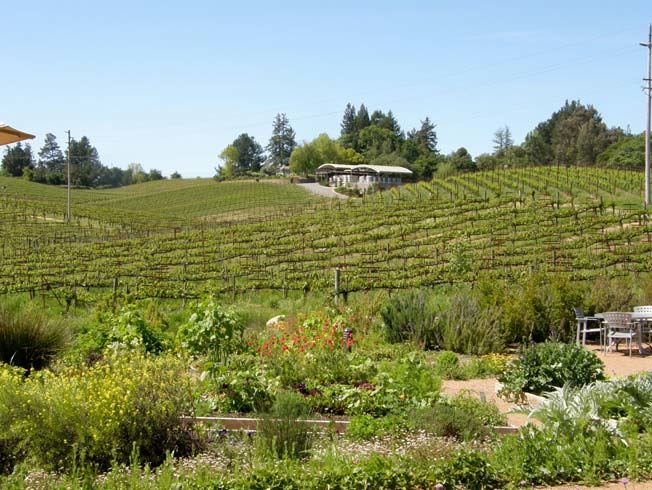 2007 Lynmar Estate Quail Hill Vineyard Russian River Valley Pinot Noir
14.4% alc., pH 3.63, 1,646 cases, $60. Only finest lots from the 47-acre estate Quail Hill Vineyard are included in this release with the core coming from a small block of old vine Swan selection planted in 1974 and a block of Dijon and Pommard clones. Aged 16 months in 60% new French oak barrels. Unfined and unfiltered. · A charming, delicate wine that seduces you with nuances. Lovely aromas of red fruits with hints of rose tea and baking spices. Discreetly concentrated core of red stone fruits and berries with a refreshing lift of aromatic fruit on the pleasing finish. Very good.
2007 Lynmar Estate Terra de Promissio Sonoma Coast Pinot Noir
14.4% alc., pH 3.67, 388 cases, $70. The Karen family farms 50 acres of Pinot Noir in Petaluma. Composed of 55% 777 and 45% 115. 100% destemmed, 7-10 day cold soak, native yeast fermentation, aged 14 months in 58% new French oak. · A wellstructured beauty with aromas and flavors of darker red and black berries, spice box, and exotic tea. Very smooth in the mouth with admirable finesse. Velvet glove over an iron fist comes to mind. Very good.
2007 Lynmar Estate Zephyr Farms Russian River Valley Pinot Noir
14.1% alc., pH 3.62, 569 cases, $70. Dijon clones planted in Goldridge soils at the western border of the Green Valley and Sonoma Coast appellations. Final blend is 50% 667, 25% 777 and 25% 115. 100% de-stemmed, 7-10 day cold soak, native yeast fermentation, aged 16 months in 70% new French oak barrels. · The aromatics are stunning featuring savory fruits and herbs. Picks up interest over the time in the glass, displaying a tasty array of red and black stone fruits and berries with an earthy and savory herbal underpinning. Still has tannins to shed and will benefit with additional time in the cellar. Very good.
Littorai, Sebastopol
Proprietor and winemaker Ted Lemon was returning from New Zealand on the day we visited, so assistant winemaker Trey Fletcher was nice enough to give us a tour and tasting. Lemon is a strong proponent of biodynamie and the photos below show the estate vineyard's compost pile and the cow horns used in one of the preparations. In another photo below, Goldridge soil is demonstrated. This much talked about soil is found in large areas of the Russian River Valley and Grass Valley. This fine sandstone loam was created millions of years ago by collisions between the North American and Pacific tectonic plates and eruptions by volcanic vents that deposited volcanic ash over layers of eroded bedrock. Goldridge soils are particularly suitable to Pinot Noir and Chardonnay due to its low water retaining capacity.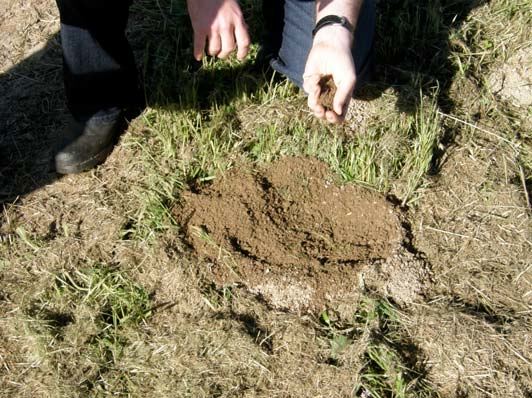 I did not take tasting notes on the wines sampled at Littorai since I wasn't on duty. I have tasted the wines many, many times, and have never been disappointed. I was very impressed with the 2002 Littorai Thieriot Chardonnay and Pinot Noir and when I returned home after the trip, I rushed to my wine locker to see if I had any of these wines (Chardonnay no, Pinot Noir yes!).
To be perfectly honest with you, Ted Lemon has crafted some of my greatest California Pinot Noir drinking experiences and I have tasted practically every Littorai Pinot Noir from every vintage dating back to the mid-90s. I have more Littorai Pinot Noir in my personal cellar than Pinot Noir from any other producer. When I see older vintages for sale, I snap them up because Littorai wines age extremely well (I have never tasted one that was "gone.").
Littorai wines are sold entirely through a mailing list, first come, first served, usually in lots of 3, 6 or 12 bottles of a single wine. A combination case composed of multiple wines is also offered. Visit the website at www.littorai.com for more information (Lemon is not big on marketing so the website is a bit sparse, but his annual newsletters are very informative), and to join the mailing list. A new winery opened on the Littorai estate in 2009 and tastings are now available by appointment by calling Sheri Wood at 707-823-9586. You owe it to yourself to visit at least once.
J Vineyards & Winery, Healdsburg
Many wine enthusiasts think of sparkling wine when they think of "J," and the winery still does produce a magnificent lineup of sparklers. Since early 2006, however, J has embarked on a serious commitment to still varietals, most notably Pinot Noir. The winery's vineyard holdings now encompass almost 300 acres of diverse hillside, bench land and valley floor plantings. George Bursick, the long time winemaker at Ferrari-Carano, was hired along with viticulturist John Erbe to transform J with less emphasis on sparkling wines and and more dedication to site-specific Pinot Noir. The 2007 vintage was the first that Bursick vinified completely and the results have been stunning.
J was one of the first wineries in Sonoma County to offer food matched to wines tasted at the winery. The J Bubble Room is open Friday, Saturday and Sunday with seatings by reservation for a multi-course tasting of J wines matched with seasonal wine country fare prepared by onsite Executive Chef Mark E. Caldwell. Below is the menu we experienced when we visited. All the still wines we were served have been reviewed previously in the PinotFile. The upscale setting, the service, the wines, and the carefully thought out gourmet accompaniments make for a very sophisticated wine tasting experience. Visit the website at www.jwine.com for more information about other tastings offered at J Vineyards & Winery.