Benziger Family Winery: Commitment to Terroir-Driven Pinot Noir
"There is no alchemy in winemaking; there is only what the vineyard gives you. This is why I believe the best school for being a better winemaker is being a farmer. The sequence in my life was farming and viticulture first, and then making wine."
Winemaker & Viticulturist Rodrigo Soto
I was in the Russian River Valley in early May and the highlight of my trip was spending an afternoon with Rodrigo Soto, the Vice President of Winemaking at Benziger Family Winery. Soto, who joined Benziger in 2006, is spearheading the winery's certified-sustainable farming program, and more specifically the certified organic and biodynamic Signaterra and de Coelo Pinot Noir labels. A graduate of the agronomy program at Chile's Catholic University, he has extensive international winegrowing experience with biodynamic and organic wineries including his previous work at Matetic Vineyards with American consulting winemaker Ken Bernards in San Antonio, Chile. During his six-year tenure at the organically farmed Matetic, Soto's wines won critical acclaim. Soto also has experience in New Zealand and at Fetzer Vineyards in California.
Soto is on a mission to make wines that authentically reflect the terroir of Northern California's expressive vineyards. He says, "We want Benziger wines to reflect the place where the grapes are grown. Benziger has made a commitment to decrease volume and increase quality and behind this is their dedication to natural farming."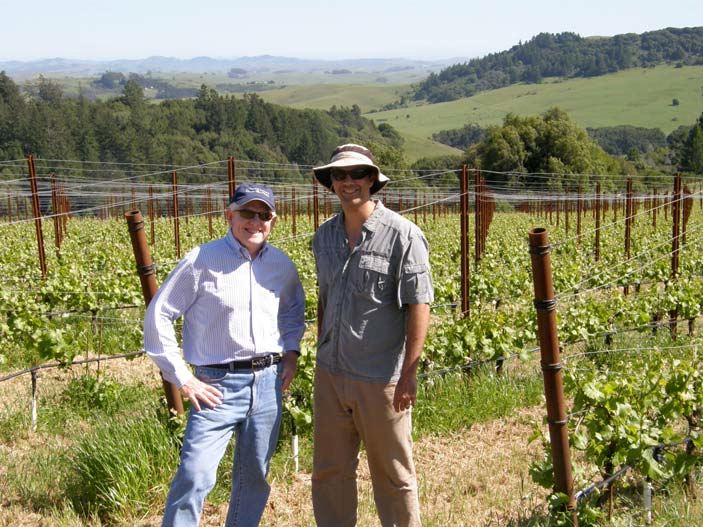 Soto and I walked the Benziger de Coelo estate on a glorious day in the true Sonoma Coast as you can see from the photo above. I cannot emphasize enough to the pinotphile that he or she must spend some quality time with a winegrower walking vineyards, kicking some dirt, spitting some seeds. Only then, can you truly appreciate the dedication involved in growing Pinot Noir and grasp an understanding of terroir. When I visit wineries, they can be surprised that I want to see the vineyards before I taste the wines. I believe that the place where a wine originated, not to mention the character and skill of the person who made it, is highly relevant to how that wine tastes and how it gives you enjoyment.
de Coelo is a very cool growing site that is at the edge of where Pinot Noir will grow. On this afternoon, the temperature was well over 80 degrees, a rarity for early May. It has often been said that Pinot Noir thrives when it lives on the edge and this site is a perfect example. The vineyard is perched on a rugged hilltop about five miles inland from the Pacific Ocean where the rocky, shallow soils force the vines to struggle to produce diminutive yields. From the top of the vineyard, the vistas are magnificent with little sign of life except the neighboring Bodega Headlands Vineyard farmed by Kistler and sheep grazing in the distance.
At this 20-acre, certified biodynamic vineyard, farming is directed at exposing every cluster to the precious sun available. The meticulous cane pruning is kept in a graceful arch to insure that each shoot is evenly composed and exposed (see photo below). Extensive thinning is employed during the growing season to insure only the highest quality grapes are harvested. Soto spends many days in this vineyard, visiting at least once a week, and by his estimate his crew tends to each vine by hand at least fourteen times before the grapes are harvested.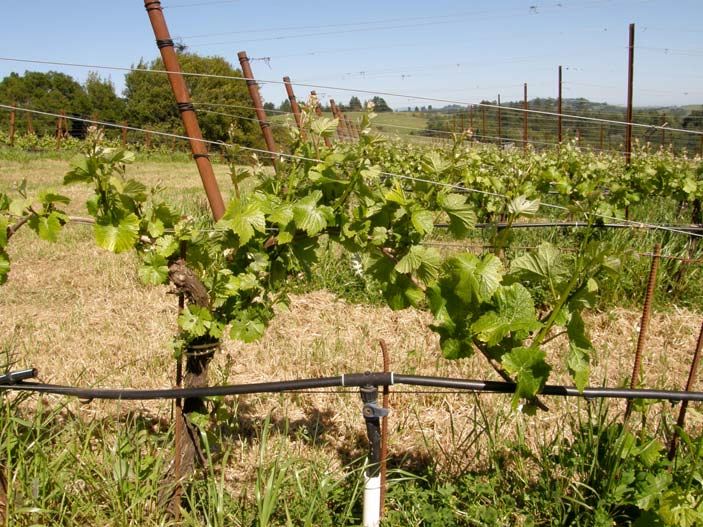 The vineyard is a project still in development. The lower 5-acre section, called Quintus, is planted to Dijon clones 667, 828 and a Swan selection. The upper steeper 10-acre section, named Terra Neuma, consists of Dijon clones 115 and 777. Here the soils are very thin, growth of the vines is more restrained, ripening occurs sooner, and the wines tend to be more intense. A distinct de Coelo Pinot Noir is made from these two parcels of the vineyard. Quintus spends 16 months in barrel, Terra Neuma 12 months in barrel which seems the best fit for the respective sites. A third, more exposed and windy site, consists of 5 acres of younger vines (clones 115, 777 and 828), and eventually is expected to provide a third wine from the property.
We sampled the de Coelo Pinot Noirs at the vineyard under the shade of a large tree both before and after walking the vineyard and by the second pass, the wines had been opened for three hours. These are wines that demand your attention and contemplation. They are not flashy, fruity, flirty wines, but rather serious wines of the earth, full of intrigue and nuance that are worthy of their origin and can provide a unique drinking experience. Benziger touts them as more Old World or Burgundian in style than Caliesque, and I suppose that is a good fit, especially with their bright acidity and layered flavors.
Soto's winemaking is traditional using some whole cluster, indigenous yeast fermentations, and aging in 50% new French oak barrels. The wines are unfined and unfiltered. Production is about 500 to 600 cases of each de Coelo wine.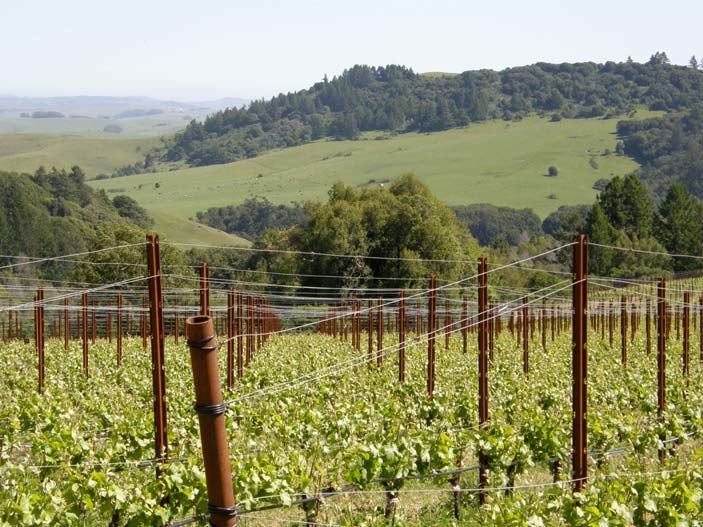 The Benziger Family Winery Pinot Noir program also includes the Signaterra wines which are premium vineyard designated varietals from Russian River Valley Vineyards farmed by the Benziger team (Bella Luna, San Remo, and Giusti vineyards). The 2007 vintages of the Signaterra Pinot Noirs were reviewed previously (www.princeofpinot.com/article/868/). These wines are also highly recommended. Visit the website at www.benziger.com to obtain the de Coelo and Signaterra wines. The Sonoma Mountain tasting room is open daily and special estate vineyard tours and tastings are available by appointment (707-935-4527).