Checking in with De La Montanya
De La Montanya Estate Vineyards & Winery (DLM) is a bit off the beaten path from the more glamorous wineries on Westside Road in the Russian River Valley, but proprietor and winemaker Dennis De La Montanya has consistently produced exceptional Pinot Noirs from the Russian River Valley and Sonoma Coast appellations. DLM wines have won major awards at the Sonoma County Harvest Fair and San Francisco Chronicle Wine Competition.
Dennis farms over 200 acres in Sonoma County and founded his winery in 2003. The barn-inspired winery and tasting room on Foreman Lane just three miles from Healdsburg (halfway between Armida and Twomey), houses one of the Russian River's most eclectic lineup of wines. Dennis has the bit of the devil in him, and he is always crafting some new varietal or some variation on previous wines he has produced. Along with consulting winemaker Michael Loykasek, the small winery offers at least 30 different wines under the De La Montanya Estate, Felta Creek and Flying Rooster Red labels. DLM is one of the few wineries in California to offer a Pinot Meunier. A wide range of price points is offered. Adding spice to the lineup is a series of "Pin Up" wines featuring attractive women (fans of the winery) in pin up poses on the front label that are only sold at the winery. In addition, Dennis has a number of rock star friends and offers special charity bottlings in cooperation with rock legends such as the band Journey and Eddie Money.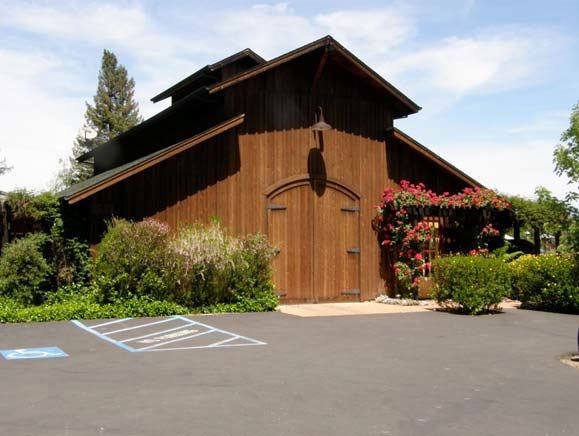 I stop in at De La Montanya periodically to taste and chat with Dennis and did so in early May this year. The wines were tasted at the winery right after opening and again later in the day from the opened bottles.
DLM wines are sold exclusively through the tasting room, to wine club members, and through the winery's online store at www.dlmwine.com. The tasting room is open daily from 11:00 to 4:30 (by appointment weekdays). Dennis couldn't get me taste his Tempranillo, but I did taste the DLM Ahh Late Harvest Botrytis Russian River Valley White Wine made from 82% Gewürztraminer and 18% Viognier (15% residual sugar, 14.7% alc., $45, 375 ml). This wine was a delight with its apple, pear and banana fritter medley of flavors and a sweetness that was not cloying. I took it home, kept it in the refrigerator corked, and enjoyed a few sips over the next several weeks.