Seeing Red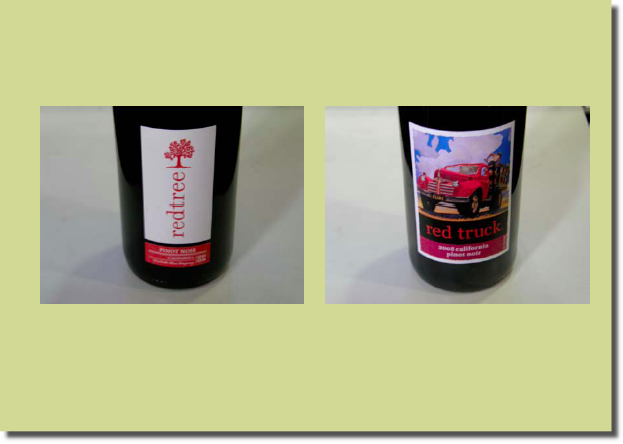 One of these two wines, the 2008 California Redtree Pinot Noir was a popular Pinot Noir last year after being touted by James Laube of the Wine Spectator, and the other, the 2008 California red truck Pinot Noir is a ubiquitous wine on super market wine department shelves. Both are priced at $7.99. I just had to try them. Redtree is produced by the Cacchetti Wine Company and the winemaker is the former winemaker for Pepperwood Grove, Bob Broman. Red truck comes from red truck winery in Sonoma owned by Fred and Nancy Cline of Cline Cellars. The winemaker is Charlie Tsegeletos, a University of California at Davis graduate who has been with Cline Cellars since 2002 and produces several varietals under the red truck moniker.
These two Pinot Noirs are casual, back-porch wines that have their place. They are nicely packaged, fruit forward wines meant for early consumption.
2009 Redtree California Pinot Noir
12.5% alc., $7.99, screw cap. · Moderate reddish-purple color in the glass. Confected aromas of spiced red cherries and raspberries with some hints of underbrush. A fruity wine that reminds me of sangria with its slightly spicy citrusy and berry flavors. Medium-weighted and soft in the mouth with mild tannins, this wine actually improved over time in the glass. A surprise at this price. Decent.
2008 red truck California Pinot Noir
13.0% alc., 10,000 cases, $7.99. From vineyards in Monterey and "California's Northern Interior." · Moderate reddish-purple hue. Restrained aromas of dark stone fruits, wet earth and oak. Tasty core of dark fruits with a subtle oak accent. Pleasant and moderately light in weight and smooth in the mouth with soft tannins. I suspect this wine has more than Pinot Noir aboard, but what the heck, it tastes pretty good. Decent (+).