Pinot Days San Francisco: Report from the Front Lines
I recently returned home with renewed enthusiasm for Pinot Noir after three days at the 6th Annual Pinot Days San Francisco held June 25-27, 2010. Attendance was down this year, a testament to the economic doldrums, and some small, relatively unknown producers I spoke to were discouraged by the paucity of consumers interested in visiting their booths and trying their wines. That said, the people that did attend were mostly earnest pinotphiles who relished the added accessibility created by less crowds and enjoyed the time they had to spend with winemakers and winery owners. There were very few people out for an afternoon of slugging down copious amounts of Pinot resulting in very few inebriated attendees at the Grand Tasting.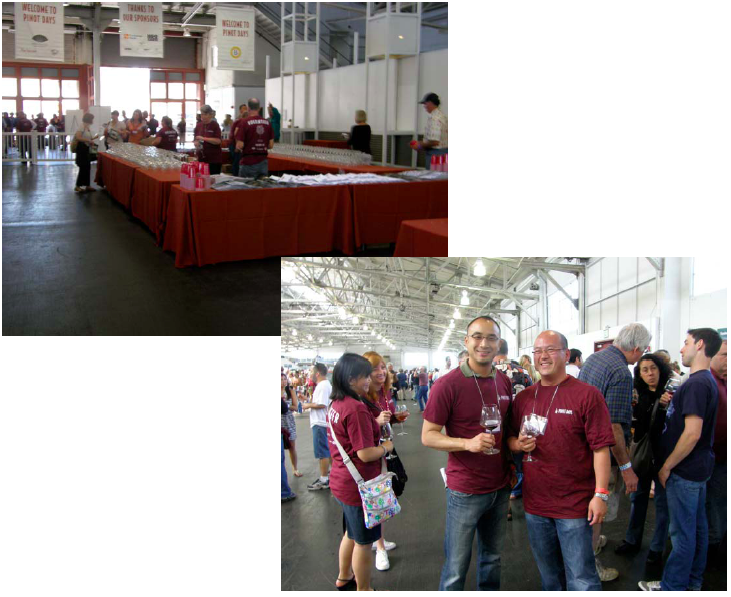 It was evident among the 216 predominantly California Pinot Noir producers pouring at the Grand Tasting that the quality of Pinot Noir has never been better. I overheard a number of comments like, "It's hard to find a bad Pinot here!" And although there were a number of high profile wineries pouring (Alma Rosa, Buena Vista, Calera Wine Company, Domaine Serene, Goldeneye Winery, Hanzell Vineyards, Merry Edwards Winery, Pisoni Vineyard & Winery, Siduri Wines and Talley Vineyards), there were a number of big names conspicuously absent (Brewer-Clifton, Fiddlehead Cellars, Kosta Browne, Littorai, Loring Wine Co., Patz & Hall, Saintsbury, Sea Smoke, and Williams Selyem). Some excellent producers do not feel a large venue does justice to the tasting of their wines or simply do not need the added exposure (Dehlinger, du MOL, Kistler Vineyards, Marcassin, Rochioli, Rhys Vineyards) and do not participate in any large Pinot Noir tasting events.
One disheartening aspect of large tasting events like the Pinot Days Grand Tasting is that a number of wineries send one of their sales and marketing staff to pour in place of the winemaker or owner. In some cases the substitutes are poorly informed about the wines and the consumer misses an opportunity to bond with the winery principals, many of whom are not easily accessible.
I tasted nearly 250 Pinot Noirs over the three days at the Friday Trade Tasting (an invitation only event for the press and trade), Saturday's three Focus Tastings, and Sunday's Grand Tasting. Listed below are the producers and wines that caught my palate and are especially noteworthy. Be aware that these impressions are the result of quick samplings of the wines and do not represent the type of extended tasting that I offer in my regularly published wine reviews. With so many producers and so little time, I could not of course sample every winery's offerings, and there are many, many outstanding vintners of Pinot Noir that are unintentionally omitted.
Trade Tasting
Friday, June 25, 2010
2008 Alma Rosa Santa Rita Hills Pinot Noir
14.1% alc., pre-release, screw cap. Composed of all the clones planted in the La Encantada Vineyard. Richard Sanford (photo below) is a tireless promoter of Pinot Noir and organic farming, and his newest project, Alma Rosa, launched in 2004, is offering increasingly impressive wines with each vintage.
This is a very lovely wine that is soft and harmonious, offering a pleasing dark cherry and berry essence sparked by lively acidity.
2008 Alma Rosa La Encantada Sta. Rita Hills Pinot Noir Pre-release, screw cap. La Encantada is a 100- acre vineyard certified organic since 2000. 100% clone 667. One of the best wines I sampled on this day showing tremendous upside potential. Alluring aromatics, juicy and vivid fruit core, herb and oak nuances with balancing t n' a, and impressive persistence on the finish.
2007 Ampelos Lambda Sta. Rita Hills Pinot Noir 14.3% alc., $35, release in July 2010. Fourth harvest from estate vineyard. Unfined and unfiltered. Showing nice maturity from the additional bottle age. Darkly fruited, beautifully composed with admirable finesse and a showy, lingering finish.
2005 Arcadian Pisoni Vineyard Santa Lucia Highlands Pinot Noir 13.8% alc., $95. Owner and winemaker Joe Davis (photo below) is one of the most cerebral winemakers I know. He has a unique style, choosing to pick earlier than most other vintners, and crafting wines that need time to evolve, much like Burgundies. The wines are relatively high in acidity and more austere when young than many California Pinot Noirs. He only recently released his lineup of wines from the 2005 vintage which he feels was the best vintage ever for his label. His Pisoni bottling is highly unique among the several producers who source grapes from this famous site. More redder fruited than many Pisoni bottlings with more softness on the palate and more slippery tannins. Still has many good drinking years ahead. Also worth a look: 2006 Arcadian Jill's Cuvée (Solomon Hills Vineyard) Santa Maria Valley Pinot Noir and 2006 Arcadian Fiddlestix Vineyard Sta. Rita Hills Pinot Noir (100% whole cluster).
2005 Arcadian Fiddlestix Vineyard Sta. Rita Hills Pinot Noir 13.5% alc., $60. Wines from this vineyard tend to be quite tannic, but Joe knows how to tame the beast. A very charming Pinot Noir with a full mouthful of flavors that fan out nicely on the persistent, mildly tannic finish.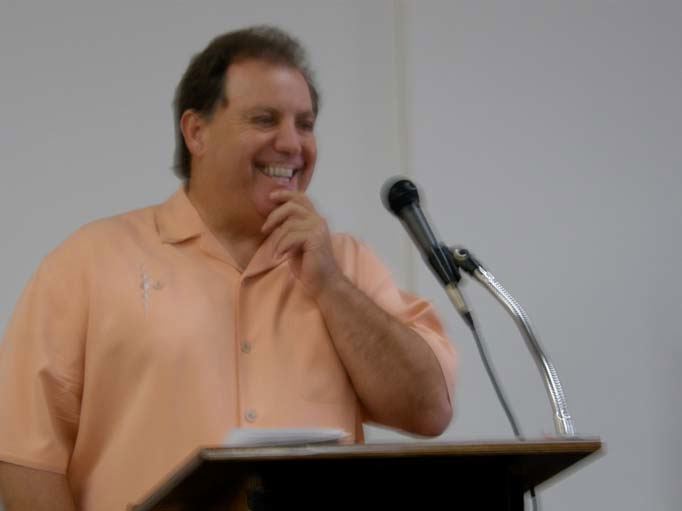 2007 Bink Wines Weir Vineyard Yorkville Highlands Pinot Noir 14.1% alc., pre-release, $40. Partners and winemakers Deborah Schatzlein and Cindy Paulson produce a single Pinot Noir from the Yorkville Highlands appellation. The 7-acre Weir Vineyard is farmed by Bill and Susan Weir and includes a diverse planting of Pinot Noir clones including Pommard from Rochioli Riverblock Vineyard, Wädenswil and a DRC suitcase clone. A darker-fruited wine that makes a statement about terroir. Still tight with some tannins to shed, this wine has the core of fruit and the lingering finish to anticipate a luscious drinking experience down the road.
2008 Claypool Cellars "Purple Pachyderm" Russian River Valley Pinot Noir 14.4% alc., $42. A new label on the scene showing considerable promise from world-renowned musician Les Claypool of the alternate rock band Primus along with partners Jay Meyer and Slawek Michalak. Featured recently in the PinotFile (www.princeofpinot.com/article/897/). Bright Bing cherry aromas and flavors with supporting herbs and oak and a very smooth mouth feel.
2007 Clos Pepe Vineyard Estate Pinot Noir Rosé Sta. Rita Hills Sparkling Wine A special treat offered by winemaker Wes Hagen. This wine was the first sparkler produced from the Sta. Rita Hills. Crafted by winemaker Norm Yost (Flying Goat), it was sold out long ago. Too bad, for this wine is a killer with long and bright aromas and flavors of strawberries and cherries and a fine bead.
2008 Clos Pepe Vineyard Estate Sta. Rita Hils Pinot Noir 13.8% alc., $37 (futures price). Tight and austere at present, but showing demure tasty fruit laced with minerals and herbs. Needs another two years.
2007 Derbes Russian River Valley Pinot Noir 14.2% alc., pH 3.53, 266 cases, $39. Talented and experienced French winemaker, Cecile Derbes, crafts consistently excellent Pinot Noir and Chardonnay in a very French style. Sourced from the Sweeney Vineyard (clones 115, 777). A gentle, charming Pinot Noir that delivers a pleasing core of Bing cherry flanked by spice with a good grip of acidity that brings the fruit to life.
2008 Derby Wine Estates Derbyshire Vineyard San Luis Obispo County Pinot Noir. A 62-acre vineyard planted in 2002 to Dijon clones 115, 667 and 777 located 1.25 miles inland from the Pacific Ocean bordering Hearst Ranch. The winemaker is Tiffinee Vierra. Barrel sample. Pretty dark-fruited aromas echoed in the richly flavored palate set off nicely by whole cluster infused herbs and spice. Still showing plenty of oak influence, but very promising.
2008 Domaine Chandon Carneros Pinot Meunier 14.1% alc., $30. Pinot Meunier is a color mutation of Pinot Noir with the same parentage that is a component of many sparkling wines, and is widely planted in Champagne, but rarely bottled as a stand-alone varietal. The flavor profile is similar to Pinot Noir and has charm as a young wine with less, softer tannins and more spice and coffee notes in the aromatic profile. Winemaker Joel Burt (photo below) has taken a special interest in Pinot Meunier and beginning with the 2009 vintage will vinify it like Pinot Noir. Domaine Chandon produces the California's best example of Pinot Meunier. Aged 14 months in French oak barrels. A nicely balanced wine with fruity aromatics, a moderately rich core of dark stone fruits and berries and a smooth finish that is filled with spicy fruit. Try it, you'll like it! Also worth a look: 2008 Domaine Chandon Carneros Pinot Noir.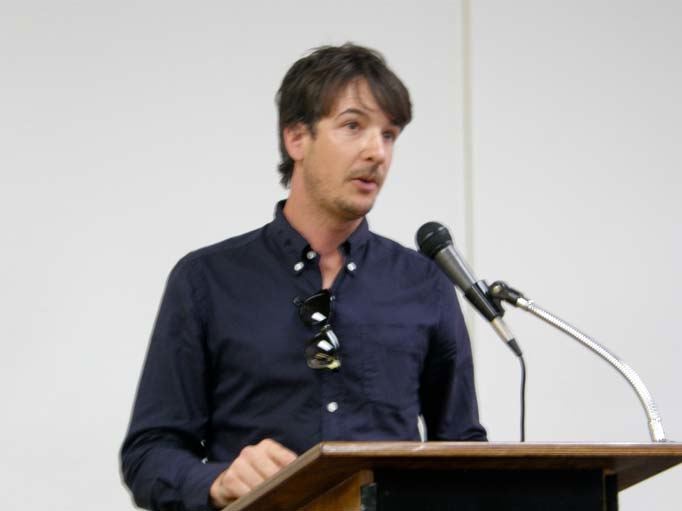 2007 Riverbench Vineyard & Winery Mesa Pinot Noir 14.3% alc., pH 3.71, 459 cases, $48. Riverbench Vineyard in the Santa Maria Valley has been supplying many wineries with world-class Pinot Noir and Chardonnay for 30 years. Originally planted in 1973, the vineyard was bought by a group of local families in 2004 who launched their own wine label under the Riverbench Winery label. Chuck Ortman, of Meridian fame, who sourced Riverbench fruit for many of his own wines over the years, has been the consulting winemaker since 2006. The winery's tasting room is housed in a newly restored 1920s craftsman style home on the historic Foxen Canyon Wine Trail. This wine is sourced from a special section of the Riverbench vineyard that is called "The Mesa." Darkly fruited and smoothly textured, this is an impressive wine that has the typical Santa Maria Valley earthiness, pepper and sinewy tannins.
2007 Shandel's Oppenlander Comptche Mendocino County Pinot Noir 14.5% alc., <400 cases, $40. This vineyard is owned and farmed by fifth generation owners Bill and Norm Shandel. Winemaker John Pepe (below at the Grand Tasting) crafts the wine.This is a special vineyard that delivers a unique drinking experience. The intense purple fruits are exotic and persist forever on the fruit-filled finish. An excellent cellar candidate.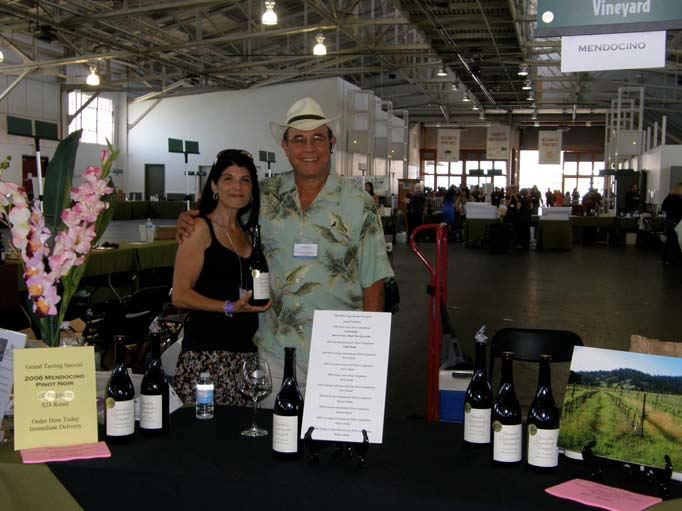 2008 Thomas George Estates Lancel Creek Vineyard Russian River Valley Pinot Noir 14.6% alc., <100 cases, $50. This vineyard is managed by Ulises Valdez. Pommard and Dijon 777 clones. Aged in 30% new French oak barrels. This is a very impressive wine that makes a statement. The theme is cherries and lots of them. Rich and potent, but not jammy, with great scent and a rich, spicy and tenacious palate. Tasted again at a Focus Tasting the next day and still found this wine to be striking. Also worth a look: 2008 Thomas George Estates Russian River Valley Pinot Noir ($38).
2007 WesMar Hellenthal Vineyard Sonoma Coast Pinot Noir 14.5% alc., 262 cases, $50. Unfined and unfiltered. Wines from this vineyard typically need time to evolve and this one is no exception. When tasted upon release in 2009, I found the wine brooding, but it now really sings. The lovely aromatics so typical of WesMar Pinot Noirs are in full blossom in this wine. The dense and deep, dark mixed berry fruits are enrobed in sturdy but soft tannins, the mid palate attack is memorable, and the generous finish sails along.
2008 Willowbrook Kaufman Sunnyslope Vineyard Sonoma Mountain Pinot Noir 14.5% alc., 130 cases, $34. Vineyard farmed by Greg Bjornstad. Planted to clones 23 and Dijon 777. Beautifully composed with appealing flavors of red fruits, spice box and savory herbs that play off each other in a highly nuanced performance. Also worth a look: 2008 Willowbrook Sonoma County Pinot Noir and 2008 Willowbrook Silver Pines Vineyard Sonoma Mountain Pinot Noir.
2008 Zepaltas La Cruz Vineyard Sonoma Coast Pinot Noir 14.2% alc., pH 3.70, 147 cases, $47. Petaluma Gap vineyard (Keller Estate). Clones 115, 114 and a mystery clone. Aged 11 months in 40% new French oak barrels. The biggest, richest Pinot Noir in the Zepaltas lineup this vintage but not at all over the top. Red and black fruits, nicely spiced with a touch of red licorice and loamy undertones.
2008 Zepaltas Suacci Vineyard Sonoma Coast Pinot Noir 13.7% alc., pH 3.60, 96 cases, $45. From a cold, windy and low-yielding vineyard southwest of Sebastopol. Aged 17 months in 40% new French oak barrels. Delicious red fruit with an herbal bent carries the theme in this elegant wine that is still tight.
Focus Tastings
Saturday, June 26, 2010
(All wines in these tastings were sampled blind)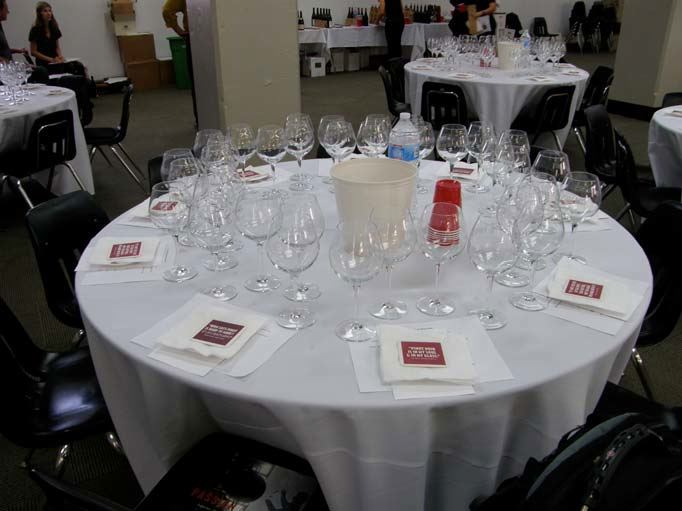 2008 Buena Vista Carneros Ramal Vineyard Estate Vineyard Series Carneros Pinot Noir 2,500 cases, $42. A plethora of sweet and juicy black cherries and dark berries with undertones of spice and earth. Winemaker Jeff Stewart (photo below) has taken this winery to new heights and the wines are superb.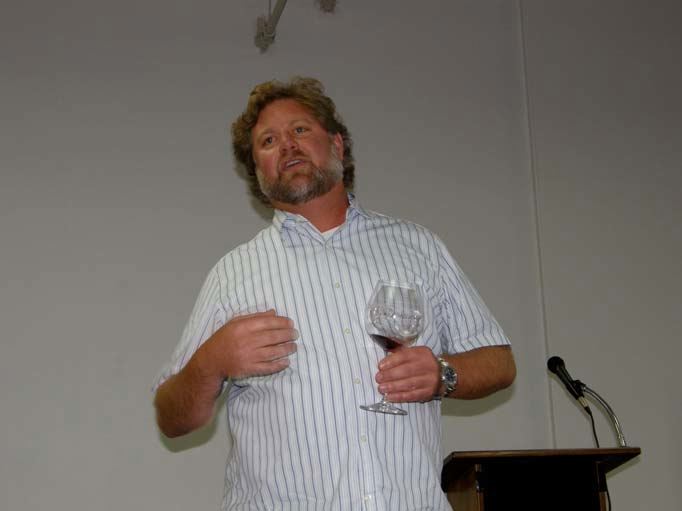 2008 C. Donatiello Floodgate Block 15 Russian River Valley Pinot Noir 14.2% alc., 400 cases, $48. 12 year-old vines, Dijon 667. Aged 10 months in 35% new French oak barrels. Owner Chris Donatiello (photo below) presented the wine. The goal here is to produce a food-friendly wine and that objective has definitely been met. Complex aromatic profile of ripe red cherries and berries, underbrush and Herbs de Provence. Soft in the mouth with notable flavors of cherries, cranberries and pomegranates. Elegantly styled and beautifully balanced. See other C. Donatiello 2008 wine reviews on page 27.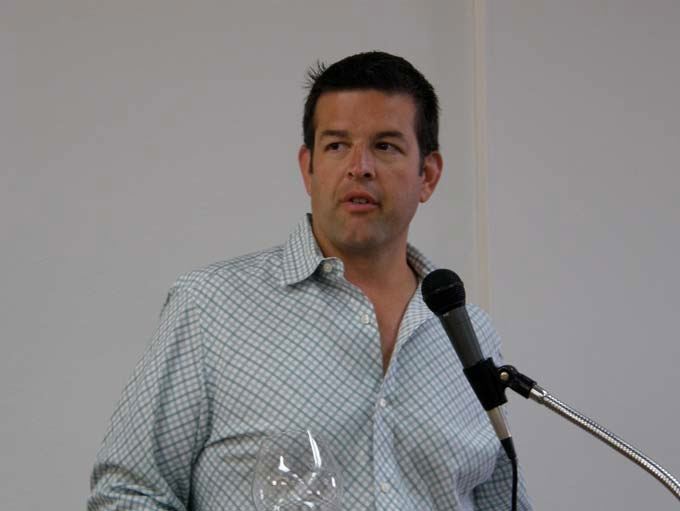 2008 Clos Pepe Clos Pepe Vineyard Vigneron Select Sta. Rita Hills Pinot Noir After a disastrous 2008 vintage marked by the loss of 75% of the crop at Clos Pepe Vineyard, this wine was a surprise to vintner Wes Hagen (photo below). A wine club member item. A delicate wine that exudes pinotosity. Lovely dark red fruits are featured accented with notes of cola and spice. A refreshing spark of mineral-imbibed acidity brings the demure fruit into focus. A gift that was salvaged from an almost hopeless situation.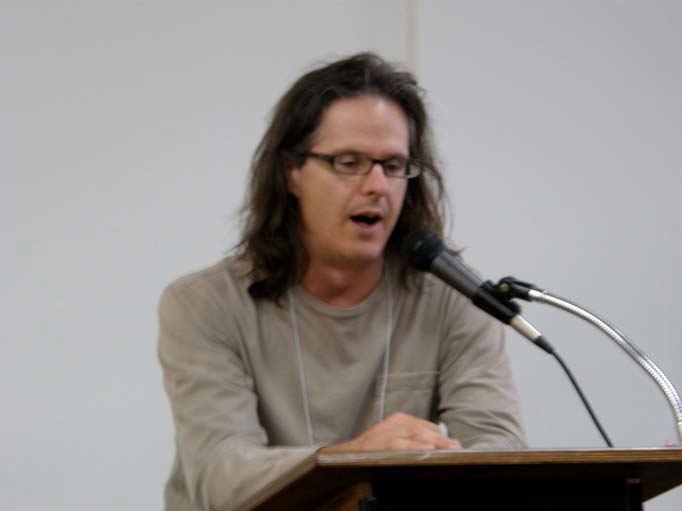 2008 Hug Cellars Rancho Ontiveros Vineyard Santa Maria Valley Pinot Noir 14.2% alc.. Fall release. Augie Hug (photo below) crafts distinctive small-lot vineyard-designated Central Coast Pinot Noirs as well as a number of other red varietals from his winery in Paso Robles. Wädenswil clones (1A: a clone developed by Mondavi at Byron that was never introduced for commercial use, and 2A). Native yeast fermentation. 100% whole cluster. Aged in 75% new French oak barrels. A bigger-styled fruity and earthy wine that gets better and better over time in the glass exhibiting attractive dark fruit driven aromas and a well spiced mouthful of luscious fruit. A subtle note of savory herbs hints at the whole cluster influence. Very smooth and pleasing in the mouth.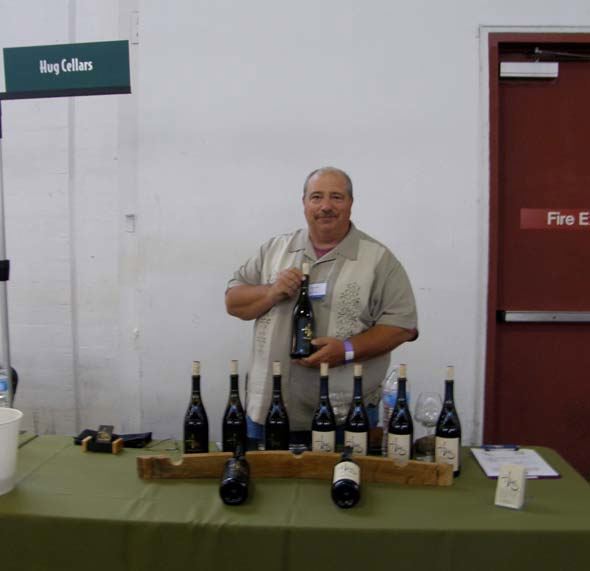 2008 Kosta Browne Koplen Vineyard Russian River Valley Pinot Noir Easy to pick out Michael Browne's style in a blind tasting. Richly layered with hedonistic black cherry fruit that is mouth coating and persistent. Nicely spiced and very smooth in the mouth.
2008 La Fenêtre Le Bon Climat Vineyard Santa Maria Valley Pinot Noir 14.0% alc., $34 (futures price until 7/15). Joshau Klapper (photo below), a former Wine Director at Sona Restaurant in Los Angeles, learned the trade by working harvests at Au Bon Climat and Qupé while mentoring under Jim Clendenen, Bob Lindquist and Jim Adelman. He crafts multiple varietals including vineyard-designated Pinot Noirs from notable Central Coast vineyards. A Pinot that will sing at the table featuring spicy red fruits, savory herbs, delicate tannins, and bright acidity.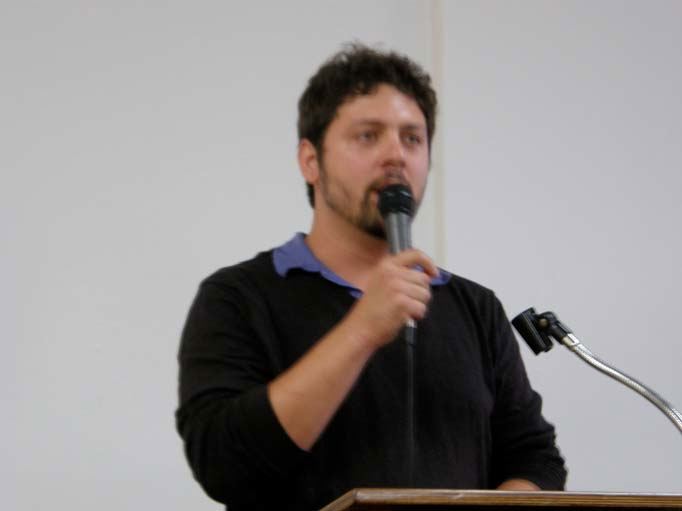 2008 Landmark Vineyards Saltonstall Vineyard Sonoma Coast Pinot Noir Unreleased. This vineyard is located in the Petaluma Gap and this wine represents the first harvest from this vineyard. Veteran Eric Stern and Greg Stach are the winemakers. Darkly fruited and well spiced with hints of caramel and cola, this is a charming wine with admirable balance. Very accessible now.
2008 Landy Family Vineyards Estate Russian River Valley Pinot Noir 175 cases, $46. Debut wine from this new winery owned by Jim (photo below) and Christina Landy. The estate vineyard was planted in 2001 to Syrah and Cabernet and budded over to Pinot Noir (Pommard and Calera clones) in 2007. The vineyard is one of the northernmost plantings in the Russian River Valley. Impressive first effort featuring ripe and lush dark fruits, a soft and sensual mouth feel and impeccable balance.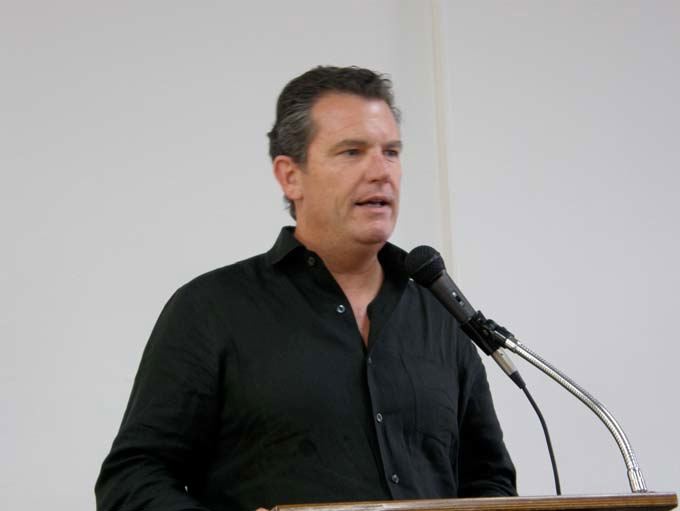 2008 MacMurray Ranch Winemaker's Block Selection Russian River Valley Pinot Noir $60. This is the best Pinot Noir in the Gallo portfolio and one of the best kept secrets in the Pinot world. Aussie Susan Doyle (photo below) crafts this outstanding wine. This is a serious Pinot Noir that needs time in the glass to show its charms. I was just getting into it when the glass was whisked away for the next flight. A soft and juicy core of black cherries and mixed berries is very tasty and takes on more intensity over time.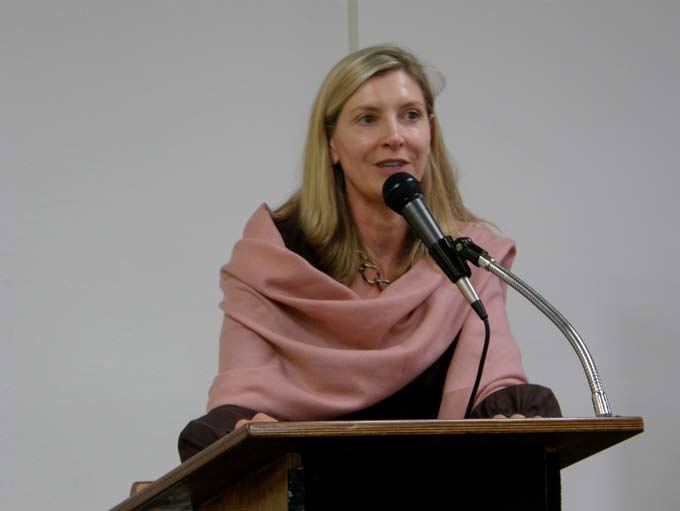 2008 Merry Edwards Winery Coopersmith Vineyard Russian River Valley Pinot Noir $57. This estate vineyard was originally planted in 2001 to UCD 37 clone (Mt. Eden) and Dijon 828. The 828 was too vigorous on this site and was all grafted over to UCD 37. The vineyard sits in the Laguna Ridge region of the Russian River Valley on the site of the Merry Edwards winery. This is a very interesting wine that stands out from the crowd undoubtedly due to is unique clonal origin. Bing cherries, baking spices, and cola are featured. Lively acidity and soft ripe tannins make for reasonable accessibility now.
2008 Native9 Rancho Ontiveros Vineyard Santa Maria Valley Pinot Noir 100% whole cluster. James Ontiveros owns and farms the Rancho Ontiveros Vineyard, selling some of the fruit to other producers and holding back some for his own label. Production is quite small and the wine has become somewhat of a cult favorite. The aromatics are shy at this point but the wine delivers a serious mouthful of red and black fruits backed by spicy, savory and earthy notes. Would have liked to spend more time with this young wine which is showing a hint of green herbs from the whole cluster which I suspect will integrate over time. Joe Davis tells me that the Burgundians who use significant whole cluster such as Dujac and DRC find that the stem qualities dissipate over time with extended barrel and bottle aging.
2008 Pelerin Wines Rosella's Vineyard Santa Lucia Highlands Pinot Noir Unreleased. Chris (photo below) and Cathy Weidermann specialize in artisan wines from the Santa Lucia Highlands appellation. The pair have forged relationships with growers Gary Franscioni and Rich and Claudia Smith of Pariaso Vineyards, insuring access to very high quality grapes. This wine was aged 16 months in French oak barrels. Very delicately styled for a Santa Lucia Highlands Pinot Noir. Exudes grace and delicacy, offering delicious dark red fruits perfectly matched to ripe tannins and acidity. I was very taken by this wine.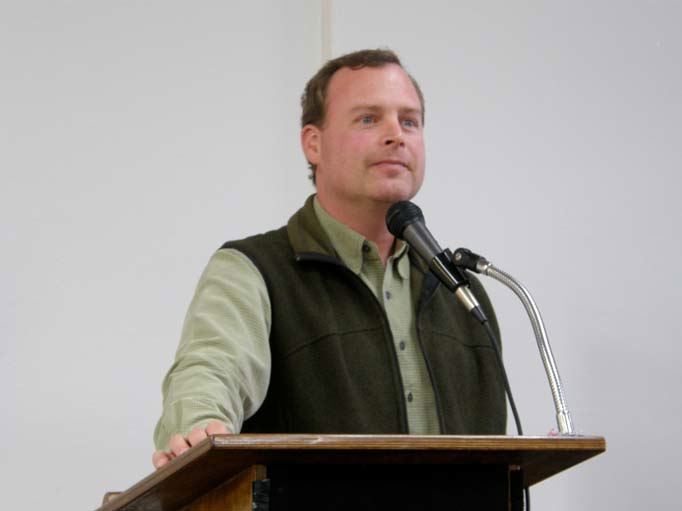 2008 Pisoni Vineyard & Winery Lucia Garys' Vineyard Santa Lucia Highlands Pinot Noir The Garys' Vineyard is owned and farmed by Gary Pisoni and Gary Franscioni. Lucia is a sister label to Pisoni Estate. Jeff Pisoni (photo below) is the winemaker for both labels. Thick, earthy and robust with a rich core of dark fruit infused with underpinnings of sweet oak, earth and mushrooms. Typical of the Pisoni style and easy to blindly pick out in this lineup of wines.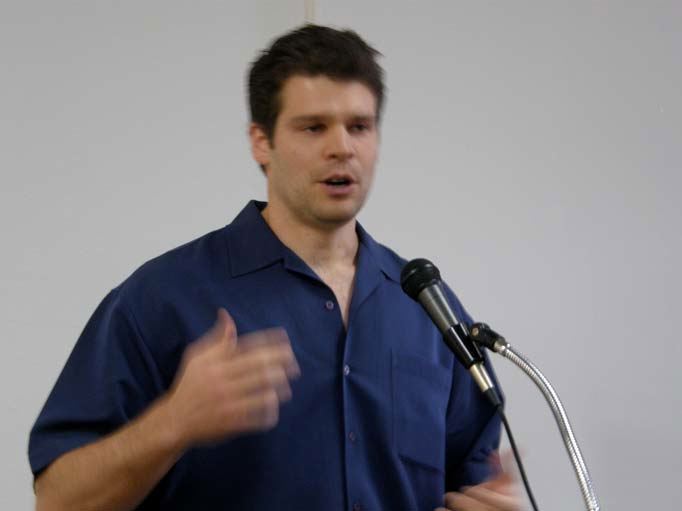 2008 Sojourn Cellars Sangiacomo Vineyard Sonoma Coast Pinot Noir 14.5% alc., 580 cases, $48. This wine was reviewed very favorably in a recent issue of the PinotFile. It was nice to pick it out in a series of wines presented blind as one of my top picks. From Dijon clones planted in 1998. The vineyard is located just below Gap's Crown Vineyard. Aged in 50% new French oak barrels. A perfectly composed and immensely satisfying wine with aromas and flavors of cherries and berries, nicely spiced and layered. Elegantly styled with a very appealing smooth mouth feel. Terrific.
2008 Tantara Winery Lindsay's Vineyard Sta. Rita Hills Pinot Noir Unreleased. Jeff Fink (photo below) and Bill Cates craft Pinot Noir and Chardonnay from multiple top notch vineyards primarily within Santa Barbara County. Clone 777. Still young and tight, but showing tremendous potential. The nose is reluctant but on the palate the wine offers an extremely charming cherry fruit core with suede-like tannins and a caressing fruit-filled finish. Also worth a look: 2008 Tantara Winery Evelyn's Pinot Noir.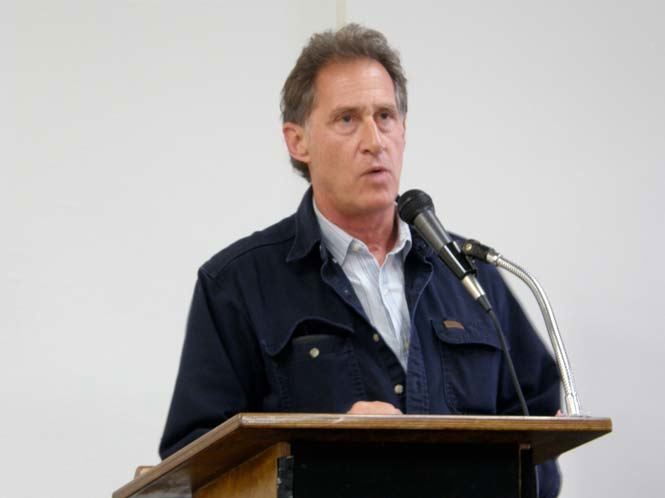 2008 Willamette Valley Vineyards "Whole Cluster" Willamette Valley Pinot Noir 12.5% alc., $20. Pommard, Wädenswil, Dijon 114, 115 and 667 clones. Crafted with carbonic maceration in the Beaujolais style. No oak exposure. Winemaker Forrest Klaffke (photo below) refers to this wine as "Pinot Noir on training wheels." A fun wine that is fruit forward and casual. Bright red fruit flavors with an underlying tone of spice and sandalwood with a vivid cherry finish.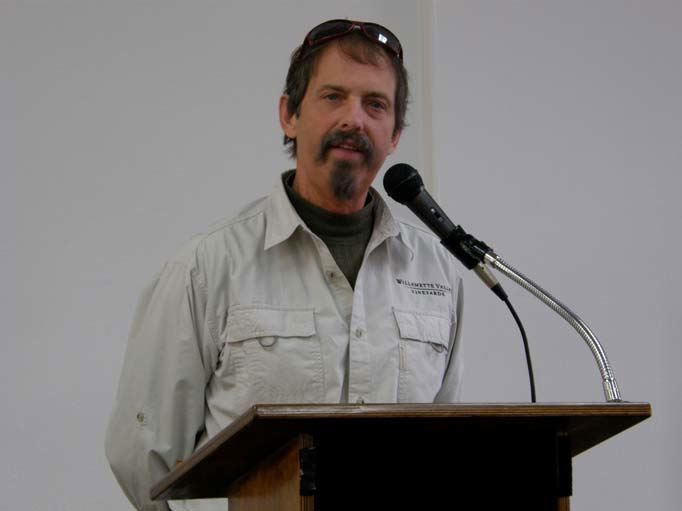 Grand Tasting
June 27, 2010
There were several new faces at this year's Pinot Days Grand Tasting, undaunted by the economy and the challenges of selling high-end Pinot Noir. I found several of them to be making very credible, if not very impressive wines. The new hounds in the race included: Ancient Oak Cellars (Santa Rosa), Ca'Momi Wines (Napa), Caraccioli Cellars (Gonzales), Cartograph (Healdsburg), Claypool Cellars (Santa Rosa), Coleman Nicole Wines (Roseville), Contessa de Carneros (Napa), Desmond Wines (Windsor), Expression Pinot Noir (Napa), Furthermore Wines (San Francisco), Inception Wines (Buellton), JCB by Jean-Charles Boisset (St. Helena), Joseph Jewell Wines (Windsor), La Fenêtre (Palos Verdes), Ladd Cellars (Oakland), (Landy Family Vineyards (Healdsburg), Longplay Wine (Newberg, OR), M. Autumn Wines (Portland, OR), Mercy Vineyards (Pebble Beach), Paradise View Wines (Sonoma), Perception Wines (Calistoga), Peter Paul Wines (San Rafael), R. Merlo Estate Wines (Redding), Ray Franscioni Wines (Salinas), S. Morris Wines (San Luis Obispo), Senders Wines (El Macero), Thirty-Seven (Sonoma), Tuck Beckstoffer Wines (St. Helena), Wrath (Soledad), Zotovich Family Vineyards (Newport Beach). Short descriptions of these producers can be found in my Home Page Wine Directory at www.princeofpinot.com.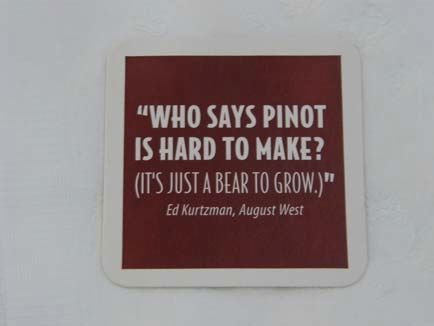 Desmond Estate Vineyards Bill and Dannette Robbins (photo below) began producing an estate Russian River Valley Pinot Noir with the 2007 vintage. The pair are quite passionate about Pinot Noir (Bill sold his Harley to buy a tractor for his vineyard) and the wines reflect their commitment. I reviewed the2008 Desmond Estate Vineyards Russian River Valley Pinot Noir very favorably in the June 8, 2010 issue of the PinotFile (www.princeofpinot.com/article/908/). The 2007 Desmond Estate Vineyards Russian River Valley Pinot Noir is reviewed in this issue in the "Small Sips of Pinot" feature.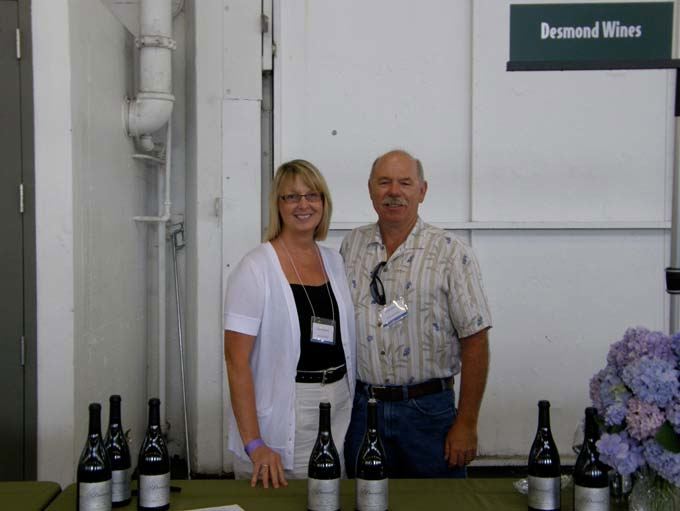 Eric Kent Wine Cellars As some of you know who read the PinotFile regularly, I have followed the wines of Kent Humphrey from the first vintage several years ago and have seen the style of the wines evolve. Kent now crafts Pinot Noir, Chardonnay and Syrah that are snapped up by his faithful followers and his booth was one of the busiest at this year's Grand Tasting (preventing me from getting a photo). Kent's Pinot Noirs have become more nuanced with less alcohol, less showy with better acidity, a more appealing mouthfeel, and brighter aromatics. The 2008 Eric Kent Freestone Small Town Sonoma Coast Pinot Noir (14.3% alc., 100 cases, $48, sold out) is a pretty wine that is well-structured but still far too tight for drinking. The 2008 Eric Kent Stiling Vineyard Russian River Valley Pinot Noir (14.7% alc.) is a November release that has a crunchy core of bright red fruits and hi-tone acidity. The 2009 Eric Kent Sascha's Pinot Noir was a barrel sample of a blend of three vineyards that was flat-out delicious with mesmerizing fruit and a lively grip of acidity. The 2009 Eric Kent Freestone Small Town Sonoma Coast Pinot Noir (13.3% alc.) was a barrel sample. This vintage had some Petaluma Gap fruit included. 25% whole cluster. Showing plenty of character, sinewy tannins and a generous, spicy finish. Each bottle of Eric Kent wine shows off a different piece of artwork giving the wines added intrigue. A 2008 Eric Kent Russian River Valley Pinot Noir (14.6% alc., 350 cases, $36) is available in the marketplace. Wine Club members receive significant discounts on wines.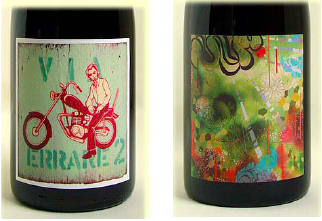 Furthermore Wines An urban winery in San Francisco formed by two partners specializing in small lots of premium Pinot Noir. The 2007 Furthermore Bohemian Vineyard Russian River Valley Pinot Noir (14.3% alc., 50 cases) is a very impressive drink with savory berries all wrapped up in sinewy tannins. The 2008 Furthermore Bohemian Vineyard Russian River Valley Pinot Noir is equally impressive. The 2008 Furthermore Amber Ridge Vineyard Russian River Valley Pinot Noir (14.3% alc., 75 cases) is quintessential Russian River Pinot with vivid Bing cherry fruit and spice. A Pinot Noir from Rosella's Vineyard in the Santa Lucia Highlands will be available from the 2009 vintage. The very enthusiastic owners offer their wines online ($39.95).
Hanzell Vineyards This iconic winery produces Pinot Noirs that are very age worthy. The 2000 Hanzell Vineyards Sonoma Valley Pinot Noir was generously poured out of magnum and it was fresh as a daisy, replete with fresh berry fruit and secondary notes of spice, leather and tea.
Hartley Ostini Hitching Post WineryPartners Frank Ostini (photo below) and Gray Hartley were pouring some terrific wines. Since the founding of this label in 1984, production has steadily increased to over 15,000 cases. Production is now carried out at the new Terravant Winery in Buellton where tastings and sales of the Hitching Post wines are available. The 2008 Hitching Post Hometown Santa Barbara County Pinot Noir (14.1% alc., $20), is a blend of grapes from Bien Nacido Vineyard and Julia's Vineyard. A solid daily drinker that is simple but pleasing and very soft in the mouth. The2007 Hitching Post St Rita's Earth Santa Rita Hills Pinot Noir (14.5% alc.) is a stunner with a full load of luscious cherry and berry fruit crafted in a charming fashion. The 2007 Hitching Post Highliner Santa Barbara County Pinot Noir (14.2% alc.) is the top-of-theline blend of grapes from Bien Nacido Vineyard and Fiddlestix Vineyard. This is a very serious, highly structured wine, tightly wound and a candidate for the cellar. The winery offers an excellent Merlot as well, an almost humorous play on the famous denigration of Merlot in the movie Sideways that was filmed in part at the Hitching Post 2 Restaurant. Ostini and Hartley never take themselves or their wines too seriously as shown by their tee shirt (see below) that was hanging behind their booth with a double entendre name of "Perfect Set."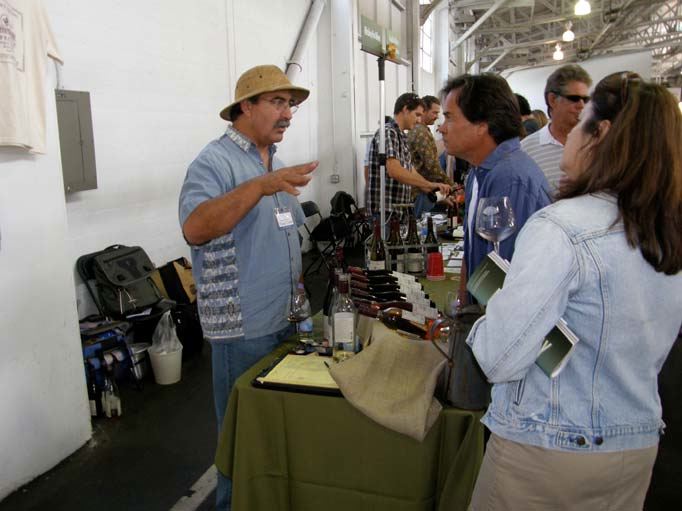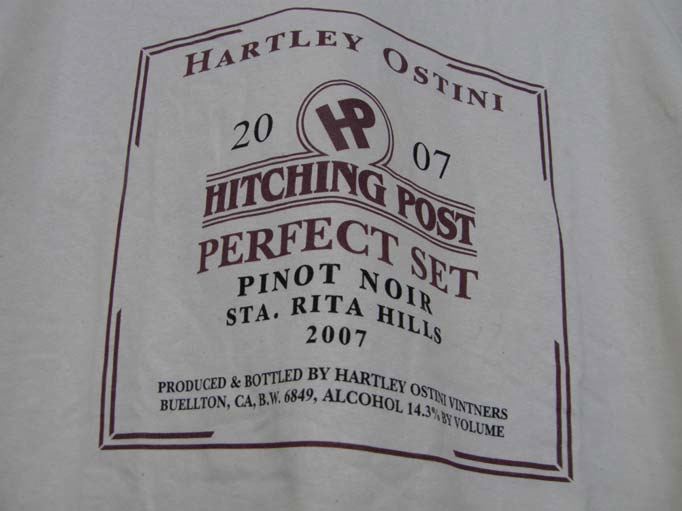 Le Cadeau Vineyard and Aubichon Known as the rockiest vineyard in Oregon, Tom and Deb Mortimer farm this 14-acre vineyard near Newberg, Oregon and produce four different 2008 Le Cadeau Pinot Noirs vinified by different winemakers to give a different expression of the vineyard. These wines have not been released. A second label, Aubichon, was added in the 2007 vintage. Vinified by winemaker Jim Sanders who trained under Mike Etzel at Beaux Freres, this Pinot Noir is not made from estate fruit but is sourced from vineyards managed by the same viticulturist who oversees the Le Cadeau Vineyard. The 2008 Le Cadeaux Rocheaux Willamette Valley Pinot Noir (13.9% alc.) is from the rockiest side of the vineyard and is vinified by Jacqueline Yoakum. Pommard and Dijon 777 clones. The wine is red fruited with grippy tannins and still very tight. The 2008 Le Cadeaux Côte Estate Willamette Valley Pinot Noir (13.5% alc.) is from chalky soil and was vinified by winemaker Steve Ryan. Primarily clone 667 with some 114 and 115. Flamboyant nose with luscious fruit, soft tannins and a very smooth texture. Approachable now. The 2008 Le Cadeaux Equinoxe Willamette Valley Pinot Noir (14.1% alc.) is from the central crest of the vineyard. Vinified by Jim Sanders. Discreetly concentrated red fruits with bright acidity. The 2007 Le Cadeau Equinoxe Willamette Valley Pinot Noir (13.5% alc, 450 cases) is primarily Dijon clones and was vinified by Jim Sanders. 25% whole cluster. This is a very complex and intensely flavored wine that is unusually rich for the 2007 vintage in Oregon. An impressive effort. The 2008 Le Cadeau Diversité Willamette Valley Pinot Noir (14.1% alc.) is from varied sections of the vineyard. Vinified by Scott Schull of Raptor Ridge. The only unfiltered wine, it offers ripe fruit, noticeable oak influence and a dry finish. Still tight and needing time to shed its oak and tannins. This project is very unique and the wines are worth your interest.
Saxon Brown Wines I have been a fan of veteran winemaker Jeff Gaffner's wines for many years. His production is tiny (less than 500 cases total) and sold almost entirely through a mailing list, but the wines are definitely worth searching out. The two 2007 vintage Pinot Noirs he was pouring were among the top wines I tasted at this event and the two 2008 vintage Pinot Noirs (fall release) are equally promising. Gaffner ages his wines in bottle for an additional year before release. The 2007 Saxon Brown Parmelee Hill Vineyard Sonoma Coast Pinot Noir (14.5% alc., 240 cases, $42), has the whole package with an alluring nose and tasty flavors of well-spiced fresh berries ending with a fruit-driven aromatic finish. The Saxon Brown Durrell Vineyard Hayfield Block Sonoma Valley Pinot Noir (14.5% alc., 240 cases, $45) is more savory and intense with remarkable purity of fruit and a very generous, lingering finish. The 2008 Saxon Brown Parmelee Hill Vineyard Sonoma Coast Pinot Noir exhibits intense purple fruits with more structure than its 2007 cousin. Still tight and unyielding. The 2008 Saxon Brown Durrell Vineyard Hayfield Block Sonoma Valley Pinot Noir is more refined than the 2007 version with less tannin and a little more upfront charm. Gaffner crafts a sparkling lineup of wines that includes Syrah, Zinfandel and even two different Semillons. This is a winery that definitely deserves your attention.
Senders Wines Craig Senders, M.D. and his spouse, Karen, are proud owners of a small boutique winery specializing in small lots of Cabernet Sauvignon and Pinot Noir. Craig, who is a noted facial plastic surgeon and Professor at University of California at Davis specializing in children with facial birth defects, donates profits from the sales of his wines to the many "Giving Back" programs he participates in. See his impressive resume and activities at www.senderswines.com. Craig is a self-taught winemaker who found success and many awards for his home crafted wines and finally launched his commercial label with the 2006 vintage. I learned of his accomplishments in almost disbelief. He practices medicine full time, participates in many humanitarian programs, and manages to make outstanding wine as well. I was able to formally review two of the Senders wines (2007 Senders Wines Carneros Pinot Noir and 2007 Senders Wines Reserve Carneros Pinot Noir) at home after the Pinot Days event and the reviews are in this issue under the "Small Sips of Pinot" section.
Skewis Wines Veteran winemaker Hank Skewis continues to offer complex and age worthy Pinot Noirs. I always stop by his booth at events to sample his latest and past wines. The 2007 Skewis Wines Peters Vineyard Sonoma Coast Pinot Noir (14.5% alc., $48) is made from 100% clone 777. Delicious core of fresh berry fruits and an amazingly sensual mouth feel. Skewis wines are sold exclusively through a mailing list.
Sojourn Cellars I have been very impressed of late with the wines from this Pinot Noir specialist. Winemaker Erich Bradley has a remarkable touch with Pinot Noir and all of this winery's offerings are first rate. I wrote a recent feature on this winery (www.princeofpinot.com/article/884/). I tasted three 2008 Pinot Noirs from Sojourn Cellars that were not reviewed in this article and they were very solid wines, albeit not quite up to the Sonoma Coast, Sangiacomo and Gap's Crown wines I reviewed in that article: 2008 Sojourn Cellars Roger's Creek Sonoma Coast Pinot Noir, 2008 Sojourn Cellars Windsor Oaks Pinot Noir, and 2008 Sojourn Cellars Russian River Valley Pinot Noir. I had a laugh over this last wine. Co-owner Craig Haserot told me the Wine Spectator gave the Russian River Valley blend Pinot Noir a score of 82. I found the wine quite pleasing with copious bright Bing cherry fruit and a seamless structure and certainly deserving of a much higher score.
Three Sticks Winery Bill Price, proprietor of the famous Durrell Vineyard, selects the finest blocks of Pinot Noir from this 125-acre vineyard to produce Three Sticks Pinot Noir. Winemaker Tracey Bledsoe (photo below) along with consulting winemaker Don Van Staaveren is bringing this newer label to the forefront. The 2007 Three Sticks Winery Durrell Vineyard Sonoma Coast Pinot Noiris a winner, recently reviewed in the PinotFile (www.princeofpinot.com/article/908/) and recommended as a "charmer that flaunts Pinot's sensual side."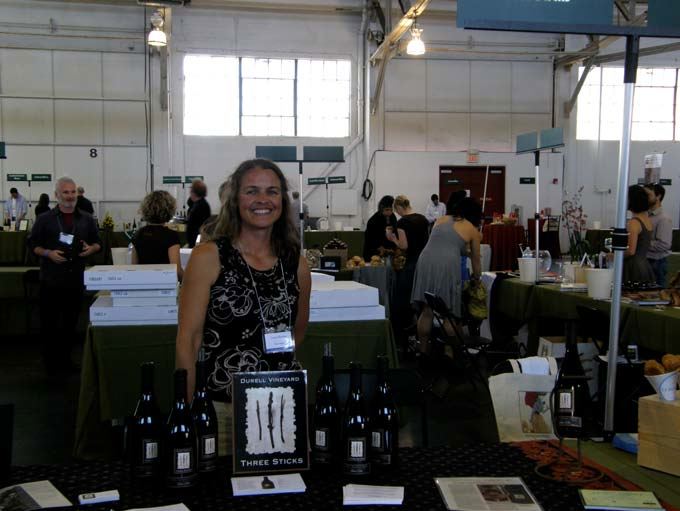 Weibel Family Vineyards & Winery The Weibel Family are California icons in the wine business, having produced California still and sparkling wines through four generations since 1939. They are best known for "Green Hungarian" wine. This is not a name that pinotphiles would ordinarily look to for Pinot Noir, but they produce a very good value-priced Pinot Noir from their H&W Estate Vineyard in Mendocino County. The 2006 Weibel Family Estate Pinot Noir (14.9% alc., pH 3.49, $17) is a very good daily drinker with bright cherry fruit and lively acidity to complement food.
Westwood Winery This winery dates to 1984 when it was founded in the Sierra Foothills by Bert Urch and Betty Stoltz. Accomplished winemaker John Kelly and partners bought the winery in 2002 when it was moved to Sonoma Valley. Westwood has produced a Haynes Vineyard Pinot Noir continuously from 1985 to 2005, pulled from the same 1.5 acres located on the eastern side of the Napa Valley near Coombsville. The history of the Haynes Vineyard (now torn out) is complex and detailed on the Westwood Winery website (www.westwoodwine.com). Westwood's Annadel Estate Vineyard, planted in 2007-2009, consists of 13 acres of Pinot Noir, with 1.5 acres devoted to the Haynes Vineyard Martini selection. The Westwood wines I tasted were a revelation and like no other California Pinot Noir. The 2003 Westwood Winery Haynes Vineyard Napa Valley Pinot Noir (173 cases, $60) and the 2005 Westwood Winery Haynes Vineyard Napa Valley Pinot Noir (174 cases, $45) are very unique wines. They are not fruit-driven like so many California Pinot Noirs, but have developed charming bouquets and secondary flavors that make aged Pinot Noir so alluring. The 2003 wine still has plenty of tannin for the long haul and undoubtedly will age another 20 years. The 2005 Westwood Winery Sonoma Valley Pinot Noir (266 cases, $45) is a blend of Dijon clone fruit from Nicholson Ranch Vineyard, Los Carneros and Annadel Estate Vineyard. This is a solid wine with every component singing in harmony marked by spicy aromas, an earthy undertone, and firm tannins offset by bright acidity. The 2007 Westwood Winery Annadel Estate Vineyard Pinot Noir (unreleased) is a sterling wine of great promise with appealing aromatics, a soft texture, and a structured backbone for aging. Kelly has quietly developed an impressive lineup of wines that offer the Pinot Noir enthusiast something different to explore. Highly recommended. The wines are sold on the website (www.westwoodwine.com) and offered for tasting at a unique Tasting Salon in downtown Sonoma (appointment suggested - phone 707-294-8278 or 707-480-2251). Kelly writes an excellent blog as well (www.winemakersnotesblog.com).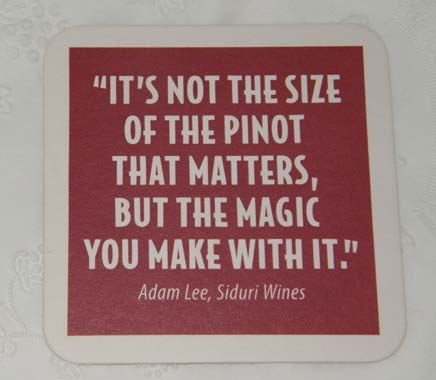 Willowbrook Cellars Winemaker Joe Otos has teamed with John Tracy of Owl Ridge Wine Services to produce a line of outstanding Pinot Noirs using grapes sourced from small vineyards in Sonoma and Marin counties (see also page 5 in this issue). Joe was beaming about the 2008 Willowbrook Chileno Valley Marin County Pinot Noir (14.4% alc., $34, unreleased). The two previous vintages were labeled Marin County, so this is the first vineyard-designated Pinot Noir by Willowbrook from this site. A very cohesive and brightly fashioned wine with enticing aromatics, vivid and nicely spiced red cherry fruit, and a refreshing grip of acidity on the finish. A very special wine at a great price.
Windward Vineyard Owners Marc Goldberg and Maggie D'Ambrosia farm 25 acres of Pinot Noir near Templeton in the Paso Robles appellation. Goldberg's reverence for Burgundy has led him to style his wines in an Old World fashion and his label proudly displays the word "monopole." The owners have been at it since 1990 and that says something in today's fast changing world. The 2006 Windward Vineyard Estate Paso Robles Pinot Noir (13.2%, $38) is a disarmingly charming wine. Delicately colored and composed, it offers a pure Pinot Noir drinking experience unencumbered by over extraction, high alcohol and oak. A rarity in today's Pinot Noir market, but a wine Pinot Noir connoisseurs will relish. Visit the winery for tasting.
Windy Oaks Estate I was so busy talking with winemaker Jim Schultze, that I failed to take adequate tasting notes on the superb Windy Oaks Pinot Noirs I sampled. Windy Oaks Estate is situated in Corralitos, in the southernmost tip of the Santa Cruz Mountains. The Schultzes farm, produce and bottle their Pinot Noirs in a small winery located in the center of the estate vineyard. The wines are clearly in the top echelon of California Pinot Noir producers. Jim is a fan of whole cluster (he wanted to steal my "got whole cluster?" hat) and the 2007 Windy Oaks Estate Whole Cluster Santa Cruz Mountains Pinot Noir ($55) shows why. Aged 21 months in 50% new French oak. Great in every way with a spicy fruit core and a creamy texture to tantalize. The 2007 Windy Oaks Estate Reserve Santa Cruz Mountains Pinot Noir (384 cases, $60) is from a superb vintage and represents some of the best barrels in the cellar. Primarily original vineyard plantings. Aged 23 months in 75% new French oak. Full of discreetly concentrated spiced cherry fruit, this is a wine of power, yet style and grace. Jim crafts a number of different Pinot Noirs include a wood tank fermented wine, a 100% wild yeast fermented wine, and an estate Pinot Noir from Henry's Block composed of 100% Wädenswil clone. Understandably, 85% of the Windy Oaks production is sold through a faithful following on the mailing list. This is a producer that I personally buy wine from regularly for my cellar.