Gary Farrell Vineyards & Winery: Embracing the Legacy
Some consider Gary Farrell the father of Russian River Valley Pinot Noir because he was one of the first Pinot Noir winemakers to rise to prominence at the start of the Pinot Noir revolution in the region. Farrell, who had majored in political science at Sonoma State University, developed an interest in wine as a student, and decided after college to become a winemaker. He was largely self-taught, but developed added winemaking skills during the mid-1970s working in the cellars of Tom Dehlinger, Robert Stemmler and Davis Bynum. He developed a special friendship with Davis Bynum's son, Hampton, and was hired as winemaker at Davis Bynum Winery in 1978. Farrell continued as winemaker at Davis Bynum Winery until 2000.
Davis Bynum had built the first winery on Westside Road and produced Pinot Noir from Joe Rochioli, Jr.'s first crop. The 1973 Davis Bynum Winery Rochioli Vineyard Pinot Noir was the first Russian River designated wine, and along with Joesph Swan's 1973 Pinot Noir, the first vineyard-designated Pinot Noir from what became the Russian River Valley appellation. From 1973 until 1981, Davis Bynum Winery was the only winery to receive Rochioli Vineyard grapes.
Farrell started his own label in 1982, releasing a 50 case blend of Rochioli West Block and Allen Vineyard fruit. The wine sold for $80 a case and much of it was hand-delivered to local retailers and customers. The same year, Farrell made the inaugural Pinot Noir for Rochioli Vineyard and Winery, trading winemaking for grapes for his own inaugural release, and for a few years served as a consultant and assisted in the planning and construction of the Rochioli Winery. This close relationship continues to this day with Gary Farrell Vineyards & Winery receiving grapes annually from Rochioli Vineyard on a handshake basis much to the consternation of the current owners.
I enjoyed a number of Farrell's Pinot Noirs through the early years, but a 1987 Gary Farrell Russian River Valley Pinot Noir made an indelible impression on my wine psyche at a time when my passion for Pinot Noir was in its formative years. I still have the label from this wine.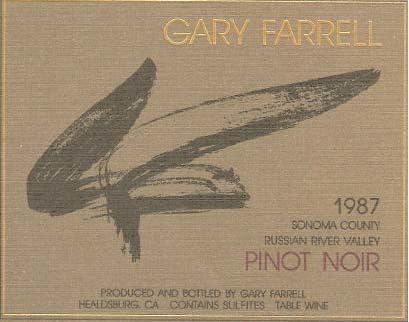 Farrell's production of his own label increased to 11,000 cases by 1999 outgrowing the facility at Davis Bynum Winery. Along with financing assistance from noted wine business investor, Bill Hambrecht, a new architecturally stunning winery was built on Westside Road, still the home of Gary Farrell Vineyards & Winery.
Farrell was to sell his eponymous label and Westside Road winery to Allied Domecq in 2004. Subsequently it was acquired by Beam Wine Estates and then sold to Ascentia Wine Estates, the current owners. Farrell had difficulty working under corporate ownership, reportedly feeling handcuffed by an inability to remain connected to all phases of winemaking. He left the Gary Farrell Winery in 2006 to return to his roots as a small artisan producer, partnering again with Bill Hambrecht to found a new label, Alysian Wines.
Farrell chose Susan Reed, who had worked with him for four years, to succeed him as winemaker. Reed had her first winemaking exposure at Simi Winery in 1981, working under Zelma Long as a senior laboratory technician. In 1984, she assumed a similar position at Matanzas Creek Winery, and by 1989 had become the winemaker, working alongside cellar master Bill Parker. When Matanzas Creek was sold to Jess Jackson in 2001, she pursued other interests briefly, but was drawn back to winemaking. She sought out a position among the Westside Road winery community and landed a job at Gary Farrell in 2003, rising to Associate Winemaker in July 2004. She became the clear choice of Farrell to carry on his program when he departed. The winery has not missed a step as Reed has successfully maintained the high quality of the wines, adhered faithfully to the "Gary Farrell style," and continued to embrace Farrell's legacy of consistent excellence. A video of Susan Reed explaining her winemaking philosophy is available on the website.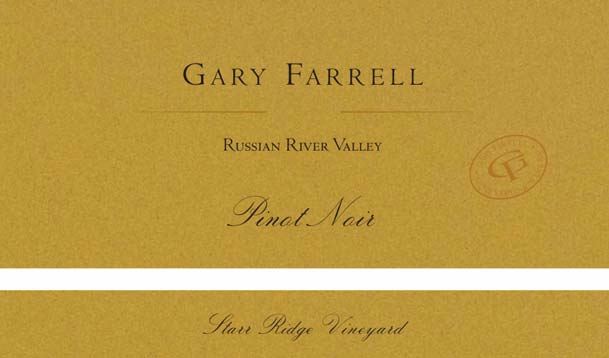 I visited Gary Farrell Vineyards & Winery recently, enjoying a tour of the well-equipped facility which has a simple but pleasing aesthetic, and sat down with winemaker Susan Reed to taste through the lineup of 2007 Chardonnays and Pinot Noirs and yet to be released 2008 Pinot Noirs. The wines are styled with elegance and balance, and often harvested a little earlier with resulting in moderate alcohols and bright acidity to insure food compatibility. The wines are fruity with soft tannins to allow early drinkability, although some bottlings such as the Starr Ridge Pinot Noir typically require some time in the bottle. All the wines were moderately colored unless otherwise noted.
The Chardonnays all undergo 100% malolactic fermentation in barrel with lees stirring for 7 to 8 months in 33% to 55% new French oak. The Pinot Noirs receive a 5 to 10 day cold soak, are 100% de-stemmed, fermented in 4 to 5 ton fermenters to dryness with Assmanshausen yeast, generally lasting 8 to 14 days, and then usually aged 9 to 12 months in French oak barrels (Francois Freres, Rousseau and Sequin Moreau). The percentage of new oak varies with the vineyard source (Hallberg Vineyard 54%, Rochioli Vineyard 50%, Carneros 44%, and Russian River Valley 30%). The wines are racked carefully once during the barrel aging cycle.
The appellation-designated selections are the winery's focus and are widely distributed in the marketplace. The vineyard-designated wines are sold primarily to wine club members and through the tasting room. The 2008 appellation selection Chardonnays and Pinot Noirs will be released in September 2010 and the vineyard-designate series at the end of 2010. The wines are all solid and will not disappoint fans of more classically styled wines. The Rochioli Vineyard (some vintages bottled as Rochioli-Allen Vineyards) and Hallberg Pinot Noirs are clearly the class of what is a very stellar lineup.
The stylish tasting room at Gary Farrell Vineyards & Winery is open daily from 10:30 to 4:30. There are a number of tour and tasting options. The wines are also sold online at www.garyfarrellwines.com.