Tasting the 08s at C. Donatiello Winery
I first reported on this relatively new winery along the Westside Road Middle Reach corridor shortly after it opened in June 2008. Focusing on small lot Pinot Noirs and Chardonnays from the estate vineyard and specially chose vineyards in the Russian River Valley, C. Donatiello made an auspicious debut and the quality of the wines has continued to elevate.
Christopher Donatiello (photo below at Pinot Days), a former New York-based wine and spirits distributor, teamed with investment banker Bill Hambrecht to renovate and revitalize the site of the former Belvedere Winery in Healdsburg. The new spectacular 14.5-acre estate has an organically farmed Pinot Noir vineyard (Maddie's), a contemporary wood and glass hospitality center and tasted room designed by noted winery architect and landscaper, Ken Munson, and an organic garden that introduces visitors to flora that have a natural affinity with the aromas found in the two Burgundian varieties. The winery facility onsite has been upgraded and outfitted with the latest in winemaking technology.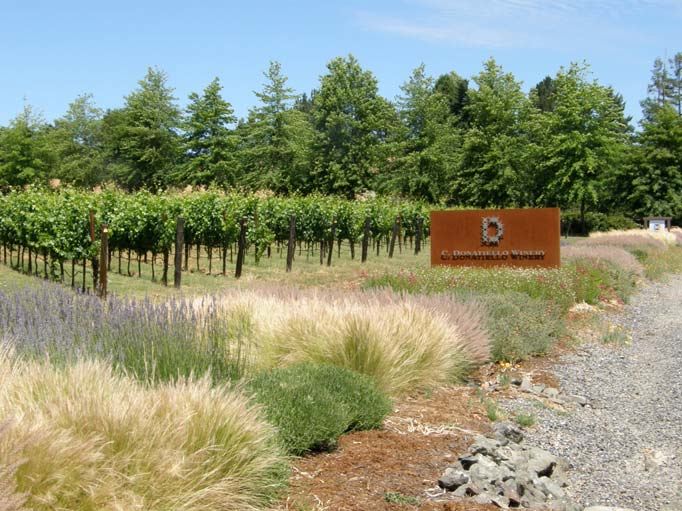 Winemaker Webster Marquez, who honed his skills at Williams Selyem and makes wine in partnership at Anthill Farms Winery, has brought the label to prominence. The focus at C. Donatiello is producing wines of stylish grace and classic elegance that perform well with food.
I recently stopped in at C. Donatiello and sat down with both Chris and Webster to sample the lineup of C. Donatiello wines. Webster told me that the 2008 vintage was extremely challenging with the quality of the wines varying greatly from vineyard to vineyard. He laughed, "It was a vintage that separated the men from the boys." There were 35 nights of frost in the Trenton area of the Russian River Valley and even vines that survived the extended frost had very uneven fruit set. A warm summer was highlighted by a ten day heat wave in August. Those that waited out the heat were fortunate as daily fog set in and picking was less hurried, the wines more successful. C. Donatiello's Maddie's Vineyard (photo above) suffered considerable frost damage and the entire crop from Hervey Vineyard was lost from frost. The 2009 vintage, in contrast, was "dreamy," with a long, cool, perfect summer allowing harvest to evolve as expected.
Despite the challenges, there were some very good, even special wines produced at C. Donatiello in 2008. These are not Caliesque blockbusters, but wines of restraint and nuance.
The C. Donatiello Winery tasting room is open daily from 11:00 AM to 5:00 PM at 4035 Westside Rd, Healdsburg. Private tours of the winery and the adjacent aroma garden and Wine and Cheese pairings are available by appointment (800-433-8296). The wines are available online at www.cdonatiello.com. C. Donatiello is now releasing a value-priced ($19) appellation series of wines labeled Healdsburg Ranches as well.
For the third year, C. Donatiello Winery is hosting a summer season of "Live From the Middle Reach," a series of Sunday afternoon concerts where bands perform at the winery overlooking the estate's picturesque organic aroma garden and vineyard. A total of sixteen bands will be featured this summer between June 27 and October 10. Admission is free for all patrons of C. Donatiello Winery. Visit the winery's website for a schedule and more details.