Benziger: Proudly Devoted to Biodynamic Winegrowing
Your next winery touring plans to Northern California should include the Benziger Family Winery, tucked inside an extinct volcanic caldera shaped like a bowl sitting in a valley 800 feet above sea level. Situated just outside the quaint town of Glen Ellen in Sonoma County, you will definitely enjoy the picturesque setting with majestic vineyards perched among the property's diverse topography. However, it is the emphasis here on sustainable winegrowing, and in particular biodynamic farming, that will capture your interest.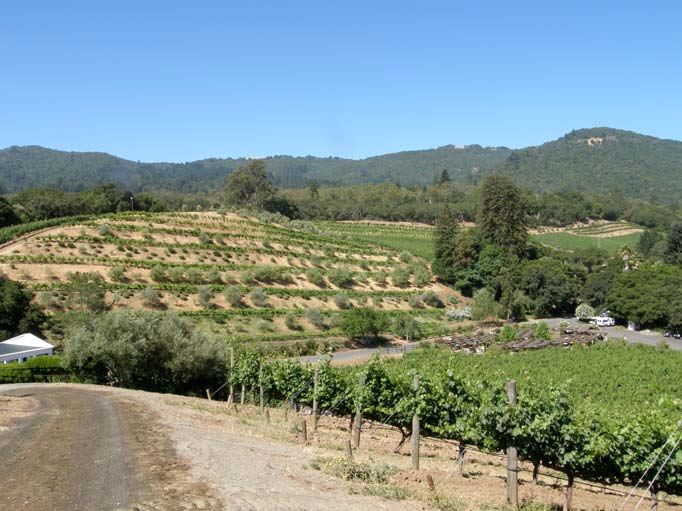 Every wine in the Benziger portfolio carries a third party certification of green farming practices, but it is the emphasis on biodynamics that sets Benziger apart from many wineries. All four of the estate vineyards are Demeter-certified Biodynamic, among the very few Demeter certified-Biodynamic vineyards in North America.
Biodynamic® Farming
Rudolph Steiner had a far-reaching influence in many areas of philosophy, education and anthroposophical medicine. Among wine circles, he is most famous as the father of the theories of biodynamic agriculture. The basic tenant of biodynamic farming is the so-called self-contained "farm organism." The farm is viewed as a self-nourishing organism and none or few outside materials are brought onto the farm.
According to the Demeter organization (Biodynamic® is a registered trademark of the Demeter association of Biodynamic® farmers), "Biodynamic® agriculture views the farm as a self-contained, self-sustaining ecosystem responsible for creating and maintaining its individual health and vitality without any external or unnatural additions." Replacement of nutrients is allowed and the use of compost is encouraged, with some restricted external sources of compost allowed. "Emphasis is placed on the integration of crops and livestock, recycling of nutrients, soil maintenance, and the health and well-being of the animals, the farmer, the farm, and the earth: all are integral parts that make up the whole." The Demeter organization also recommends the use of nine preparations. "Preparations are utilized in field sprays and compost inoculants applied in minute doses." Finally, Demeter recommends the use of the astronomical calendar "when planning activities such as pruning, cultivating, harvesting and spray preparations. Winegrowers who believe in Biodynamic® agriculture, use the astronomical calendar to determine when to harvest, when to bottle and when to engage in other wine processing decisions.
There is no scientific way to prove or disprove whether Biodynamic® agriculture is valid because alternatives cannot be used in the Biodynamic® farm to make a scientific comparison.
For more information, consult the website, www.biodynamics.com. or www.demeter-usa.org.
When I recently visited Benziger Family Winery, I spent some time in the vineyards with winemaker Rodrigo Soto who works closely with Alan York. York is a recognized international expert on Biodynamic® farming. He came to Sonoma Mountain to collaborate with Mike Benziger in 1997, and has overseen Biodynamic farming on Benziger's four certified Biodynamic vineyard estates ever since. Soto also brings extensive international winegrowing experience with Biodynamic and organic wineries.
At Benziger, there is a self-guided Biodynamic® Discovery Trail that gives the visitor all the scoop. Below are photos of the Trail Tour, the compost and compost tea that are an integral part of Biodynamic farming.


I tasted some individual 2008 clonal barrel samples from de Coelo Vineyard in the Sonoma Coast (www.princeofpinot.com/article/921/). The grapes were picked at about 23° Brix and finished fermentation at about 12.8% alcohol. I am fascinated with this vineyard as it produces wines of layered nuance and the first vintages in 2006 and 2007 were remarkably interesting wines reflective of a unique terroir. For comparison, we tasted the 2006 Kistler Bodega Headlands Vineyard Cuvée Elizabeth Sonoma Coast Pinot Noir which is sourced from a vineyard adjacent the de Coelo Vineyard. This wine, which received a score of 96-98 from the Wine Advocate, and now sells on the secondary market for close to $200, is a monstrous wine more like Syrah than Pinot Noir. Plush and darkly colored, the sweet dark fruit has an earthy, mocha and nutty undertone with notable chalky tannins. I prefer the direction that Soto has chosen for his Benziger de Coelo Vineyard Pinot Noirs because I believe the lower alcohols and more restrained use of new oak allows the terroir to speak.
Visit the Benziger website at www.benziger.com for more information. The winery is quite busy and a popular spot among wine tourists but the wine enthusiast can find plenty to interest them here. The Biodynamic® Vineyard Tram Tour is a 45-minute close-up look at the Benziger Biodynamic vineyards, fermentation facility, and barrel caves followed by a special wine tasting. The winery is located at1883 London Ranch Road, Glen Ellen. 707-935-3017.