IPNC: Continuing Education in Living Well


It has been said that Americans know how to make great Pinot Noir, but we are still trying to master the art of living well. Maybe the French could still teach us a thing or two, but from the reveling at this year's International Pinot Noir Celebration, I think we have a solid grasp of joie de vivre.
Each summer during late July, over 600 pinotphiles from all over the world gravitate to the small, bucolic campus of Linfield College in Mc Minnville, Oregon to indulge in their beloved grape. The college is magically transformed into "Beaune in the USA." No homework or written tests, and no dreadful lectures in the early morning; just an abundance of great Pinot Noir paired with the delicious bounty of Oregon prepared by the Pacific Northwest's most talented chefs.
This year's International Pinot Noir Celebration (IPNC) was the event's 24th. Back in 1987, a group of winegrowers and winemakers gathered to figure out a way to promote Oregon wine. The IPNC was born that year, and since then, IPNC has hosted more than 275 foreign wineries and brought nearly 13,000 pinotphiles from all over the United States and the world to McMinnville to rejoice in a common devotion to Pinot Noir. The popularity of IPNC has generated spin-offs around the world including Pinot Noir events in California, Wellington and Central Otago, New Zealand, and the Mornington Peninsula region of Victoria, Australia.
This year there were 70 featured Pinot Noir producers from Oregon, California, Burgundy, Alsace, Argentina, Australia, Austria, Canada, Germany, Italy, and New Zealand. The emphasis is always on quality and stylistic diversity with many new faces appearing each year. There is no judging of wines at this event. It is a pure celebration of Pinot Noir, offering the Pinot Noir enthusiast the opportunity to discover new producers and rub shoulders with established winemakers of repute that they may have only read or heard about. Winemakers, winegrowers, winery owners and winery representatives as a group outnumber consumers at IPNC.
The IPNC is truly unique among wine festivals in that the food rivals the wine. This year's event tee shirt boldly declared, "Food + Wine = IPNC." The meals here are original, astonishingly fresh, and made with local artisan created farm-to-table ingredients. The mantra is, "What grows together, goes together." Oregon is blessed with a bounty of gastronomic riches including wild mushrooms, a diverse array of berries and fruits, salmon, shellfish, cheeses, bakeries, home-style charcuterie, bacon and hams, organic dairy farms, hazelnuts, coffee roasters, and a crop of outstanding chefs. This year there were 52 featured guest chefs along with 31 members of the chef support team and 32 maîtres d'hôtel. A full listing of the participants is on the IPNC website (www.ipnc.org). I have copied a couple of the menus from the event showing the cuisine. The menu on the left was served at Soléna & Grand Cru Estate Winery and the menu on the right on the campus of Linfield college (attendees have lunch on campus one day and at a winery another day).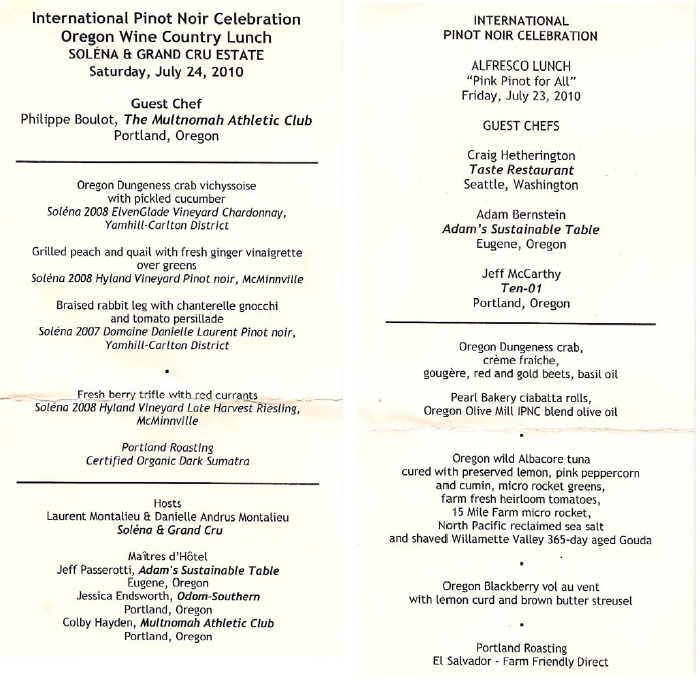 The Saturday night Northwest Salmon Bake is held in an oak grove on the Linfield College campus. Now in its 23rd year, it is a much-loved tradition at IPNC, and has been called, "The most entertaining meal at any wine event in the world." Wild salmon is cooked native northwest style on wood stakes over a 60 by 15 foot fire pit fueled by fir and alder. Many volunteers from the Depoe Bay Chamber of Commerce brave the heat and provide the succulent salmon each year for guests. The menu is below.
Noted photographers Andrea Johnson and Robert Holmes joined Jay Selman of Grape Radio and myself in videotaping this year's IPNC. For some of the photos of IPNC visit: www.andreajohnson.photoshelter.com/invite/g/U0000eeEePPJOBkw/G0000TIjoc1zH3es/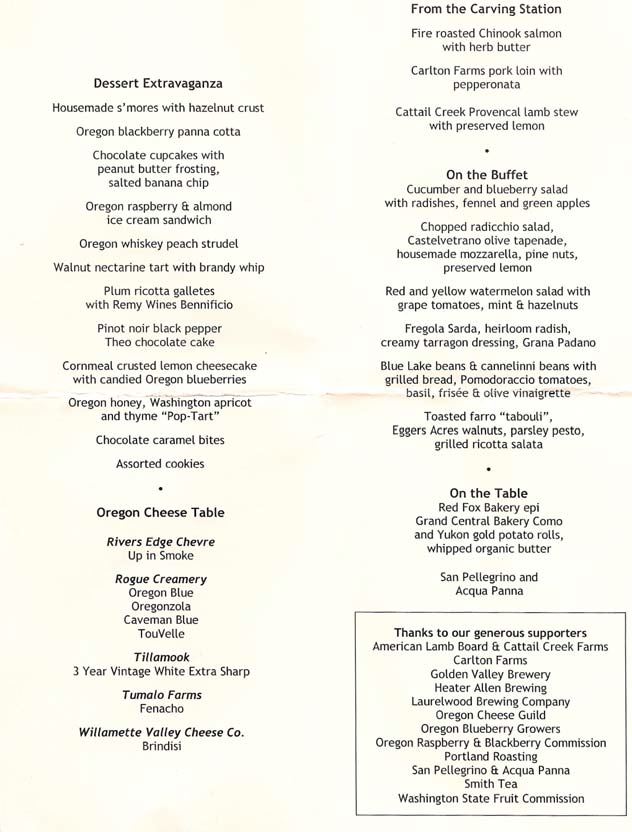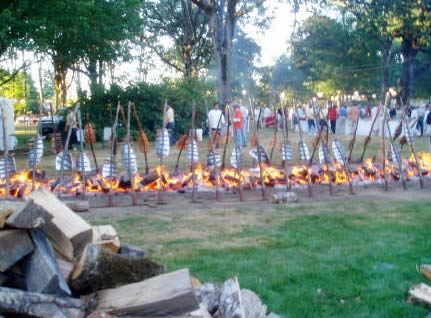 The wine flows at the luncheons and especially the two dinners where many guests bring wines to share. Scott Wright of Scott Paul Wines told me his most memorable experience at IPNC was one year at the Salmon Bake when someone offered him a taste of 1961 DRC Romanee-Conti and he had to pour out some 1959 DRC La Tache to taste it. My most memorable wines this year? 2001 Privé Willamette Valley Pinot Noir, 2007 Domaine Jacques-Frédéric Mugnier Les Amoureuses 1er Cru, 2007 J. Hofstätter Barthenau Italy Pinot Noir, 2007 Domaine de l'Arlot Clos des Forêts Saint Georges, 1er Cru, 2009 Bodega Chacra Argentina Pinot Noir, 2007 Navarro Vineyards Deep End Blend Anderson Valley Pinot Noir, 2008 Anam Cara Cellars Estate Reserve Willamette Valley Pinot Noir, 2008 Anne Amie Willamette Valley Pinot Noir, 2008 Benton Lane Estate Willamette Valley Pinot Noir, 2008 Lange Estate Winery Three Hills Cuvée Willamette Valley Pinot Noir, 2008 Scott Paul Audrey Willamette Valley Pinot Noir, and 2008 St. Innocent Shea Vineyard Willamette Valley Pinot Noir. Since I was involved in producing a video of the IPNC experience, I did not have time to do extensive tastings or take detailed tasting notes to pass on. I didn't lament because this event is not really a venue for serious wine tasting.
The featured wineries pouring at the event include the following:
*Argentina - Bodega Chacra
*Australia - Yering Station
*Austria - Johanneshof Reinisch
*Canada - Henry of Pelham Family Estate Vineyard (Ontario), Tantalus Vineyards (British Columbia), and Tawse Winery (Ontario)
*France - Domaine Albert Mann (Alsace), Maison Ambroise, Domaine de l'Arlot, Domaine Ballorin & F, Domaine David Clark, Domaine Jean-Jacques Confuron, Domaine Humbert Fréres, Domaine Jean-René Nudant, and Domaine Marc Roy.
*Germany - Schlossgut Diel
*Italy - J. Hofstätter
*New Zealand - Churton Wines (Marlborough), Kawarau Estate (Central Otago), and Pegasus Bay (Central Otago)
*California - Anthill Farms Winery, Calera Wine Company, Drew Wines, Dutton-Goldfield Winery, Expression Wines, Fiddlehead Cellars, Flowers Vineyard & Winery, La Follette Wines, Lynmar Estate, Navarro Vineyards, The Ojai Vineyard, Saintsbury, Schug Carneros Estate, Stephen Ross Wine Cellars, Talley Vineyards
*Oregon - Adelsheim Vineyard, Anam Cara Cellars, Andrew Rich Wines, Anne Amie Vineyards, Benton Lane Winery, Bergström Wines, Boedecker Cellars, Brandborg Vineyard & Winery, Brooks Wines, Chehalem, Cristom Vineyards, De Ponte Cellars, Domaine Serene, Elk Cove Vineyards, Erath Winery, The Eyrie Vineyards, Illahe Vineyards & Winery, Patton Valley Vineyard, Ponzi Vineyard, R. Stuart & Co., Raptor Ridge Winery, Redhawk Vineyard & Winery, Roco Winery, Scott Paul Wines, Sokol Blosser Winery, St. Innocent Winery, Van Duzer Vineyards, Westrey Wine Company, Willamette Valley Vineyards, Winderlea Vineyard & Winery, Witness Tree Vineyard.
The featured seminar was titled, "Wine is Food: The Art of Pairing Pinot." Session #1 was hosted by Master of Ceremonies, Ray Isle, Wine Editor of Food & Wine, who led a discussion and tasting of four Pinot Noirs made by Dan Goldfield of California's Dutton Goldfield (2007 Freestone Hill), Lynnette Hudson of New Zealand's Pegasus Bay (2006 Prima Donna), Olivier Leriche of Burgundy's Domaine de l'Arlot (Clos de Forts 1er), and Mark Vlossak of Oregon's St. Innocent Winery (2007 Momtazi Vineyard). Each winemaker commented on how they were influenced by food. Session #2 was hosted by Master Sommelier and Perfect Pairings author Evan Goldstein who was joined by celebrated northwest chefs, Renée Erickson of Seattle's The Boat Street Cafe, Kevin Gibson of Portland's Evoe, Jason Stoller Smith of Oregon's Timberline Lodge, and Cathy Whims of Portland's Nostrana. Each chef created a pairing for one of the four Pinots served in Session #1 using a different cut of lamb. The chefs discussed the process they go through in identifying the style and characteristics of a wine and how they create a complimentary recipe that allows both elements to shine. Listen to Session #2. "IPNC 2010 The Art of Pairing Pinot"
After this year's event, I came away with ten salient comments about Oregon Pinot Noir.
1. First off, you must learn how to pronounce "Oregon" and "Willamette" correctly so you don't sound like a rube when you visit. Oregonians insist you say, "OR-eh-gun," not "Or-EE-gun" or Or-ee-Gone." When referring to Oregon's major Pinot Noir producing region, the Willamette Valley, do not say, "Will-a-MET." Locals insist that it is "Will-AM-it," dammit!
2. Oregon's main marketing message is about it's high quality, sustainable agriculture and stewardship of the land. A majority of Oregon's 400+ wineries are LIVE certified, a first-of-its-kind sustainable winery and vineyard certification program. LIVE is an acronym meaning Low Input Viticulture and Enology. It refers to the practice of limiting the amount of raw materials such as pesticides, fertilizer, water, chemicals, fuel, etc., used in the vineyard and winery production. Salmon-Safe certification is included in the voluntary LIVE certification membership. This is the highest certification in the world for sustainable viticulture. An article appeared in the New York Times in April 2010 highlighting the emphasis on sustainable viticulture in Oregon (www.nytimes.com/2010/04/30/travel/30ecowine.html). Currently, there are 24 wineries and 160 vineyards certified LIVE in Oregon. LIVE certified wines are reviewed to insure they qualify within certain limits. These wines must contain at least 97% LIVE-certified fruit, total sulfur dioxide must be below 120 mg/L, chaptalization must be below 20 g/L, and all other state and federal requirements must be met. Beginning in 2008, labels of wines not produced in a LIVE certified winery must use the text, "Made With LIVE Certified Grapes," to distinguish them from those produced in a certified facility. Wineries producing LIVE-certified wines include Amity Vineyards, Benton-Lane, Bethel Heights Vineyard, Illahe Vineyards, Patton Valley Vineyards, Ponzi Vineyards, Van Duzer Vineyards, Willakenzie Vineyards, Willamette Valley Vineyards, Winter's Hill Vineyard and Witness Tree Vineyard.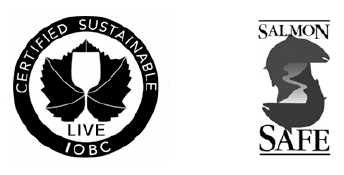 Oregon wineries are at the forefront of biodynamic farming. Below are photos of Momtazi Vineyard, at 200 acres, the largest Demeter Certified Biodynamic® vineyard in North America. A presentation of the preparations used in biodynamic farming was made to IPNC guests by proprietor Moe Momtazi (green shirt) The final photo is of Maysara winemaker, Tahmiene Momtazi, who is crafting remarkably good Pinot Noir from Momtazi Vineyard.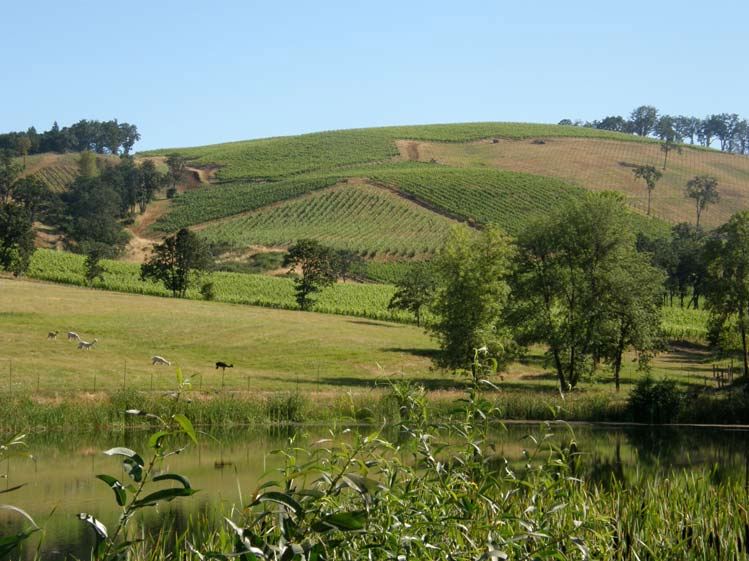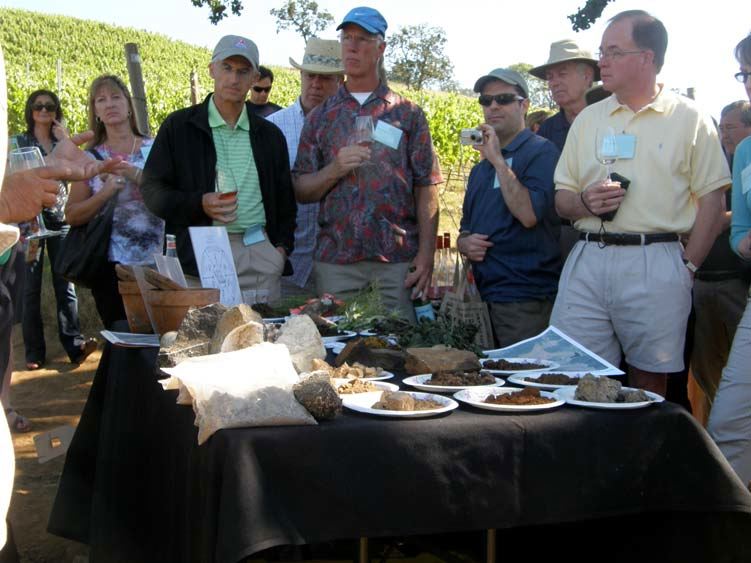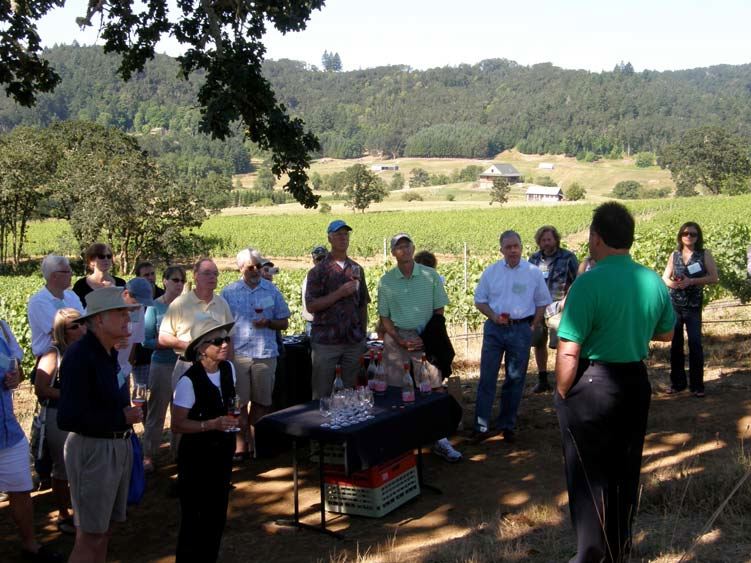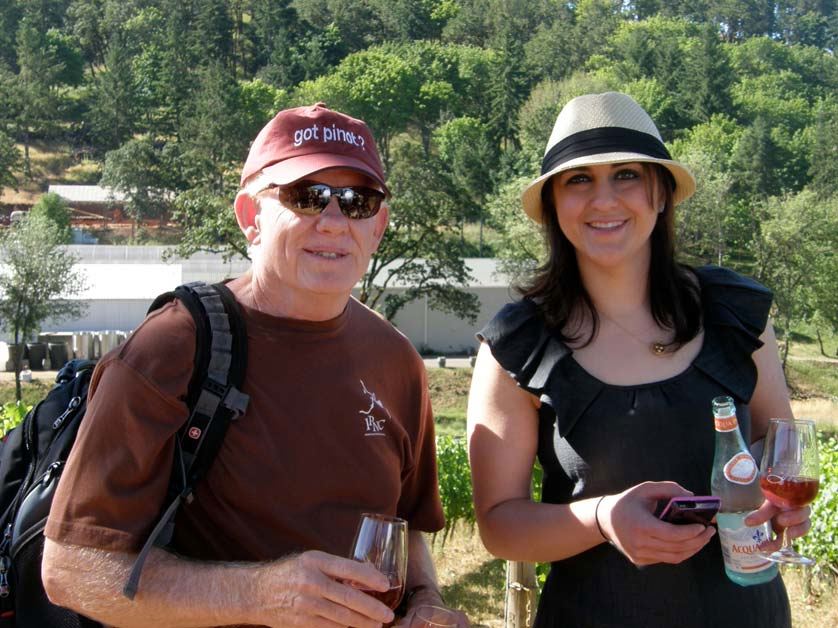 3. Oregon winegrowers and winemakers love to talk about soil. The Willamette Valley has a complex series of soils with diverse origins: Marine sediments that were laid down on the floor of the Pacific Ocean (Willakenzie, Bellpine, Chuhulpim, Hazelair, Melbourne, and Dupee), Basalts that originated as lava flows from eastern Oregon (Jory, Nekia which is shallow Jory, and Saum), Ice Age Loess which is silt blown up from the valley floor onto northeastern facing hillsides (Laurelwood), and Missoula Flood deposits brought down the Columbia Gorge as the result of a repeatedly melting glacial dam (Wapato, Woodburn and Willamette). The deep, rich valley floor soils are ideal for a diversity of agricultural crops, but not Pinot Noir. Pinot Noir is subject to frost damage in the spring at low elevations, and it becomes excessively vigorous in deep soils, unable to properly ripen its fruit. In almost every case, Willamette Valley Pinot Noir is grown on rocky hillsides facing south or southeast, at least 200 feet above sea level and below cooler hilltop microclimates over 800 feet. Sites that meet these qualifications are generally found on basaltic or marine sedimentary soils. Sites with loess soils are often suitable, but are relatively rare in the Willamette Valley. There is no direct correlation between specific soil types and the six sub-appellations of the Willamette Valley and geographic and climatic factors are as important as soil type in defining the unique characteristics of the sub-appellation. However, the following generalizations can be made: Dundee Hills AVA and Eola-Amity Hills AVA are mostly basaltic with marine sedimentary at lower elevations; Chehalem Mountains AVA is basaltic and marine sedimentary on the southern and western slopes with ice age loess on the northeastern slope; Yamhill-Carlton District AVA is predominantly marine sedimentary; Ribbon Ridge AVA is entirely marine sedimentary; McMinnville AVA is primarily marine sedimentary with some basalt and alluvial. The photo below was shared by Todd Hansen, the owner and farmer of Lia's Vineyard in the Chehalem Mountains who has all three main types of Oregon soil (left: Jory, upper right: Laurelwood loess, and lower right: Willakenzie sedimentary)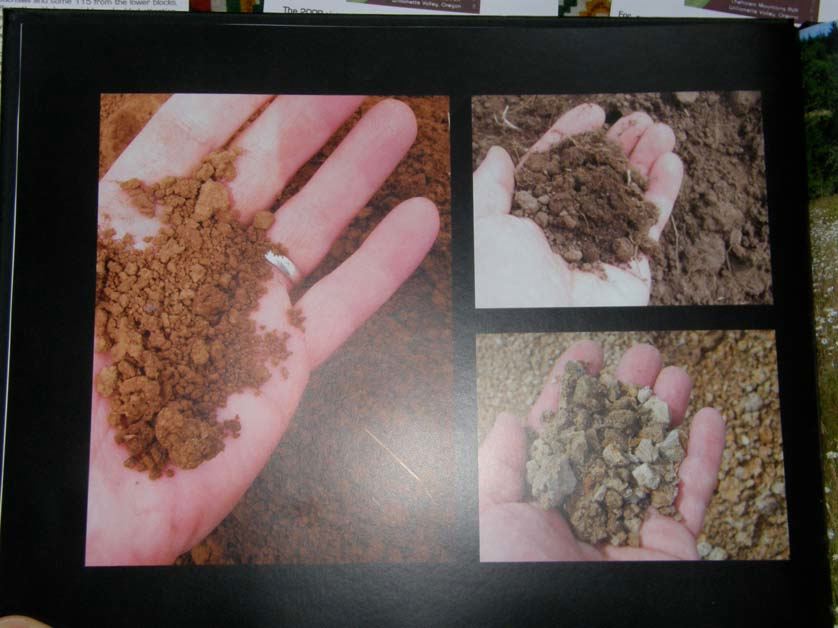 4. There are approximately 15,000 acres of vineyards planted in the Willamette Valley, primarily Pinot Pinot Noir with lesser amounts of Pinot Gris, Chardonnay, Riesling and Pinot Blanc. Total Pinot Noir acreage in Oregon in 2009 was 11,210 acres (8,713 acres harvested).
5. The 2007 vintage for Pinot Noir in Oregon was derided by many members of the wine press when the wines were first presented for tasting. The 2007 vintage was plagued by rain at harvest, with between 5 to 6 inches of rain occurring between late September and late October. Matt Kramer, a respected wine columnist for The Oregonian, noted, "Oregon's 2007 Pinot Noirs are emerging as rather light, sometimes excessively thin wines that may prove to be overpriced for their quality." As a generalization this statement may have some validity but my experience (and I tend to sample primarily higher-end Pinot Noirs from top producers) has been that the 2007 Pinot Noirs are exemplary of classic Pinot Noir, with lower alcohols, higher acidities, and elegant, charming flavors. As I tasted a number of Willamette Valley Pinot Noirs on my recent trip, and spoke to a number of winemakers, it was the consensus among them and my general impression that the 2007 Pinot Noirs have picked up more weight and flavor interest with another year in the bottle, and these are often stellar wines that provide superb near-term drinking.
6. The 2008 vintage for Oregon Pinot Noir may be the greatest this decade. The wines possess perfect balance with moderate alcohols and acidity harmonizing with ripe tannins and bright fruit. That said, the wines are tight and restrained at present and will need another few years in bottle to really shine. These are wines made for the long haul, and many will easily last 15 years. I suggest finding a few favorites and buying at least a case of each so that you can sample them over their evolution.
7. The 2009 Willamette Valley Pinot Noirs tasted from barrel are exciting and promiscuous wines that unlike their 2008 brethren, will be flirty and showy upon release.
8. Do not discount the age ability of warm vintages in Oregon. I tasted three relatively "hot" vintages of Shea Wine Cellars Estate Pinot Noir - 2003, 2006 and 2009. The 2003 wine was holding beautifully. Many reports have claimed the 2003 Pinot Noirs are not aging well and this will definitely be the case in unbalanced, high alcohol, low acidity wines. The 2006 Pinot Noir was also drinking well, although I found the fruit on the very ripe side. The 2009 Pinot Noir will be a crowd pleaser with its showy dark fruit and silky mouth feel.
9. Don't forget about Oregon Chardonnay. In the early years of the modern era of winegrowing in Oregon, plantings of Chardonnay contained Wente and Draper clones from California that were unsuitable for Oregon's cool climate. The wines were often thin, acidic and lacked character. The efforts of David Adelsheim and others beginning in 1974 led to the widespread introduction of Dijon clones of Chardonnay. The Dijon clones matured before bad weather set in at the end of Oregon's harvest, proving to be a better match to Oregon's climate. The use of Dijon clones (D76 is the most widely planted) combined with proper rootstocks and vine spacing produced Chardonnays with excellent structure, balanced acidity and mature flavors. In 2009, the Oregon Chardonnay Alliance (ORCA) was formed to promote the "rebirth" of Oregon Chardonnay (www.oregonchardonnay.org). Two of my favorites are Domaine Drouhin Oregon Arthur Chardonnay and Shea Wine Cellars Chardonnay (Shea is known for Pinot Noir but is seriously committed to Chardonnay as well, having recently planted 2 more acres of Chardonnay and producing around 600 cases annually).
10. Speaking of Chardonnay, the funniest comment I heard at the IPNC was made by Ray Isle, the Master of Ceremonies, who spiked his welcoming address to attendees with humor. Ray was describing the devotion to Pinot Noir that has led to many celebratory events in the grape's honor. In contrast, he said, "If they celebrated Chardonnay, they would have to call this event the ICCC (as in "ick")."
Next year is the 25th Annual International Pinot Noir Celebration: The Reunion, July 29-31, 2011. The event will reunite winemakers, chefs, media and guests from the first event in 1987 and the past 24 Celebrations. You may think you are a Pinot Noir hot shot. You have a case of La Tache in your cellar, you are on a first name basis with Joe Rochioli, you receive an allocation of 3 cases of Kosta Browne each year, and your first born is already learning about biodynamic viticulture at your local Waldorf school. The truth is, you aren't squat if you haven't attended the IPNC. You just aren't in the fraternity. You must be in McMinnville next year for the 25th. Early bird pricing is $895 for the entire event until the end of the year. Just do it! Visit ipnc.org. E-mail me for questions, inside tips on lodging, and area activities and wineries to visit before and after the event.