Lange Estate: Exceptional Wines in 2008
David and Diana Lett began the age of modern winegrowing in the Willamette Valley in 1966, with others such as Dick and Kena Erath, Dick and Nancy Ponzi, Susan and Bill Sokol Blosser, and David and Ginny Adelsheim following shortly thereafter. They were all seeking the same goal: to successfully grow Pinot Noir in a region previously considered too cold to ripen the grape that not only liked cool but was cool itself. These pioneers proved the naysayers wrong and before long, there were several thousand acres of Pinot Noir thriving in the Willamette Valley.
Don and Wendy Lange were to plant their claim in the Dundee Hills of the Williamette Valley in 1987, only a half mile from Domaine Drouhin Oregon, the 100-acre estate founded the same year by Robert Drouhin of Maison Joseph Drouhin of Beaune, Burgundy. The Lange's small property was very modest in comparison, and when the Lange's released their first commercial wine in 1987, they located their tasting room in the basement of their farmhouse, a homey venue that was to host many wine lovers until 1999. Today, the Langes have a modern winery and tasting room with panoramic views of the Cascade Mountain Range and the Willamette Valley landscape below.
The Lange's chose to specialize in Pinot Noir, Chardonnay and Pinot Gris. The latter variety is of particular significance as Don was the fourth to plant Pinot Gris in the Willamette Valley and the first to release a barrel fermented reserve. The wine is still produced today and is considered a benchmark for the varietal in Oregon.
Don's talents as a winemaker were to bring quick success to Lange Estate Winery & Vineyards (noted wine writer Hugh Johnson called his work as winemaker "brilliant"). He strikes you as an unassuming sort with a twinkle in his eye (he would make a magnetic Santa Claus), but when you delve into his background, you find that he as an extremely talented singer-songwriter whose tunes have been sung and recorded by Pete Seeger, Christy Moore, and Kate Wolf, among many others. As his website (www.donlange.com) proclaims, "He is, simply, the finest songwriter to make great new world Pinot Noir and the best winemaker to ever write great songs."
Don attributes a large part of his success to his spouse, Wendy, who as CEO tends the day-to-day business of running the winery, the tasting room and the ever-present cadre of winery dogs. The Lange's Shetland sheepdog, Lucy, is the September 2011 cover dog in the Wine Dogs USA calendar (www.winedogs.com). She has managed to imbibe the winery with a homey, welcoming atmosphere, and visitors are treated as if they were long time friends.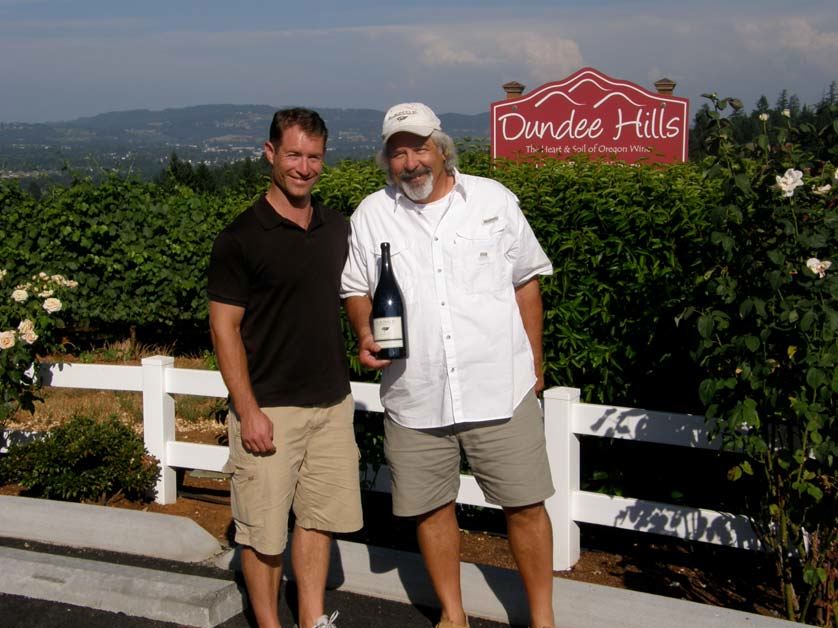 The third, and youngest member of the Lange family winery business is Jesse, a handsome, gregarious youth who is built like a major college football defensive back. Jesse joined the winemaking team in 2004 after his education. At the age of 20, he traveled to Central Otago, attending Lincoln University in Canterbury on an exchange program from Oregon State University. Enrolled in the enology and viticultural program there, Jesse was dirt poor and had to sell eight fishing rods that he had brought with him from Oregon to help pay the bills. This was not an easy decision as Jesse is an avid fisher and the flies that are prominently displayed on the Lange Estate labels reflect this passion.
Jesse is very active in the Oregon wine industry, serving on several industry boards including the Dundee Hills Winegrowers Association, Oregon Pinot Camp, Willamette Valley Wineries Association and ¡Salud! Oregon Wine Auction.
Today Lange Estate is known for its exceptional wines from grapes grown on the 40-acre winery Estate Vineyard (35 acres of Pinot Noir, 3 acres of Chardonnay and 2 acres of Pinot Gris) that has plantings dating back to 1988. To supplement their 17,000 case production, the Langes buy additional fruit from top notch vineyards in the surrounding appellations. Their long-standing relationship with these sites have allowed the winery to establish a well-deserved reputation for consistency in their wines. Currently, the father and son duo bottle six different Pinot Noirs.
I visited Lange Estate after this year's IPNC, toured the facility, tasted some precocious 2009 Pinot Noirs out of barrel, and sat down with Don and Jesse to sample wines from the 2008 and 2009 vintage. Three of the Pinot Noirs (Three Hills Cuvee, Estate Vineyard and Freedom Hill Vineyard) were tasted before IPNC at home, the striking quality of the wines prompting my visit. All the wines provide amazing fruit intensity at moderate alcohol levels framed with beautiful balance. Jesse notes that all the 2008 Lange Pinot Noirs are slowly showing better since bottling, but he advises patience for full enjoyment. The Lange Pinot Noirs in 2008 from Dundee Hills show more blue and black fruit than usual.
The Lange Estate Winery & Vineyards website at www.langewinery.com is very informative and well-designed. Wines are available for purchase on the website with discounts for wine club (Cru Club) members. The tasting room is open daily from 11:00 to 5:00. A private tour and tasting can be scheduled by appointment which includes a sit down tasting of reserve level wines including the single vineyard Pinot Noirs. A delightful book about Lange Estate, titled The Grail, and written by Brian Doyle, details a year "ambling and shambling through an Oregon vineyard in the pursuit of the best Pinot Noir wine in the whole wide world" (2006, Oregon University Press). A very entertaining read that is peppered with little known facts about Pinot Noir and the history of Pinot Noir winegrowing in Oregon, as well as personal insights into the Lange family.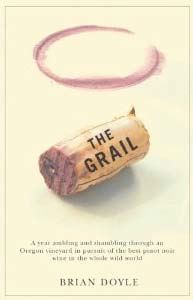 The 2010 Dundee Hills Wine Experience will be held Thursday, August 26, 2010 in Portland. Three generations of winemakers are featured including the Founders from the 70s and 80s, the Legends who built the reputation of the Dundee Hills in the 90s and the Rising Stars who have made their mark over the last decade. Taste through older and current vintages from participating Dundee Hills wineries and feast on dishes from the best of the Dundee Hills restaurants. Visit www.dundeehils.org for information and tickets.