Buena Vista: My House Red and White
It doesn't seem that long ago that Buena Vista Carneros was a ho-hum winery turning out 300,000 cases of average wine. Their best wine had become a Sauvignon Blanc made from grapes in Lake County, not from their extensive vineyard holdings in Carneros.
The dramatic improvement in Buena Vista wines began with the acquisition of the winery by Beam Wine Estates and subsequently Ascentia Wine Estates and the hiring of winemaker Jeff Stewart, a master of cool climate varietals. The estate Ramal Vineyard underwent extensive replanting and upgrading beginning in 2003 with the initiation of sophisticated viticulture technology, and by 2008, Stewart had 800 acres of well-groomed Pinot Noir, Chardonnay, Syrah, Pinot Gris and Merlot to work with. Stewart, who is a very like able guy (with his tall, husky stature, beard and long curly hair, he reminds one of a happy-go-lucky mountain man), arrived at Buena Vista in 2003 and the full results of his efforts now show in the superb lineup of 2007 vintage wines.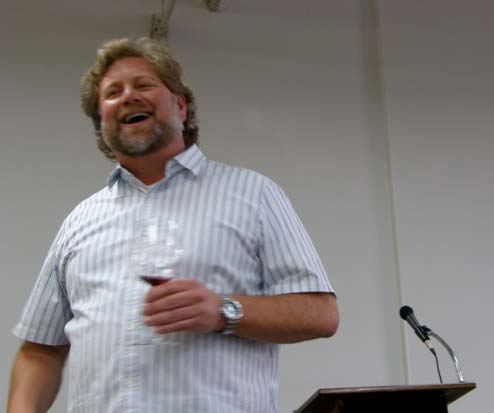 In 2004, the California Classic and Grand Reserve lines of Buena Vista wines were discontinued and production was decreased to 45,000 cases. Two new lines of wines were created: the Carneros Series which includes varietal bottlings of Chardonnay, Merlot, Syrah and Pinot Noir ($19-$25) and the Ramal Vineyard Series which features limited release wines of select clonal material or blocks from the property ($36-38). New packaging and labeling added a modern and sophisticated tone. Stewart has committed the entire Buena Vista lineup to screw cap closure. He says, "I am adamant in delivering the best expression of our vineyards. I believe this closure captures the pure Pinot Noir aromas and flavors and will deliver the best quality in the glass." Stewart has access to 25 different clones of Pinot Noir. For the Carneros Pinot Noir reviewed below, grapes are hand picked at night to preserve the fruit character. The grapes are then hand sorted twice and gently de-stemmed.
Each lot is cold soaked for a minimum of five days to maximize color and flavor extraction. The must is then fermented in small open-top fermentors. After an average of 14 days on the skins, the wine is pressed gently and aged for eight months in 33% new French oak with the balance in one to two-year-old barrels.
The two wines reviewed below have become my "house" red and white wine of choice. So often neighbors, relatives and wine moochers drop by the house and I want to offer them a quality wine. The Buena Vista wines deliver a casual unpretentious choice at a sensible price that appeals to a wide audience. I don't want to serve most people a $60 single vineyard Pinot Noir, because they simply don't appreciate it (Buena Vista has sophisticated, ultrapremium Pinot Noir as well - see www.princeofpinot.com/article/809/). I prefer to offer them a solid, slightly flirty wine that is varietally correct and gives up its charms easily. Screw caps further enhance the casual and easy approachability of the Buena Vista wines. I taste many wines each year, but I can honestly say, these two wines offer the best bang for the buck of almost any comparably priced California wines. Phenomenal quality considering the large production, particularly for the Pinot Noir.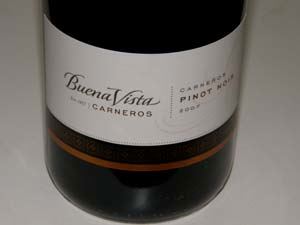 2007 Buena Vista Carneros Pinot Noir
13.5% alc., pH 3.64, 25,213 cases, $24.99. Released in July 2010. · Attractive perfume of spicy dark fruits underscored with oak. A forward wine offering typical Pinot flavors of dark raspberries, blackberries and cherries with a subtle spice note. Easy drinking with soft tannins and a welcoming silkiness on the palate, this wine packs in plenty of charm. Very good.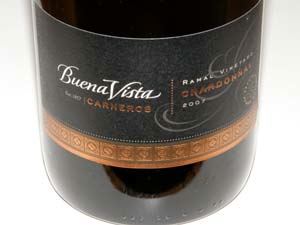 2007 Buena Vista Carneros Ramal Vineyard Estate Vineyard Series Chardonnay
14.2% alc., pH 3.43, 3,807 cases, $32, screw cap. Released in June 2010. Double Gold, Best of California, Best of Class (Tie) Sonoma Appellations, California State Fair Wine Competition. Clones are Dijon 96, RY 17, 15, 4 and Weimar. Whole cluster pressed. 100% barrel fermented, aged sur lies with the lees stirred every two weeks for 9 months. 100% MLF. Aged in 40% new French oak barrels with the balance one and two-year-old barrels. · Aromas of lemons, pears, buttered toast and roasted nuts. Very tasty essence of lemon curd, white peach, pear and a touch of allspice. Beautifully composed with a welcoming snap of acidity on the finish. A "go to" California Chardonnay that has all the spunk you can ask for.
Buena Vista Carneros wines are available on the website at www.buenavistacarneros.com and through retail channels. Buena Vista is the oldest California winery and its historic tasting room is open daily. Located a short distance from the winery (not open to the public) in the town of Sonoma. 800-926-1266.