Lenné Estate: 2008s are Best Ever
After this year's IPNC, I made my annual trip to the Yamhill-Carlton District of the Willamette Valley and met up with winegrower Steve Lutz at Lenné Estate. Steve has a special south-facing site on low vigor sedimentary and volcanic soils in a good neighborhood just east of the town of Yamhill that also includes WillaKenzie Estate, Shea Vineyard, Soléna and Grand Cru Estates, Soter and Beaux Freres. I discovered Steve's excellent Pinot Noirs beginning with the 2006 vintage and have been a fan ever since.
Steve and a group of investors began dense planting of Pinot Noir clones 115 and 777 and Pommard in their 20.9-acre vineyard in 2001 and launched Lenné Estate wines in 2002. Establishing the vineyard presented many challenges in part due to the steepness of the site and Steve's insistence on dry farming, but he has persevered. Clones 114 and 667 were added in 2004-2005.
The name, Lenné, pronounced "Lenay," is a French adaptation of the name of Steve's father-in-law, Len, who raised his family, including Steve's spouse, Karen, on a chicken farm west of London, England. Len passed away in 1999, but he contributed part of the down payment on the vineyard, so it seemed only right to honor him. The Lenné Estate value bottling, Le Nez, features a side portrait of Len's schnoz on the label and a silhouette of him appears on the Lenné Estate label. The first two vintages of Pinot Noir were released under the Le Nez label and the Lenné Estate label was added in 2006. The wines under the Lenné Estate label represent the best barrels from the vineyard in each vintage. Some clones stand out in certain vintages and they are bottled as clone-designated Lenné Estate Pinot Noirs.
Lenné Estate wines are produced in collaboration with noted Oregon vintner, David O'Reilly. Some grapes are sold to O'Reilly's own label, Owen Roe, but more are being retained for the Lenné estate wines. Production in 2008 was 1,300 cases. The wines are largely sold through a mailing list and at the quaint hilltop tasting room which is open on weekends or by appointment (503-956-2256). I tasted through the 2008 Lenné Pinot Noirs while sitting on the scenic tasting room deck (see photo below), as well as a few weeks later at my home.
Steve told me the wines will not be drinking well until mid to late fall which is typical of many 2008 Oregon Pinot Noirs. The 2008 growing season was ideal at Lenné Estate, with perfect fruit set resulting in small, thick skinned berries. Cool weather prevailed with no rain. The resulting alcohols are all 14.0% at most. Steve finds consistent flavors of wild cherries, pomegranate, and mocha from his vineyard. The 2009 vintage will be more approachable early but will not be as long lived. I enjoyed tasting the wines now, but agree that the aromas and flavors are slow to come around, the impressive tannin structures need time to mellow, and the wines are best left in the cellar for another 6 to 12 months. All wines are unfined and unfiltered.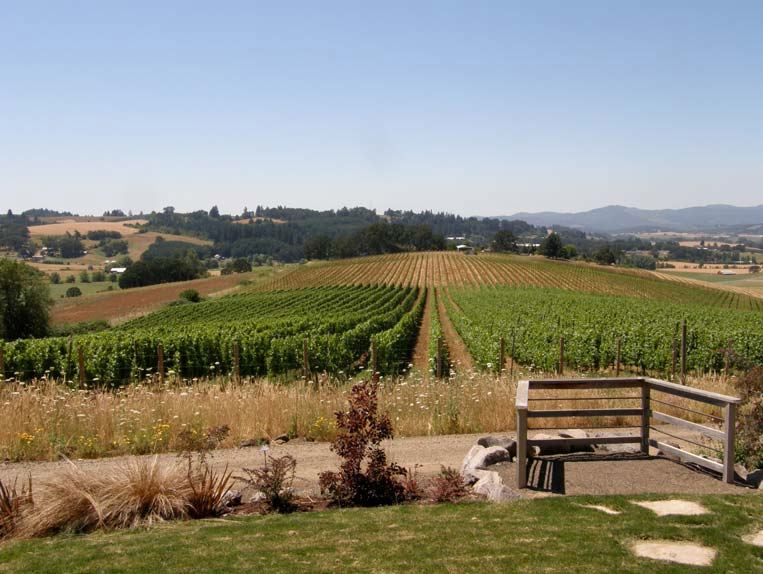 The 2008 Le Nez Pinot Noir and 2008 Lenné Estate Sad Jack have been released and the remainder of the lineup will be offered by September 1, 2010.