Domaine Drouhin Oregon: Burgundy's First Footprint in Oregon
I haven't written about Domaine Drouhin Oregon (DDO) in over two years since I attended a remarkable vertical tasting of DDO Pinot Noirs dating back to 1992 hosted by David and Janeen Lee of the website, www.loverofwine.com. DDO is a winery you almost take for granted since it has established a reputation of producing consistently stellar and age worthy wines over the years. I ran into David Millman, the Managing Director, at this year's IPNC, and he invited me to stop by for a tasting.
Maison Joseph Drouhin was the first, and to this day, the only Burgundy house with a serious Oregon commitment and the first Burgundy house to make wine outside of France. Robert Drouhin had visited the Willamette Valley first in 1961 and was struck by the resemblance of the region to the Côte d'Or. Subsequent visits and tastings of the early wines of Oregon's pioneering winemakers convinced him that Oregon (not California) was the chosen spot for New World Pinot Noir. In 1987, Robert Drouhin bought 100 acres in the Dundee Hills overlooking the town of Dundee. He sent his daughter, Veronique-Boss Drouhin, to Oregon to learn about the region and she studied under David Lett at Eyrie Vineyards, David Casteel at Bethel Heights, and David Adelsheim at Adelsheim Vineyard. She began to craft the DDO wines (the first three vintages, 1988-1990 were from purchased grapes), and oversee planting of the vineyards beginning in 1988. Today there are 225 estate acres with 70 acres planted to Pinot Noir and 13.5 acres to Chardonnay. The first gravity-fed winery in Oregon was constructed at DDO in 1989 and much of the winemaking equipment was imported from Beaune.
The vineyards at DDO are among the most densely planted in the United States. In 1988, when planting began, the norm in Oregon was 6' x 8'-10' spacing with typically 800 to 1,400 vines per acre. The initial vines planted at DDO were Pommard and Wädenswil clones on their own roots (no phylloxera-resistant rootstock was available at the time) with 1m x7' spacing. In 1989, DDO transitioned to a 1m x 1.3m template creating an average of 3,300 vines per acre, with several Dijon clones (primarily 115 and 777) included in the plantings. DDO was among the first Oregon wineries to plant the new Dijon clones and use phylloxera-resistant rootstock. The Drouhins were disenchanted with the Wädenswil clone and this clone was eventually pulled out. Chardonnay came later. Phillipe, Veronique's brother, has managed the vineyards from the beginning. DDO is one of the few vineyards in the country to cultivate their own rootstocks and propagate all their own plant material by selection massale.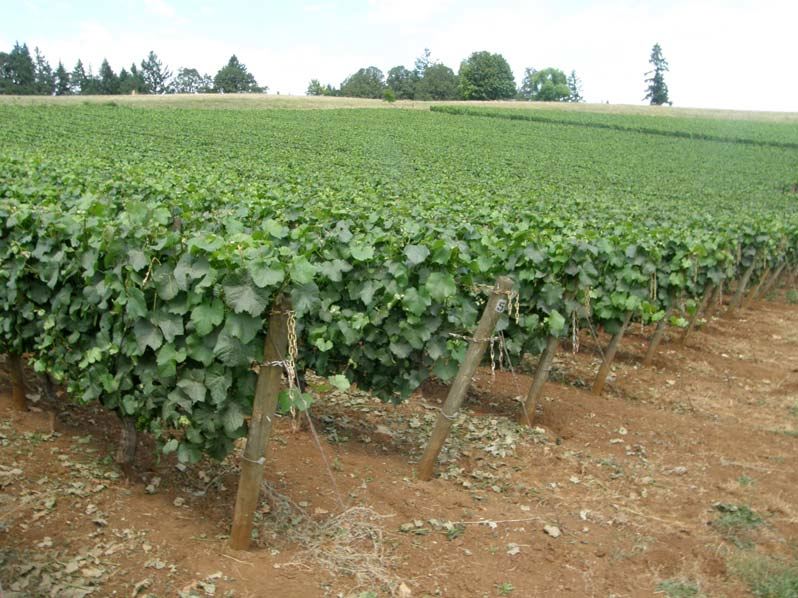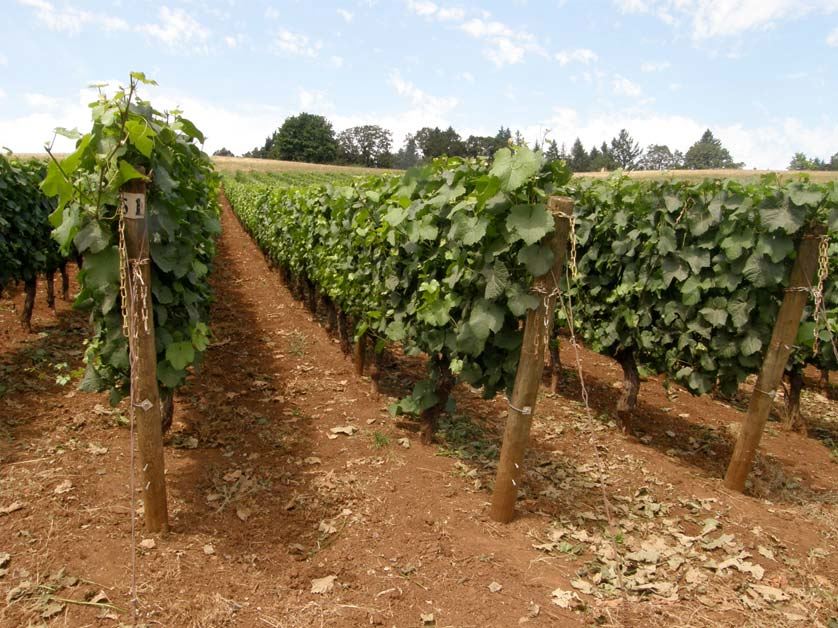 Over the years, Veronique Boss-Drouhin, also known as Vero by her friends, has been a long-distance winemaker, continuing to live in Beaune, and traveling periodically to Oregon to oversee DDO. Because of the difference in harvest between the Côte d'Or and the Dundee Hills of Oregon, she can supervise crush and fermentation in Beaune in September, overseeing 400,000 cases of Maison Joseph Drouhin wine production, and then fly to Oregon in time for crush which usually arrives in October. An on site winemaker at DDO works in close association with Veronique.
The Pinot Noirs at DDO emphasize balance and elegance over robustness, and although they can be charming upon release, they age magnificently. The grapes are usually all de-stemmed and indigenous yeasts are employed. Oak character (new oak is at about 20%) is minmized. The wines are aged from 9 to 14 months in barrel. Veronique likes to say that the DDO wines are "Burgundian at heart, but with Northwest intensity." The wines have more extraction and fruitiness than those from Maison Joseph Drouhin, but less extraction than many other Oregon Pinot Noirs.
There are three Pinot Noirs at DDO. The Domaine Drouhin "Classique" is a Willamette Valley designate that is made from estate and purchased grapes (10,000 cases, $40) and is soft and accessible. This wine is released 2 years after the vintage. The Domaine Drouhin Cuvée Laurène has been made since 1992 and is named after Veronique's first daughter who was also born in 1992. It was the winery's first bottling of 100% estate fruit. The website refers to this wine as the winery's "flagship wine." This wine is a barrel selection with more structure, extraction and age ability (2,000 cases, $65). It is released 3 years after the vintage. The Domaine Drouhin Cuvée Louise was first produced in 1999 and is named after Veronique's youngest daughter. This wine is a special selection of favorite barrels and is extremely limited (200 cases, $80), primarily sold to winery club members). The Louise has a little less structure than the Laurène, with more elegance and finesse.
The Arthur Chardonnay, named after Veronique's son, was first released in 1996 and is crafted in a restrained French style (2,500 cases, $30).
The Domaine Drouhin Oregon tasting room at 6750 Breyman Orchards Road, Dayton, is open from 11:00 to 4:00 every day August 2 through October 12. Tours of the four-level winery are offered by appointment Wednesday through Sunday.