Spätburgunder
The Germans are in love with Pinot Noir, or as they call it, Blauer Burgunder, or "Blue Burgundian," and the marked improvement in quality in recent years has led to a widespread demand for it both in Germany and abroad. The term, Spätburgunder, is used synonymously with Burgunder by the Germans and the Austrians and Swiss. Spätburgunders were traditionally light red, sometimes sweet, wines, but in the last twenty years, serious Burgundian-styled dry Spätburgunder has been made in the Rhine Valley of southwestern Germany. The prime growing territory for Spätburgunder are the wine regions of Ahr, Mosel, Baden, Rheingau, and Rheinhessen, areas best known for Riesling. Spätburgunder is the most widely planted red grape in Germany and accounts for 11.5 percent of the country's total vineyard area.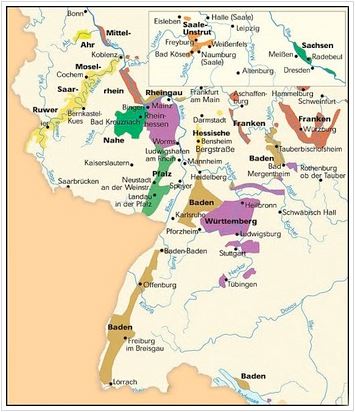 There is only a trickle of information available about German Pinot Noir and very little of the best examples reach the United States. I have had a few here and there and have not been impressed until I tasted the wines reviewed below. The standing joke about Spätburgunder has been, "Isn't Spätburgunder the stuff the guys from Burgundy spat out?"
With the 2000 vintage, Germany instituted the designations "Classic" and "Selection" to simplify matters for consumers. Classic wines can be from any of the 13 German winegrowing regions (see map above), the wines must be above average in quality, dry, and made from a traditional grape variety such as Riesling or Burgunder. The labels bear the Classic logo next to the name of the traditional grape variety. Vineyard names are omitted to leave the labels uncluttered and simple for the consumer. Selection wines are carefully chosen, best of the vintage wines from first-class vineyards where yields are low and harvesting is by hand. The wines must be bottle aged and dry for Burgunder varietals.
In Germany, Burgunder clones that are resistant to botrytis are preferred. German clonal selections are divided into five groups: compact clones, loose-berried clones, mixed clones, upright-growing clones, and small-berried clones. The compact clones include the Dijon clones such as 113, 114, 115, 667, 777, 927, 792, 872, 870 and 386, all of which have some resistance to botrytis. They are usually planted on flat, dry sites. The loose berried clones (includes the Mariafeld clones from Wädenswil) are more resistant to botrytis but in most years, the quality of the compact clones outweighs the advantage of better botrytis resistance of the loose-berried clones. The upright-growing clones are used for sparkling wine and Pinot Noir vinified as a white wine. The small-berried clones come from Freiburg and Geisenheim and are well suited for producing high value red wines. Due to good botrytis resistance, these clones can be planted in deep and rich soils. There is high demand for these clones in Germany and they are in limited supply.
The bible on German wines is the Gault Millau WeinGuide Deutschland but it is published only in German and not available in the United States. This is a shame since it offers ratings on the best producers and extensive reviews and ratings of wines. An excellent source of information on German wines is Schiller Wine, the blog of Christian G.E. Schiller, a German living in America (www.schiller-wine.blogspot.com).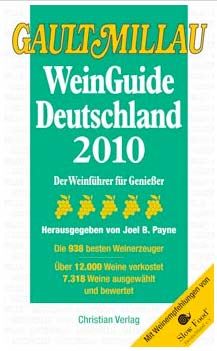 Schiller noted recently (www.schiller-wine.blogspot.com/2010/03/germanys-top-winemakersfeinschmecker. html) that the German wine industry consists of about 70,000, mostly small, wine producers. If hobby winemakers are excluded, the number is reduced to 30,000 wine makers. If you include only full-time wine producers with a minimum of 5 hectares, it leaves about 6,000 wineries. Large wineries are rare in Germany.
Quality Spätburgunder wines are difficult to source in the United States. I found several of the wines reviewed below through K&L Wine Merchants in California (www.klwines.com). Another source is Truly Fine Wine which sells exclusively German wines (www.trulyfinewine.com). Prices run the whole gamut, much like New World Pinot Noir, but high quality examples can often be quite expensive. Try Spätburgunder - you will be pleasantly surprised!