Raiding the Library of the Pinot Carzina: Lane Tanner Pinot Noir, 1988-2007
"There is nothing quite as satisfying as succeeding with Pinot Noir. It is the
most responsive, delicate, fickle, fragile grape to work with -
and I'm hooked on it."
Lane Tanner
Several friends joined me recently for summer "Pinot Camp" in the Sta. Rita Hills. We visited Sea Smoke, Clos Pepe (for their annual barrel tasting) and dined with both Lane Tanner of Lane Tanner Winery and Jeff Fink of Tantara.
A highlight of the weekend was a special dinner with Lane Tanner at Root 246 restaurant located in Hotel Corque in Solvang. Lane was in fine form, embracing her rule of life to "Laugh more, flirt often," and generously offered us the chance to raid her library of Pinot Noirs. I had such a great time that I misplaced my tasting notes, not that they were very extensive to begin with. Suffice it to say that Lane Tanner's Pinot Noirs age extremely well. The older wines, dating back to 1988, were phenomenal out of magnum and still holding their own in the 750 ml format.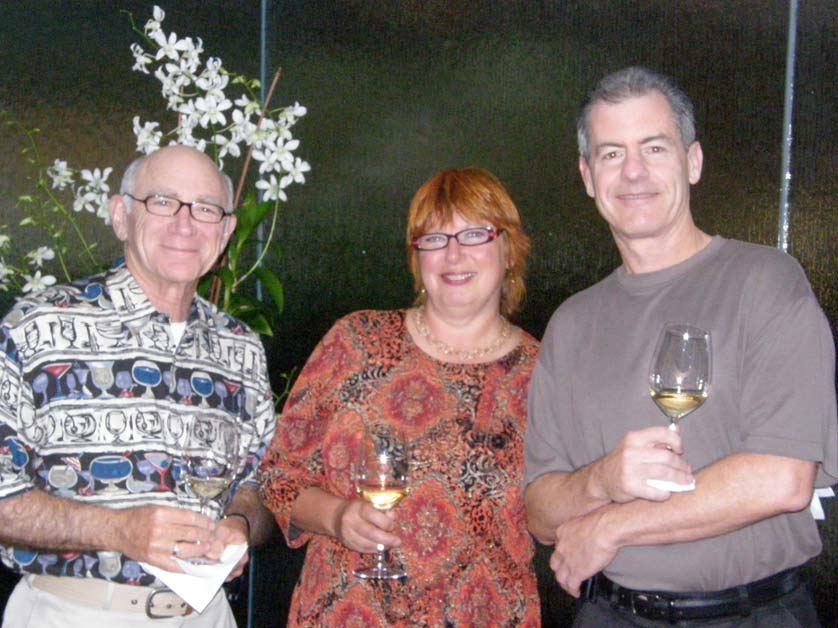 Lane Tanner originally had no intent to make wine. In need of a job, she found herself at Konocti Winery in Lake County on the bottling line in the mid 1970s. Her boss found out she had a degree in chemistry and put her in the lab. The first day she was in the lab, she was introduced as the new enologist to the winery's consultant, Andre Tchelistcheff. The only problem was that Lane had no clue what an enologist did. She was asked to sit in on a tasting of wines with the winery owner and Tchelistcheff and had to fake her way through as she had never participated in a formal tasting before. In spite of her self-perceived ineptness, Tchelistcheff took a liking to her, urging the winemaker to, "Have Lane test this, have Lane test that." Her experience with Tchelistcheff led to her interest in winemaking and her currant alias, "Pinot Czarina."
Lane moved on to Firestone Winery in Santa Barbara County, married Frank Ostini of the Hitching Post II restaurant and produced Pinot Noir for the restaurant from 1984 to 1989. Upon their breakup, she launched her own label, Lane Tanner Winery, at a time when there were very few women winemakers in California.
She now produces approximately 1,500 cases of Pinot Noir at Central Coast Wine Services in Santa Maria. Her style of winemaking is distinctive in that she picks earlier than most vintners, avoiding high and intrusive alcohol at all costs, and strives for elegance and bright acidity. Oak treatment is understated, with less than 30% new French oak used during the 12 to 18 month elevage in barrel. The style does not appeal to everyone, but those in attendance at the dinner came away with an appreciation of the consistent high quality through almost 20 vintages and the ability of the wines to charm after many years in bottle.
Lane is a one-woman winery, doing everything herself. You won't find her wines prominently promoted (except in the PinotFile), but pinotphiles know to buy everything she makes every year. Lane Tanner is one of the few wineries to have a library of older vintages for sale. Below is a listing of the wines we tasted with dinner, with my favorites starred. Some of these wines are still available for purchase at www.lanetanner.com although several of us bought out a few cherries from past vintages.

ਭ1988 Hitching Post Santa Ynez Valley Pinot Noir Magnum
1991 Lane Tanner Sanford & Benedict Vineyard Santa Barbara County Pinot Noir
ਭ1993 Lane Tanner Sanford & Benedict Vineyard Santa Barbara County Pinot Noir Magnum

1992 Lane Tanner Santa Barbara County Pinot Noir
ਭ1994 Lane Tanner Bien Nacido Vineyard Santa Maria Valley Pinot Noir
1999 Lane Tanner Bien Nacido Vineyard Santa Maria Valley Pinot Noir Magnum
ਭ2000 Lane Tanner Bien Nacido Vineyard Santa Maria Valley Pinot Noir Magnum
2003 Lane Tanner Melville Vineyard Sta. Rita Hills Pinot Noir
ਭ2003 Lane Tanner Bien Nacido Vineyard Santa Maria Valley Pinot Noir Magnum

2005 Lane Tanner Bien Nacido Vineyard Santa Maria Valley Pinot Noir
ਭ2007 Lane Tanner Bien Nacido Vineyard Santa Maria Valley Pinot Noir