Pinot Briefs —Newsletter 8.20
Bien Nacido Vineyard to Produce Own Label Dating to 1973, when the first grapevines were planted by Mexican immigrants, Bien Nacido has supplied grapes to many big names in California including Au Bon Climat, Gary Farrell, Landmark, Lane Tanner, Longoria, Qupe, Tantara, and Villa Mt. Eden. Bien Nacido Vineyard was recently honored as "California Vineyard of the Year" by the California Exposition and State Fair. Beginning with the 2007 vintage, the Millers (Steve, Nicholas and Steve's second son, Marshall) will release their first wines under the Bien Nacido Vineyard label including a 2007 Pinot Noir and a 2007 Syrah. A 2008 Chardonnay from Solomon Hills Vineyard will follow in 2008. Visit www.biennacidovineyards.com.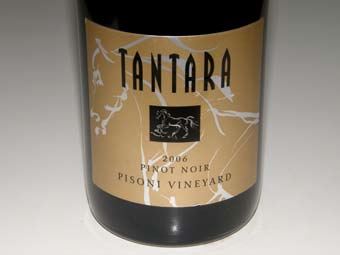 Tantara Pinot Noirs are tops in 2008 Recently at the "Pinot Camp" I organized for a small group in the Santa Rita Hills, we dined with Jeff Fink of Tantara at Hitching Post II restaurant in Buellton. We tasted through most of his 2008 lineup of wines. The 2008 Bien Nacido Vineyard Chardonnay ($38) was bright and juicy with appealing citrus, stone fruit and caramel flavors. The 2008 Bien Nacido Vineyard Adobe Pinot Noir ($48) is a bit big-boned and tannic for me, but had fans at the table. The 2008 La Colline Vineyard Arroyo Grande Pinot Noir ($48) was terrific with plenty of red and black fruit, but light on its feet with a generous finish. The 2008 Lindsay's Vineyard Sta. Rita Hills Pinot Noir ($55) was a step up in quality, but a step down in accessibility, requiring some more bottle age to mature. The 2008 Pisoni Vineyard Santa Lucia Highlands Pinot Noir was a big hit with those that were eating steaks. The wine was quite soft and restrained for a Pisoni and I loved it. Jeff also shared a clean skin bottle of Pinot Noir that was 90% whole cluster from a barrel of Dierberg Pinot Noir he was experimenting with and not offered for sale. Everyone went crazy for the spiciness of this wine. The Tantara lineup is very solid and highly recommended. Visit and taste with Jeff sometime at the winery which is located at Bien Nacido Vineyard. Wines may be ordered at www.tantarawinery.com or by calling 805-938-5051. As a side note, Jeff also crafted two proprietary custom blends for Wally's in West Los Angeles: the 2008 Tantara Cuvée Maria Pinot Noir (200 cases, $29.99) is a blend of 44% La Colline Vineyard, 37% Solomon Hills Vineyard and 19% Bien Nacido Vineyard. The 2008 Tantara Cuvée Lucia Pinot Noir (75 cases, $49.99) is a blend of 67% Pisoni Vineyard and 33% Brousseau Vineyard. The latter is not for the faint of heart. For information or to buy, visit www.wallywine.com.
Striking Decanter Newton Vineyard has collaborated with blown glass artist John Pomp to produce a decanter called The Touch. 100 limited edition pieces are mouth blown from 30% recycled glass. The decanter has a distinctive dimple on each side that creates a natural fit for the hand. $500 each. Visit www.newtonvineyard.com.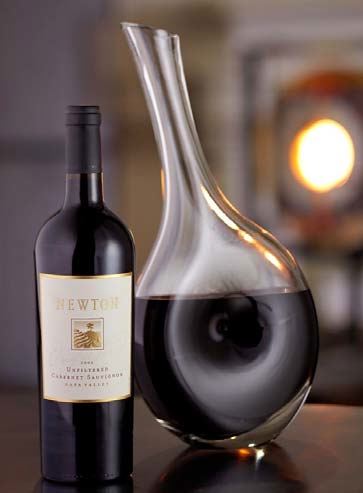 Pour Champagne at a Slant French scientists have demonstrated that pouring Champagne at a slant, as is typically done for beer, preserves more of the tiny gas bubbles that contain Champagne's aroma and flavor. The study, "On the Losses of Dissolved CO2 During Champagne Serving," was published in the Journal of Agricultural and Food Chemistry.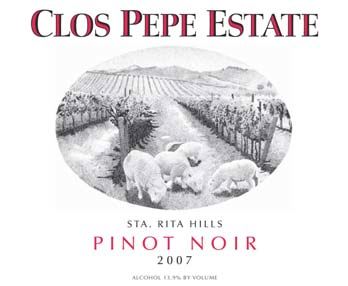 Clos Pepe Vineyard Open House The Pepes really know how to throw a party at their Tuscan themed estate and this year's "10th Annual Allocation Event and 2010 All-Star Allocation Barrel Tasting" was quite a blast. Hypersonic winemaker Wes Hagen must have come up with this hyperbolic title for the event, as Stephen and Catherine Pepe are very polite and soft spoken. Wes was holding court with barrel samples of his 2009 Clos Pepe Pinot Noirs and I thought enough of the wines to buy four bottles of the Clos Pepe Estate Vigneron Select ($44 futures price). I also snagged two bottles of the 2009 Clos Pepe Estate unoaked Chardonnay ($22 futures price). Older vintages were offered for tasting and purchase, all of which went down nicely with the delicious wood-burning-oven pizzas offered. Join the Clos Pepe admirers by buying some wine, and receive an invitation to next year's event.
Northwest Wineries are Tapping into the Chinese Market Earlier this year, a delegation from Washington and Oregon signed an agreement to promote wines in Hong Kong. Hong Kong's wine imports have soared since it eliminated an 80% excise tax in 2008. Hong Kong is now the fourth largest export market for United States wines behind Canada, The European Union and Japan, but so far, Oregon and Washington wine exports to the Orient are very small. Hong Kong's largest specialty chain, Watson's Wine Cellar, does sell Oregon's Erath and Argyle labels. Associated Press reported that Wine Intelligence estimates the number of Chinese who drink imported wine will grow to about 50 million in 15 years, about the same number of people in the United States who drink imported wine. Andy Tan, who is Sales Director of Fine Wine Sales for ASC Fine Wines in Shanghai, China, recently told me that the Chinese have potentially the world's largest fine wine market but the "market is still in its infancy." He said, "Wine is perceived by brand instead of the true genie inside the bottle. So apart from Bordeaux or Cabernet, and Burgundy from DRC, Pinot Noir is not as popular here." He went on to tell me, "This is a land "peeing" with Cabernet, not "pee-no wah!" Andy, himself, is constantly craving for good Burgundy or good Pinot Noir from Sonoma Coast and Sonoma Mountain.
Noted Sommelier Larry Stone to Head Evening Land in Willamette Valley According to OregonLive.com, Larry Stone, who left the restaurant business in 2005 to manage Rubicon Estate, will become the new General Manager at Evening Land in Oregon. Evening Land produces Pinot Noir and Chardonnay from vineyards in Oregon's Willamette Valley (for example, they own Seven Springs Vineyard), California's Sonoma Coast and Santa Rita Hills, and Burgundy. Stone will work with consultant Dominque Lafon and continue his own Sirita Winery project in Napa Valley.
New Food & Wine Event for Central Coast The inaugural "SUNSET - Savor the Central Coast" will be held September 30-October 3, 2010 at Santa Margarita Ranch and locations throughout San Luis Obispo County. The event will highlight the talents of Central Coast winemakers, chefs and artisan food producers with culinary tours, celebrity chef demonstrations, winemaker dinners, winery and harvest tours, Best-of-the-Best Food Carts, and many other activities. The Concert and Fireworks Finale will feature Chris Isaac. For event details and tickets, visit www.savorcentralcoast.com.
Marcassin to Locate Winery in Windsor Helen Turley plans to build a winery for her Marcassin Vineyard brand this summer in Windsor. 80% of Marcassin Pinot Noir and Chardonnay, ranging from 2,500 to 3,000 cases a year, is sold to mailing list customers for $125 a bottle. The mailing list's waiting list is hopelessly long. Plans call for a new 10,000 foot facility in a new industrial park off Conde Lane in Windsor adjacent the DuMOL winery. Marcassin wines have been produced at Martinelli Vineyards & Winery since 1992 and Turley has been the consulting winemaker for Martinelli until this year. Bryan Kvamme was named winemaker at Martinelli in 2008. The Windsor winery is approved for 10,000 case production by 2015, but there are no plans to become that large.
Inman Family New Winery & Tasting Room Kathleen Inman is proud to announce that she has said goodbye to her industrial unit in Windsor and moved to a new ecologically friendly winery and tasting room at Olivet Grange Vineyard. The tasting room is open Friday-Sunday from 11:00 to 4:00 at 3900 Piner Road in Santa Rosa. Visit www.inmanfamilywines.com for more information.
Benton Lane Wins Top Award at SF International Wine Competition The San Francisco International Wine Competition is the largest wine competition in the world, evaluating wines from 27 countries and 28 states, a total of 3,897 entries. Benton Lane was the only Oregon winery entry to win a Gold Medal for its 2008 Willamette Valley Estate Pinot Noir and 2008 Williamette Valley First Class Pinot Noir.
Winemaker Greg Linn (Ambullneo) Gives a Math Lesson "The prevailing wisdom is one cluster equals one glass of wine, but not all clusters are created equally. The average cluster when fully mature has approximately 75 grapes on it. Four clusters or 300 grapes equal one bottle of wine. Each vine in the vineyard has approximately 40 clusters. An average vine produces 10 bottles of wine or almost a case. So, how much wine or grapes in a barrel? The answer is 1200 clusters = 60 gallons or one barrel. But, hold on! Fine wine goes through severe sorting. Also, the amount of juice in a Cabernet grape is much higher in volume than that of a Pinot Noir grape. So the type of grapes come into play. After three drops of fruit in the vineyard and sorting at the tables following harvest, we are often left with, on the high side, 12 clusters per vine and, on the low side, 6 clusters per vine. That's with the smallest of clusters used in fine Pinot Noir. Remember, that is before any barrel selection, so I will leave that math to you because I'm now confused. The point is, it takes great sacrifice to make great wine, so drink less, but drink better."
Wine on Tap According to Food Arts magazine, the latest trend in restaurant wine service is offering premium wines in steel kegs. The first large-scale application of wine on tap occurred four years ago at TWO Urban Licks restaurant in Atlanta. Forty-two wines are offered on tap, split equally between reds and whites. The steel torpedo kegs traditionally used for boutique beer are housed in a glass and steel temperature controlled tower and are protected with a blanket of argon gas as they deplete. About 90% of wine sales come from wine on tap at the restaurant. Wineries participating include Au Bon Climat, R. Stuart and Company, La Crema, and Steele Wines. Tap wines are offered by the half glass, glass, 10-ounce mini decanter, 20-ounce decanter, and 42-ounce decanter with three tiers of pricing. TAP, another restaurant owned by Concentrics Restaurants, opened in Atlanta in 2007, and serves 16 wines on tap. The Tavern at Lark Creek in Larkspur, California offers kegs of wine from Truchard Vineyards, Saintsbury, Paul Dolan Vineyards and Qupé Wine Cellars. By saving about 35% on the purchase price, Lark Creek can offer glasses of wine that sell at other restaurants for $13, for just $8 or $9. Single kegs also offer an ideal way to offer special wines that are produced in very small quantities or even exclusive wines sold only to restaurants.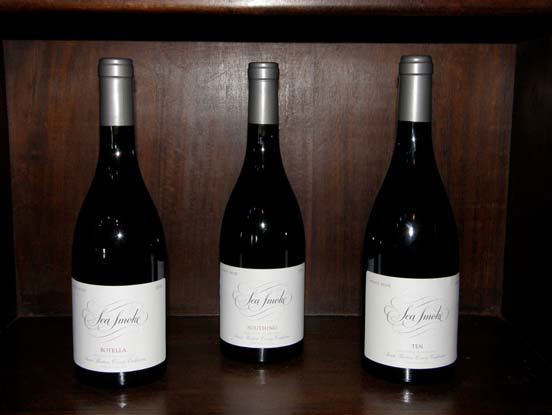 Sea Smoke I visited Sea Smoke recently as part of a weekend "Pinot Camp" in the Santa Rita Hills. We admired the vast 350-acre property of which 100 acres is planted to Pinot Noir and 10 acres to Chardonnay. There are 10 different clones of Pinot Noir planted (no heritage clones included). New winemaker, Don Schroeder has worked himself to the top with the departure of Kris Curran after starting at the winery as a cellar rat several years ago. He is refining the Sea Smoke style, emphasizing less alcohol and new oak (down from 100%). The new 25,000 square foot winery facility in Lompoc near Pali Wine Co. is very impressive. Winemaking typically involves the following. The grapes are 100% de-stemmed, and after fermentation, an extended maceration of 5 to 30 days is carried out, accounting in part for the massive extraction of the Sea Smoke Pinot Noirs. The wines are typically aged 18 months in barrel without racking. Sea Smoke produces three Pinot Noirs: Botella which is the winery's basic workhorse bottling, Southing which is more complex, nuanced and elegant, and Ten, which is the boldest and biggest structured wine in the lineup. The wines are sold almost entirely through a mailing list which currently has a waiting list. Visit www.seasmokecellars.com.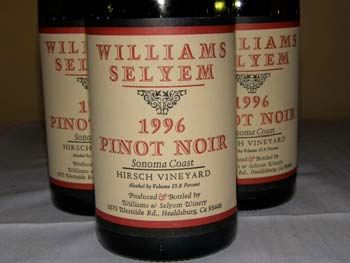 Williams Selyem Opens New Winery This iconic Westside Road Pinot Noir producer has moved into a new modern winery overlooking the Russian River Valley. Williams Selyem wine list members can visit by appointment and picnic on the grounds, but the visitors center is not open to the public. On another front, Williams Selyem will not be allowed to use the "Litton" designation on their Litton Estate Pinot Noir after 2008 due to a name challenge. The vineyard will be renamed Williams Selyem Estate Vineyard and the wine produced from this vineyard will carry that designation.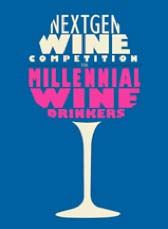 How to Rope Millennials into Wine Wine consumption among the millennial population has increased 38% in the past year according to the Wine Market Council. The Millennials are also known as Generation Y, Generation Next or Net Generation. There are no precise dates when the Millennial generation starts and ends, but generally ages range from 16 to 33 in 2010. The 70 million Millennials are the second largest U.S. consumer group in history (the Baby Boomers generation had 78 million), but have grown up more exposed to wine than the older Baby Boomer generation. I know looking back at my life as a Baby Boomer, I did not begin seriously understanding and consuming fine wine until I had a solid job with spendable income and this did not occur until I was over the age of 35. In June, the NextGen Wine Competition for Millennial Wine Drinkers was held in Santa Rosa and included a category for winemakers under 35 and all the judges were wine professionals in the Millennial age group. Even though the Millennials are fast becoming interested in wine, most of the professionals who tell people what to drink are in their 50s and 60s creating a big disconnect. The result is that Millennials don't give much credence to wine scores. The competition indicated that Millennials are not looking for big, powerful wines and are more willing to experiment with many different styles of wine. They embrace online information, Quick Response technology, and social networking to find wines to drink. The competition's best of show wine was a non-vintage Barefoot Cellars Moscato ($6) and the best of show in the young winemaker's division was a 2007 Charter Oak Zinfandel ($42). A tasting of 150 medal-winning wines from the first NextGen Wine Competition for Millennial Wine Drinkers will be held at Herbst Pavilion, Ft. Mason, San Francisco on October 21. Visit www.nextgenwinecomp.info. I have noticed that at major wine festivals I attend such as IPNC and WOPN, there are very few Millennials, presumably because the events require too much commitment in weekday time, travel and expense, so smaller, one day events may be more suitable.
San Francisco Tax on Alcoholic Beverages As reported in SFGate.com (August 5, 2010), Supervisor John Avalos has proposed legislation that would charge wholesalers and certain distributors of alcoholic beverages a fee of just under 6 cents for every ounce of alcohol sold. The fee would add approximately 4.5 cents to a 6-ounce glass of wine. The justification as voiced by some was that it would help curb human and financial costs of excessive alcohol use, but I see it as simply another attempt of big government to get their hands on more money at the expense of small business. Fortunately, the mayor does not support the legislation.
Greg La Follete Launches New Label Acclaimed winemaker Greg La Follette (Tandem, De Loach, Londer, Flowers) has started an eponymous new label, La Follette. The new venture is a partnership between Greg and Wine Creek, a small multi-brand wine business owned by the Kight family. The new label will concentrate on cool-climate Pinot Noir and Chardonnay "at a price that more people can afford." A Grand Release Dinner will be held Saturday, August 28, 2010 at Van Der Kamp Vineyard in Santa Rosa. Visit www.lafollettewines.com.