Furthermore Wines: On To Something
Furthermore Wines is a boutique urban winery in San Francisco specializing in small lots of Pinot Noir. The winery was launched by two Pinot Noir lovers, Robert Zeches who is a software engineer currently doing materials science research at University of California at Berkeley, and Chad Richard, a digital media entrepreneur employed by Apple.
I first sampled their 2007 and 2008 Pinot Noirs at this year's Pinot Days in San Francisco and was very impressed. Their wines have garnered considerable interest from the wine press and have won accolades at major wine competitions. I recently tasted their three 2008 releases, and the quality indicates that they are on to something. All three wines show deft winemaking and choosing among them comes down to personal preference.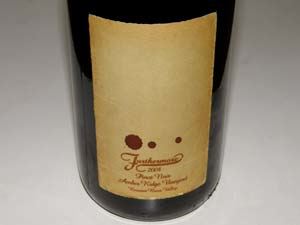 2008 Furthermore Amber Ridge Vineyard Russian River Valley Pinot Noir
14.3% alc., pH 3.66, 75 cases, $39.95. Clones 115, 667 and 777. Aged 12 months in 33% new French oak. · Moderately dark reddish-purple hue in the glass. Restrained but pleasing aromas of strawberries, red raspberries, red cherries, dark chocolate and a hint of barnyard. A charming wine that needs time to open. The red ripe strawberry and raspberry fruit is seductive, accented by pleasing notes of cherry cola, spice and mocha. Impressive aromatic persistence on the finish. Of the three wines, this one evolves more in the glass, is more nuanced, has the most pinotosity, and is the one I prefer. Very good (+).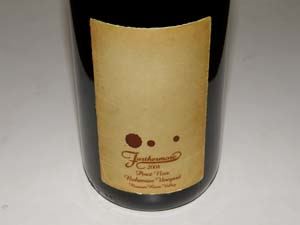 2008 Furthermore Bohemian Vineyard Russian River Valley Pinot Noir
14.2% alc., pH 3.53, 75 cases, $39.95. A very cool vineyard site located in Freestone. Clones 115, 667 and 777. Aged 10 months in 50% new French oak. · Dark reddish-purple color in the glass. Effusive aromas of blackberries, black plums, and Xmas spices. Rustic and earthy with plenty of juicy dark berries, cassis, oak toast and spice flavors. Generous and intense drifting to Syrah in style. Lacks some persistence on the finish. With nicely structured tannins and upfront drinkability, this is a California fruitista wine that will have fans. Good.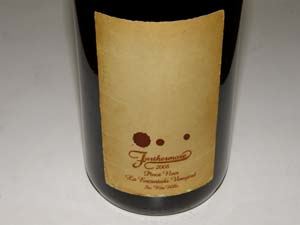 2008 Furthermore La Encantada Vineyard Sta. Rita Hills Pinot Noir
13.8% alc., pH 3.66, 50 cases, $39.95. Organic and biodynamic vineyard owned and farmed by Richard Sanford. Clones 115, 667 and 777. Aged 12 months in 50% new French oak barrels. · Moderately dark reddish-purple hue in the glass. Aromas of dark stone fruits and berries highlighted by oak spice and toast. Tasty core of moderately concentrated dark red and black fruits with an earthy and savory caste, and a refreshing citrus tang on the finish. The enticing and heady fruit is lifted nicely by the acidity and the creamy mouthfeel is appealing. This wine gives you a big charge of fruit and little else, but that fruit charge is delicious. Good (+).
Furthermore Pinot Noirs are sold through a mailing list (www.furthermorewines.com) and online. The proprietors could offer more information on their website, but this is understandable given they have day jobs as well. As the winemakers become more familiar with their fruit sources, the wines will undoubtedly improve, although the initial efforts have been impressive.