OREGON-O8-Oh My
The 2008 Oregon Pinot Noirs continue to impress for their impeccable balance. If you are of the persuasion that life begins at 14.0 or less, and you love Pinot Noirs that grace the table beautifully, I would suggest that you stock up on 2008 Pinot Noirs from the Willamette Valley. Unfortunately, in many cases you will have to forego immediate pleasure as the wines need some bottle age to show their best. Here are a few 2008 Oregon Pinot Noirs I tasted recently and can highly recommend.

LaVelle Vineyards
This is the oldest winery in the southern Willamette Valley but a new find for me. The winery and estate vineyard are located on a hillside 15 miles west of Eugene. Winemaker Matthew LaVelle crafts multiple varietals including Willamette Valley Pinot Noir, Dry Rosé of Gamay, Pinot Gris, Riesling, and Gewürztraminer, as well as Columbia Valley Chardonnay, Viognier, Syrah, Cabernet Sauvignon, Merlot and Bordeaux blends. Matthew joined the winery in 2006 and took over as winemaker in 2008, working closely with consulting winemaker Gary Carpenter. Matthew's father, Douglas LaVelle, founded LaVelle Vineyards in 1994, taking over the existing bonded winery license from Lee Smith (Forgeron Vineyards). In 1998 he opened the LaVelle Wine Bar & Bistro (now known as The Club Room at the Market) at the 5th Street Public Market in downtown Eugene, Oregon where gourmet cuisine is paired with LaVelle wines. The winery is open daily from 12:00 to 5:00 for tasting. The wines are also sold through a mailing list and online (although the online store is not operative when I checked recently). The website is www.lavellevineyards.com.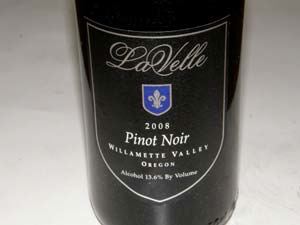 2008 LaVelle Vineyards Willamette Valley Pinot Noir
13.6% alc., 635 cases, $24. · Moderate reddish-purple color in the glass. Great nose that keeps pumping out aromas of Bing cherries and spice. Delicious red berry and cherry fruit core with the slightest note of peppermint. Elegant and harmonious with soft tannins and a refreshing finish showing some persistence of juicy fruit. Highly drinkable now and a great value. Very good (+).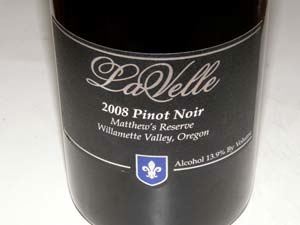 2008 LaVelle Vineyards Matthew's Reserve Willamette Valley Pinot Noir
13.9% alc., 430 cases, $35.99. The first Reserve Pinot Noir produced since 1998. · Moderate reddish-purple hue in the glass. Somewhat brooding initially but opening nicely with coaxing to reveal an intense perfume of fresh darker berries and cherries with a subtle savory and floral note. More structured and intense than the regular Willamette Valley bottling, with tasty flavors of cassis, black cherry, and anise augmented by a note of loamy earth and oak in the background. The impressive depth of flavors really grabs your attention. Drinks easily now but will be better with another year or two of cellaring. A Pinot that deserves the Reserve designation.
Cornerstone Cellars
A collaboration between Cornerstone Napa's Craig Camp and renowned Oregon winemaker Tony Rynders (formerly the winemaker at Domaine Serene for ten years). Camp developed a passion for Pinot Noir thirty years ago when he began importing the Burgundy selections of Rebecca Wasserman and made frequent trips to the Burgundy estates she was discovering. Together they have released their first Pinot Noir from the 2008 vintage representing a synthesis of each of their perspectives. Camp likes edgy structure and acidity with Rynders leaning more towards richness and depth. Their goal is the combine their preferences to produce a wine with a balance between structure and power while reflecting Oregon terroir. Cornerstone Cellars has found a home in the Willamette Valley, sharing a winery with Rynders just outside of Gaston, where Rynders also makes his own wine under the Tendril label. Visit www.cornerstonecellars.com for further information and to acquire the wine.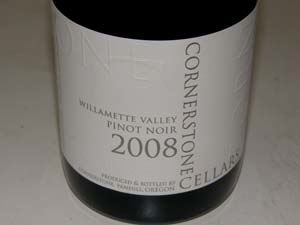 2008 Cornerstone Cellars Willamette Valley Pinot Noir
13.9% alc., 50 cases, $45. 50% Eola Hills AVA and 50% Yamhill-Carlton District AVA. 75% Pommard clone and 25% Dijon 115 clone. Aged 15 months in 50% new and 50% 1-yearold French oak barrels. · Moderately dark reddish-purple color in the glass. Lovely aromas of dark berry jam, spice and roseate potpourri. Delicious essence of darker berry and stone fruits with a note of anise, oak spice and loamy earth. Still has some tannin to shed and isn't offering all the charm it will in another year or two. Doesn't yet capture your full attention, but definitely gets a nod. Very good.
Willamette Valley Vineyards
This is one of Oregon's iconic wineries founded by Jim Bernau in 1983 in Turner, Oregon. Today, Willamette Valley Vineyards (WVV) is Oregon's third largest winery, releasing over 112,000 cases of wine each year, half of which is Pinot Noir. The winery represents the nation's first successful self underwritten public offering and now has over 4,500 owners. The Estate Vineyard consists of 50 acres planted to Pommard and Wädenswil clones with some blocks grafted over to Dijon clones. In 1997, the winery acquired the Tualatin Estate near Forest Grove which has been updated with newer rootstocks and planting of Dijon clones. All vineyards are LIVE certified. The current winemaker, Forrest Klaffke, with 30 years of winemaking experience followed Joe Dobbes at WVV in 2001. The winery is innovative and progressive. In 2005, they were the first winery to include resveratrol levels on their wine labels. More recently, they became the first winery to use cork stoppers harvested from forest lands certified by the Rainforest Alliance to Forest Stewardship Council. The tasting room sits on a hillside with impressive views (see below) and is open daily. The website is www.willamettevalleyvineyards.com. WVV has an impressive lineup of multiple Pinot Noirs with both the Willamette Valley appellation blend and the Whole Cluster Willamette Valley Pinot Noir made by carbonic maceration in the Beaujolais style solid, dependable, value-priced wines. The three special 2008 vineyard designate wines reviewed below are still very closed. I tasted both wines from an opened and re-corked bottle four days after popping the corks and they were drinking beautifully. I would cellar these wines for at least two years and decant when opened. These wines are not released to general public at this time.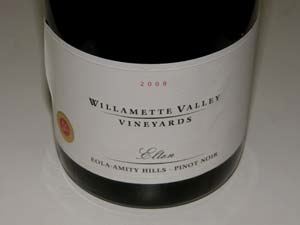 2008 Willamette Valley Vineyards Elton Eola-Amity Hills Willamette Valley Pinot Noir
13.0% alc., 415 cases. From a 60-acre vineyard containing clones 114, 115, Pommard and Wädenswil planted in Jory soil. Aged 14 months in 62% new French oak barrels. An Oregon Certified Sustainable Wine. · Aromas of red berries including strawberries with strong notes of dried oak, straw and mint. Red-fruited and austere at present with a spark of acidity on the hi-tone finish. Soft and elegant. Very good.
2008 Willamette Valley Vineyards South Block Willamette Valley Pinot Noir
13.5% alc., 100 cases. Sourced from the first 15 acres planted by founder Jim Bernau in 1983. The vines are self-rooted and organically farmed. Clones 667, 777, Pommard and Wädenswil clones in Jory soil. Aged 15 months in 47% new French oak barrels. An Oregon Certified Sustainable Wine. · Very slightly corked. Shy cherry and berry fruit aromas with highlights of oak and underbrush. Tasty cherry, cranberry and pomegranate fruits framed by bright acidity evident on the citrus peel-toned finish. Closed and tight but showing promise and will undoubtedly deserve a higher rating in the future. A very slightly faulted wine but still Good.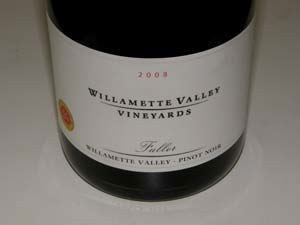 2008 Willamette Valley Vineyards Fuller Willamette Valley Pinot Noir
13.5% alc., 25 cases. From the Tualatin Estate which was first planted by Bill Fuller in 1973. This wine is a tribute to him. Clones are 114, 115 and Wädenswil planted in Laurelwood soil. Aged 15 months in 50% new French oak barrels. · Moderate reddish-purple color in the glass. Shy but pleasing aromas of berry compote, currants, raisins and supporting oak. Impressive core of juicy darker berry fruits framed by bright acidity and wrapped in soft fruit tannins. Discreetly proportioned in body and weight with deft use of oak. Flat out terrific four days later from a previously opened and re-corked bottle. A very special collectable wine that will reward the patient.