Halleck Vineyard: "My Three Sons"
In 1980, Ross Halleck founded the marketing agency, Halleck Design Group, to assist such Silicon Valley technology giants such as Hewlett-Packard and Sun Microsystems. Halleck later enlisted clients in the Northern California wine industry such as Beaulieu, Iron Horse and St. Supery. Drawn by the allure of the wine business, he moved to Sonoma County in 1991 with his wife Jennifer and their three sons, Connor, Adam and Quinn. Buoyed by Jennifer's experience and interest in winemaking and wine retailing and the couple's shared passion for wine, they planted a 1-acre Pinot Noir vineyard behind their home in the hills in southwestern Sebastopol in 1992 and 1993, with the intent to set aside profits from this vineyard to help fund their three sons' college educations. Planted to Dijon clones 115, 667 and 777, this vineyard was first harvested in 1999. The grapes were sold in 2000 and 2001 to Tandem Winery, with the first Estate Pinot Noir under the Halleck Vineyard label appearing in 2002.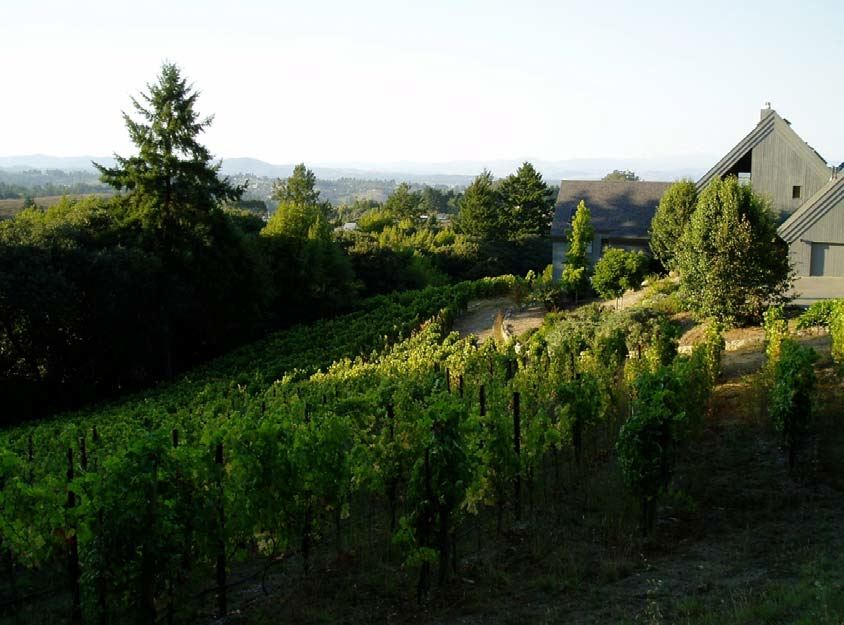 The Halleck Estate Vineyard lies in a region of southwestern Sonoma County that noted Pinot Noir authority John Winthrop Haeger spotlighted in a SFGate.com article in 2008 titled, "Sebastopol's Hilly New Haven for Pinot Noir." (www.articles.sfgate.com/2008-08-29/wine/17122232_1_russian-river-valley-greg-la-follettesonoma- county/3). According to Haeger, "Sebastopol Hills is a roughly triangular chunk of land consisting mostly of northeast and southwest oriented ridges on the lee side of a transverse ridge that separates the Russian River Valley from the Petaluma Gap. It is also the main watershed for Arastradero Creek. Though the area has not even been proposed as an official wine appellation, growers and winemakers sometimes talk about Sebastopol Hills as if it were." The Pinot Noirs from this region are distinct from those grown in the general Russian River Valley, Green Valley, Petaluma Gap and Sonoma Coast. Winemaker Rick Davis was quoted in the article as saying, "Sebastopol Hills Pinots show darker fruit, more earth and more masculinity. They are a bit more masculine and have a bit more mid-palate weight." Haeger notes, "In tastings, Sebastopol Hills Pinots demonstrate a preponderance of earthy and savory elements with unusual notes of salt marsh, iodine and pepper, and undertones of sober, dried fruit - a marked contrast to the exuberant fresh fruitiness that often typifies Russian River, and the wild, exotic, garrigue-like flavors that often mark wines from the true Sonoma Coast."
Beginning in 2003, the Hallecks expanded their Pinot Noir offerings by sourcing fruit from other nearby premium vineyards. A Three Sons Cuvée was introduced in 2003 which included fruit from the Hallberg and The Farm vineyards. Separate vineyard designated Hallberg and The Farm Pinot Noirs appeared in 2005.
The three 2005 Halleck releases were exuberantly reviewed in the PinotFile (www.princeofpinot.com/article/17/). A Clone 828 bottling appeared once in 2006 and a Hillside Cuvée was added to the lineup in 2007. The initial winemaker was Greg La Follette, later replaced by a protege, Rick Davis (Londer Vineyards, CalStar), beginning with the 2005 vintage. Jennifer spent time working at Tandem Winery with La Follette and she has been a capable assistant to Davis.
Winemaking is similar for each of the Halleck Pinot Noirs with modifications employed as each wine dictates. Grapes are picked at night, hand-sorted and de-stemmed. A 5-day cold soak is followed by whole berry fermentation in open-top fermenting bins. A portion of whole cluster is used if appropriate stem ripeness dictates. Generally, 30% new and 30% 1-year-old French oak barrels from several coopers are used for aging. Once the blends are in tank, an oak profile is applied to each new blend. The wines are bottled 6 months after blending. At bottling, the wines are neither fined or filtered.
Halleck Vineyard Pinot Noirs are sold through the winery's online store (www.halleckvineyard.com). There is generous distribution to restaurants and retailers throughout the United States. A Sauvignon Blanc and Gewürztraminer are also produced. The winery has an active event schedule including trips that are offered to fans of the winery who are welcomed to connect with the Hallecks. People travel from all over the country to participate in Halleck's harvest. The Halleck Vineyard Wine Club offers members many perks including free tickets to the winery's parties and events. Production varies with the vintage, but is approximately 1,500 cases annually. The family recently at their favorite Pho haunt are pictured below.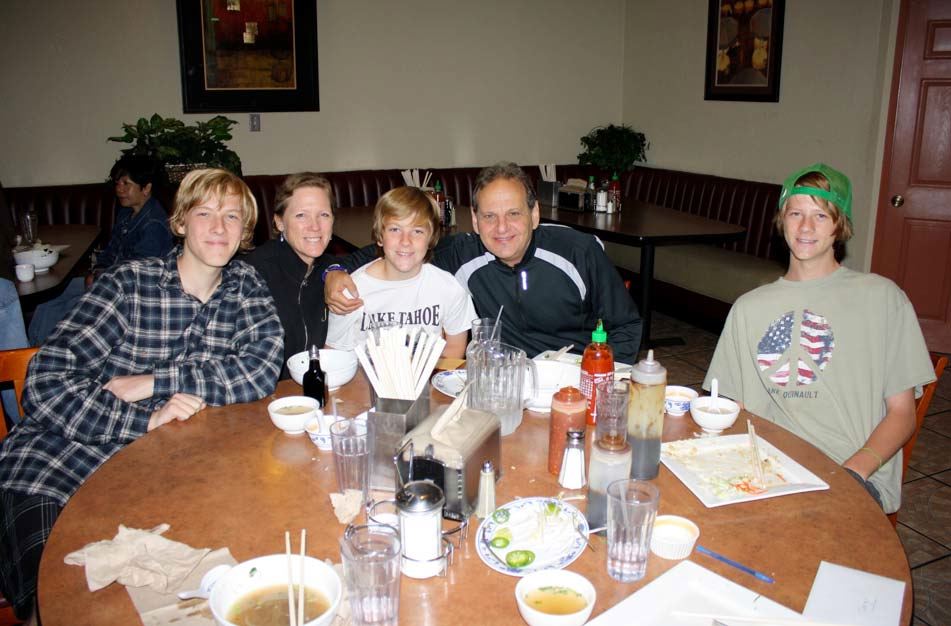 I reviewed two of the 2007 Halleck Vineyard Pinot Noirs over a year ago and the young wines understandably hadn't quite come together. I recently sampled the lineup of four 2007 Halleck Vineyard Pinot Noirs and came away very impressed with the rich flavors, admirable finesse and overall polish of the wines. Halleck is now in the upper echelon of Sonoma County Pinot Noir producers and the Pinot Noirs are definitely worthy of your utmost attention. In 2007, there is also an Estate Grown Sonoma Coast Pinot Noir ($75).