Pinot Noir Consumes Oregonians
Pinot Noir is the new darling of wine cognoscenti in California, but it was Cabernet Sauvignon and Chardonnay from Napa Valley that startled the world at the famous Paris Spurrier tasting in 1976 and established California as the foremost New World source for these two varietals. Oregon, on the other hand, staked its wine reputation on Pinot Noir from the beginning. In 1979, Robert Drouhin of the famed Domaine Drouhin in Burgundy, set up a blind tasting of French Burgundies versus American Pinot Noirs. At this now famous Gault-Mileu tasting held in Paris, a 1959 Domaine Drouhin Chambolle-Musigny came in first, but David Lett's 1975 Eyrie Vineyards South Block Reserve Pinot Noir took second.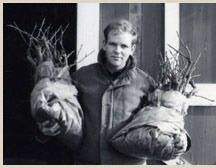 David Lett was one of several Oregon wine pioneers including Charles Coury, Dick Ponzi and Dick Erath who were emigrants from California that headed north to Oregon in the 1960s at a time when the thrust of the California wine industry was Cabernet Sauvignon and Chardonnay. David Lett, who has become known as "Papa Pinot," was actually Utah-born but had his formal education in winemaking at the University of California Davis before heading to Oregon in 1965. At Davis, Lett's professor, Harold Berg, told him that there were very few climates in the United States suitable for Pinot Noir. Lett was committed to Pinot Noir and although he considered both New Zealand and Portugal, he kept coming back to Oregon, thinking it was the closest climate to Burgundy. Despite the warnings of his colleagues that Pinot Noir would never ripen in the cold Oregon climate he gathered 3,000 vine cuttings and, at age 25, moved to Oregon's Dundee Hills (photo shows a young Lett). His schoolmate at Davis, Charles Coury, arrived about the same time and purchased an abandoned 45-acre vineyard near Forest Grove. It was Coury who wrote a master thesis at Davis titled, "Cold Climate Amelioration Hypothesis," in which he hypothesized that vinifera varietals produced their best quality wines when ripened just at the limit of their growing season. This hypothesis makes perfect sense today, but in 1963 the idea was revolutionary.

At the time that Lett's Pinot Noir astonished the international wine scene, there were 34 bonded wineries in Oregon farming 1,100 acres of vineyards. Today there are 320 wineries, second only to California and Washington. The latest USDA figures show that Oregon has 8,884 acres of Pinot Noir planted, second only to California which has 27,518 total acres of Pinot Noir in the ground. Pinot Noir is the most widely planted grape by far (nearly 80% of all vineyard plantings) and nearly half of Oregon's total case sales are Pinot Noir. The majority of the Willamette Valley's 200 wineries are small family-owned producers of Pinot Noir.
Driven by a string of excellent hot and dry vintages beginning in 1998 and extending to 2003, Oregon's Pinot Noirs have reached world-class critical acclaim. People still think Oregon is rife with hippies making wine out of garages in their backyards. This may have been true back in the 1970s, but today Oregon Pinot Noir is crafted by a group of highly-educated, talented and dedicated winegrowers. They may still sport beards, ponytails, checkered shirts and a laid back attitude, but the Pinot Noir they produce rivals any in the world.
Despite the advances in quality of Oregon Pinot Noir, some of the criticisms leveled at Oregon winemakers of late include the over reliance on single vineyard bottlings which lack true distinction, the escalating prices (comparable to California, however), and the trend toward wines that are Caliesque in fruitiness and extravagance. Paul Gregutt, writing in the Wine Enthusiast (October, 2007) notes, "A disheartening number make bulked-up wines that are so saturated in color, slathered in oak, and reeking of alcohol, that they could pass for Zinfandel or Syrah. As a critic, I may reward such behavior. But as a consumer, I want my Pinot to show elegance and breed. I want more texture, less barrel." He concludes, "Oregon's potential far exceeds its accomplishments to date." David Lett was recently quoted as saying, "Pinot Noir should be a princess, not a monster. Who would you rather eat with?" Noted wine writer Matt Kramer has pointed out that winegrowers have become too dependent on "flavor-potent" Dijon clones that are picked very ripe. He feels this results in a sameness to the wines that obscures the site from which they originate.
I have been puzzled myself by the mind-boggling number of single-vineyard bottlings. To be sure, there are a few established and recognizable vineyards that merit vineyard-designate bottlings in Oregon such as Shea Vineyard, Seven Springs Vineyard, Privé Vineyard and Maresh Vineyard, but many others' only justification seems to be the opportunity to charge a higher price. Blended wines can be just as good and are not as subject to the vagaries of the vintage. To be fair, California has been guilty of this fetish with vineyard-designate Pinot Noirs as well.
I do not feel the style controversy that consumes wine critics of Oregon Pinot Noir (as well as California) personally overwhelming for I believe in diversity and I enjoy them all. We should not champion a one-size-fits-all model of Pinot Noir. As much as I prize moderate alcohol, exquisite balance, structural elegance, judicious oak, and sublime texture over showy fruit, many consumers enjoy a fruity, flirty New World Pinot Noir infused with hedonism. In the pages to follow, you will find an extensive tasting of 2005 and 2006 Oregon Pinot Noirs in all styles from opulent and sexy to elegant and sensual. The tasting notes are intended to give you a feel for the wine's style and appeal, a starting point for you to explore further through your own palate.
A few relevant comments on the 2005 and 2006 vintages in Oregon may be helpful. Rain is synonymous with Oregon, but unfairly so, for in the Willamette Valley, there is no more rain than other cool climate wine growing regions of the world. That is not to say that rain isn't a problem, for much of Oregon's rainfall occurs in the spring and fall (as well as throughout the winter), with dry conditions only in mid-summer. From 1998 to 2003, Oregon enjoyed a string of hot, dry vintages without significant rain pressure. However, from 2004 to 2007, rain was a significant influence on each vintage. In 2004, rains in September receded before final ripening and the vintage turned out to have low yields with superbly balanced flavors, acidity and tannins. 2005 was shouldered with rain and cool weather in the spring and at harvest. It was a challenging vintage with irregular flowering. Harvest was extended, lasting into November for several wineries. Like 2004, the wines are of high quality, nicely balanced, and with excellent acidity. In 2006, there was higher than normal rainfall in the winter and a dry summer leading to record high yields. Considered a ripe, California-type vintage with a little higher alcohols, the few wines that have been released show great promise. The advances in viticulture in Oregon have enabled the winegrowers here to craft quality Pinot Noir despite challenging weather during the growing season.
It is interesting to read an article by James Laube in the Wine Spectator from 1993 on Pinot Noir titled "American Pinot Noir: A Work in Progress." (February 28, 1993). It was the consensus at the time that there were few good winemakers and the wineries were too poor to afford the best equipment. Winemakers were learning on the job and still discovering the best vineyard and winemaking techniques. They were plagued by flaws and inconsistencies in their wines. It was clear, however, that the winemakers were undaunted and as William Hill, founder of the Van Duzer label said, "I've never seen such an intensely committed group of wine artists in my life." Their commitment has paid off.