WesMar: Tasting Some Older and Anticipating Some New
Those of you who read the PinotFile regularly know that I am a fan of WesMar Pinot Noir. This small garagiste winery in the Russian River Valley is modeled after the original Williams Selyem winery. This is not surprising since WesMar owners Denise Mary Selyem is the daughter of Ed Selyem and her husband, Kirk Wesley Hubbard, worked at Williams Selyem for several years before the winery was sold in 1997. The winery was launched ten years ago without partners, investors or bank lends. They liquidated their finances by selling a condominium and a large wine cellar to chase their dream. Today, the pair craft their wines in a 1,500 square foot industrial space in a former apple processing plant on Gravenstein Highway in Sebastopol, home to many other artisan Pinot Noir producers. They are a two person operation, sharing all winemaking and winery management duties. There are no employees, consultants or brokers. Practically all their wine is sold directly to their adoring mailing list. The photo below shows Kirk and Denise (in the center) with two happy consumers at this year's Pinot Days San Francisco.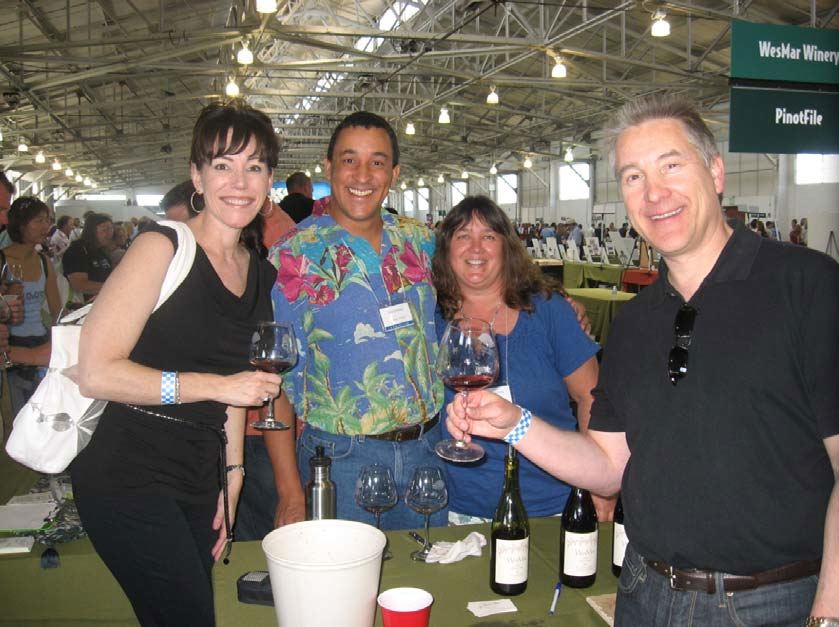 The name, WesMar, pronounced "Wes-Mare," is a combination of Kirk and Denise's middle names. There are two very distinctive features of WesMar Pinot Noir. First, is a remarkable consistency from one vintage to the next and one bottle to the next, regardless of vineyard source. There is an uncompromising commitment to quality, a reflection of the fact that Denise and Kirk are control freaks. They go about their work meticulously with tight controls and dedication. I can honestly report that I have been drinking WesMar Pinot for eight years and have never had a bad bottle. In 2008, the Hellenthal Vineyard on the Sonoma Coast was affected by the summer wildfires. When fermentation began, Kirk and Denise discovered an ash and smoky quality permeating the wine. Attempts to mask the flavor through blending were unacceptable. Since they do not filter their wines, they had little choice but to sell all the Hellenthal wine on the bulk market, even though it was their largest production. This reflects their vow of quality and their reluctance to release any wine that does not call them or you back for more.
Second, the separate bottlings from each vintage are always unique. Denise remarks, "People tend to gravitate toward that which is familiar. This may be even more true with wines. We all want to replicate the success we have had with a particular vineyard or vintage. To counter this phenomenon, we strive to make wines that have individual personalities but offer very similar levels of richness." Denise refers to these distinct terroir driven differences as "WesMarrior."
WesMar harkens back to a simpler time in the wine industry when people visited wineries, got to know the owners, and bought their wines directly. At WesMar, there is no effort wasted on a fancy tasting room or an expensive marketing program, yet Kirk and Denise embrace contact with their consumers and warmly receive visitors by appointment to their modest winery. They refuse to sell their wines on the internet, preferring to deal with their customers on a more personal level by written or phone communication. They want customers to call them to order wines, realizing that to know and treasure their wines is to know and talk to them.
WesMar owns no vineyards and sources grapes from Russian River Valley and Sonoma Coast vineyards through long-established relationships. Kirk and Denise are developing their modest ranch property in the Russian River Valley and have a vineyard development permit in hand. Soon they will be removing the old apple trees on the property and laying the plans for an estate Pinot Noir vineyard.
A unique feature of the winemaking at WesMar is the use of retired rectangular open top milk storage tanks that go back to the early days of Williams Selyem. The tanks allow good access for hand punch downs and better skin to juice extraction due to their generous horizontal rather than vertical dimensions. Because the tanks had internal cooling jackets to keep the milk cold, the tanks can easily be used to control fermentation temperatures using glycol.
Whole cluster ranges from 20% to 40%, depending on the vintage and a number of other factors. The goal with whole cluster is to achieve aroma and flavor nuances and age ability, yet preserve early drink ability that most consumers prefer. Fermentations last 7 to 10 days after which pressing is carried out with a vintage incarnated bladder press once used for apples. Aging is carried out in 50% to 70% new Francois Fréres oak barrels for 11 months. The entire winemaking process employs gravity flow as WesMar owns no pumps. Fining and filtration are unnecessary because the wines are lovingly tendered in small lots and constantly monitored for sanitation and stability. No flavor nuances are ever squandered by manipulation or intervention. Asked to describe the WesMar style, Denise touts, "Aromatic, fruit-forward, modest ripeness, balanced acidity, complimentary fruit tannins, subtle oak impressions, rich flavors, finishes with a cloying mouth feel and flavors that linger long after the wine has left the mouth." In other words, as the winery's tag line proclaims, "Palate pleasing Pinots."
Traditionally, WesMar has released their wines each year at Valentine's Day. Because they have found that their wines benefit significantly from additional time in the bottle, they are now releasing their wines in the fall two years after harvest. The 2008 lineup has just been offered. Because of the above mentioned fires, no Sonoma Coast or Hellenthal Vineyard Pinot Noir was released in the 2008 vintage. The lineup does include a Russian River Valley blend of all the vineyard designated wines and three single vineyard Russian River Valley Pinot Noirs from Salzgeber, Balletto, and Oehlman vineyards. Prices are modest at $35-$40 and magnums are available at twice the cost of a 750 ml bottle. Join the mailing list at www.wesmarwinery.com or phone 707-829-8824 to order wines.
I have quite a collection of WesMar Pinot Noirs in my cellar and decided to take a look at ten wines from the 2004, 2005 and 2006 vintages to commemorate the winery's tenth anniversary and see how the wines are progressing. All the wines are moderate in color and some have a very slight haze due to non filtration. The aromatics are appealing and there is no unwelcome intrusion of oak or alcohol. The wines have aged nicely and many will reach ten years easily, although there isn't much reason to wait on most of the reviewed wines.