Pinot Briefs —Newsletter 8.23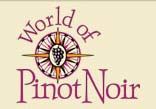 2011 World of Pinot Noir Tickets for the World of Pinot Noir, March 4-6, 2011, went on sale on October 1. Interesting seminars include a discussion of alcohol and balance, a study of Hirsch Vineyard, and a vintage Burgundy tasting. The featured tasting on Saturday, moderated by Allen Meadows, is titled, "Young Turks of Burgundy." A new dinner extravaganza has been added Friday night at Chamisal Vineyards as well as a Sunday brunch walk-around tasting at The Cliffs Resort. The event is always a sell out and lodging should be secured early. Visit www.wopn.com for information and tickets.
Snooth Wine Pro A new iPhone application uses innovative image recognition technology, allowing you to take a photo of a wine label and automatically match it to Snooth's database of over a million wines. Once a match is made you can view stores closest to you that have the wine in stock, compare prices, buy the wine online through the Snooth retail network, read expert and user reviews and browse for similar wines by winery, region or varietal. Snooth Wine Pro is available in the iTunes App Store for $4.99. Users can also install Snooth Wine, a free, ad-supported version. For more information and screenshots, visit www.snooth.com/ iphone-app.
Rivers-Marie Acquires Summa Vineyard Thomas and Genevieve Brown, proprietors of Rivers- Marie wines, have bought the iconic Summa Vineyard on the Sonoma Coast.
Dutton-Goldfield Releases 2008 Devil's Gulch Pinot Noir This is a very special bottling from Mark Pasternak's Devil's Gulch Vineyard in Marin County. In 2008, the weather was warm with unusually low humidity during the harvest season, and this coldest and wettest of Dutton-Goldfield's Pinot ranches performed beautifully. The clusters were black, tiny and concentrated, producing a wine with striking density, lushness and concentration. This is a wine I buy for my cellar every year. 535 cases produced, $58 per bottle. Dan Goldfield was a featured speaker at this year's International Pinot Noir Celebration. Visit www.duttongoldfield.com. For those looking for a different white, check out Dutton-Goldfield's outstanding Shop Block Pinot Blanc and Green Valley Gewurztraminer.
Bonterra Vineyards Adds Pinot Noir to Portfolio Bonterra is the number one producer of California wine made from organically grown grapes. The winery is introducing a 2009 Pinot Noir ($19.99) sourced from Mendocino County and Anderson Valley crafted from 100% organic grapes by winemaker Robert Blue. Bonterra wines are produced in Mendocino County and marketed and produced by Brown-Forman Corporation. Visit www.bonterra.com. I hope to review this wine soon when it is released.
Wine Labeling Bill Signed Into Law AB1798, the conjunctive wine label initiative, was signed into law by Governor Schwarzenegger on September 24, 2010. Wineries must now include Sonoma County on their labels for all wines produced in Sonoma County or one of its 13 AVAs, along with the AVA, when the law becomes effective January 1, 2011. Vintners will have three years to phase in the changes to their labels. Sonoma County vintners and winegrowers hope that this will build a stronger Sonoma County brand.
Outlook Not Good for High End Pinots A survey taken at the recent 19th Annual Wine Industry Financial Symposium and reported at www.pressdemocrat.com, indicated that consumers are looking closely at value and many in attendance at the symposium predict that over $50 wines will take at least five to ten years or even longer to come back. Winery owners are more optimistic than winegrowers.
PinotFile a Great Resource Did you realize that the PinotFile contains profiles for 1,261 producers of Pinot Noir, 3,650 tasting notes on Pinot Noir and Chardonnay wines, and 103 tag lines about Pinot Noir? The PinotFile has 942 articles primarily on Pinot Noir and 80 audio recordings on Pinot Noir-related subjects of interest. Links are provided to podcasts on Grape Radio in which the Prince has participated. The Pinot Trail Travel Directory contains recommendations for wineries to visit, lodging, picnic supplies, restaurants, and travel related appellation websites for all the major wine regions of California and the Willamette Valley of Oregon. A complete listing of annual Pinot Noir festivals in Oregon and California is included in the Pinot Trail Travel section as well. You can also contact the Prince with questions (prince@princeofpinot.com).