Revisiting New Zealand Pinot Noir
In 2008, I presented an extensive review of New Zealand Pinot Noir in the PinotFile titled, "Finicky Pinot Noir Thriving in Middle Earth," (www.princeofpinot.com/article/539/). That article followed my travel to New Zealand in 2008 and the wines reviewed were from the 2003 to 2006 vintages. I found the wines to be inconsistent, but a handful of exported Pinot Noirs were capable of a world class drinking experience. The styles varied but the Pinot Noirs veered more toward New World flashiness than Burgundian restraint. I felt California's value priced Pinot Noirs were generally superior to those from New Zealand despite the claims of wine writer Matthew Jukes who has said, "New Zealand can claim to make the best good-value Pinot in the world."
The 2008 New Zealand Pinot Noirs have been arriving in the stateside retail market in recent months and I decided to take another look at the quality of the wines being exported. The 2008 vintage was an excellent one in Martinborough and Central Otago, but was marred by rains in Marlborough. The grape harvest in 2008 ballooned to 280,000 tons, a 39% increase above 2007 due to excellent flowering and a favorable growing season along with an increasing number of areas coming into production. This increase in production and the global recession has caused concerns about oversupply as inventories accumulate of premium New Zealand wines from past vintages. As in the United States, premium New Zealand Pinot Noir sales have faltered.
New Zealand is about the size of Oregon, and despite the relative infancy of its modern wine history, its planted Pinot Noir acreage surpassed Oregon in 2009 (11,619 acres to 11,523). Pinot Noir now makes up 15% of New Zealand's total vineyard plantings, second only to Sauvignon Blanc and is New Zealand's second most exported variety. The two biggest export markets for New Zealand are Australia and the UK, but it is projected that the United States eventually will become the number one export market for New Zealand wines. In 2008, New Zealand wine exports were worth $797.8 million, a 14 percent increase over 2007 and a significant increase from the $60 million the industry exported just over a decade earlier.
The modern Pinot Noir winegrowing industry in New Zealand dates to the mid 1970s beginning with experimental plantings of Rolfe and Lis Mills of Rippon Vineyard on the banks of Lake Wanaka in the Central Otago region of the South Island of New Zealand, and concurrently, Nobilo Vintners in Auckland on the North Island. The wine industry has shown remarkable growth reaching 643 wineries by 2009, varying in size from small boutique operations producing a few thousand cases to huge conglomerates with annual sales exceeding two million liters. 85% of New Zealand wineries are foreign-owned.
Geographically, New Zealand has both a North Island and South Island as shown on the New Zealand Winegrowers map on Page 2. The latitudes of 36 to 45 degrees allow wine grapes to be grown throughout both islands except on the cold west coast and pocketed frigid areas. All the major grape growing regions have a maritime climate except Central Otago which is the only viticulture area blessed with a continental weather pattern.
There are ten wine regions, but only half have major plantings of Pinot Noir (2009 total acreage is given in parentheses). The Wairarapa on the southeastern tip of the North Island includes multiple sub-regions including well-known Martinborough (2,123 acres). Nelson is located in the north-central part of the South Island and 25% of the vineyards are planted to Pinot Noir (452 acres). Marlborough, in the northeastern corner of the South Island, has the largest and most recognizable wineries, the largest plantings of Pinot Noir, and the largest production of inexpensive Pinot Noirs (4,942 acres). Waipara is a subregion in the northern part of Canterbury along the coast of the South Island south of Marlborough (769 acres). Central Otago is the most southerly wine region in New Zealand known for its spectacular scenery. 60% of the vineyards are planted to Pinot Noir (2,970 acres).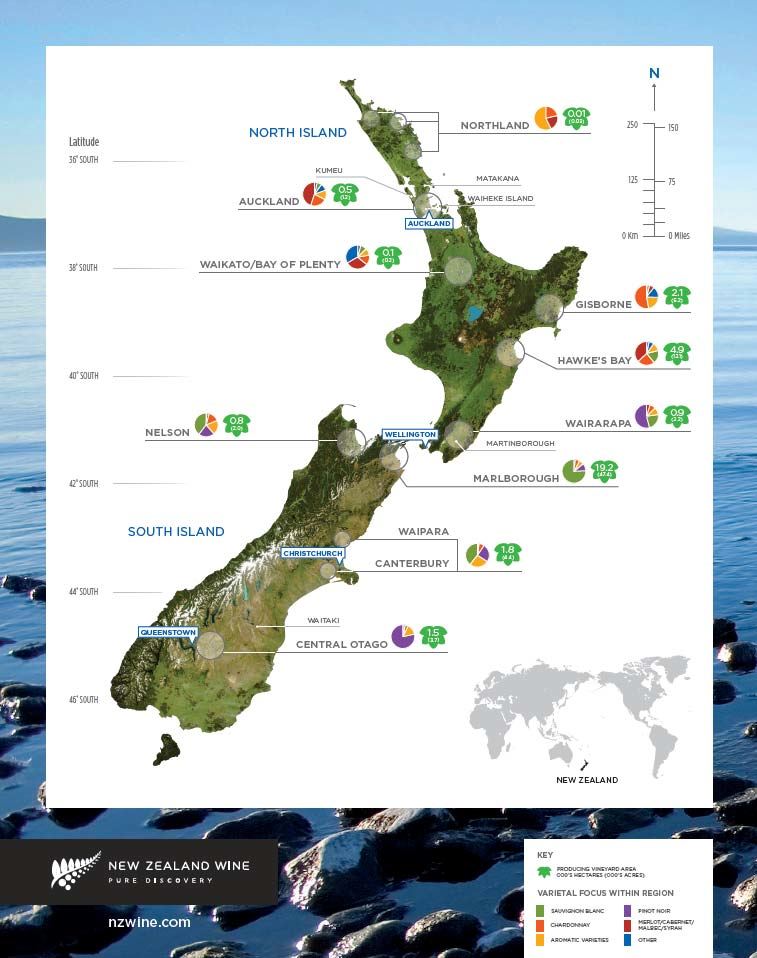 Early plantings of Pinot Noir in New Zealand were primarily Pommard 5, UCD 10/5 (a clone imported to New Zealand in the 1960s from Wädenswil Research Station in Switzerland by government viticulturist Frank Berrysmith), and UCD 2/10. Later UCD 6 and 13 were added and in the early 1990s, the New Zealand government released the Dijon clones including 113, 114, 115, 667, 777 and 375. There are suitcase clones in the ground as well. Phylloxera has surfaced in New Zealand but is not a significant problem yet. Spread is very slow and there is constant replanting and new planting of Pinot Noir vines on resistant rootstock. The viticulture scheme here has always encouraged non-irrigated vines and organic farming. A code of sustainable practices, Sustainable Winegrowing New Zealand, was developed in 2002. Soils are primarily alluvial throughout the country, with some pockets of limestone.
The New Zealanders pioneered the use of screw cap closures and since 2001 practically every winery uses them exclusively for white wines, and all reds except the ultra-premium bottlings which are shipped to the United States with corks to avoid the cheap image that screw-capped wines still have among wine enthusiasts here. There has also been experimentation with Diam agglomerate cork but I did not see this closure on any of the bottlings I sampled recently.
It has been difficult to define a distinctive style for New Zealand Pinot Noir as there are vast differences in microclimates, viticulture and winemaking throughout the two islands. Vintage differences play a significant role in New Zealand as well. Like California and Oregon, there are stylistic extremes varying from elegant, restrained and classic Pinot Noirs, to heavily extracted and generously oaked fruit bombs. Bennett Traub has claimed New Zealand Pinot Noir falls in the middle ground between New World flashiness and Burgundian restraint. He says, "They fit stylistically between the riper, more opulent style of Pinot Noir of top wines from Sonoma, Mendocino and Oregon, and the classic, terroir-focused wines from Burgundy." Geoff Kelly, writing recently in The World of Fine Wine (Issue 28 2010), points out the criticism that has plagued New Zealand Pinot Noir. I agree with him that the Pinot Noirs often lack textural quality, complexity of aroma and flavor and an expression of place. The may show a floral, leafy quality due to under-ripeness while others are overripe with black plummy flavors. Excessive oak and moderately high alcohol show up as well, although alcohols generally are less than California. That said, the wines have plenty of fruit weight with good color and bright acidity, and are consistently reliable. Age ability parallels California and Oregon Pinot Noir with most premium wines drinking at their prime three to six years after release.
The Pinot Noirs from the two major Pinot Noir producing regions, Martinborough and Central Otago due show differences. The wines from Martinborough tend to have more color and sturdier tannins, sometimes displaying a subtle gaminess, and have lower total acidity. The Pinot Noirs from Central Otago, in contrast, display more vibrant fruit and flamboyance with some of the best wines offering delicacy and subtlety.
There are a handful of stellar producers in New Zealand and many export their wines to the United States. Some of the top bottlings from these and other wineries are not exported. Plenty of inexpensive Pinot Noir from Marlborough is exported and available on supermarket shelves, and these wines, although direct, cheap and supply a satisfactory daily drinking experience, give a skewed and desultory impression of what New Zealand Pinot Noir can be. The value-priced New Zealand Pinot Noirs find it challenging to compete with similar wines in California and Oregon, especially since a number of quality stateside producers are now releasing second labels that are priced around $25. As in the United States, Pinot Noir from New Zealand may not always be 100% Pinot Noir in the value-priced category. In New Zealand, since 2006, 85% of the wine must be from the variety, vintage or area on the label (In the United States, at least 75% of the volume of the wine must be composed of the designated grape variety).
Tim Atkin MW, one of Great Britain's most respected wine writers, recently listed twenty-five world-class New Zealand producers of Pinot Noir (The World of Fine Wine Issue 27 2010): Ata Rangi, Bald Hills, Bell Hill, Burnt Spur, Churton, Craggy Range, Escarpment, Felton Road, Gibbston Valley, Grasshopper Rock, Julicher Estate, Martinborough Vineyards, Ma Maison, Mount Difficulty, Mount Edward, Neudorf, Pegasus Bay, Pyramid Valley, Quartz Reef, Rippon, Schubert, Seresin Estate, Two Paddocks, Valli, and Wooing Tree. Most of these producers export to the United States and are available from several sources (Sherry-Lehman, JJ Buckley, Hi- Time Cellars, K&L Wines, Southern Wines, and others). Check www.wine-release.com for retailers.
During the past year I reviewed impressive offerings from Alana Estate, Rippon, and Seresin Estate. All the following reviewed wines are currently available in the United States. They are organized according to region of origin. Prices for premium New Zealand Pinot Noirs are comparable to those from California and Oregon. New Zealand Pinot Noir remains a niche market and a novelty in the United States, but will appeal to pinoaficionados with varied and international interests.

Waiparara (Martinborough)
The first vineyards were planted in Martinborough in 1978 by Alistair Taylor at about the same time that a report by Derek Milne was published identifying the stony terraces around the town of Martinborough as ideal for viticulture. By the early 1980s, the area had five mainstay wineries: Ata Rangi, Te Kairanga, Chifney, Dry River and Martinborough Vineyard. The second wave of wineries arrived in the late 1980s including Palliser Estate, and the third wave followed in the 1990s with the arrival of Escarpment and Craggy Range Vineyards at Te Muna.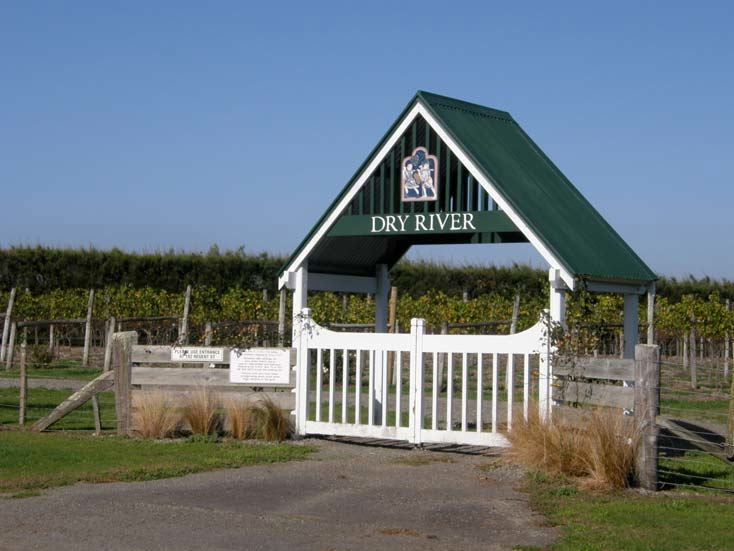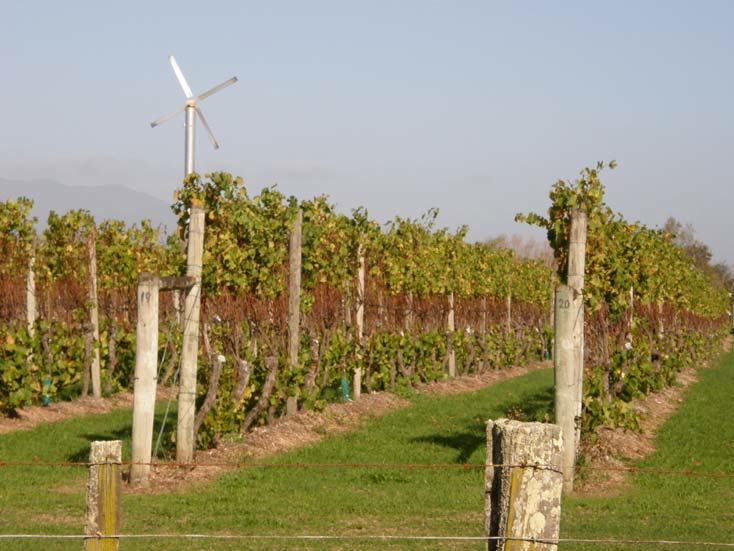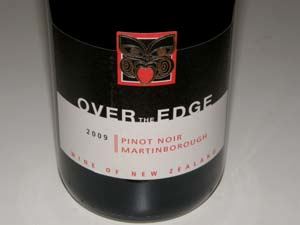 2008 Over The Edge Martinborough New Zealand Pinot Noir
14.5% alc., $13, screw cap. Imported by Meadowbank Estates, Alexandria, VA. Second label of Escarpment. Winemaker Larry McKenna. · Medium reddish-purple color in the glass. Deep and intense aromas of black cherries, black raspberries and plum sauce. Delicious core of darker fruits including black currents. Full-bodied and Caliesque in style but with restrained tannins and a soft, sexy and plush mouth feel. I dare you to find a better Pinot anywhere in the world at this price. Highly recommended. Very good.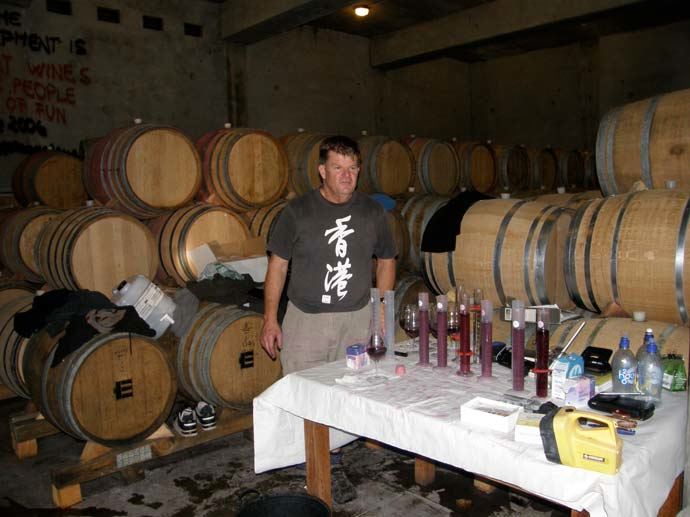 Winemaker Larry McKenna of Escarpment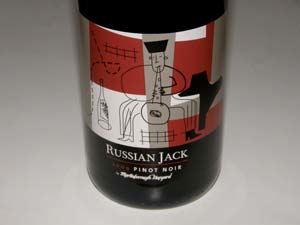 2008 Russian Jack Martinborough New Zealand Pinot Noir
13.9% alc., $18, screw cap. Imported by Sorting Table, LLC, Napa, CA. A second label from Martinborough Vineyards. Named after a famous swagger who helped clear the land. · Moderately deep perfume of black cherries, blackberries and vanilla bean. Tasty core of dark cherries and berries accented with cola and vanilla. A charming middle weight wine with soft tannins and pleasing intensity. Cool package. Good.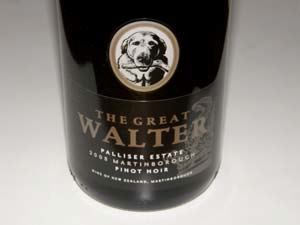 2008 Palliser Estate The Great Walter Martinborough New Zealand Pinot Noir
14.5% alc., $55, screw cap Imported by Negociants USA Inc, Napa, CA. This wine is the fourth in the "Great Dog" series from Pencarrow Vineyard in Martinborough. Clones 667 and 777. Aged 16 months in 66% new French oak barrels. · Moderately dark reddish-purple color in the glass. Shy aromas of dark berry jam and subtle oak. Delicious dark berry core that really attacks the mid palate with a vengeance. Hints of Dr. Pepper and tobacco add interest. Oak has a definite presence but is beautifully married to the fruit. Soft in the mouth, this wine really grows on you over time in the glass. Very good.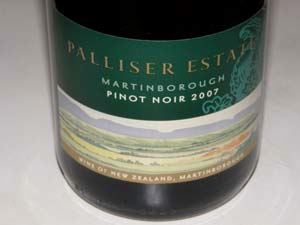 2007 Palliser Estate Martinborough New Zealand Pinot Noir
14.0% alc., $26, screw cap. Imported by Negociants USA Inc, Napa, CA. · Deep reddishpurple color in the glass. Complex aromatic profile featuring dark cherries and berries, savory and oregano spices, ash and oak char. Full-bodied assortment of purple fruits with a hint of pepper and pharmaceutical. Well-structured with firm tannins and a clean finish with a tarry note. Decent.

South Island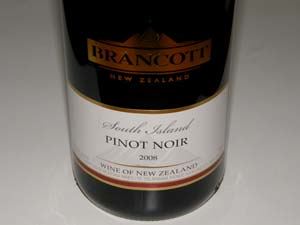 2008 Brancott South Island New Zealand Pinot Noir
13.0% alc., $10, screw cap. Imported by Pernod Ricard USA, Purchase, NY. Sourced from vineyards in Marlborough, Waipara and Central Otago. Produced by the conglomerate, Montana Wines Ltd., in Auckland. · Lighter garnet color in the glass. Attractive scents of wooded cherry, raspberry and summer herbs. Simple and direct flavors of strawberries, cherries, Red Vines, and herbs wrapped in silky tannins. Nothing epiphanic, but varietally true and hard to complain about the ten spot price tag. A good starter Pinot for newbies. Decent.

Marlborough
Marlborough is New Zealand's largest wine growing region and the center of the New Zealand wine industry. The Marlborough wine region represents 62% of the total vineyard area in the country. It's reputation was established by Sauvignon Blanc which was first produced here in 1977. Today, the region is widely considered to produce the world's best Sauvignon Blanc. The most visible winery is internationally famous Cloudy Bay, now owned by the French Champagne house, Veuve Clicquot Ponsardin. In the 1970s, Montana started producing wines which were labelled by vintage and grape variety.
The region has fertile soil and temperate weather with warm, sunny days and cool nights allowing for a long growing season. The majority of plantings are around Renwick, Blenheim and Cloudy Bay in the Wairau Valley. Further south in the Awatere Valley are plantings near Seddon on terraces of the Wairau and Awatere rivers.
Nelson
Nelson is home to 24 boutique wineries. The vineyards are scattered about the alluvial loam soils of the Waimea Plains and up on the hills of Upper Moutere. The region is situated on the western side of the country near the northern tip of the South Island. Mountains to the west of the region provide a rain shadow effect while the coastline moderates temperature extremes. Nelson receives more rainfall than neighboring Marlborough, but its northern exposure gives it lengthy days of sunshine and the second highest total hours of sun in the country. The Chardonnay and Pinot Noir compete with the best in the country.
2008 Neudorf Tom's Block Nelson New Zealand Pinot Noir
13.5% alc., 4,080 cases, $30, screw cap. Imported by The Country Vintner Inc., Ashland, VA. Owners Tim and Judy Finn, winemaker John Kavanaugh. Wild yeast fermentation, aged 11 months in French oak barrels, bottled unfined and unfiltered. · Moderately light reddish-purple robe. Very shy redder fruits on the nose with notes of sweet oak and dried apple. Mediumweighted flavors of red berries including cranberry with a hint of spice box. Smoothly textured with dusty tannins. This wine has some charm but at present the flavors trump the aromas. Good.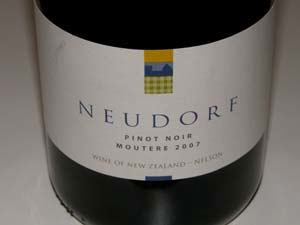 2007 Neudorf Moutere Nelson New Zealand Pinot Noirneud
14.0% alc., 630 cases, $48, screw cap. Imported by The Country Vintner Inc., Ashland, VA. Wild yeast fermentation, aged 11 months in French oak barrels, bottled unfined and unfiltered. · Moderately dark reddish-purple color in the glass. Demure but pleasing aromas of darker cherry and berry fruits including black currants with a subtle underpinning of oak. The dark fruit veers to the ripe side but is very tasty. Seamless with a refreshing acid tang on the finish. Even better the next day from a previously opened and re-corked bottle offering an impressive display of fruit and a peacock finish. Worth a search.
Waipara
Waipara is a sub-region of Canterbury, about an hour's drive north of Christchurch. Canterbury became a focus of attention when the 1984 St. Helena Pinot Noir brought notoriety to the area. Many thought this area might be the anointed home of Pinot Noir in New Zealand and Pinot Noir has become the dominant variety here. Most desirable plantings are on hillsides facing away from the coast. Eastern mountains block out rain from Australia so the region is warm and dry. Pegasus Bay is Waipara's most noted wine estate, with Pinot Noir vines dating to 1985.
Note: Listen to the recent interview with Mountford Estate winemaker C.P. Lin on Grape Radio at www.graperadio.com/podcast/GR-ENG-USA-2010-11-01.mp3.
Central Otago
Central Otago's viticultural history began with Frenchman John Desire Feraud, who was attracted to the area during the Dunstan gold rush of 1862. He planted the first wine grapes in Central Otago in 1864. Commercial winemaking thrived for twenty years, but when he left the region, the wine industry ceased and wasn't revived until the plantings farmed by Rolfe Mills in 1975 in the Wanaka area of Central Otago. Mills later planted the Rippon Vineyard in 1982, the first commercial vineyard in Central Otago since the gold rush days. The first commercial release of Pinot Noir from Central Otago was the 1987 vintage from pioneer Alan Brady at Gibbston Valley Winery. Other early pioneering wineries include Taramea, Black Ridge, William Hill and Chard Farm. Felton Road was the first major commercial vineyard and winery in Central Otago. Established in 1991, Felton Road was releasing wines by 1997 that were bringing international attention to Central Otago. Many wineries and extensive plantings, particularly of Pinot Noir, followed.
Central Otago is located at 45 to 47 degrees latitude, the same latitude as Burgundy and Oregon's Willamette Valley in the northern hemisphere. It is the fastest growing wine district in New Zealand. Snow capped mountains are a prominent part of the landscape in winter, but the sun shines brightly during the summer and autumn. Very little rain falls in Central Otago per se, but the surrounding country is quite wet so that water is readily available. The river silts, clays, loams and sands that make up the soils are interspersed with ground schist rocks and are therefore free draining. There is a generous amount of mineral compounds present, but restricted plant growth due to low rainfall has resulted in low organic content in the soil, and the soil is low in vigor. Irrigation is a necessity and is finely tuned to keep the vines at the desired degree of stress.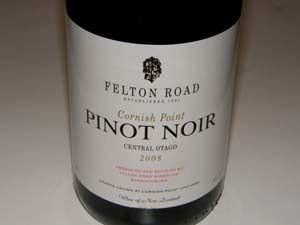 2008 Felton Road Cornish Point Central Otago New Zealand Pinot Noir
14.0% alc., $50, screwcap. Imported by Wilson Daniels, St. Helena, CA. · Moderately dark ruby color in the glass. Haunting perfume of dark stone fruits with hints of oak, compost and pine. Mouth watering and juicy with bright flavors of earth-kissed black cherries, plum sauce, cola, and nutmeg. Well-proportioned tannins and acidity with pleasing persistence of the fruit flavors on the finish. Drinkable now, but can cellar with confidence as it will age effortlessly. The stuff that Pinot dreams are made of.
2008 Felton Road Block 3 Central Otago New Zealand Pinot Noir
14.0% alc., $65, screw cap. Imported by Wilson Daniels, St. Helena, CA. Sourced from Felton Road's original owner's (Stewart Elms) first plantings on loamy soil, the so-called "sweet-spot" of the vineyard. · Darkest of the three wines reviewed here. Brooding and tight with a hint of smoky black fruits and toasted oak. Picks up fruit intensity and interest over time in the glass. Moderately dense core of earth-laden black plum and cassis fruit with accents of oak. Grand cru flavor intensity and finish. The tannins are still flamboyant and the wine is reluctant to give up its charm now, but will be great in several years. Still closed the following day from a previously opened and re-corked bottle. Very good.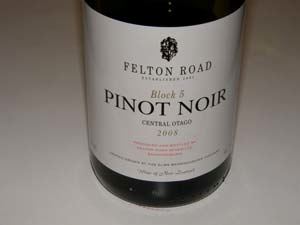 2008 Felton Road Block 5 Central Otago New Zealand Pinot Noir
14.0% alc., $65, screw cap. This block is planted on loam, clay and gravel. · Moderately dark reddish-purple color in the glass. Aggressive aromas of dark Bing cherries, forest floor, spice and pencil lead. Dense and unctuous black cherry core with citrus in the background. Fine-tuned tannins buffer the acidity beautifully. An exceptional wine that is really big and really good, but needs time for full expression. Tasted the next day from a previously opened and re-corked bottle, the fruit was more giving but cellaring is definitely indicated. For grown-ups only.