Iconic Calera Wine Company: 32 Vintages of Estate Pinot Noir
"Calera is one of the most compelling Pinot Noir specialists, of not only
the New World but of Planet Earth. Credit must be extended to its
visionary founder, proprietor Josh Jensen. Ironically, today Jensen
rarely gets the acclaim that these wines merit."
Marq De Villiers, The Heartbreak Grape

Is there another California winery with such a track record of continuous excellence? In the rush to find the next small cult Pinot Noir producer, the wine lover often forgets about the wineries that have proven their metal over time. Year in and year out, Calera releases wines of uncommon complexity and age ability, often attracting more interest from adoring fans outside the United States than stateside pinotphiles (42.7% of total sales so far in 2010 are in the export marketplace, particularly Japan).
In 1975, when Josh Jensen first planted his vines on a remote property in the Gavilan Mountains, he was among a few pioneers at the time who were attempting to farm and produce Pinot Noir in California. Dick Graff had preceded Jensen by ten years at Chalone, located just north of Calera in the same Gavilan Mountain Range in California's San Benito County. Others included Richard Sanford in Santa Barabara County, David Bruce and Merry Edwards in the Santa Cruz Mountains, Joseph Swan, Bob Pellegrini and Joe Rochioli in the Russian River Valley, Tony Husch in the Anderson Valley, and Francis Mahoney in Carneros. As it would turn out, despite the diversity of microclimates each grower settled on, all of them proved very successful.
There was only one innovator other than Graff who based his whole success on limestone. A student and fervent lover of the wines of Burgundy, Jensen was convinced that it was the limestone in the soil of Burgundy that made the wines so special. Jensen has said, "Here in this country, the establishment doesn't think limestone is important. I didn't waste my time debating it. I just saw where the great Burgundies grow and decided to let my wines do the talking."
Jensen's remarkable story was first told in detail in 1993 in the first edition of the book, The Heartbreak Grape: A Journey in Search of the Perfect Pinot Noir, written by Marq de Villiers. A revised and updated version was published in 2006. Jensen's saga is an inspiration for anyone hoping to follow a passion for Pinot Noir. After thirty-two vintages of Calera Estate Pinot Noir, his initial heartbreaking efforts have found vindication, and Pinot Noir from California, and in particular those from Calera, can hold their own to the best from Burgundy. Read my extensive coverage of the history of Calera and my review of the 2005 Calera wines in a previous issue of the PinotFile (www.princeofpinot.com/article/129/).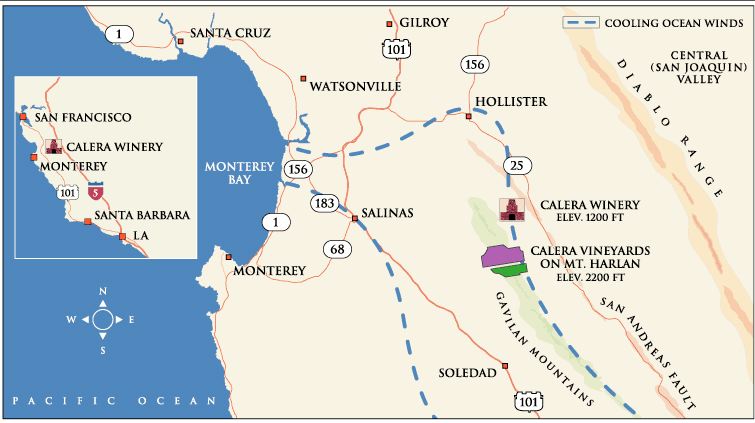 Calera wines are vinified in a 7-tier gravity flow winery built into the side of a mountain. Non interventionist techniques are employed including native yeast and whole cluster fermentations, and minimal racking. Pinot Noir grapes are fermented warm in open-top fermenters. The lots are pressed after a minimum of 14 days in the fermenter. Aging is in 60 gallon French oak barrels from Francois Freres in Calera's two barrel cellars. The single vineyard Pinot Noirs receive 16 months of aging in barrels, 30% of which are new each vintage. The Central Coast wines are aged in 12-15% new barrels for 10 to 11 months. The wines are fined with egg whites to ensure clarity and are bottled after settling unfiltered.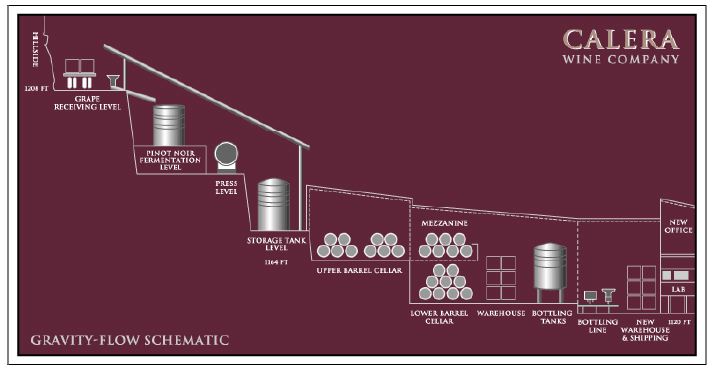 The Calera property consists of 648 acres and 440 adjacent acres with 84 acres planted by 2006. The first vintage of estate Pinot Noir was 1978, all of 700 cases in half-bottles, and was the initial Calera wine made at the winery. Calera is the only winery in the Mt. Harlan AVA. The vineyards are in the Mt. Harlan AVA, but the winery is technically not, so Jensen cannot use "estate bottled" on the label.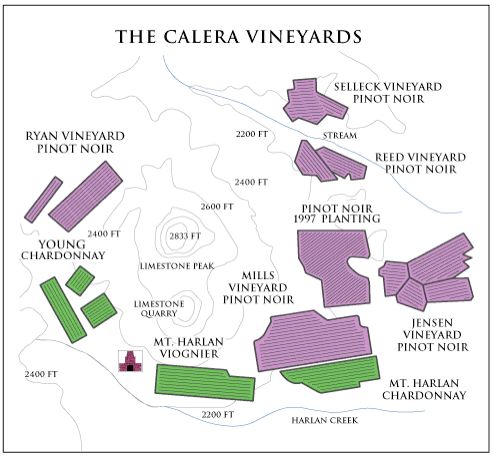 According to John Haeger, writing in Pacific Pinot Noir, Jensen was an admirer of Dick Graff's Chalone Vineyard Pinot Noirs and used Chalone budwood for the original 1975 plantings of Selleck, Reed and one-third of Jensen. Two-thirds of Jensen was planted from nursery bench grafts originating in California. Rumors persist that suitcase clones may have been brought in from Burgundy by Jensen, planted at Chalone, and the Calera plantings actually represent second generation budwood that originated in Burgundy (? Domaine de la Romanée-Conti). The Mills Vineyard, Chardonnay and second planting of Viognier are own rooted, the rest of the plantings are grafted onto nursery rootstock. Mills was planted with budwood from Selleck in 1984. The de Villiers Vineyard (not named on the map above) is a new 15.6-acre planting established in 1997.
The Calera Pinot Noirs are one of the closest to the Burgundian idiom in California. The wines are reticent upon release, with the best drinking window between 5 and 20 years after the vintage. Josh Jensen describes the Pinot Noirs from his four separate vineyards as follows. "Jensen is a complex wine and for me consistency of complexity is really the ultimate compliment to a Pinot Noir. Jensen is usually the most tannic and the leanest and least rounded. It has some type of olive character, a spiciness. The Reed in most years has a sort of chocolaty, raisiny character. In personality it has acquired a softness and precociousness. The Selleck is my personal favorite almost every vintage. It is also the fastest to evolve. It seems to have one more layer, one more bit of depth and complexity than the others, and since that's what I appreciate the most, it appeals to me the most. The Selleck is the most feminine of our wines and the most subtle. It seems to taste of spice, nutmeg, truffles and earth together, and floral, so it is complete and complex. The Mills has terrific structure but it often seems leaner than the other three. Compared to any other Pinot Noir from any other producer it is rich, full flavored, dark and complex. Compared to our own vineyards, it seems less rounded and supple and fat by comparison."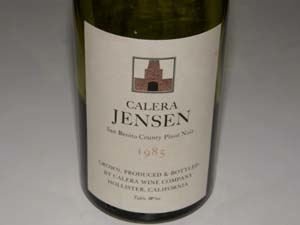 I recently tasted through several newly released 2007 Calera wines. I spend considerable time looking at many of the newer producers of Pinot Noir, but always follow an early inspiration I had. The first case of Pinot Noir I ever bought was the 1985 Calera Jensen Pinot Noir which was one of my early Pinot Noir epiphanies. Recently, one of my readers, aware of my fascination with this wine, sent me a few half bottles of the 1985 Calera Jensen Pinot Noir he had found in the back of his cellar. I opened two bottles, expecting some bottle variation which I found. Both bottles had soft, crumbly corks. The first bottle had a marked brownish caste but deep color. Aromas of shoe leather, mushrooms and raisin. The fruit had faded and the dry dusty tannins and acidity had come to the forefront. The flavor profile featured black cherry, sassafras, raisin, cola and black tea. The wine was very tart and seemed slightly oxidized. A second bottle was better with less brown discoloration. The nose offered aromas of smoke, roasted nuts and old wood with shy fruit. There was more flavor intensity and charm with tastes of tart black cherry and cola, but the dry plentiful tannins and acidity still won out over the faded fruit. Half-bottles are never a good choice for aging wine and this was confirmed. That said, it is still a wonderful experience to open old wines and challenge the senses.
Although my reviews of the 2007 Calera wines were not as effusive as Robert Parker's (he gave the 2007 Calera Chardonnay Mt. Harlan a score of 96, the 2007 Calera Jensen Vineyard Pinot Noir a score of 97 and the 2007 Calera Selleck Vineyard a score of 98), I found these wines are definitely worth acquiring and cellaring. Parker said, "This may be the strongest group of wines Calera has produced in many years." It is of great interest that Parker loves Calera Pinot Noirs, although they are definitely not the big-boned, highly extracted style that Parker seems to prefer from other producers in California.
All the Pinot Noirs are moderately light in color intensity. The wines need time to integrate the flamboyant fruit tannins. My biggest nit about some of these wines is the high alcohol which shows up on the finish. Except for the Reed Vineyard bottling, don't even think about popping the corks on these wines for 3 to 4 years. The aromas are more showy than the flavors at this stage. Since I rate wines more on their current drinking charm rather than predicting the future, the obvious potential of these extraordinary wines will undoubtedly lead to more glorious reviews in the years to follow. Some of these wines will easily go 15 to 20 years. Don't ignore the white wines for they are among the finest made in California today.
The back labels of Calera wines give you the kind of useful and detailed information you desire about the wine. Jensen avoids the often displayed superlatives, the flowery, hollow talk like "made in the best winemaking tradition," or "sourced from the finest vineyards."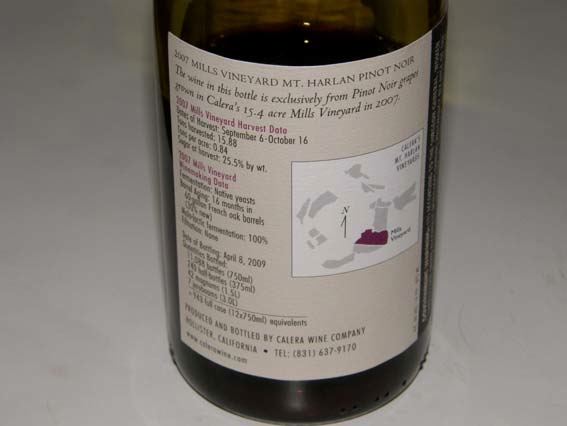 Other current Calera offerings include: 2009 Central Coast Chardonnay ($16), 2009 Central Coast Vin Gris of Pinot Noir ($16), 2009 Central Coast Viognier ($16), 2009 Mt. Harlan Aligote ($20), 2008 Central Coast Pinot Noir ($24), and 2007 Mt. Harlan Cuvée Pinot Noir ($30). The Mt. Harlan Cuvée is a barrel selection from the various single-vineyard Pinot Noirs. I did not taste this wine but I blended equal amounts of the single vineyard wines reviewed above for the heck of it. The resulting wine was brooding and linear without nuance but it was pretty tasty. The Central Coast vineyard sources are multiple and are listed on the website.
Calera wines are sold through the winery's online store at www.shop.calerawine.com. The de Villiers and Reed bottlings are sold out. The 2006 Reed is being offered in its place. Look for older vintages offered by Calera of vineyard-designated Pinot Noir that have been cellared perfectly at the winery. Jensen's newsletters are a treasure but he unfortunately publishes them very sporadically.