Drinking Small Part 2
Keefer Ranch
Green Valley of Russian River Valley, California
Keefer Ranch is located near the headwaters of Green Valley Creek in Sebastopol, consisting of 45 acres of Pinot Noir and 10 acres of Chardonnay. Part of the Green Valley appellation located within the Russian River Valley appellation, Keefer Ranch is planted on well-drained Goldridge loam soil with a favorable south-facing exposure. The Green Valley is usually the first place where the fog arrives through the Petaluma Gap, and the last place where the fog burns off, making it the coolest and foggiest part of the Russian River Valley.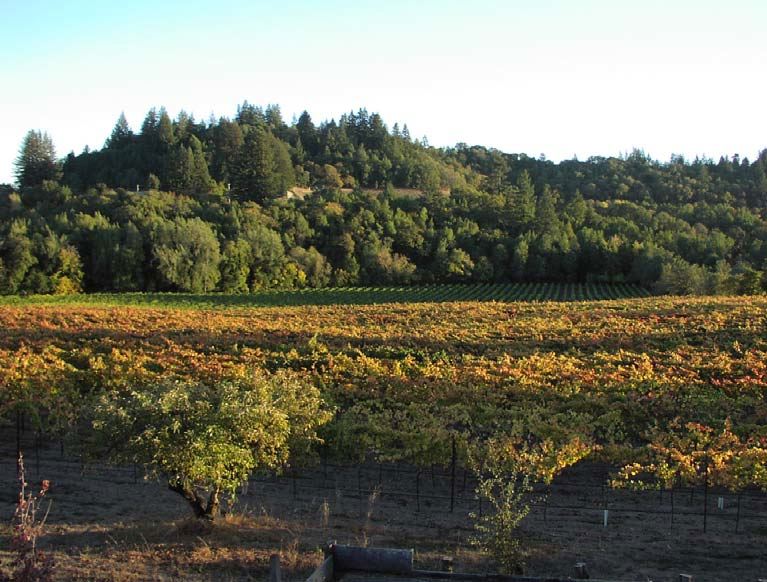 Marcy Keefer, a former nurse, and her spouse, Robert Keefer, MD, now deceased, purchased the former apple orchard property in 1985. The original plantings date to 1988. The vineyard is now farmed by Marcy and her son Craig Strehlow. The clonal mix is diverse including Dijon 114, 115, 777, Pommard 5, Mariafeld (23), Wädenswil (2A), and Swan and Calera selections. In 2010, phased replanting of the estate Chardonnay was completed and 2 acres of Calera selection and 3 acres of Swan selection, both of which perform well on this site, were planted. Some of the newer Pinot Noir plantings will eventually go into the Keefer Ranch Estate Pinot Noir.
For many years, Keefer Ranch has supplied grapes to notable Pinot Noir specialists including most recently, A.P. Vin, Failla, Freeman, Kosta Browne, Loring Wine Co., Pali Wine Co. and Siduri. Beginning in 2006, the Keefer Ranch label was launched. The first two vintages included Swan and Pommard 5 clones and beginning in 2008, Dijon 115 was added to the blend.
Craig handles the winemaking duties, crafting an exemplary estate Pinot Noir that offers a charming, delicate style that has bright acidity. The Keefer Ranch Vineyard is truly a Russian River Valley treasure.
Keefer Ranch Pinot Noir is sold through a mailing list at www.keeferranch.com.
2008 Keefer Ranch Green Valley of Russian River Valley Estate Pinot Noir
14.2% alc., 241 cases, $42. Released June 20, 2010. Swan, Pommard 5 and Dijon clone 115. 20% whole cluster fermentation. Aged 12 months in 40% new French oak. · The nose blossoms over time offering lovely scents of black cherries, nutmeg, cut flowers, and underbrush. A little darker and more intense than the 2007 offering, but remains a feminine style with pleasing delicate dark red cherry fruit, gossamer tannins, an alluring silkiness, with an intense cherry flavored finish. Beautifully balanced. Not offering all it is capable of now, this wine deserves further cellaring for at least a year. Very Good.

2007 Keefer Ranch Green Valley of Russian River Valley Estate Pinot Noir
14.2% alc., pH 3.42, 243 cases, $42. Swan and Pommard 5 clones. 20% whole cluster fermentation. Aged 12 months in 25% new French oak barrels. · Bright Bing cherry aromas with a complimentary accent of spices including nutmeg leading to crisp and satisfying flavors of black cherries, strawberries, and raspberries with hints of spice box, cola and green tea that fan out nicely on the pleasing finish. A seamless wine with silky tannins and no discernible oak. A treasure of a wine that really delivers the goods.
Kelley Fox Wines
Carlton, Willamette Valley, Oregon
Winemaker Kelley Fox has been crafting wines in Oregon for over ten years including terms at Hamacher, The Eyrie Vineyards and Torii Mor. Since 2005, she has been the co-winemaker with Scott Wright at Scott Paul Wines in Carlton, where she emulates the elegant style of Pinot Noir that her mentor at The Eyrie Vineyards, David Lett, taught her. She says, "What I love most about Pinot is its transparency. I prefer authenticity and even grit to armchair idealism. Pinot does this. There is something so real about it, for the better or the worse."
Beginning with the 2007 vintage, she partnered with her father, Gerson Stearns, and launched her eponymous label, Kelley Fox Wines. The tiny production (about 200 cases) from Momtazi and Maresh vineyards has caused quite a buzz among Pinot Noir aficionados in Oregon. Her wines are, in her words, "Genuine, truth telling, and pleasure-giving."
Fox's wines tend to be modest in alcohol with restrained use of new oak. The 2008 vintage wines are a touch more structured and fruity, less approachable now, and probably more age worthy than their 2007 counterparts which were previously reviewed by me with gusto (www.princeofpinot.com/winery/1033/).
Kelley Fox Pinot Noirs may be obtained through the website at www.kelleyfoxwines.com or from retailer Michael Alberty, who considers Kelley Fox one of his favorite Willamette Valley winemakers, at www.StorytellerWine.com in Portland.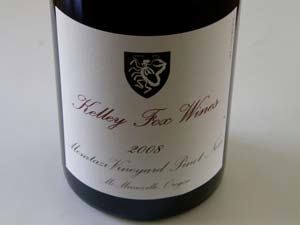 2008 Kelley Fox Momtazi Vineyard McMinnville Willamette Valley Pinot Noir
13.5% alc., $39, screw cap. Sourced from an 11-year-old block of 113 and 115 clones. Aged in 30% new French oak. · Scents of green olive, mulberry and pharmaceutical blow off over time to reveal subtle well-oaked fresh berry aromas with a hint of pine pitch. The wine really pumps out a panoply of berry flavors with a well-married oak component. Soft and demure, the wine is much better integrated with more pure fruit aromas and flavors the next day from a previously opened and re-corked bottle. Should blossom in a few years. Good.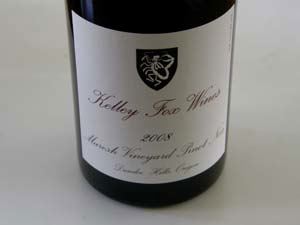 2008 Kelley Fox Maresh Vineyard Dundee Hills Willamette Valley Pinot Noir
13.0% alc., $49, screw cap. From over 38-year-old non-irrigated Wädenswil vines. Aged in 30% new French oak. · Enticing and effusive aromas of spiced cherries, woodshed and evergreen. Very charming cherry, red currant and red plum fruit with hints of cola and brown spice. A loamy note adds character. Silky smooth with soft tannins and impeccable balance. Still a debutante and best to keep your hands off this one for a couple of years. Very Good.
Kokomo Winery
Russian River Valley, Sonoma County, California
I was first exposed to a marvelous Pinot Noir fashioned by Eric Miller of Kokomo Winery at a Newcomers Focus Tasting offered at the 2009 Pinot Days in San Francisco (2006 Kokomo Wines Peters Vineyard Sonoma Coast). This was one of the better Pinot Noirs in the seminar which offered many bright new stars in the Pinot game. Miller, a native of Kokomo, Indiana, studied at University of California at Davis and apprenticed at both Belvedere Winery and Amphora Winery. Along with his best friend and college roommate, Josh Bartels, and partner Randy Peters, a well-known winegrower, he launched Kokomo Winery in 2004 at Timber Crest Farms in Dry Creek Valley, Healdsburg. The Tiber Crest Estate is also home to Amphora Winery, Papapietro Perry Winery, Peterson Winery and Family Wineries Tasting Room. Photo L to R, Randy Peters, Eric Miller, Josh Bartels.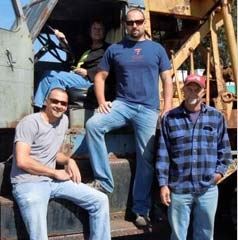 The Kokoma label logo sports a coastal Cypress tree, signifying Miller's move to the West Coast from Indiana. The focus is on Dry Creek Valley, Russian River Valley and Sonoma Coast fruit and single-vineyard bottlings. Multiple varietal wines are produced including whites (Chardonnay, Sauvignon Blanc) and reds (Cabernet Sauvignon, Petite Sirah, Pinot Noir, Merlot, Sangiovese and Syrah). Two Pinot Noirs are offered from Peters Vineyard in the Sonoma Coast AVA, and Windsor Oaks Vineyard in the Russian River Valley AVA.
Kokomo wines are sold online at www.kokomowines.com. The winery's tasting room is incorporated into the winery cellar and is open daily from 11-4:30 at 4791 Dry Creek Road in Healdsburg. The phone is 707-433-0200.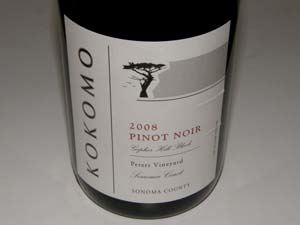 2008 Kokomo Peters Vineyard Gopher Hill Block, Sonoma Coast Pinot Noir
14.1% alc., 160 cases, $38. Peters Vineyard was planted on Goldridge sandy loam soil in the early 1980s by Randy Peters. This wine is sourced from a block planted to Wädenswil clone. Aged in 30% new French oak barrels. · Moderately light reddish-purple hue in the glass. Oak-kissed red fruit aromas initially, developing more fruit intensity over time in the glass revealing scents of cherry cobbler. A medium-weighted offering featuring a complex array of flavors including tasty red cherries and berries, Red Vines, earth, tea and leaf. Silky smooth with plenty of charm and delicacy. Good.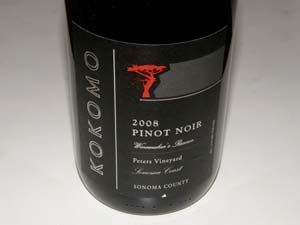 2008 Kokomo Peters Vineyard Winemaker's Reserve Sonoma Coast Pinot Noir
14.1% alc., 485 cases, $48. This wine is sourced from a block planted to Pommard clone. 25% whole cluster. Aged in 100% French oak barrels. · Moderately light reddish-purple color in the glass. Toasty oak and spice-infused black cherry aromas really draw you in. A panoply of dark red Pinot fruits coat the mouth with subtle oak, spice and tar singing in the background. Without knowing this wine had whole cluster when I tasted, I picked up immediately on the spice and soft mouth feel that is characteristic of this mode of fermentation. For me, whole cluster, if done right, adds a whole other dimension to a wine. In addition, this wine has silky, soft tannins and complimentary acidity bringing you back for another sip.
Littorai
Sonoma Coast, California
You are probably tired of reading about my hosannas to Ted Lemon, but I just can't say enough good things about this remarkably talented California winemaker. Along with his wife, Heidi, he founded Littorai in 1993 after spending a summer driving up and down the Pacific Coast tasting local wines and learning about the soils and history of the local vineyards. Lemon had a firm belief in terroir, inspired by his years of studying and making wine in France. According to Lemon, "I believe soil is of major importance in a wine's character. It's clear there are tremendous differences between wines made from vineyards right next to each other even if they are vinified and treated exactly the same way." The Lemons settled on sourcing grapes from vineyards in western Sonoma and western Mendocino counties. He was convinced that the finest Pinot Noir and Chardonnay were grown along the true coastal zone of the continent. The couple named their new venture Littorai, a pleural noun formed from the Latin word litor-, which means the coasts.
Lemon carefully supervises all vineyard sources and believes strongly in sustainability and biodynamie. His vineyard sources are household names to pinotphiles and include Summa, B.A. Thieriot, Hirsch, Pratt, One Acre, Savoy, and Cerise. Estate vineyards including The Haven and Pivot have been added to the mix in recent years.
Littorai Pinot Noirs and Chardonnays are among the most age worthy wines made in California, a reflection of impeccable winemaking and stellar balance of the finished wines. Consistency is also a feature. I have tasted practically every wine Lemon has crafted, and some were certainly more outstanding than others, but a thread of excellence was evident in the winemaker's craft with each wine. I often get asked, "Who is your favorite Pinot Noir producer?" The question is impossible to answer, but Littorai is always among the names that come into consideration.
Littorai wines are sold exclusively through a mailing list with widespread distribution to fine restaurants throughout the United States. Littorai wines are a favorite of sommeliers. The winery website is www.littorai.com. Until recently, magnum formats were only offered after years of aging, but with the 2008 vintage, magnums have been made available upon release of the vintage. Some Littorai wines may be available, including older vintages, by contacting Littorai directly at 707-823-9586,
A 10,000 square-foot winery was completed on the Lemon's property located between Sebastopol and Freestone in western Sonoma County. Tours and tastings are offered by appointment. The winemaking facility is impressive and innovative, constructed of straw bales and using gravity flow for production. The winery property is farmed as a self sustaining, integrated and diversified farm and offers a unique opportunity to tour a biodynamic farm and vineyard.
Lemon is very high on the 2008 wines and as you can see from my reviews below, so am I. Very impressive, polished wines, all with alcohols under 14.0% (a reflection of the effort expended in farming that allows for phenolic ripeness at moderate brix), and the balance to carry them for years and years. Lemon sets the bar very high for California Pinot Noir.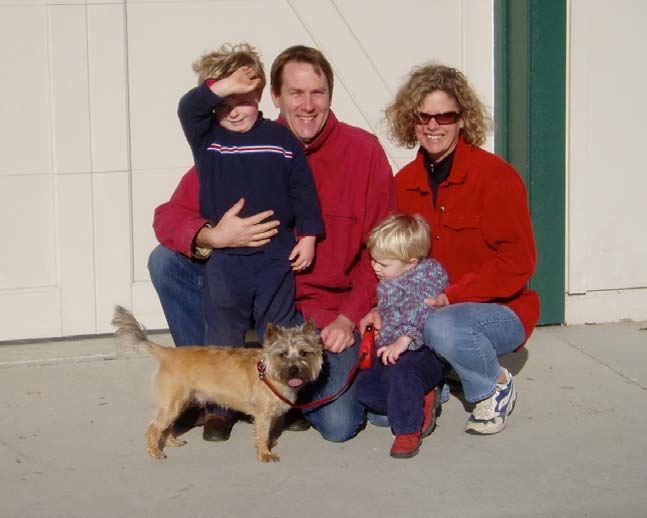 Longoria
Sta. Rita Hills, California
I can remember way back in the early 1980s when I was becoming captivated by Pinot Noir, Longoria was one of the labels I sought out as one of the few at the time to show the promise of California Pinot Noir that eventually was to be fulfilled. Rick Longoria is now a veteran winemaker who first appeared in Santa Barbara County in 1976 after spending two years at Buena Vista Winery where he developed a close friendship with Andre Tchelistcheff. His first head winemaking job was at J. Carey Cellars which did not offer Pinot Noir and Chardonnay. Longoria sensed that those two varieties were poised to become the signature varietals for the Santa Barbara County wine region, leading him to seek an outlet for his expectations.
The eponymous Longoria label was established in 1982 by Rick and his wife Diana, releasing 500 cases of Chardonnay and Pinot Noir from Santa Maria Valley vineyards. Longoria became the winemaker at Gainey Vineyard in 1985 and in 1997, gave up his job to devote his full energies to his own label, moving his winery operation to the Lompoc "Wine Ghetto." This warehouse winery locale is well known now, but Longoria was the first to make wine in this Lompoc location.
Although Longoria crafts 3,500 cases of several varietals from his winery in Lompoc, his featured wine is the Pinot Noir sourced from his 9.75-acre estate Fe Ciega Vineyard located in the southwestern portion of the Sta. Rita Hills appellation. The name, Fe Ciega, translates to "blind faith," and it was blind faith that led him to plant this vineyard originally in 1997 to Pommard and Dijon clones 115 and 667. Small amounts of Pinot Noir and Chardonnay acreage were added in 2008. The vineyard is situated on a small mesa in the middle of a 40-acre ranch owned by Hank and Brenda Klehn. Located at the western end of the Sta. Rita Hills viticultural appellation, the vineyard's cool climate, clay loam soil with shale fragments, and gentle southern exposure combine to produce memorable Pinot Noirs.
Longoria buys Pinot Noir grapes from a number of other sources including Rancho Santa Rosa Vineyard, Bien Nacido Vineyard and Sanford & Benedict Vineyard, and crafts vineyard-designated wines from these sites. The Fe Ciega Vineyard bottling, however, remains his signature wine.
Longoria wines are sold online at www.longoriawine.com. The tasting room at 2935 Grand Ave., in Los Olivos is open daily. Older library wines are offered on the website.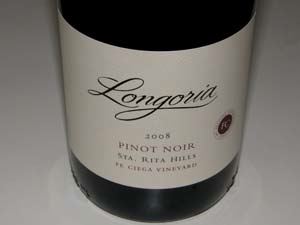 2008 Longoria Fe Ciega Vineyard Sta. Rita Hills Pinot Noir
14.2% alc., pH 3.61, 616 cases, $48. Pommard, Dijon 115 and 667. Aged 11 months in 28% new French oak barrels. · Moderate reddish purple color in the glass. A savory wine with aromas of berry jam, deeply colored red roses, underbrush, herbs and toasty oak. Plenty of black raspberry and black cherry fruit is front and center with accents of oak and grilled meat. Supple in the mouth with fine grain tannins enrobing the hi-tone fruit that persists with a vengeance on the great finish. Even better the next day from a previously opened and re-corked bottle with better integration of oak-derived flavors and aromas. This is a wine of character and interest that sings its own tune. Further cellaring should enhance its pleasure.
Luminous Hills Winery
Yamhill-Carlton District, Willamette Valley, Oregon
Luminous Hills Vineyard is located in the southwestern corner of the Yamhill-Carlton District. The vineyard is a unique high elevation site with both sedimentary and Jory volcanic soils. The planted clones have been carefully matched to the different soil types, creating six different blocks containing Dijon clones 115, 667, 777 and Pommard clone.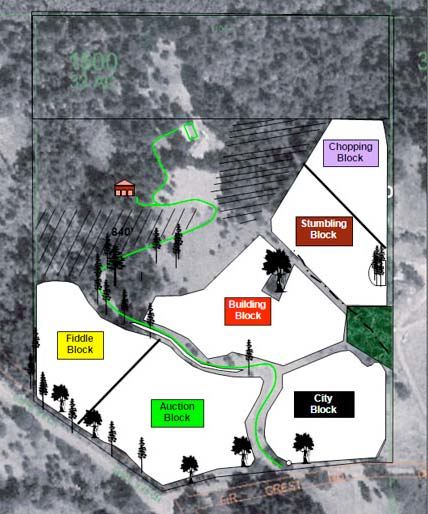 The vineyard is dry farmed with irrigation available as a safety net for difficult vintages. Farmed sustainably, Luminous Hills Vineyard is part of the Low Input Viticulture & Enology (LIVE) program.
Two wines are produced from this site: a Luminous Hills Vineyard Pinot Noir and a LUX Pinot Noir representing a special selection of barrels representing a combination of Pommard clone planted on sedimentary soil and Dijon 777 clone planted on Jory volcanic soil. The inaugural vintage from this vineyard was 2008.
Luminous Hills wines are poured at the Seven of Hearts Wine center at 217 West Main Street in Carlton. The Luminous Hills Winery companion label, Seven of Hearts Wine, features wines sourced from several appellations within the Willamette Valley and neighboring regions. Both labels are the work of Byron Dooley and his wife Dana, escapees from Silicon Valley, who sold their house then the internet bubble burst in 2000 and moved to Napa's Howell Mountain. Dooley earned his viticulture and winemaking degree at Napa Valley College, interned at Williams Selyem and made his own Bordeaux-style wine from Napa fruit. In 2004, after Dooley graduated from college, the couple located a property in the Yamhill-Carlton District and developed a 12-acre vineyard planted to Pinot Noir named Luminous Hills. Dana opened Honest Chocolates in McMinnville, selling traditional-style chocolates and later another branch in Carlton which shares space with the Seven of Hearts tasting room.
Seven of Hearts wines (www.sevenofheartswine) and Luminous Hills (www.luminoushills.com) wines are sold on the respective websites.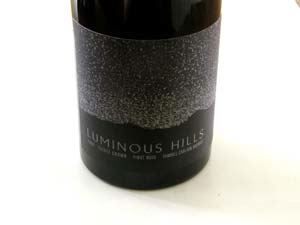 2008 Luminous Hills Yamhill-Carlton District Estate Grown Pinot Noir
13.2% alc., 142 cases, $30. · Plenty of oak character in the nose augmenting the cherry and rose petal aromas. Tasty essence of raspberry coulis with some oak-derived mocha and cherry Life Saver flavor. Soft in the mouth with the fruit displaying a persistent grip and brightness from lively acidity. Good.
Valerie's Vineyard
Carneros, Sonoma County, California
Forget small, we are talking tiny here. Only 70 cases were produced from the 1-acre Valerie's Vineyard in 2008. This vineyard is a group managed affair, the result of a partnership between long time Sonoma County public relations person Michael Coats, his wife Valerie, her parents and sister, and Chuck Hanson, a wine buyer for Hi-Time Wine Cellars in Costa Mesa, California for 53 years, and Jerry Hanson. Each of the partners share equally in the work of the vineyard which is organically farmed and overseen by viticulturist Phil Cotourri.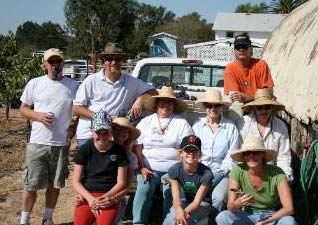 The vineyard, formerly the site of a plum orchard, was originally planted in 2000 by vineyardist Chuy Ordaz on resistant rootstock and a secret Russian River Valley sourced clone. The land sits less than 500 feet from the appellation line dividing Sonoma Valley and Sonoma Carneros. Yields are just under 2 tons per acre.
The Valerie's Vineyard Pinot Noir is crafted by B.R. Cohn Winery winemaker, Tom Montgomery, at B.R. Cohn Winery in Glen Ellen. Both of the previous two vintages of Valerie's Vineyard Pinot Noir were stellar and were reviewed previously (www.princeofpinot.com/winery/811/).
Valerie's Vineyard Pinot Noir may be acquired by e-mailing michael@coatspr.com or visiting the Hit-Time Cellars website at www.hitimewine.net. There is limited Sonoma Valley restaurant and retail distribution. The Valerie's Vineyard website is www.valeriesvineyard.com.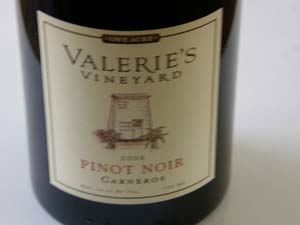 2008 Valerie's Vineyard Carneros Pinot Noir
14.1% alc., $40. Aged 18 months in new and two-year-old French oak barrels. · Ornate aromas and flavors of dark berries, Mu Shu plum sauce, cassis, tea, brown spice, and loamy earth. Very smoothly textured with finely ground tannins and amazing persistence of perfectly ripe fruit on the finish. The wine really grows on you over time. Will benefit from 1 to 2 more years in bottle. Year in and year out, one of the best Pinot Noirs to come out of Carneros.
White Rose Estate Wines
Dundee Hills, Willamette Valley, Oregon
Southern California businessperson, Greg Sanders, acquired the well-established 10-acre White Rose Vineyard in the Dundee Hills in 2001. The self-rooted vineyard, originally planted to Pommard clone in 1980, is well-positioned with several prominent producers nearby including Archery Summit, Domaine Serene, Domaine Drouhin Oregon, DePonte Cellars, and the original vineyard planting of David Lett. Prior to Sander's acquisition, White Rose Vineyard had become famous for the quality of its fruit and supplied notable Pinot Noir specialists such as St. Innocent, Panther Creek and Torii Mor, all of which bottled White Rose Vineyard designated wines. St. Innocent continues to be a yearly recipient of White Rose Vineyard fruit.
White Rose Vineyard is planted on east-southeast facing slopes of volcanic Jory soil at 870 feet elevation. In 2009, an additional 4 acres of vineyard immediately north of the original site was acquired. This vineyard was planted in 2001 to Dijon clone 115. Some fruit for White Rose Wines is also purchased from top growers in adjacent appellations.
Sanders devoted considerable time and money in upgrading the vineyard and building a small winery with a tasting room directly above it overlooking Mt. Hood and the Willamette Valley. Sanders is a Burgundian devotee who uses some of Burgundy's top Grand Cru wines as his model in crafting his wines. He learned his winemaking through University of California at Davis courses and extensive tasting, and started producing wine in 2001. After seven vintages as the winemaker, Sanders appointed long time White Rose Vineyard Manager, Jesus Guillen, also self-taught, as winemaker in 2007.
The 2008 growing season at White Rose Vineyard was very favorable, allowing fruit to be picked only when flavors were optimal. Yields were 1.5 to 2 tons per acre and Sanders noted that the fruit could be the best ever from this vineyard.
I have to hand it to Sanders. When he bought the White Rose Vineyard, he knew little about viticulture and winemaking, and was something of an outsider in this region with some very well-financed wineries. He has had a number of challenges along the way, but he has persevered, and today his Pinot Noirs are among the best that Oregon has to offer. When Jay Miller of the Wine Advocate visited White Rose this year, he gave high scores to several White Rose Estate wines and placed two of them among the top five Oregon Pinot Noirs from the 2008 vintage. Sanders' dreams of Grand Cru quality wines from Oregon have been realized.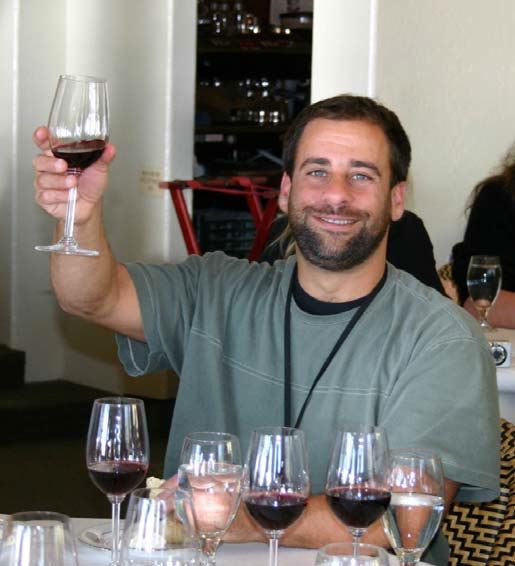 Recently, Sanders undertook a modernization of the winery's website and a significant redesign of the winery's label and logo. The package now is more flattering and more reflective of the excellence offered inside the bottle. The only holdover of the previous winery label and wine naming is the 2008 Dragon's Bluff Pinot Noir reviewed below.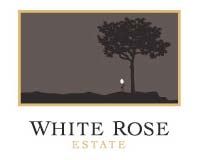 The 2008 lineup of Pinot Noirs includes the White Rose Estate Willamette Valley Pinot Noir ($30), the 2008 White Rose Estate Dundee Hills Pinot Noir ($45), the 2008 White Rose Estate Whole Cluster White Rose Vineyard Pinot Noir ($75), the 2008 White Rose Estate Sovarae White Rose Vineyard Pinot Noir ($75), and the 2008 White Rose Estate White Rose Vineyard Pinot Noir ($75). The wines are sold online and through a mailing list at www.whiterosewines.com.
The tasting room at 6250 NE Hilltop Lane in Dayton is open 11-5 weekends and Monday through Friday by appointment. The phone is 503-864-2328.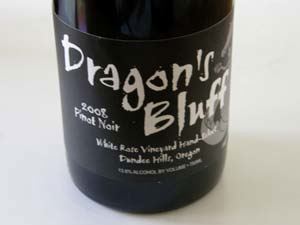 2008 Dragon's Bluff White Rose Vineyard Hand-Select Dundee Hills Willamette Valley Pinot Noir
13.8% alc., $75. 50% whole cluster. · Moderate reddish-purple color in the glass. A bit funky upon opening, improving with swirling to reveal aromas of black raspberries, candied apple, oak toast and vanillin. Discreetly rich flavors of dark red raspberries and Red Vines with an underpinning of vanilla oak and spice. The zingy acidity brightens the fruit and the soft, dusty tannins allow for easy drinking. The wine finishes with a lingering grip of generous fruit. Good.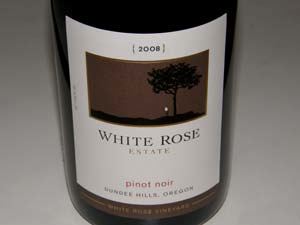 2008 White Rose Estate White Rose Vineyard Dundee Hills Willamette Valley Pinot Noir
13.9% alc., pH 3.45, 176 cases, $75. The winery's flagship wine. Fruit from blocks 2, 3 and 5 was 80% de-stemmed with 20% whole cluster, and fruit from block 1 was 100% whole cluster fermented. 20 to 26 days of skin contact, pressed off with a wooden basket press. Aged 14 months in 13% new French oak barrels. · Moderately deep ruby color in the glass. Shy, but haunting aromas of black cherries, grilled meat and spice. A black tie, sophisticated wine that is still a bit stiff and formal and needs time to unwind. That said, it offers a perfect balance of perfecgtly ripe cherry and berry fruit, vital acidity and refined tannins. The silky mouth feel adds to the allure. The beauty of this wine grows on you over time in the glass and is spectacular the next day from a previously opened and re-corked bottle. Very classy juice.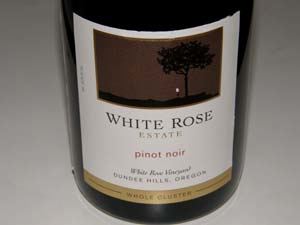 2008 White Rose Estate Whole Cluster White Rose Vineyard Dundee Hills Willamette Valley Pinot Noir
13.8% alc., pH 3.51, 98 cases, $75. 100% whole cluster fermentation. 15 day post-fermentation maceration yielding a total of 26 days of skin contact. Pressed off in a wooden basket press and barreled down in neutral French oak for 14 months. Racked once after MLF and again just before blending. · Gorgeous perfume of cherries flush with baking spices including cinnamon, with added notes of rose petals and sandalwood. Happy to just smell this wine. Stylish and expressive, the luscious fruit is alive with charm accented by exotic spices and edible flower with plenty of firm tannin to balance the fruit. Never fades in the glass, pumping out lively aromas and flavors until the glass is emptied. I am a sucker for whole cluster done right and this wine really delivers.
Windy Oaks Estate Vineyards & Winery
Santa Cruz Mountains, California
Jim Schultze is the type of winemaker you come upon occasionally who strikes you as very accomplished. Blessed with a charming calmness and trustworthy demeanor and armed with a meticulous and well-thought out approach to winemaking, Schultze gives you the feeling that his grapes are in good hands.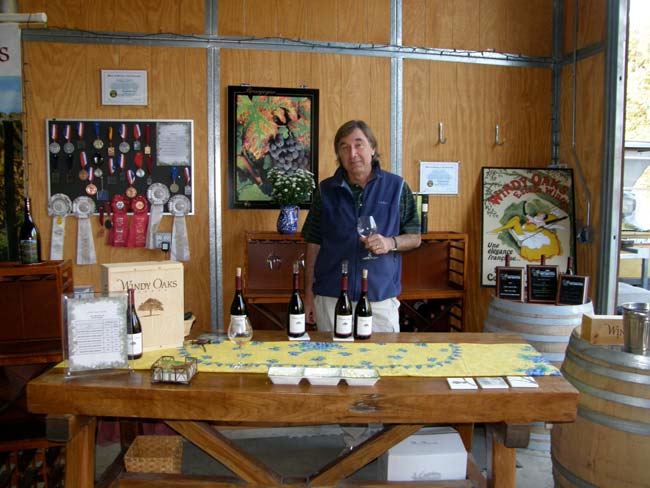 Jim and Judy Schultze escaped from the corporate world and have used their twenty years of interest and experience in artisan winemaking and winegrowing to create Windy Oaks Estate. They produce Pinot Noir and Chardonnay from a 15-acre vineyard located at 1,000 feet on a ridge overlooking the town of Corralitos at the southern tip of the Santa Cruz Mountain range.
Viticulture and winemaking at Windy Oaks Estate is very Burgundy-themed. The vineyard is farmed according to sustainable, organic principles with every vine hand-tended and directly monitored for water status. The vineyard sits above the fog line and enjoys modestly warm summers without heat spikes. Temperatures are consistently in the 70s dropping into the 40s at night. The site is suited for Pinot Noir and yields physiologically ripe grapes without high brix and with high natural acidity. The growing season is extraordinarily long, often extending into late October or even November.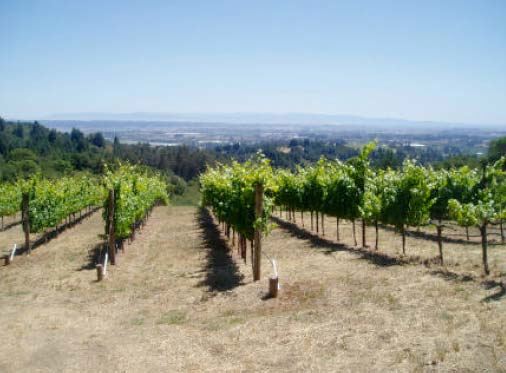 The planted Pinot Noir clones are Dijon 115, 667, 777 and 828, and 2A and Pommard. Chardonnay was planted upon the insistence of Judy Schultze, and the 1-acre of Chardonnay provides a lovely compliment to the range of Pinot Noirs.
Winemaking is non-interventional with no additives. Schultze crafts a variety of styles of Pinot Noir including wild yeast, whole cluster and wood tank fermented wines. A special Burgundian clone Pinot Noir is particularly noteworthy, made from a half-acre portion of the vineyard that Jim Schultze hand tends to personally and is planted to a undisclosed clone from Burgundy that is rarely planted here.
The Schultzes travel to Burgundy yearly to meet with coopers. They use 3-year-old air dried and tight grain French oak barrels and age their Pinot Noirs for 18 to 25 months with a relatively high percentage of new oak (50% to 75%).
The small and modest winery on the estate property (see page 1 of this issue) is outfitted with all the latest winemaking technology and is gravity-driven. A state-of-the-art bottling line is employed allowing for minimal oxygen uptake that protects wines from bottling shock.
Windy Oaks Estate sells 85% of their wine directly to a mailing list at www.windyoaksestate.com. Wine club members receive significant discounts. Nine different Pinot Noirs are currently offered. Tasting is available periodically through special winery and appellation events, major Pinot Noir festivals and by appointment. The phone is 831-786-9463. One of the Schultze's sons is an aspiring winemaker who is becoming involved in the business. Judy Schultze handles the marketing and business side of the winery.
Windy Oaks Estate has just released three wines from the 2008 vintage: Estate Pinot Noir Henry's Block, 100% Whole Cluster, and Wild Yeast. The 2006 Special Burgundian Clone Estate Pinot Noir, the third vintage from this special half-acre block, is also being released at this time ($95).
Some of the wines below have been previously reviewed but I thought it would be of interest to check in on them again. Because the Schultzes are meticulous in their selection of French oak barrels, the wines are never oaky although the wines are raised in a high percentage of new oak.