Drinking Bigger
Using the term "big" when referring to Pinot Noir wineries is relative. The so-called big Pinot Noir wineries are still very small compared to some of the giants in the wine industry such as E. & J. Gallo and Bronco Wine Company. The larger Pinot Noir producers vinify Pinot Noir in the same fashion as the boutique wineries, but do it on a larger scale, say with 60 large fermenting vessels versus 12 small ones, with access to more vineyard sources (many of which are estate owned), and more man power. Often a value-priced line of wines are produced in large quantities to compliment the small lot vineyard-designated Pinot Noirs. Total annual production is often well over 5,000 cases, but the quality standards are high, and as in the case of the wineries included below, the wines can equal or surpass those crafted by their small artisan brethren.
Freestone Vineyards
Sonoma Coast, California
In 1999, Joseph Phelps (known for Napa Valley Insignia), his son Bill, and the Joseph Phelps Vineyards management team purchased a former dairy farm of 89 acres in Freestone, a hamlet in the true Sonoma Coast. The site was well suited to Chardonnay and Pinot Noir. Planting began the next year with staged replanting continuing until 2007.
Freestone Vineyard Estate consists of three distinct properties. The Pastorale Vineyard is planted to 34 acres of Pinot Noir and nearly 22 acres of Chardonnay at the end of Freestone Flat Road adjacent the new Freestone winery facility. The acquisition of additional property led to nearby Quarter Moon Vineyard (41 acres of Pinot Noir) and a long-term lease was established for the fruit from nearby Ferguson Vineyard (6 acres of Pinot Noir).
Growing and ripening wine grapes in this very cool area has been a challenge from the beginning. Yields can be very low due to poor berry set in the cool days of the spring growing season. It is not unusual to have 45 degree temperature swings in a single day here. There has been a huge financial commitment required to succeed here.
The 40,000 square foot winery, completed in time for the 2007 harvest, is built into the hillside and employs gravity-flow by its three level construction. The winery is not open to the public due to local environmental concerns, but I have visited and found it to be impressive in every way.
The Director of Winemaking is Phelps veteran Damien Parker. The Winemaker is Theresa Heredia who is assisted by Justin Ennis and consulting Burgundian Pascal Marchand.
The first vintage of Pinot Noir produced from Sonoma Coast grapes was released as the 2004 Fogdog Pinot Noir from purchased grapes. Fog dog refers to a bright or clear spot appearing in a breaking fog and the name has been retained for the solid, early drinking and larger production Pinot Noir and Chardonnay wines. In 2005, 600 cases of Freestone Vineyard Sonoma Coast Pinot Noir were produced and by 2006, 2,700 cases. Beginning with the 2007 vintage, full production ensued, with premium Chardonnays under the Ovation, Freestone Vineyards Sonoma Coast and Freestone Vineyards Pastorale Vineyard labels, and premium Pinot Noirs that include Freestone Vineyards Sonoma Coast and vineyard designates from Quarter Moon Vineyard and Pastorale Vineyard.
The 2008 Freestone wines were unaffected by the smoke from fires, possibly because the Freestone vineyards sit in a fog layer.
The Freestone Vineyards Guest Center is open for tasting Thursday through Monday from 11-5, located at the corner of Bohemian Highway and Highway 12 (Bodega Highway) in the stylishly remodeled Pastorale building. The Fogdog and Freestone wines are particularly popular at fine restaurants. These wines, along with the vineyard-designated Chardonnay and Pinot Noirs are sold through the tasting room, the website (www.freestonevineyards.com) and the winery's wine club (Freestone Private Collection).
Goldeneye Winery
Anderson Valley, California
The Duckhorn Wine Company purchased the former Obester Winery in Anderson Valley in 1997 and planted 57 acres of Pinot Noir (Confluence Vineyard). The premier vintage of Anderson Valley Pinot Noir was 2001. Later they added other Anderson Valley properties including The Narrows Vineyard, Gowan Creek Vineyard and Split Rail Vineyard, and, also farm 20 acres of Chardonnay. Goldeneye now has a total of 207 acres in the valley, second only to Roederer Estate's 580 acres. A new LEED certified production facility at Gowen Creek Vineyard was open in time for the 2009 vintage. The new winery and expanded vineyards have allowed the winery to increase production, but the overriding theme is still quality-focused wines and a small winery mindset. The new winery and Gowen Creek Vineyard are pictured below.

Goldeneye (named for a yellow-eyed waterfowl that occasionally calls Anderson Valley home since the region lies in the bird's migratory path) sources fruit from both estate and non-estate vineyards, a total of twelve different vineyards. The lineup of wines include Goldeneye (a blend of all vineyard sources in the Anderson Valley) and Goldeneye single vineyard estate and reserve Pinot Noirs. A lesser-priced, but quality second label, Migration, composed of declassified juice from the Anderson Valley, was offered previously. This is now a separate winery under the direction of winemaker Neil Bernardi featuring Chardonnay and Pinot Noir from multiple cool-climate winegrowing regions. In 2008, Migration produced its first Chardonnay from the Russian River Valley, representing the first Chardonnay in Duckhorn Wine Company's 30-year history. A companion wine, a Migration Anderson Valley Pinot Noir is also offered. A value-priced Anderson Valley Pinot Noir is also produced under a third Duckhorn Wine Company label, Decoy.
The Goldeneye winemaker, Zach Rasmuson, apprenticed with Warren Winiarski, the founder of Stag's Leap Wine Cellars. Intrigued by the challenge of producing Pinot Noir, he left Stag's Leap in 1998 to become assistant winemaker at Robert Sinskey Vineyards. In May 2000, he was hired as winemaker of Husch Vineyards in the Anderson Valley, finally joining Goldeneye as winemaker in August of 2003. Owner Dan Duckhorn looks for a big, richly fruited style of Pinot Noir and Rasmuson delivers. The latest releases are voluptuous wines that deliver plenty of power, but are displaying more nuance compared to previous vintages. Rasmuson says, "2007 was one of those special vintages where the wines seemed to effortlessly reflect their vineyard origins."
The estate program offers 96 individual blocks of Pinot Noir and 49 unique combinations of clone and rootstock material. Though spanning only eight miles, the vineyards often display a temperature difference of as much as 10 degrees Fahrenheit. As a result, in 2007, PInot Noir was harvested over a seven week period and over 170 individual fermentations were carried out producing 1,200 barrels of wine. The favorite ten barrels, chosen for their extraction, ripeness and weight from Gowan Creek, Confluence and The Narrows vineyards, went into the Goldeneye Ten Degrees bottling. It is the most rich and powerful Pinot Noir produced at Goldeneye.
Goldeneye wines are sold through a mailing list with widespread distribution of the Goldeneye Pinot Noir. The single vineyard and special bottlings are sold through the tasting room and to mailing list members. A comfortable visitor center and tasting room is open daily 11-4 on Highway 128 in Philo. An outdoor area with the Confluence Vineyard in the background is perfect for picnics and relaxing. Special vineyard tours and tastings are available by appointment (800-208-0438). The website is www.goldeneyewinery.com. Beyond the wines reviewed here, Goldeneye offers the Anderson Valley Pinot Noir, an Estate Grown Confluence Vineyard Lower Bench Pinot Noir, an Estate Grown Confluence Vineyard Hillside Pinot Noir, and an Estate Grown Gowan Creek Vineyard PInot Noir (previously reviewed - www.princeofpinot.com/winery/562/).
2007 Goldeneye The Narrows Vineyard Estate Grown Anderson Valley Pinot Noir
14.5% alc., 506 cases, $75. The coolest estate vineyard, planted in 1991 and situated on a narrow ridge top in the northern end of the Anderson Valley. This is typically the last-picked and lowest-yielding property. The majority of this wine is from block 20, planted to a mix of Pommard and Dijon clones, a section that the producers are particularly fond of. · Moderately dark reddish-purple color in the glass. Brooding aromas of black cherries and oak bark. Rich with concentrated ripe, sweet darker fruits which have some charm but are buried in tannins now. Impressively smooth on the palate. This wine will appeal to fans of full-bodied Pinot Noir and would make a perfect transition wine for an ex-Cabernet drinker. A good cellar candidate. Very Good.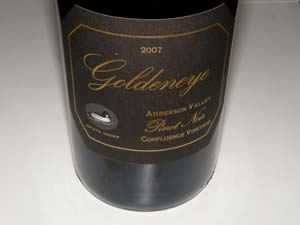 2007 Goldeneye Confluence Vineyard Estate Grown Anderson Valley Pinot Noir
14.5% alc., 516 cases, $75. This vineyard is located in the heart of the Anderson Valley at the headwaters of the Navarro River and displays a range of soils and exposures. · Moderately garnet in color in the glass. Amazingly aromatic with a potpourri of cherries, brioche and sandalwood. Delicious red cherry and raspberry flavors accented with spice and restrained oak. Not all about fruit, with some edgy earthiness adding character. Mild dry, suede tannins make for easy drinking now. The lightest in weight of the four vineyard based wines and the most charming now. A great expression of Anderson Valley Pinot Noir.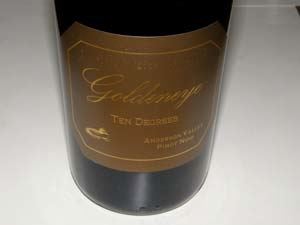 2007 Goldeneye Ten Degrees Estate Grown Anderson Valley Pinot Noir
14.5% alc., 222 cases, $100. · Moderately dark reddish-purple color in the glass. Very hard to coax much out of the nose after opening. The next day the wine had taken on much more aromatic interest with scents of berry jam, cassis and spiced plums. A robust, deeply flavored, tannic wine that has a good lift of complimentary acidity to bring everything into balance. Much better tasting over time in the glass and spectacular the next day where a stunning fruit core arrives at the forefront. This is not a wine for the timid, but for those who yearn for this hedonistic style, this is your Holy Grail. Definitely decant this wine if you open it now.
Williams Selyem

Russian River Valley, Sonoma County, California
The story of this fabled winery has been well-chronicled in the pages of the PinotFile over the years. In 1997, businessperson John Dyson bought the Williams Selyem Winery from Burt Williams and Ed Selyem, who were among the first garagiste Pinot Noir producers in Sonoma County. Bob Cabral was hired as winemaker, a 28,000 square foot winery and hospitality center opened on Westside Road in 2010, new estate vineyards (they now own 70 acres) were acquired or planted, new vineyard sources were obtained, and the Williams Selyem flag remains flying high.
Annual production has gradually increased to over 14,000 cases and prices have crept up but quality remains top notch. Cabral (photo below) has gradually found his footing since his arrival as he has gained familiarity with the winery's vineyard sources, backing off on alcohol and fruit extraction in favor of more charming and nuanced Pinot Noirs. 40% of production is estate grown. The winery produces a variety of blended and vineyard-designated Pinot Noirs as well as Chardonnays and Zinfandels.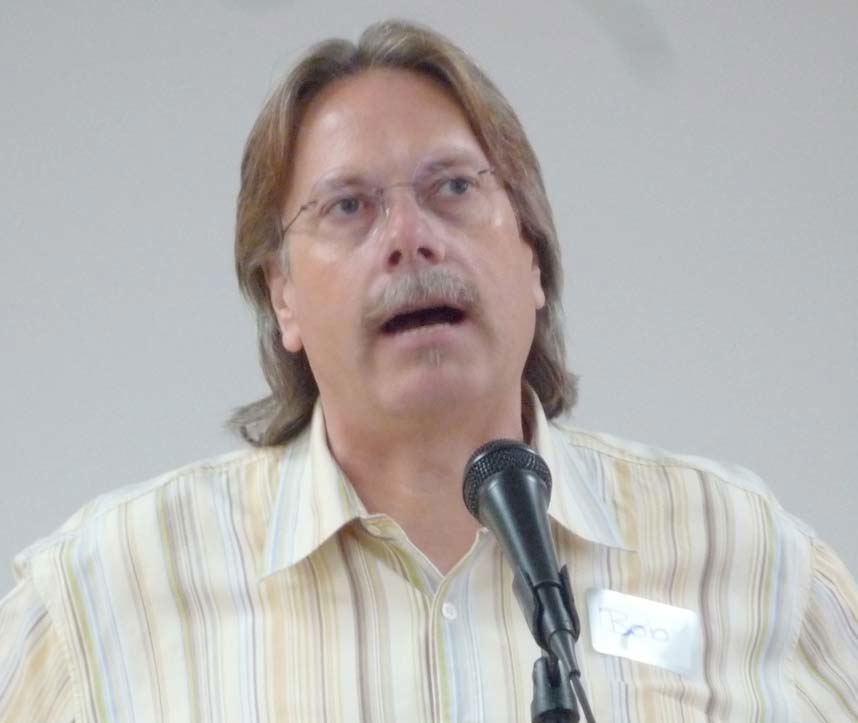 Williams Selyem wines are sold exclusively through a large mailing list of faithful customers. In the last year or two, small amounts of wine have been made available to those not on the list who call to purchase. Once a purchaser buys at least one bottle, they become a friend of the winery, stay on the mailing list, and have access to the winery's hospitality center and tasting room which is not open to the public. Friends of the winery may also enjoy tours of the property and have access to some of the small production wines only available at the winery. The winery website is www.williamsselyem.com.
Along with the 2008 vintage Pinot Noirs reviewed here, two additional wines were included in the last issue in a feature on the Middle Reach sub-region of the Russian River Valley and I have added them here again for completeness. I loved the 2007 vintage Pinot Noirs from Williams Selyem and found the 2008 vintage wines more inconsistent in quality, but some bottlings are first rate. Beyond the wines reviewed below, the following were offered in 2008: Westside Road Neighbors, Flax Vineyard, Peay Vineyard, Weir Vineyard, Ferrington Vineyard, Coastlands Vineyard, Hirsch Vineyard, Litton Estate Vineyard, and Precious Mountain Vineyard. Appellation wines included: Central Coast, Sonoma County, Sonoma Coast and Russian River Valley.